Martin Nicholson's Cemetery Project
Aberystwyth Cemetery, Aberystwyth, Ceredigion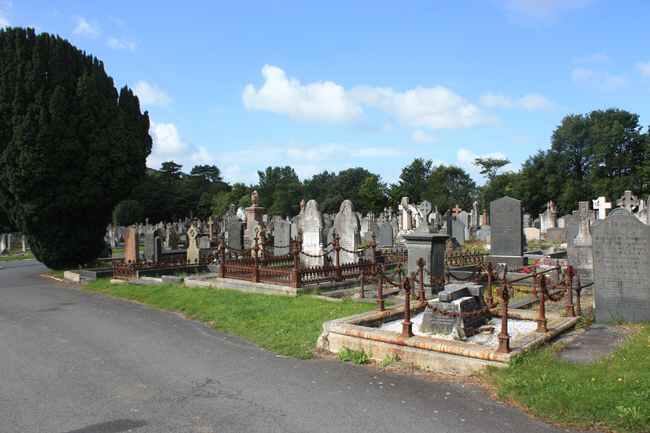 We visited this cemetery on our way back from a family wedding. Unsurprisingly there were many graves with a nautical theme which made for a particularly memorable visit.
---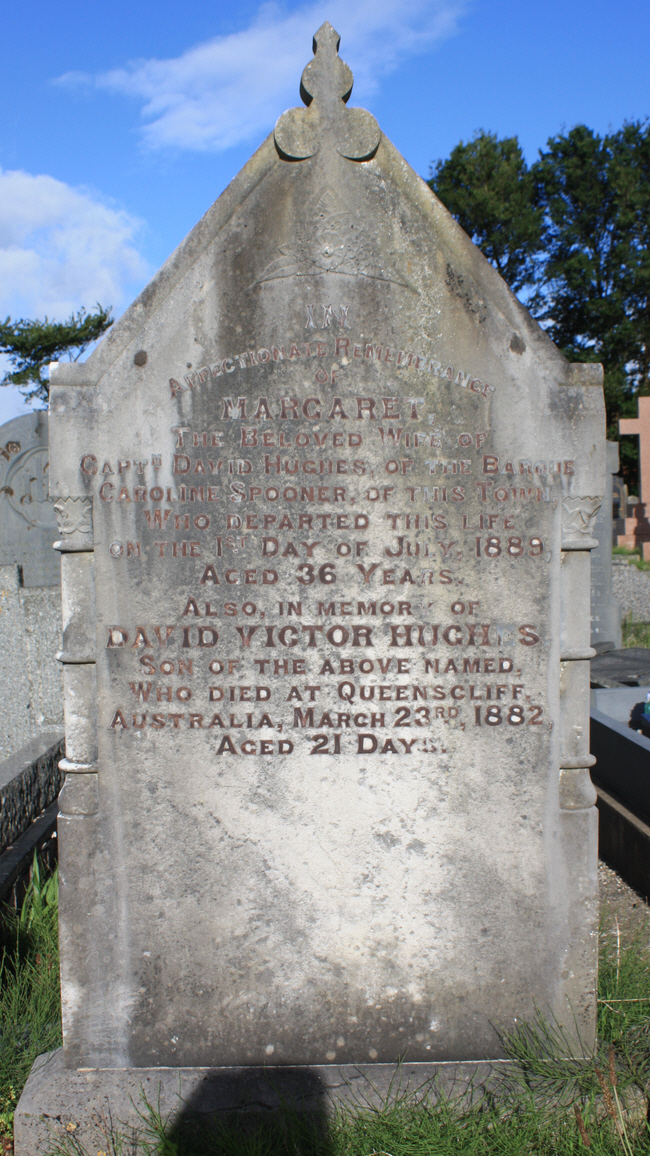 Sometimes the inscription on a gravestone can feel almost unendurably poignant. How did the baby David Victor Hughes come to be born and die in Australia? Archives show that the bargue "Caroline Spooner" sailed to the USA and to Australia so presumably Captain Hughes took his pregnant wife on one of these trips rather than leaving her at home.
---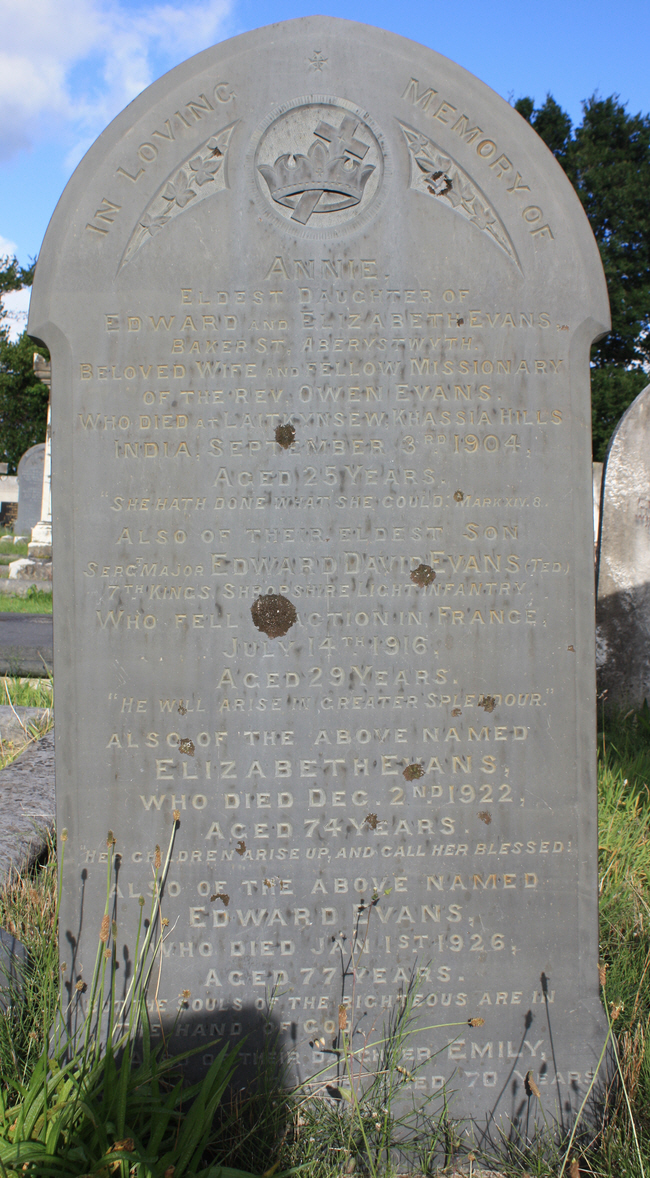 Annie Evans was the wife of a missionary. She died in the Khassia Hills in India in 1904 aged just 25.
---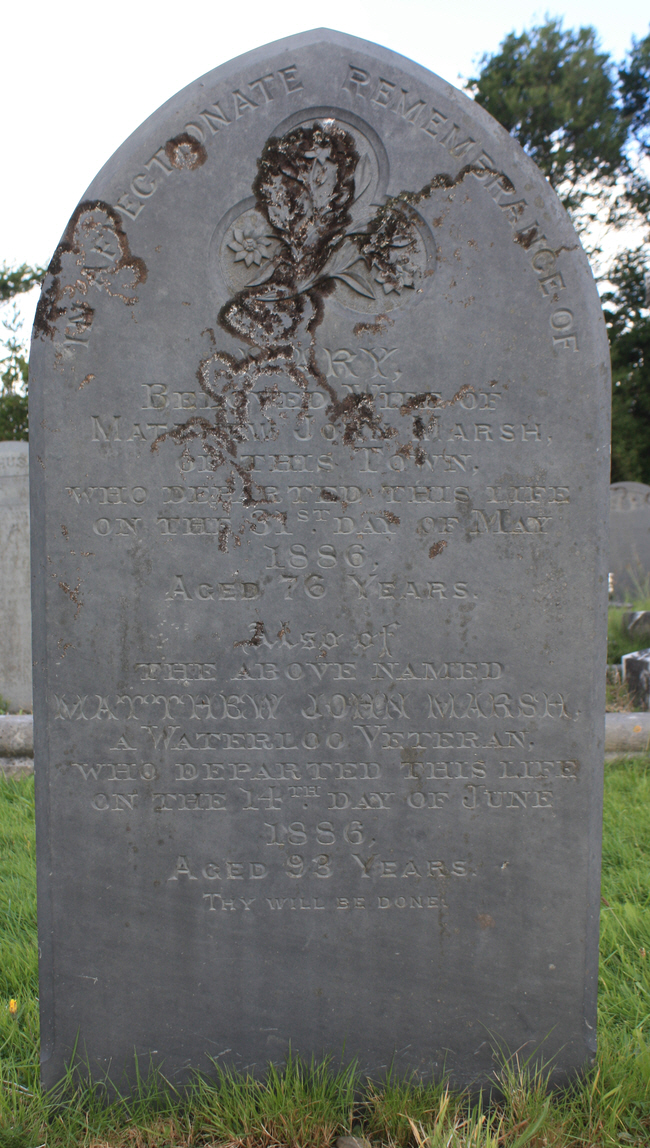 Matthew John Marsh was a veteran of the Battle of Waterloo (1815). He died in 1886 aged 93 and might have been one of the last survivors of those who fought in the battle - the last surviving witness, Elizabeth Watkins, died in 1904.
---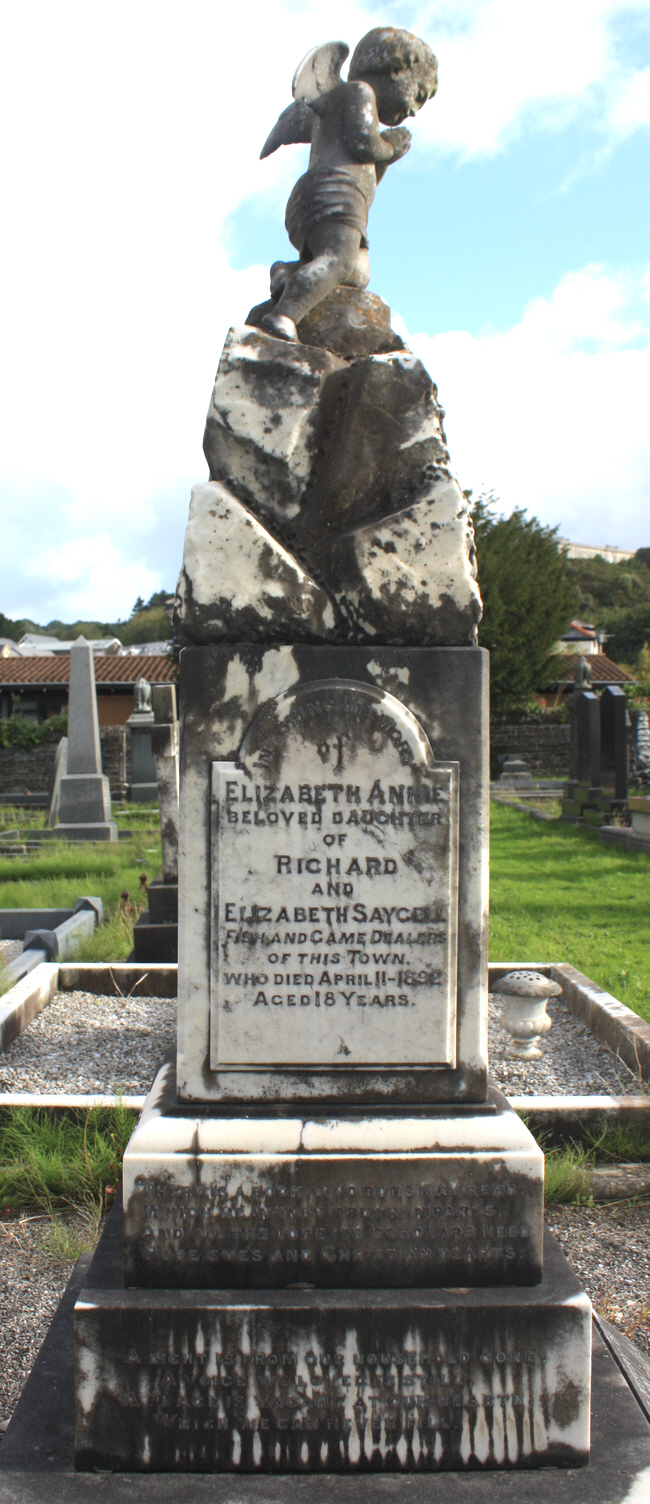 An impressive example of cemetery sculpture used for the daughter of a Fish and Game Dealer.
---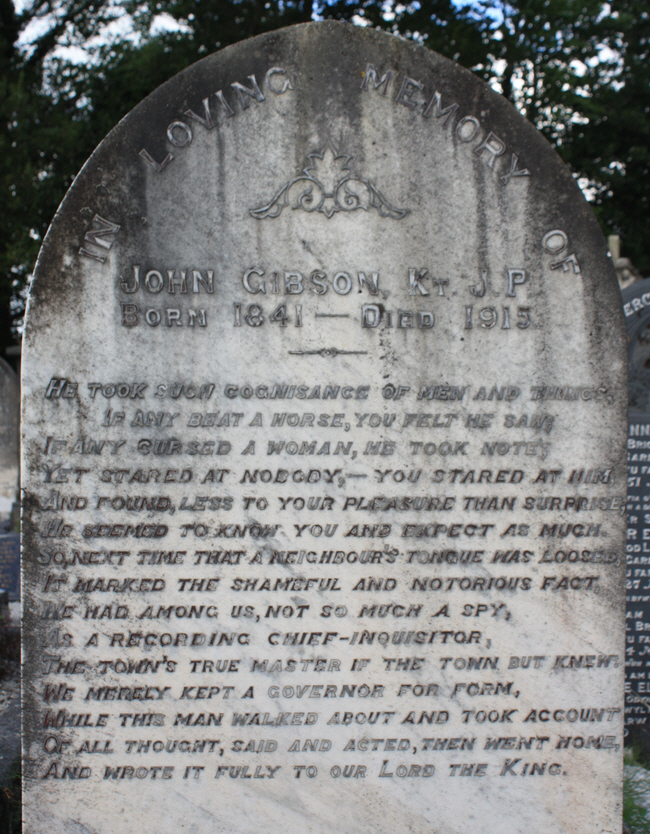 Judging from his epitaph John Gibson wasn't greatly liked!
---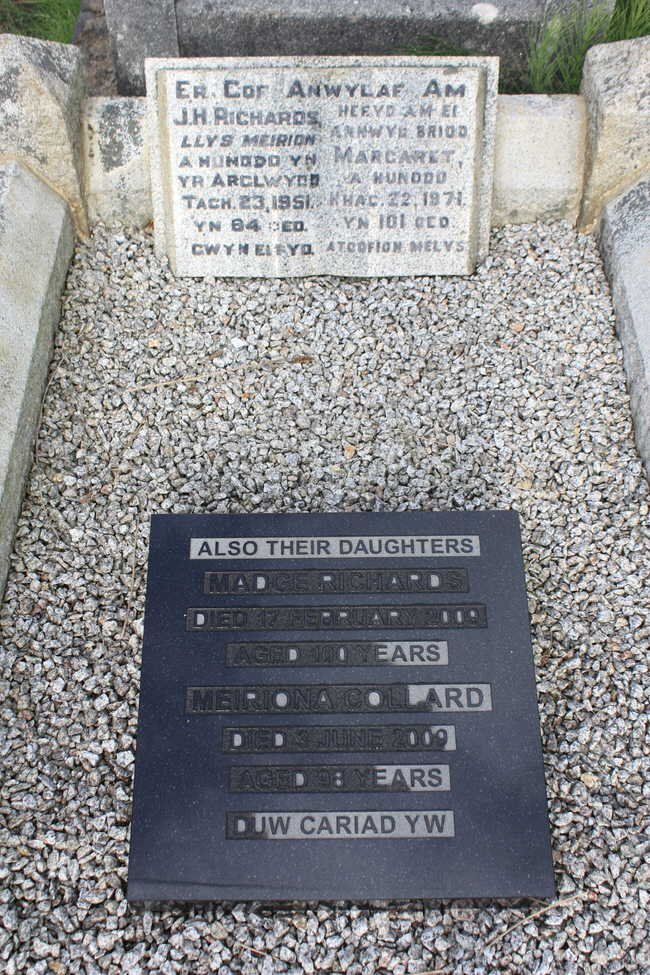 Margaret Richards lived to 101 and her daughters Madge and Meiriona lived to 100 and 98 respectively.
---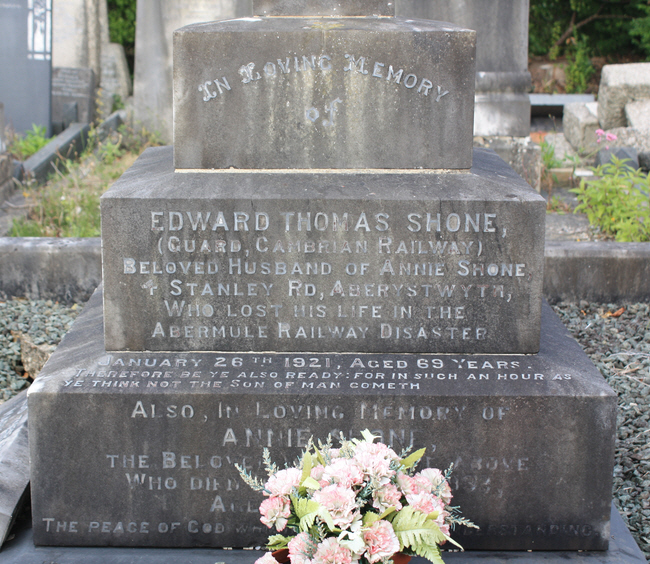 Edward Thamas Shone worked on the Cambrian Railway and was fatally injured in the Abermule railway disaster in January 1921.
---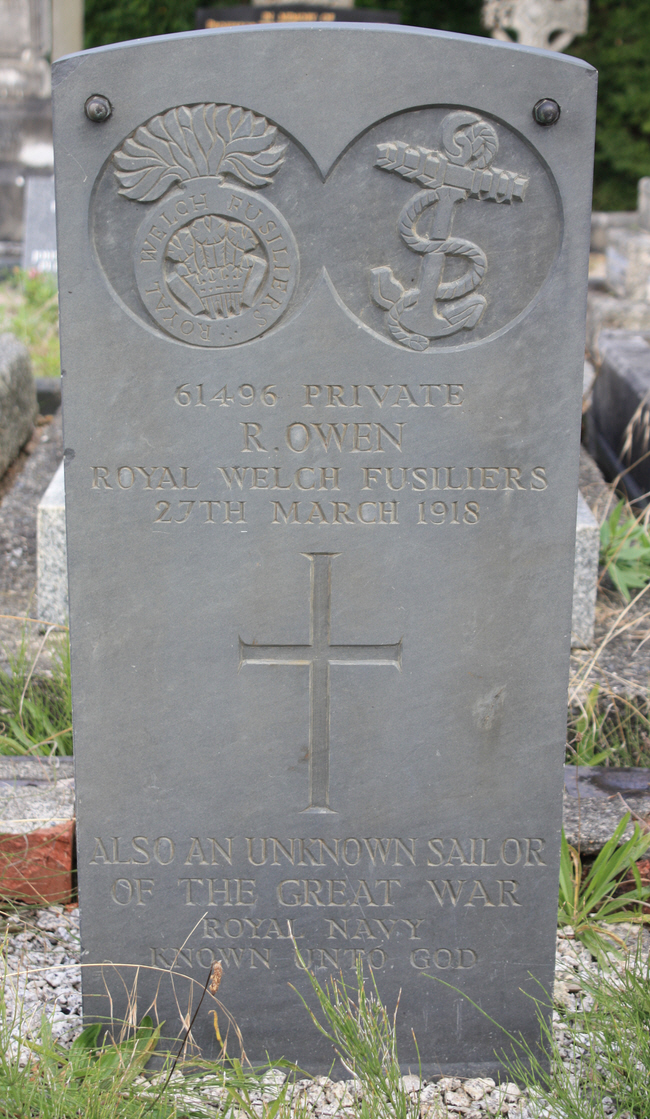 Double war graves are unusual and this is the first one we have seen for a named soldier and an unnamed sailor.
---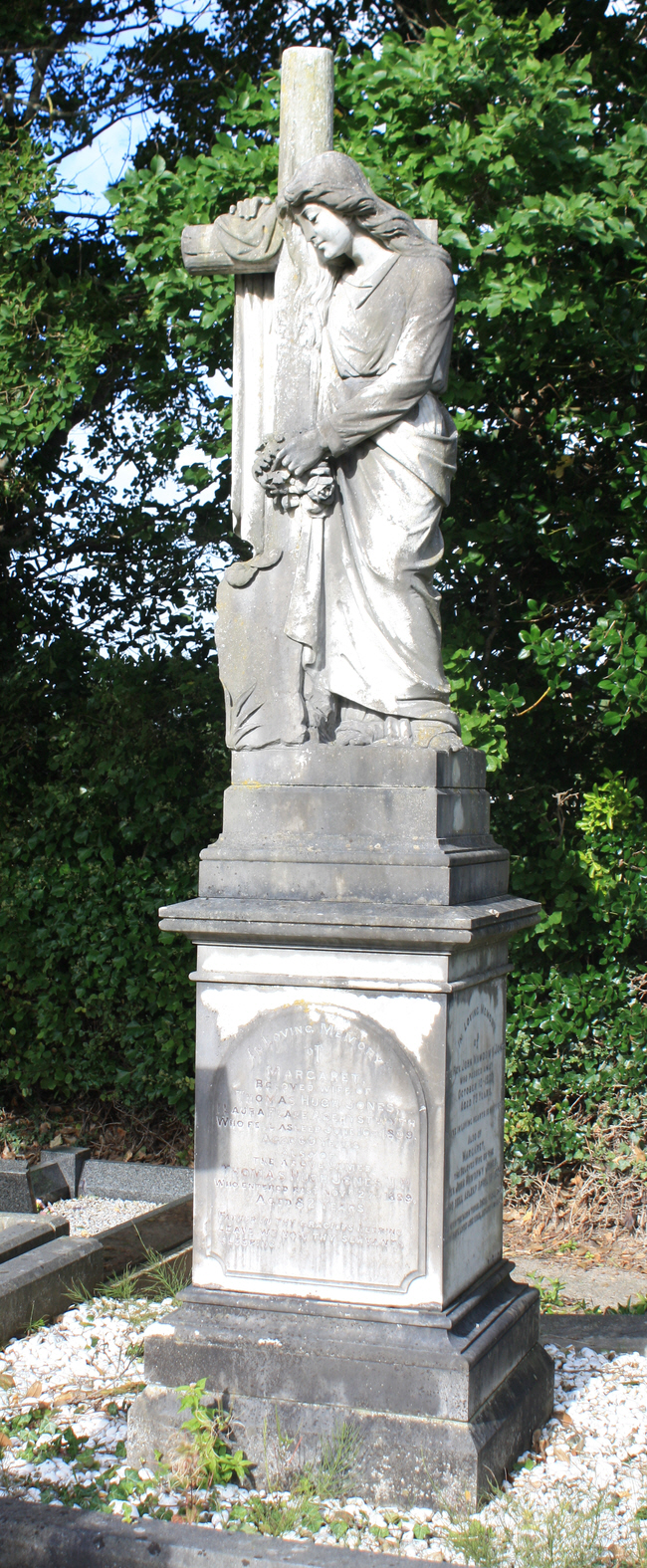 Another impressive example of cemetery sculpture.
---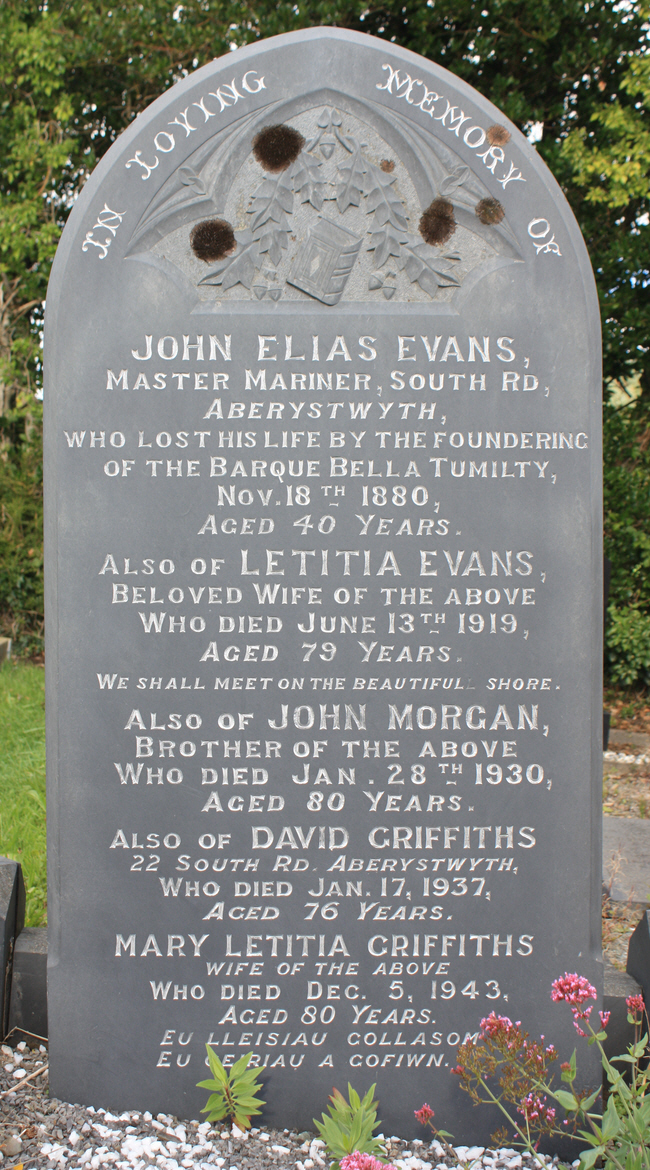 John Elias Evans lost his life when the barque Bella Tumilty sank in November 1880.
---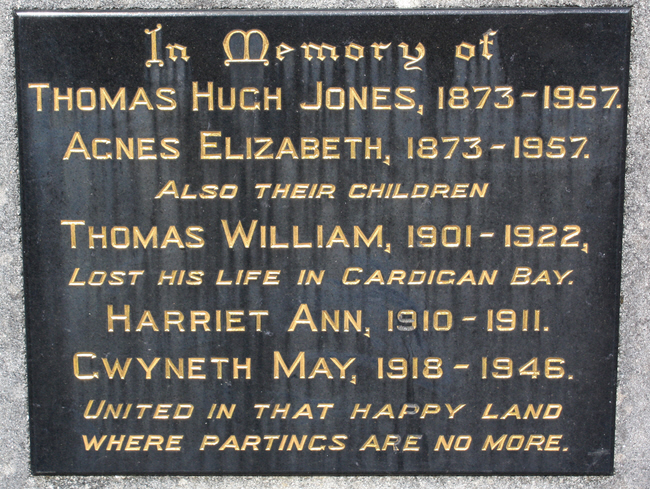 Thomas William Jones lost his life in Cardigan Bay in 1922.
---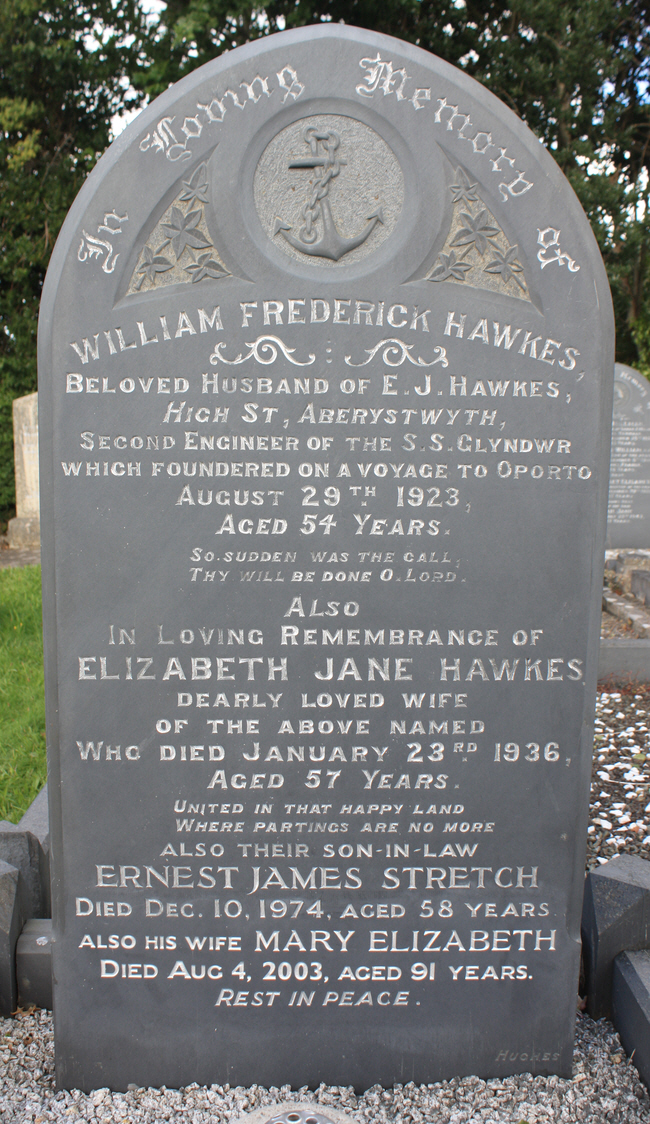 William Frederick Hawkes was Second Engineer on the S S Glyndwr that sank on a voyage to Oporto in 1923.
---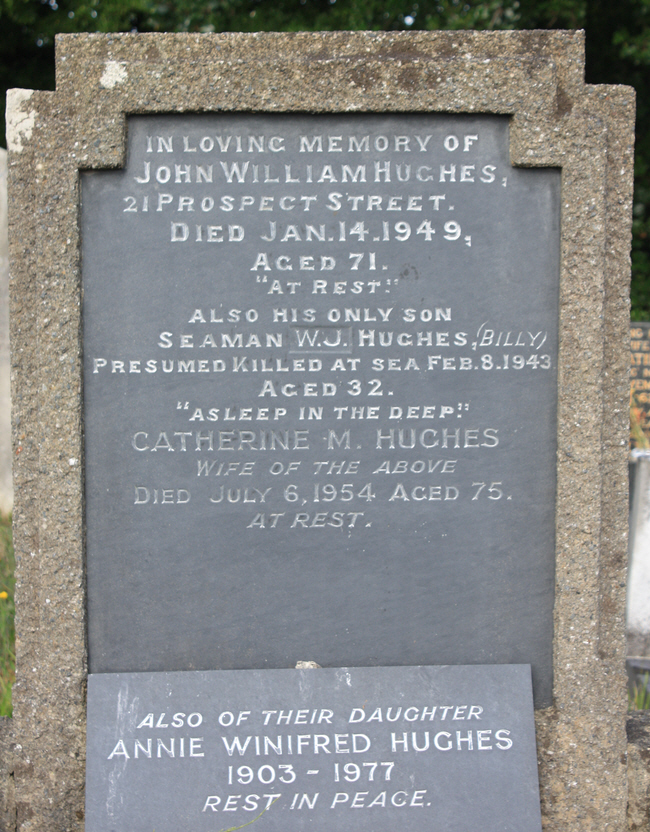 Seaman W J Hughes was "presumed killed at sea" in February 1943.
---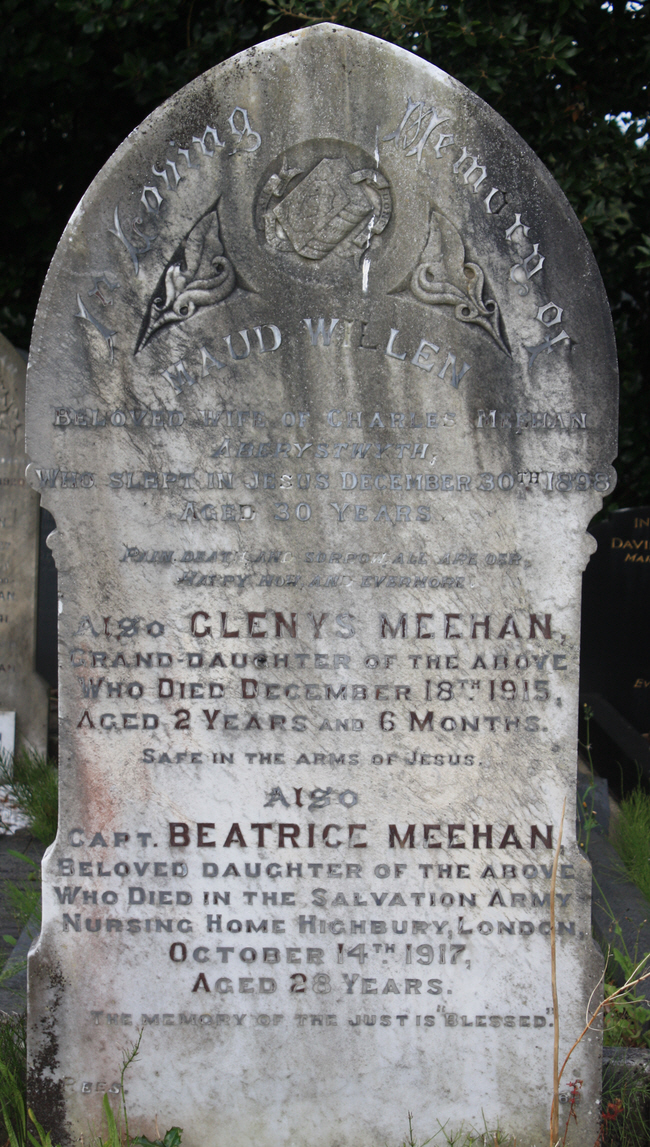 Beatrice Meehan died at the Salvation Army Nursing Home in October 1917.
---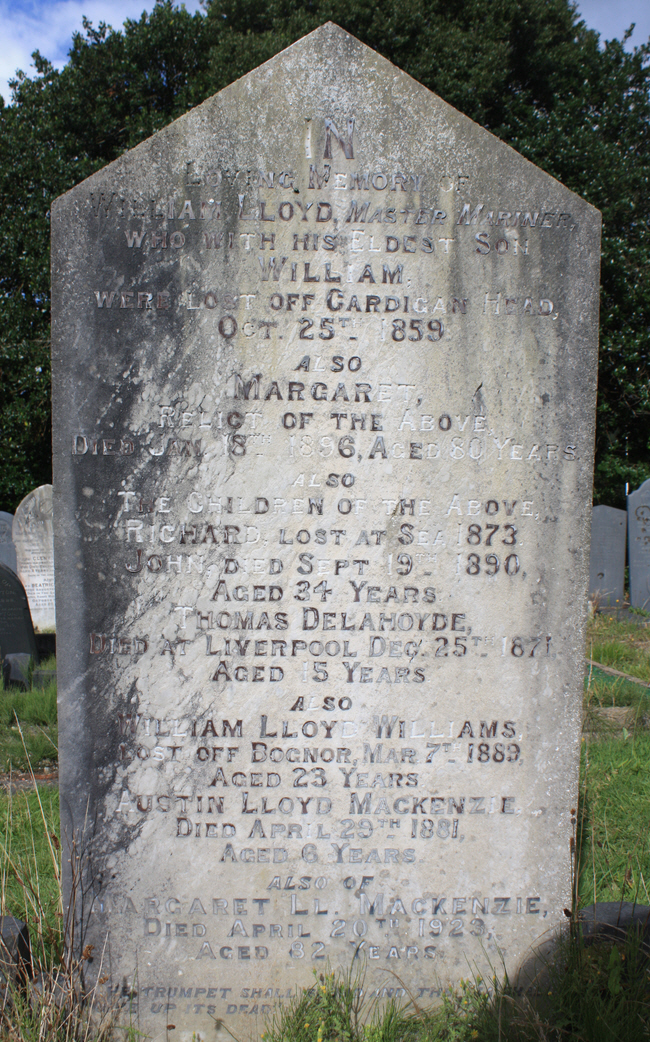 William Lloyd and his eldest son also called William were lost off Cardigan Head in 1859. A second son Richard was also lost at sea in 1873.
---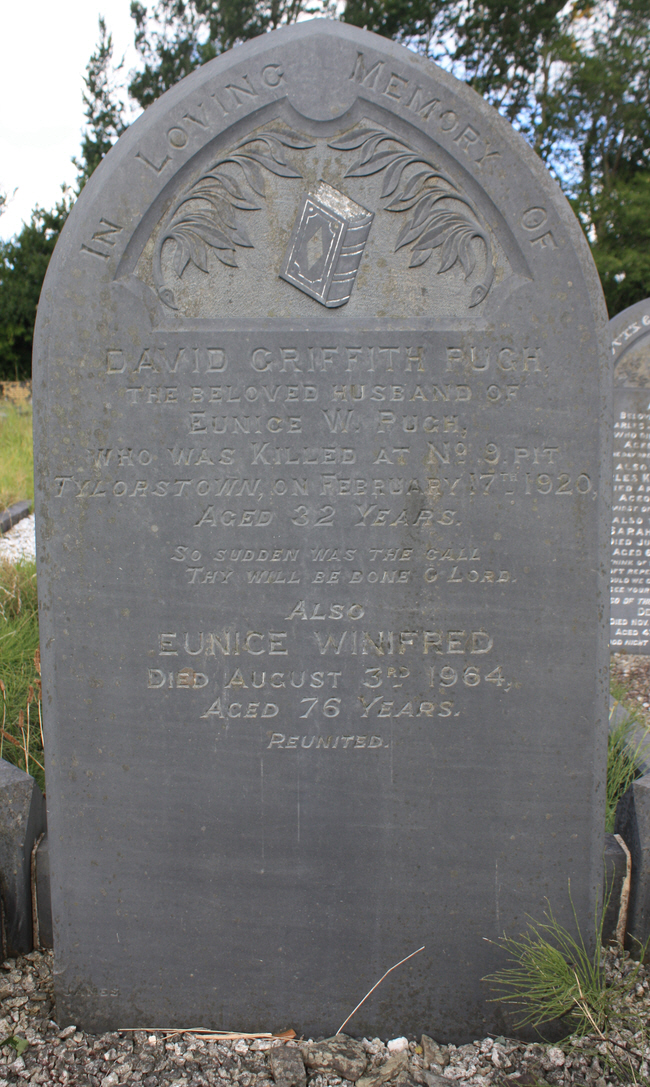 David Griffith Pugh was killed at No. 9 Pit Tylorstown in February 1920.
---
Richard Edwards, Chief Officer of the S S Azalea, was lost at sea in November 1897. His brother David Henry Edwards , Second Engineer of the S S Eira, was lost at sea in October 1898.
---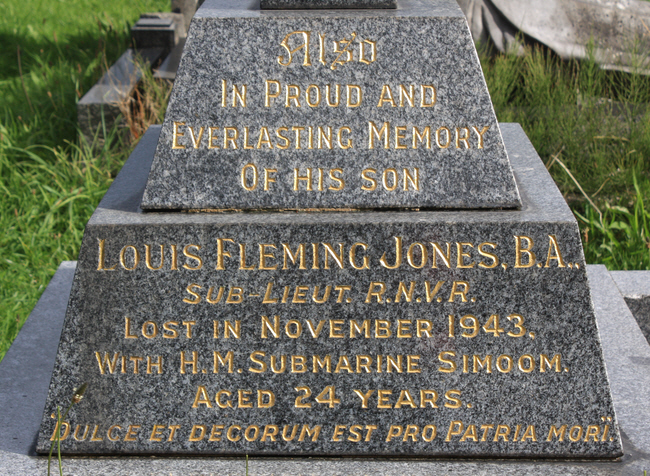 Louis Fleming Jones served on H M S Simoom, a S class submarine, that disappeared in November 1943.
---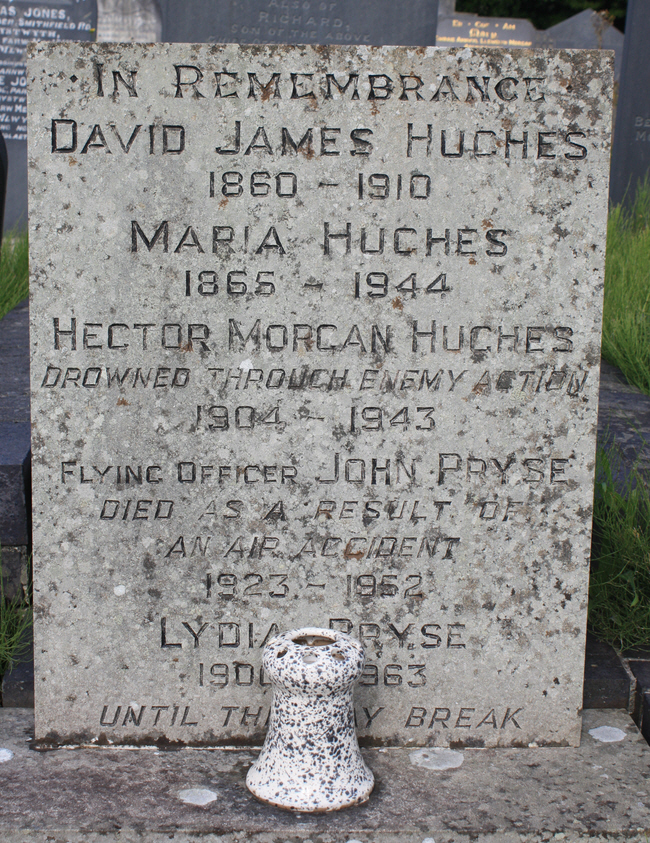 Hector Morgan Hughes "drowned through enemy action" in 1943.
---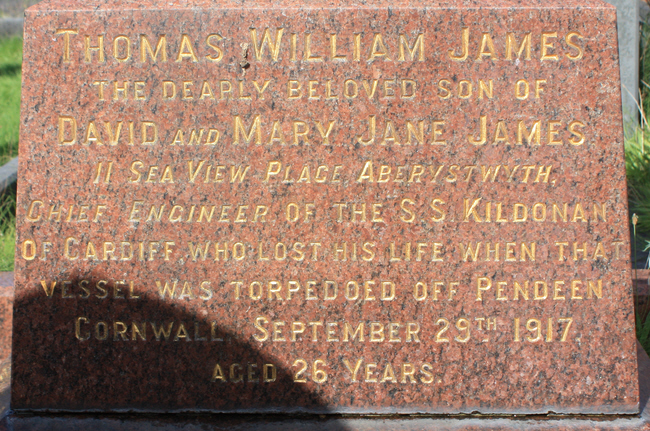 Thomas William James was Chief Engineer on the S S Kildonan that was torpedoed off Pendeen Cornwall in September 1917 while on a voyage from Santander to Ardrossan with a cargo of iron ore.
---
William John Jones was killed and buried at sea off the Cape of Good Hope in December 1892.
---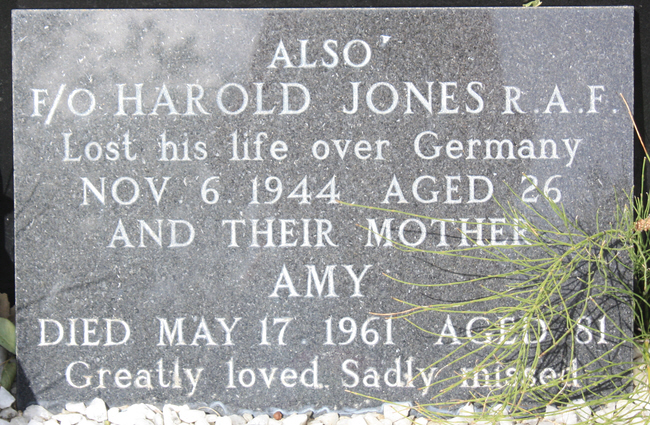 Harold Jones "lost his life over Germany" in November 1944 while serving in the Royal Air Force.
---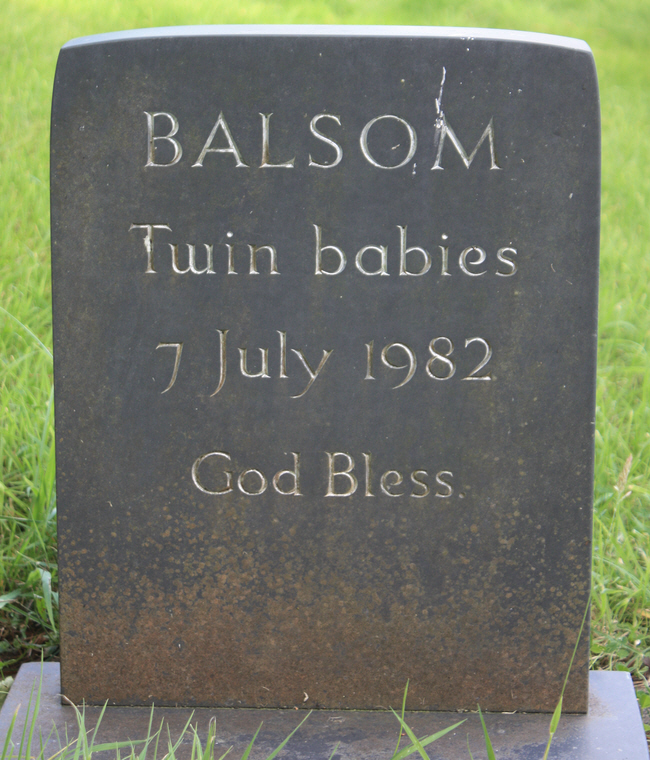 I think it is sad that these twin babies were buried without being given names.
---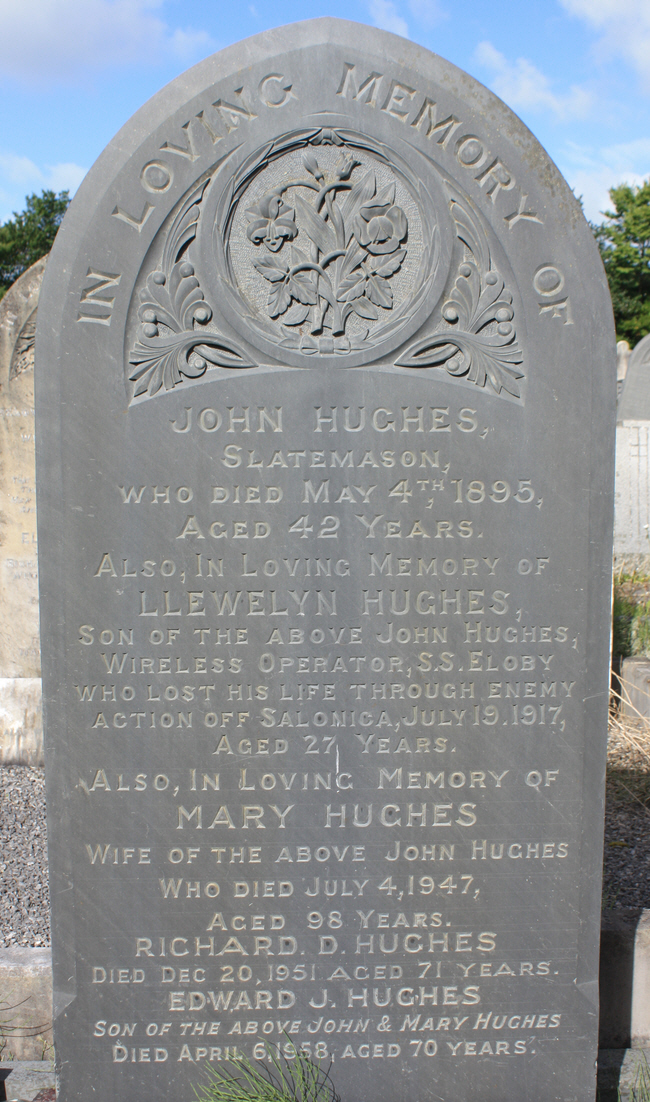 Llewelyn Hughes was a Wireless Operator on the S S Eloby that was sunk with the loss of 156 lives by the submarine U-38 in July 1917.
---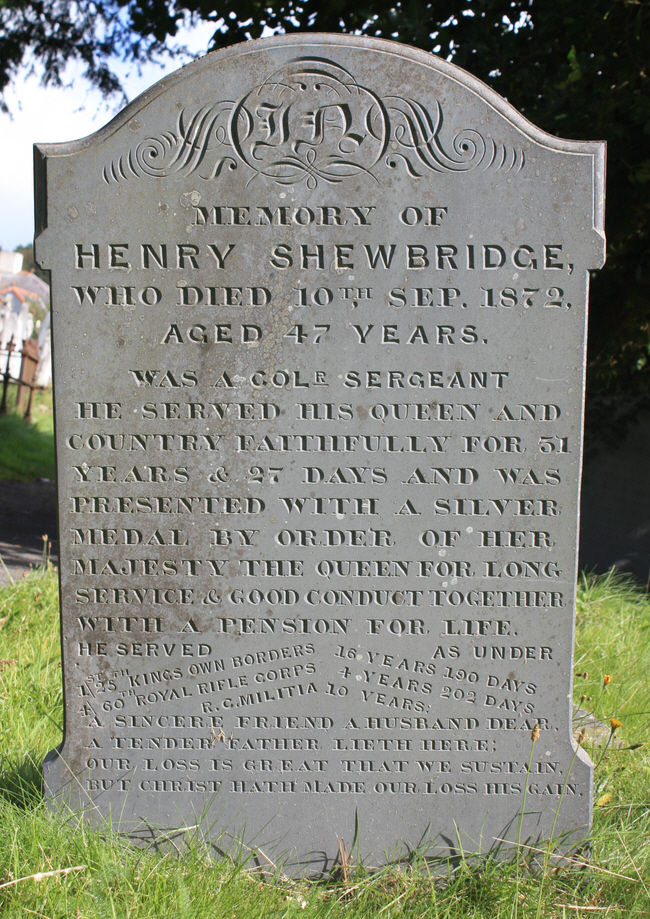 It is unusual for a old soldier's military service to be presented in this way.
---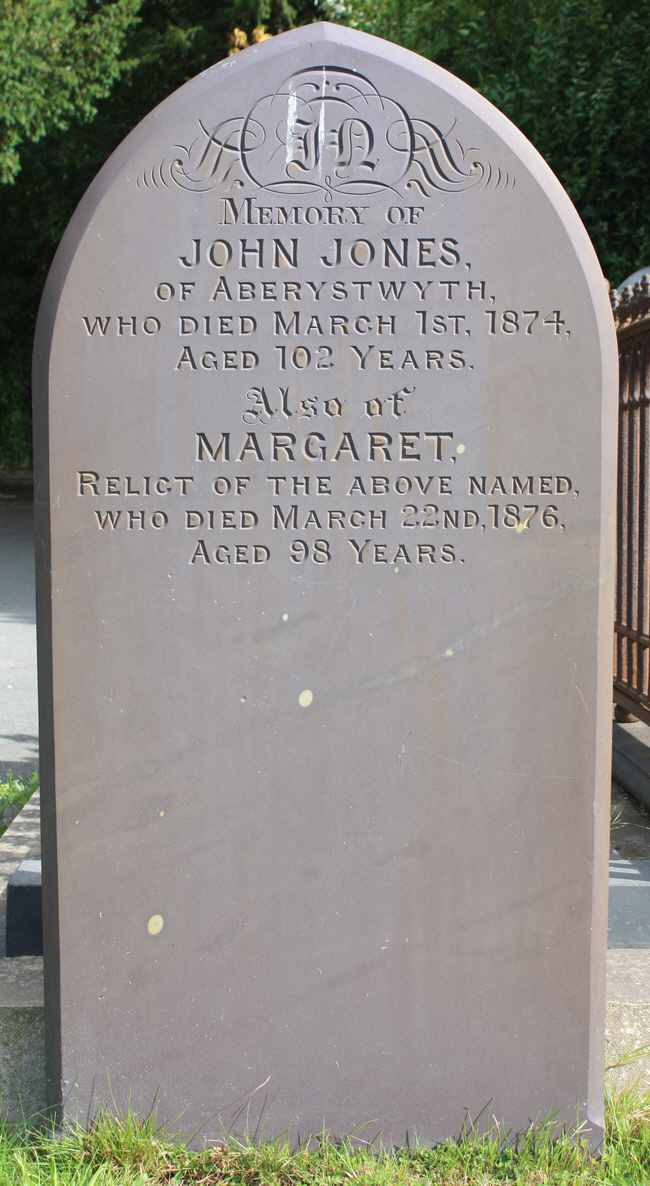 John Jones died aged 102 and his wife died aged 98. This would have been most unusual in the nineteenth century.
---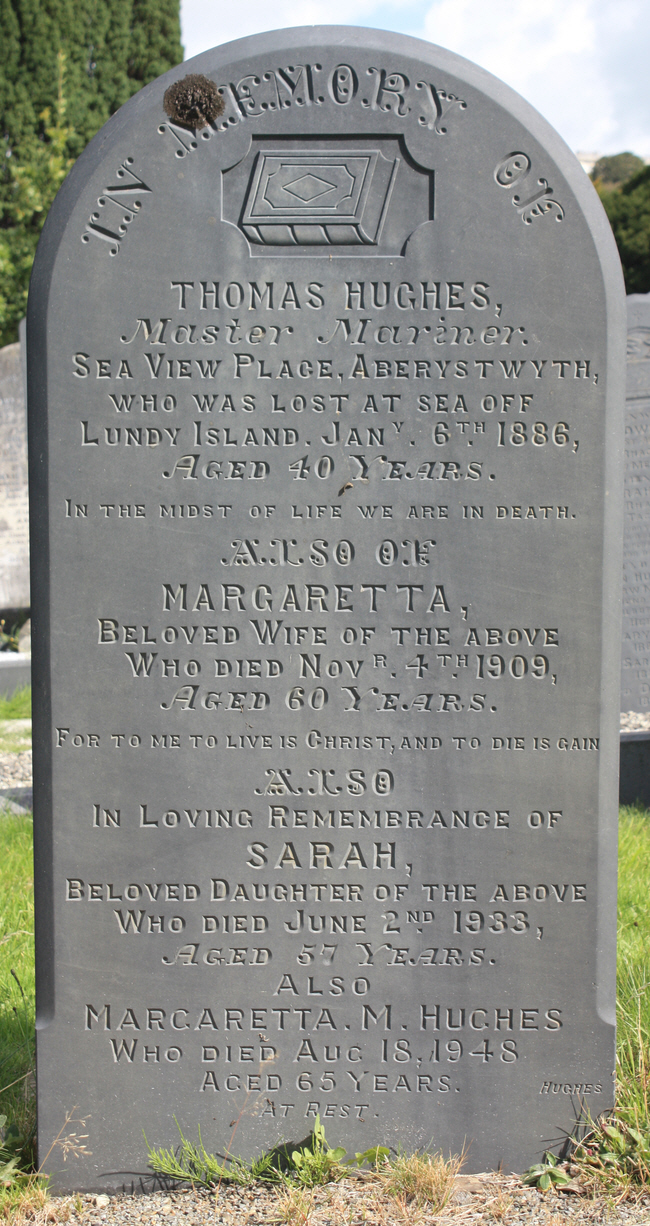 Thomas Hughes was "lost at sea off Lundy Island" in January 1886.
---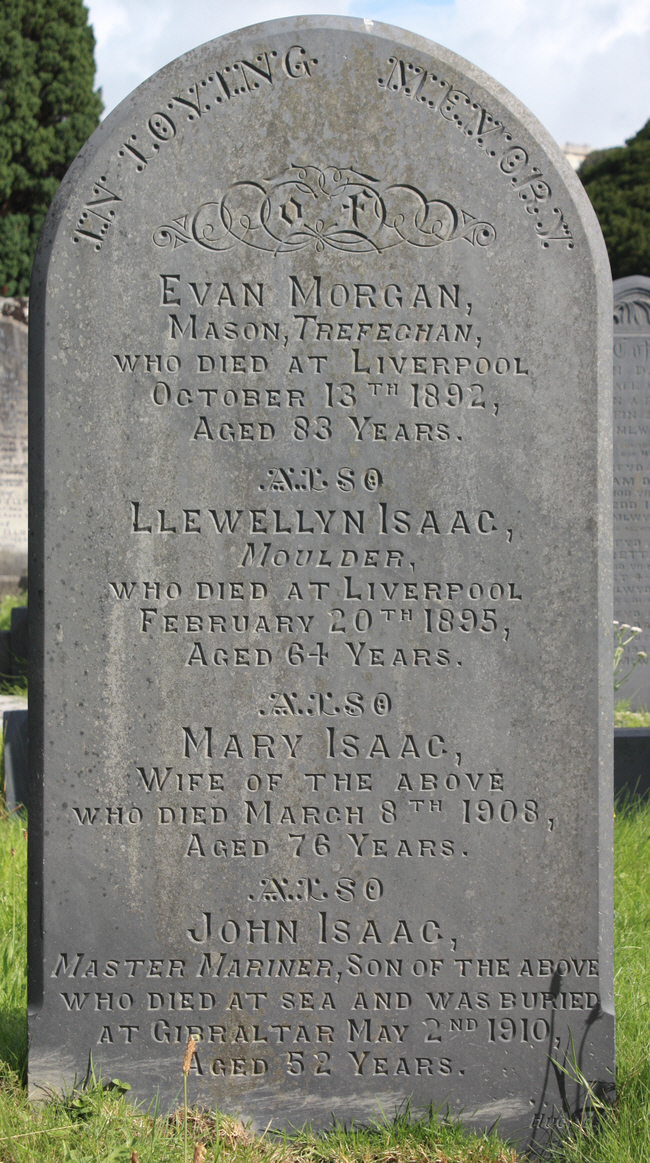 John Isaac died at sea and was buried at Gibraltar in May 1910.
---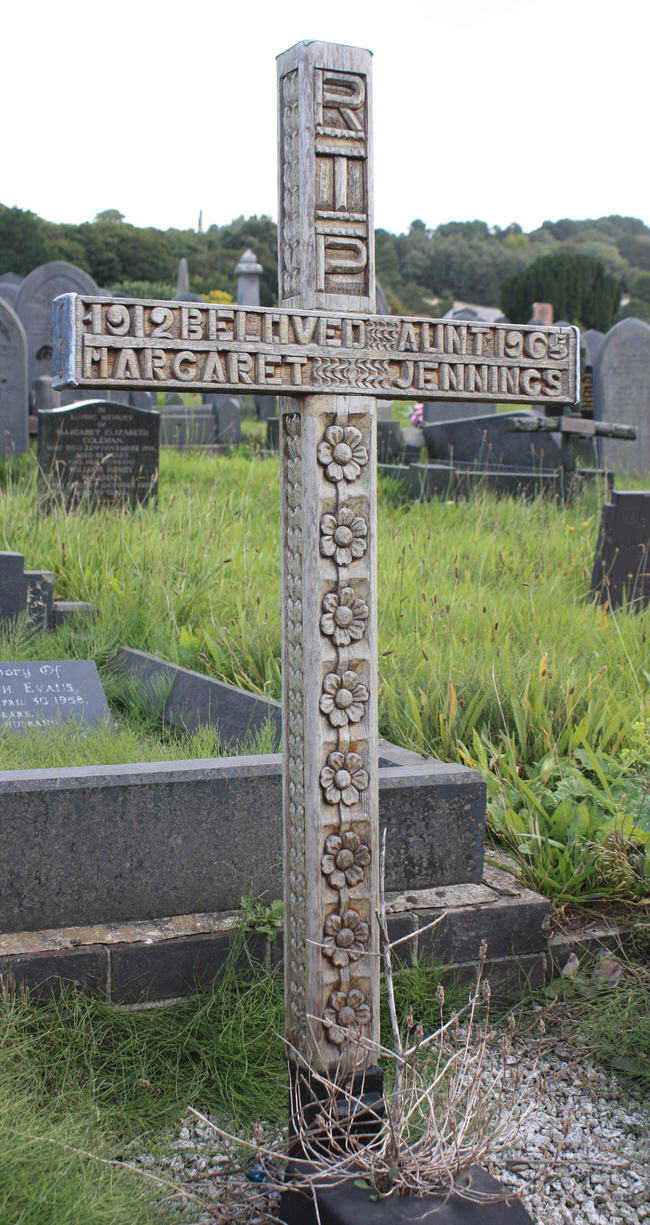 An unusual design quite unlike anything we have seen before.
---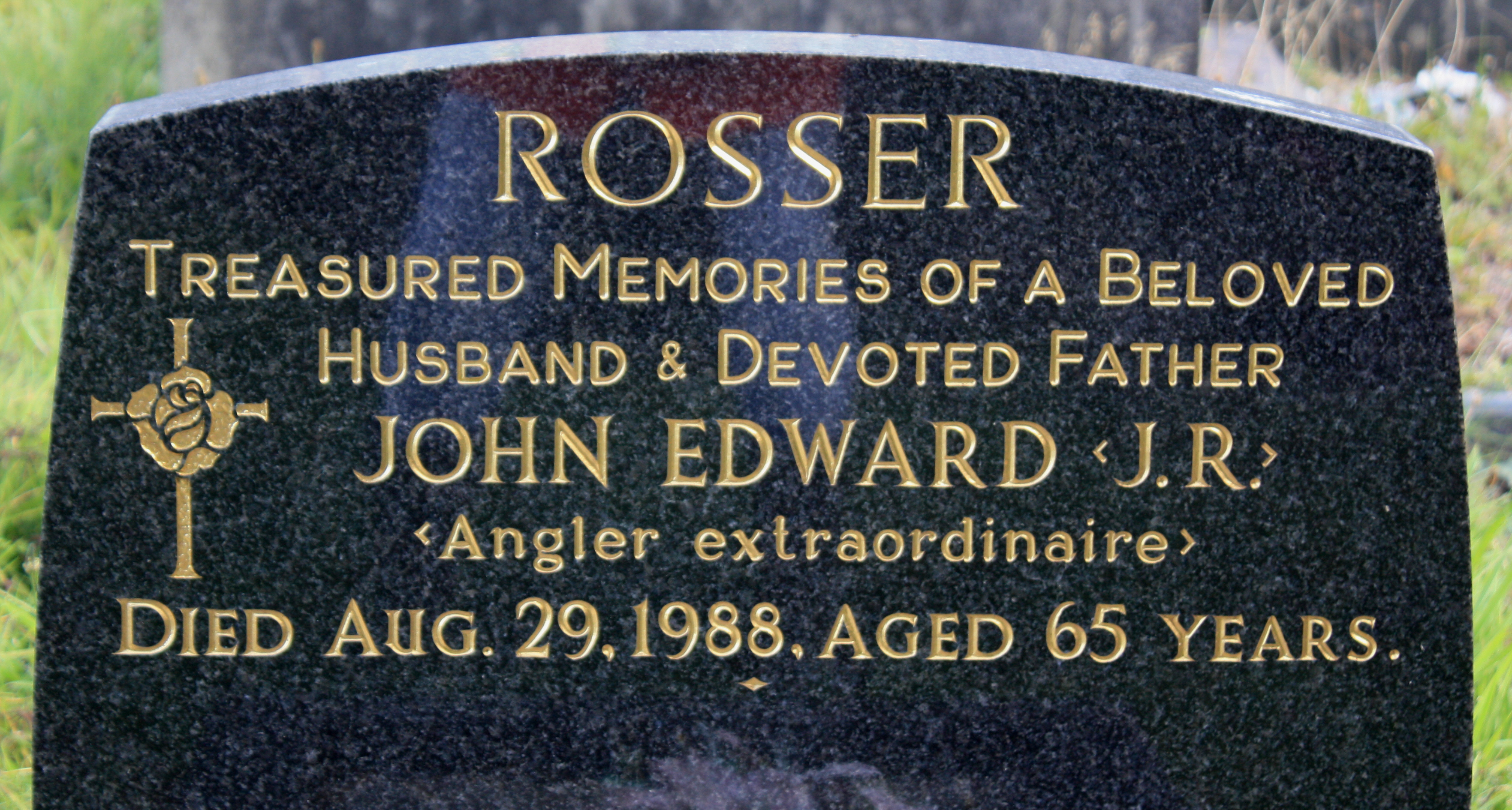 John Edwards - "Angler extraordinaire".
---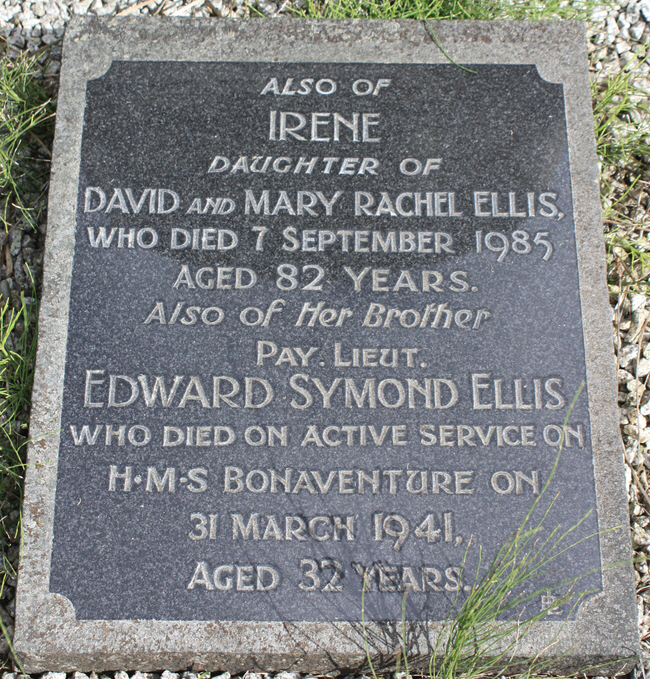 Edward Symond Ellis died on active service on H M S Bonaventure in March 1941.
---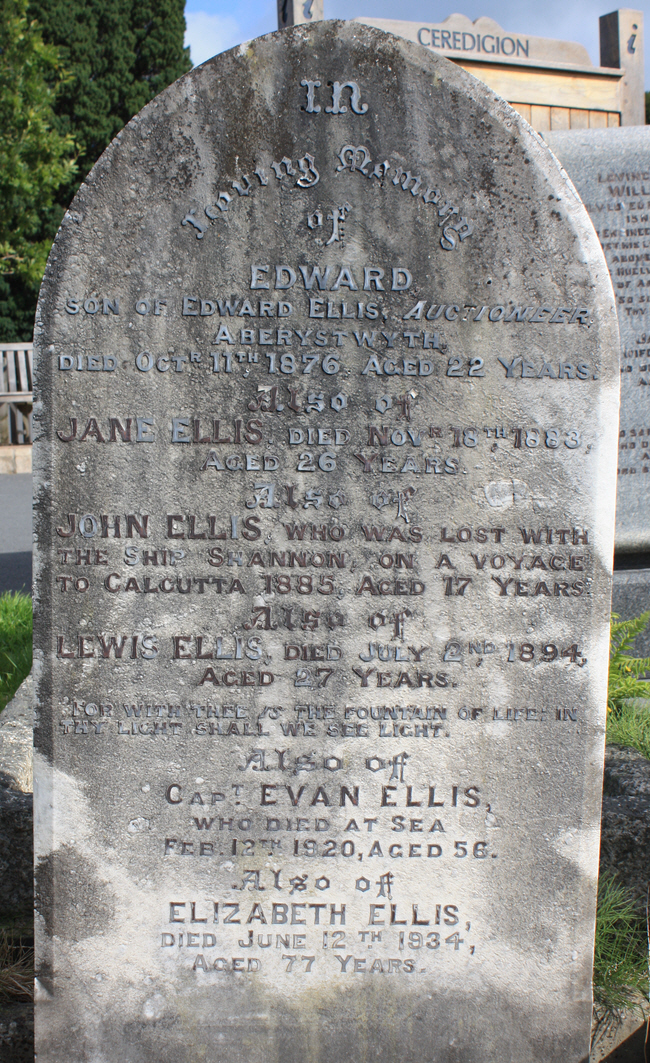 John Ellis was "lost with the ship Shannon on a voyage to Calcutta" in 1885.
---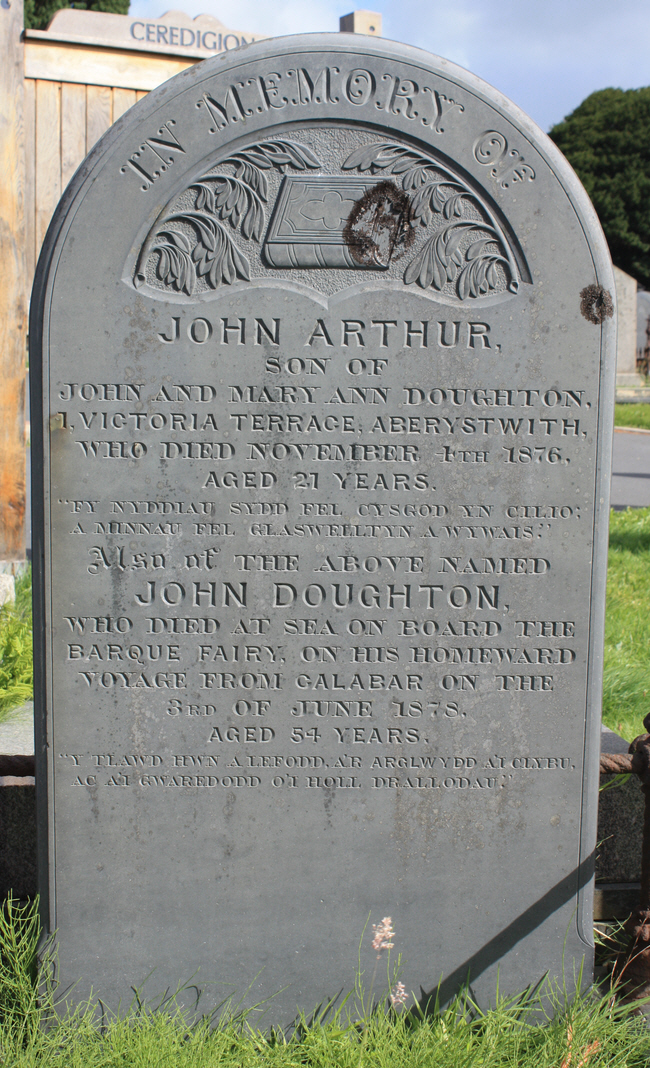 John Doughton "died at sea on board the barque Fairy on his homeward voyage from Calabar" in June 1878. Calabar is a port in south-east Nigeria.
---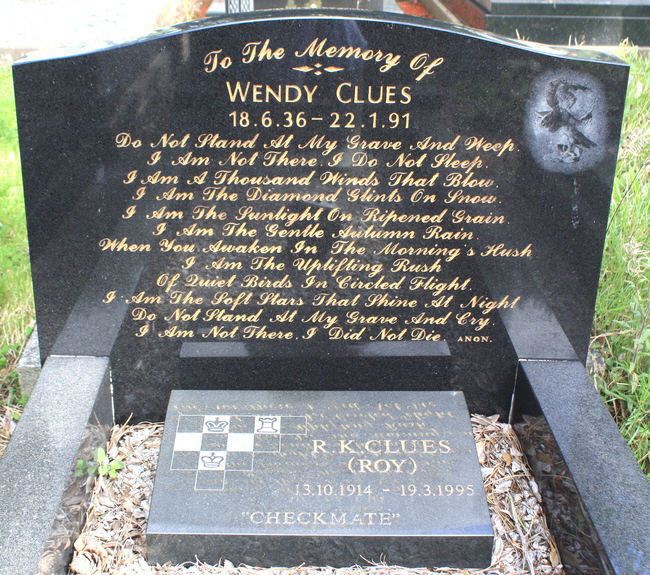 The first chess themed memorial we have seen.
---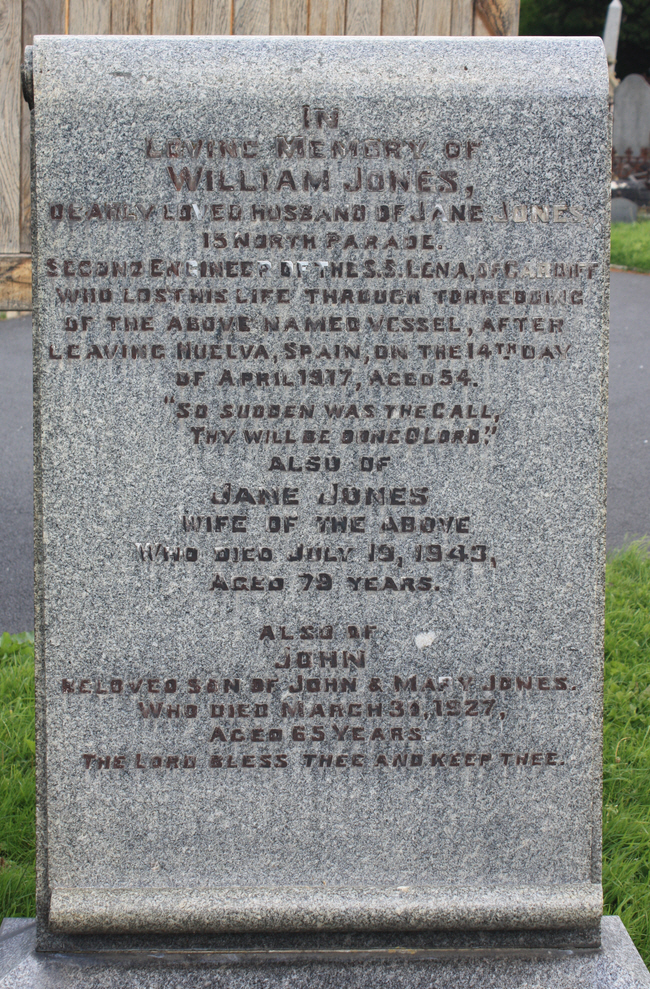 The S S Lena, on a voyage from Huelva to Bristol with a cargo of government stores, was sunk by the German submarine U-61 southwest of the Scillies. William Jones was one of the 25 persons that were lost.
---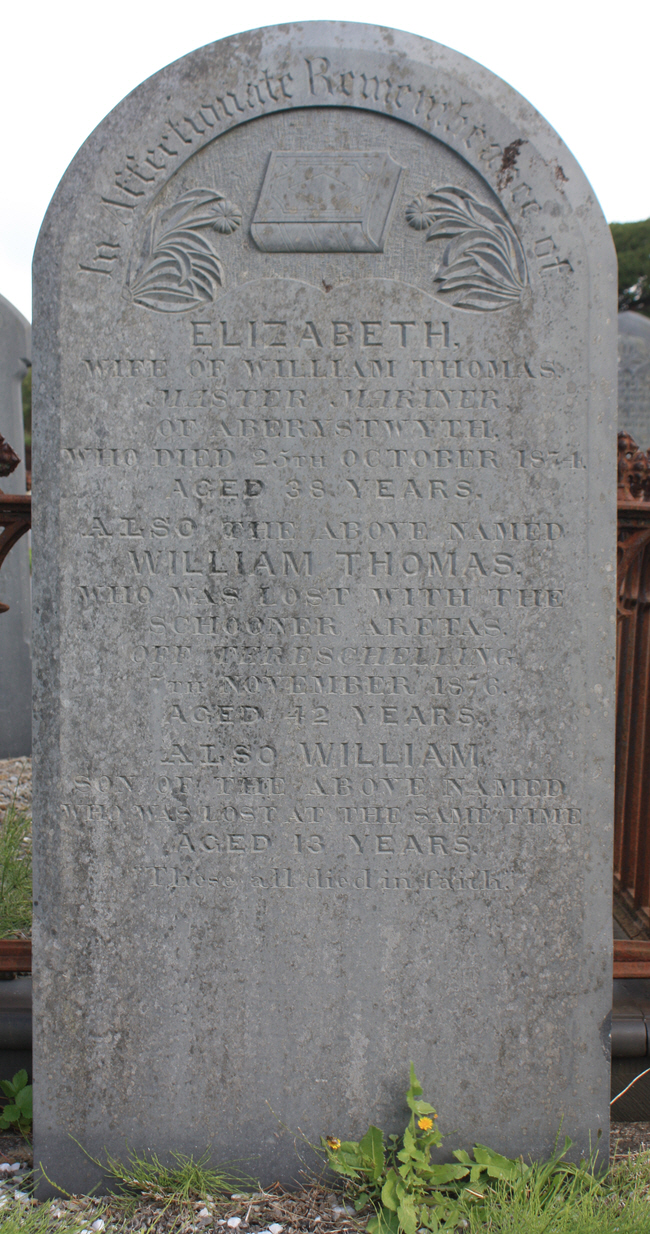 William Thomas was lost with the schooner Aretas in November 1876.
---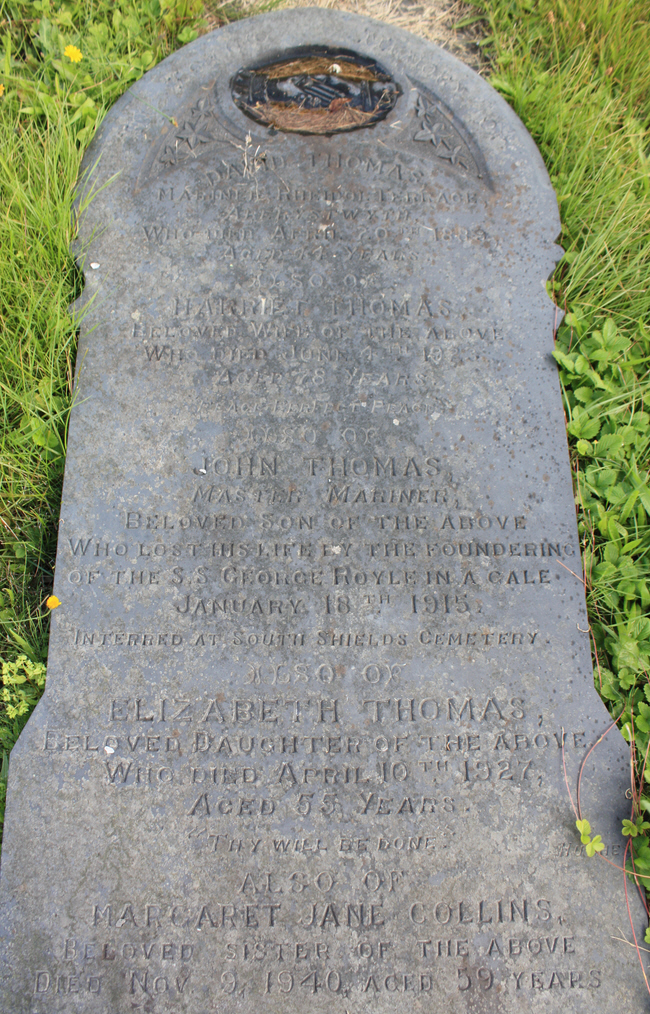 John Thomas lost his life "by the foundering of the S S George Royle" in January 1915.
---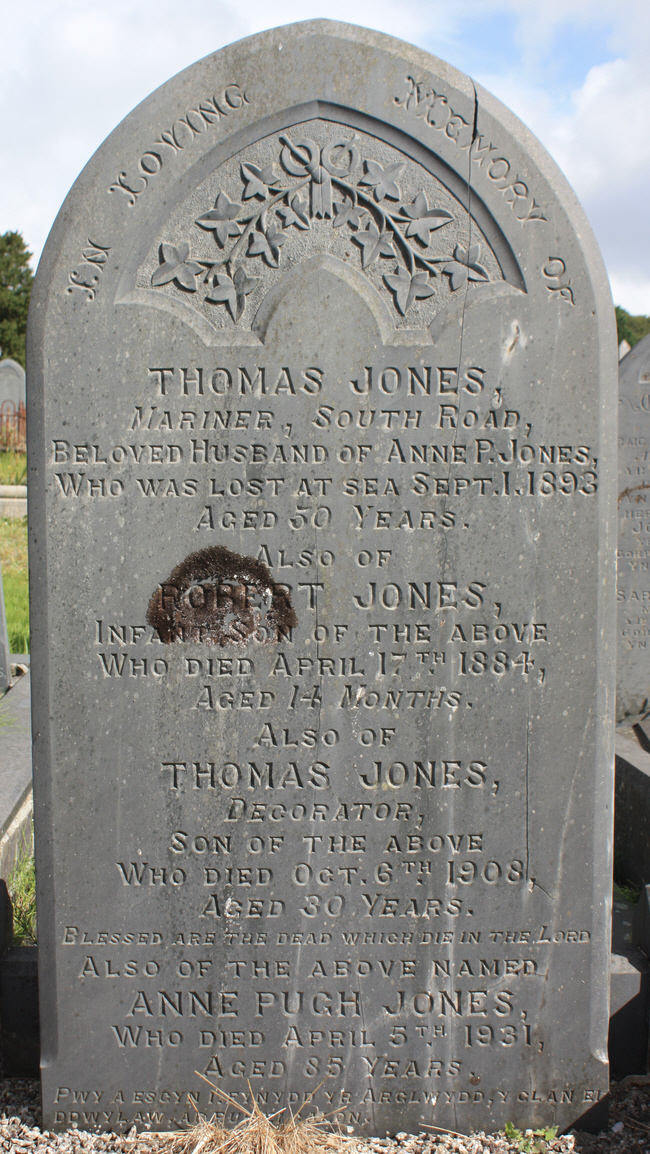 Thomas Jones was lost at sea in September 1893.
---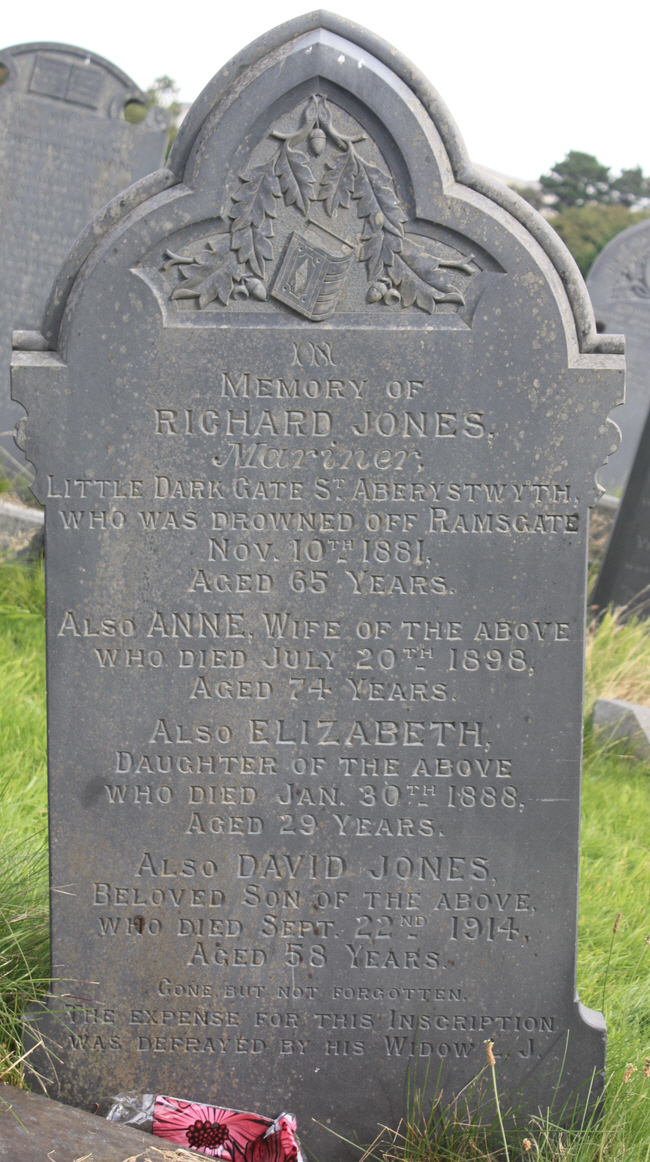 Richard Jones was drowned off Ramsgate in November 1881.
---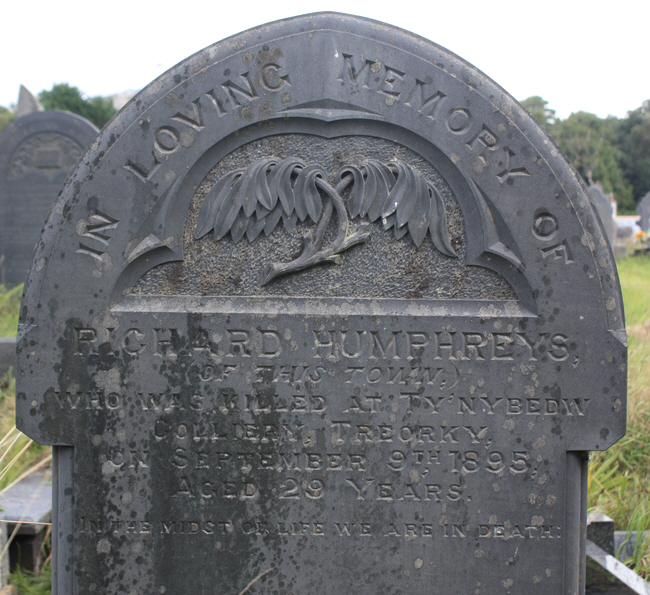 Richard Humphreys was killed at the Nybedw Colliery in September 1895.
---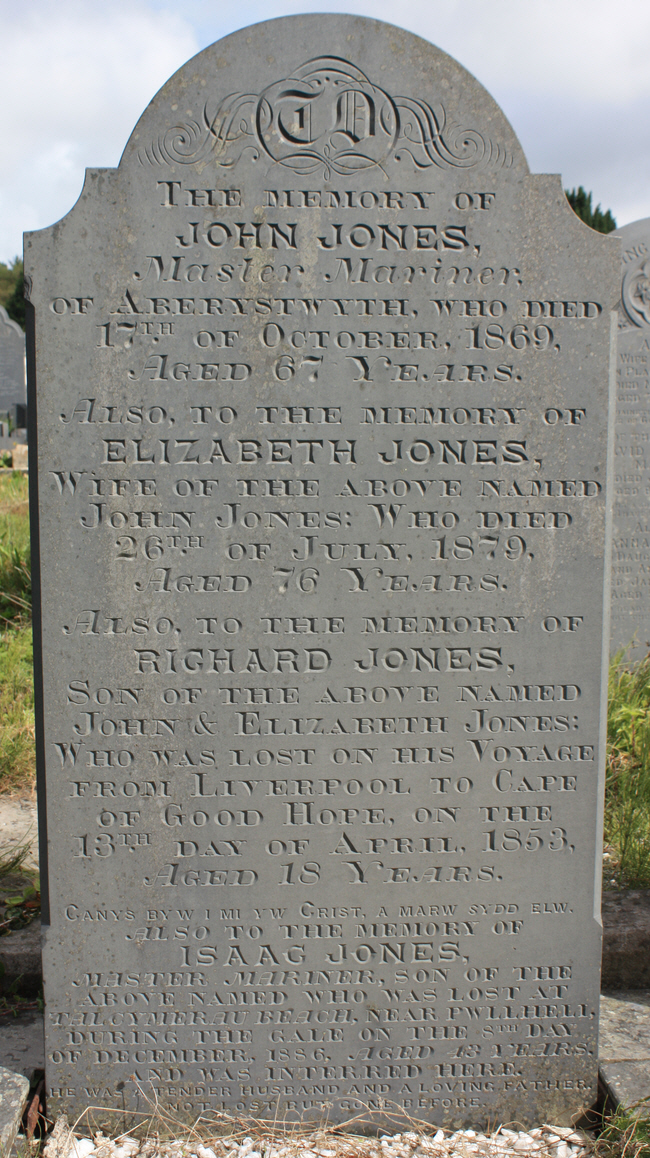 Richard Jones was lost "on his voyage from Liverpool to Cape of Good Hope" in April 1853. Isaac Jones, his brother, was drowned near Pwllheli in December 1886.
---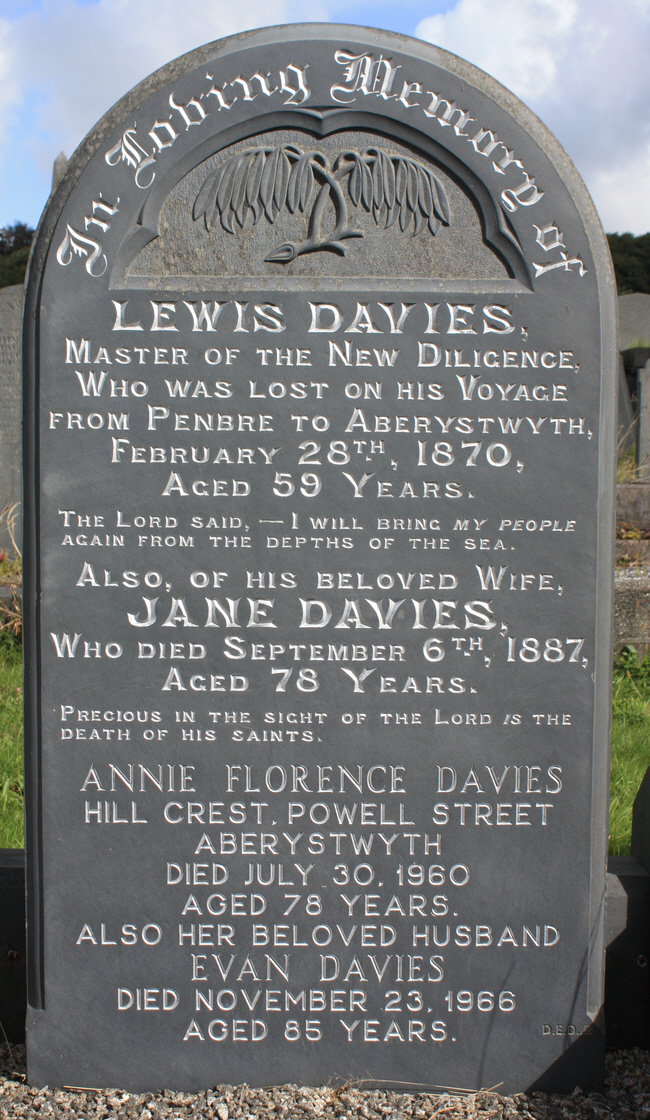 Lewis Davies was "lost on his voyage from Penbre to Aberystwyth" in February 1870.
---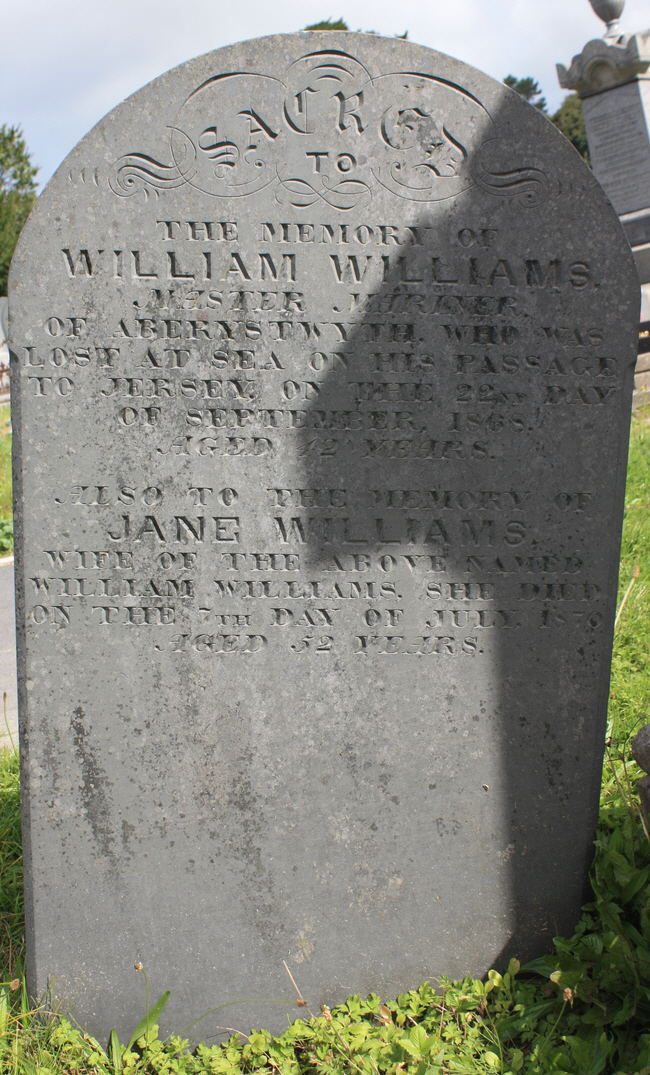 William Williams was "lost at sea on his passage to Jersey" in 1868.
---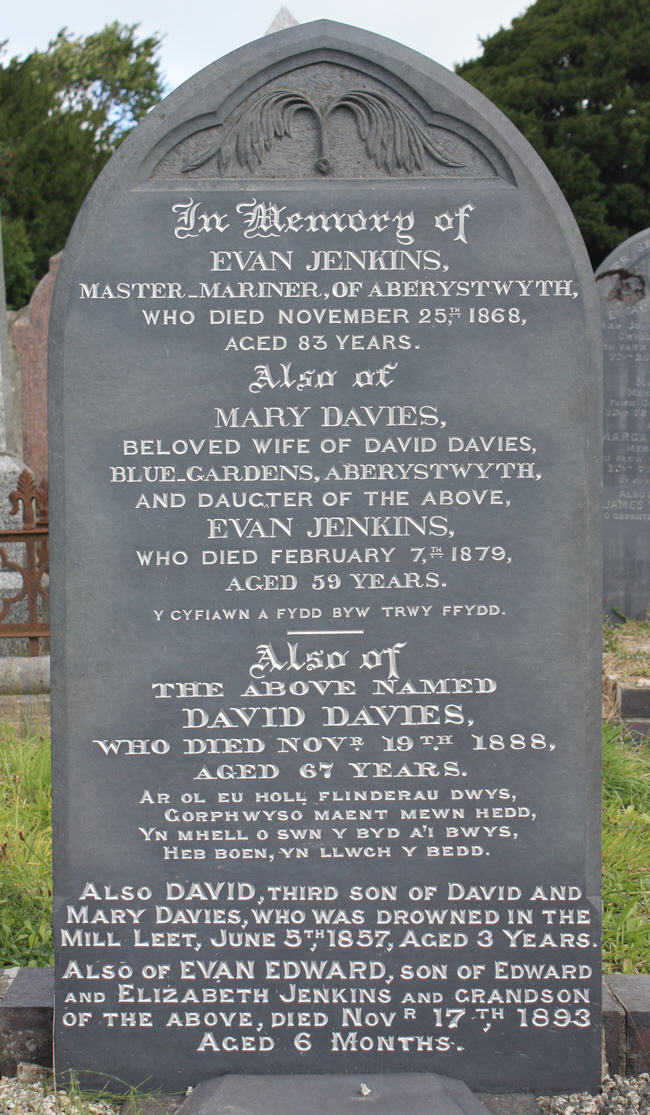 David Davies, aged three, was drowned in the Mill Leet in 1857.
---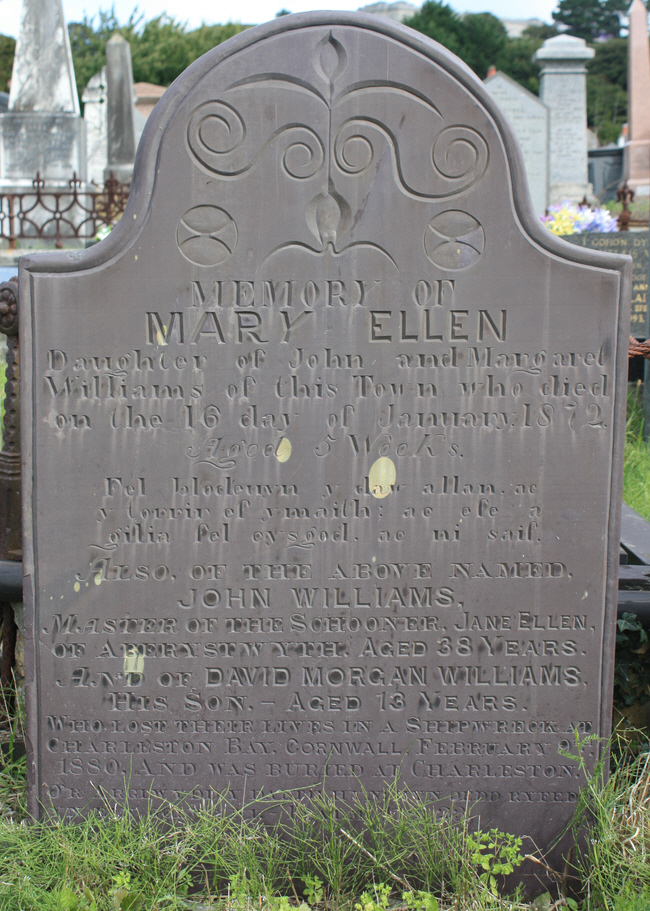 John Williams and his son David Morgan Jones lost their lives in a shipwreck at Charleston Bay Cornwall in February 1880.
---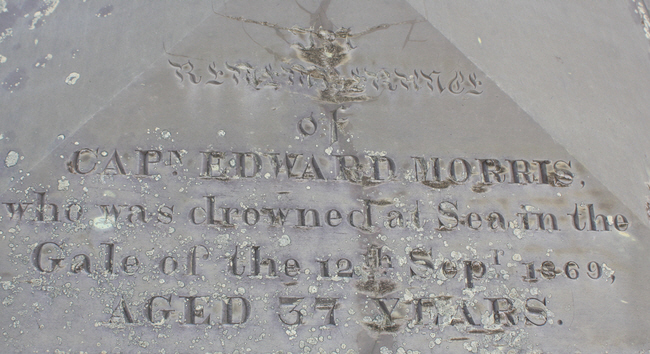 Edward Morris "was drowned at sea in the gale of 12th September 1869".
---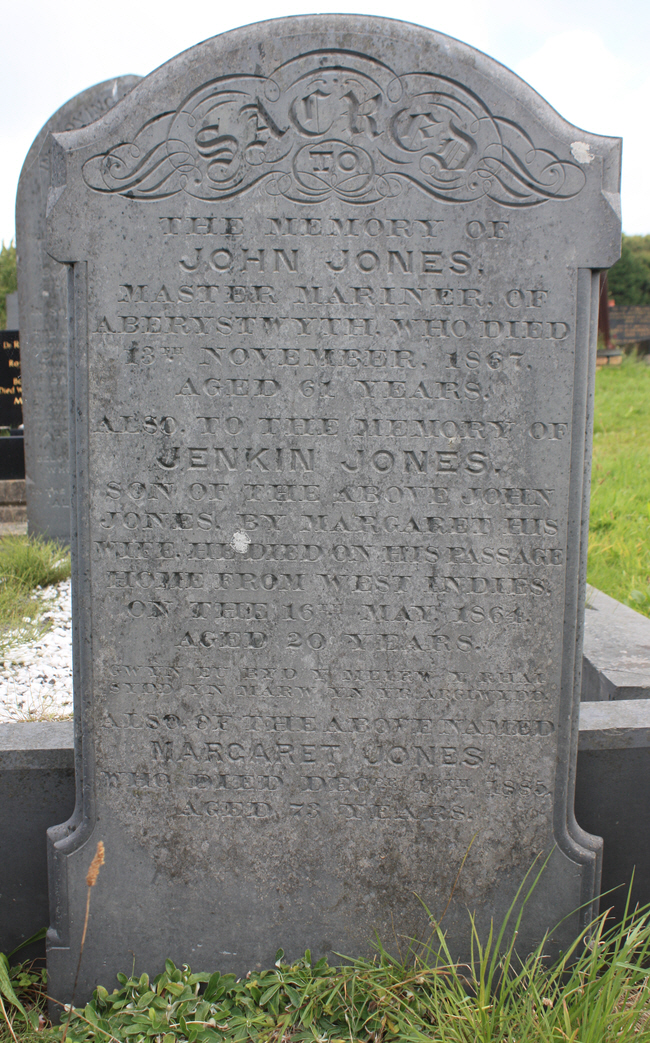 Jenkin Jones "died on his passage home from the West Indies" in May 1864
---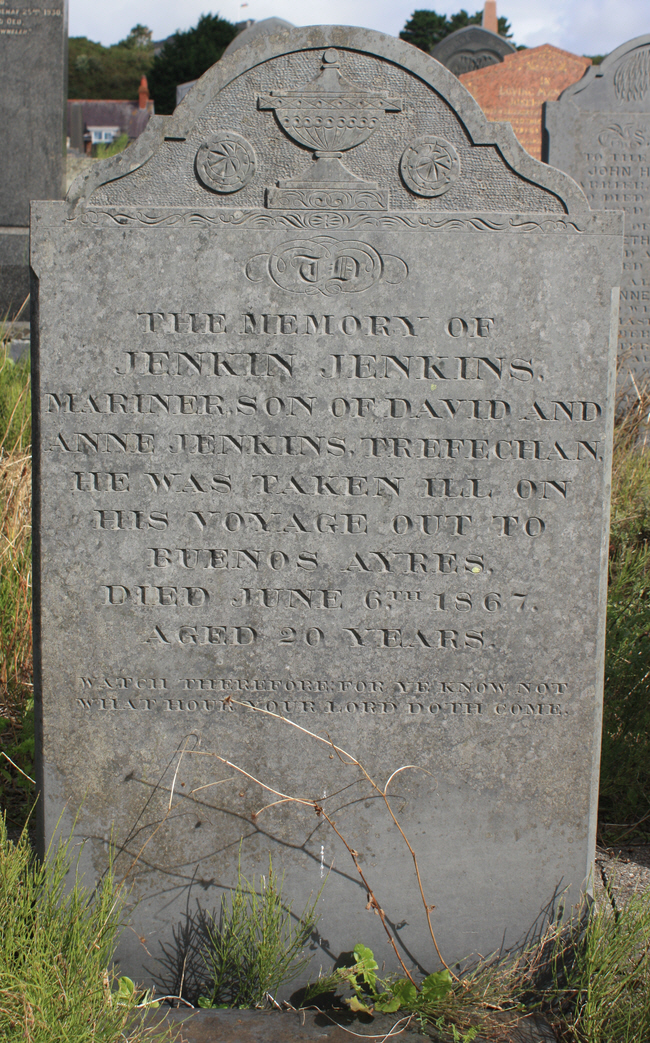 Jenkin Jenkins was "taken ill" and died on his voyage to Buenos Ayres in June 1867.
---
A moving eulogy to a dead baby.
---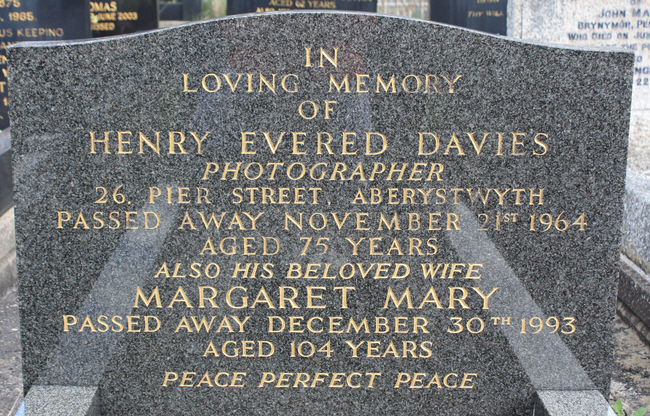 Age 104.
---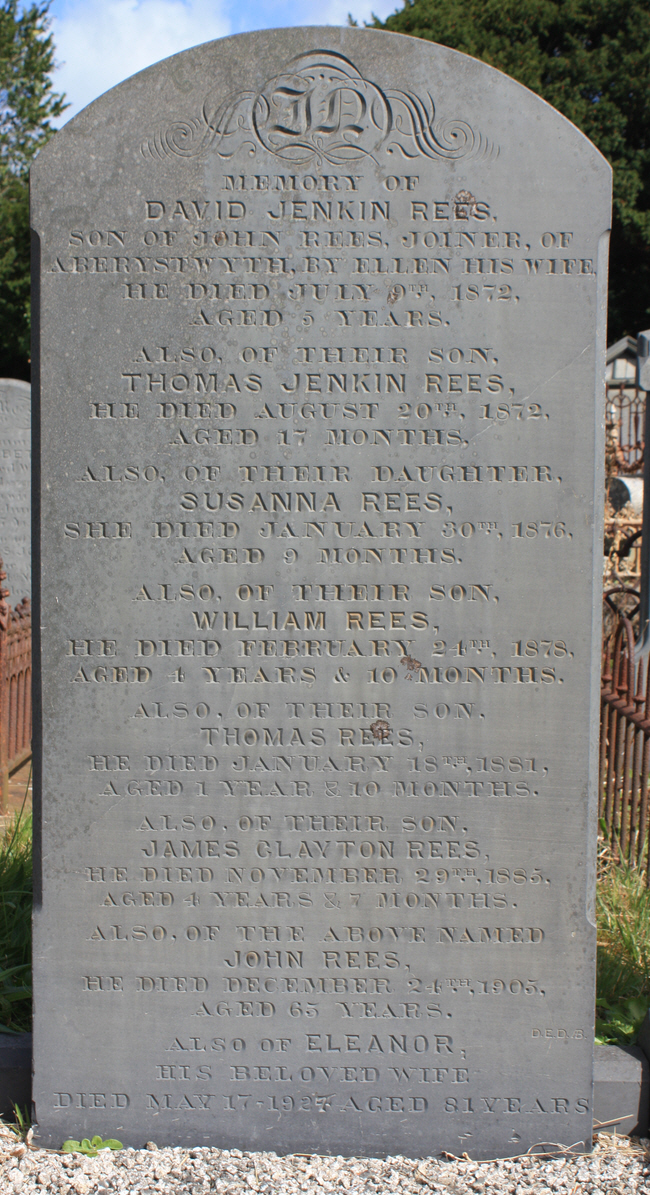 David and Ellen Rees lost six children before their sixth birthday.
---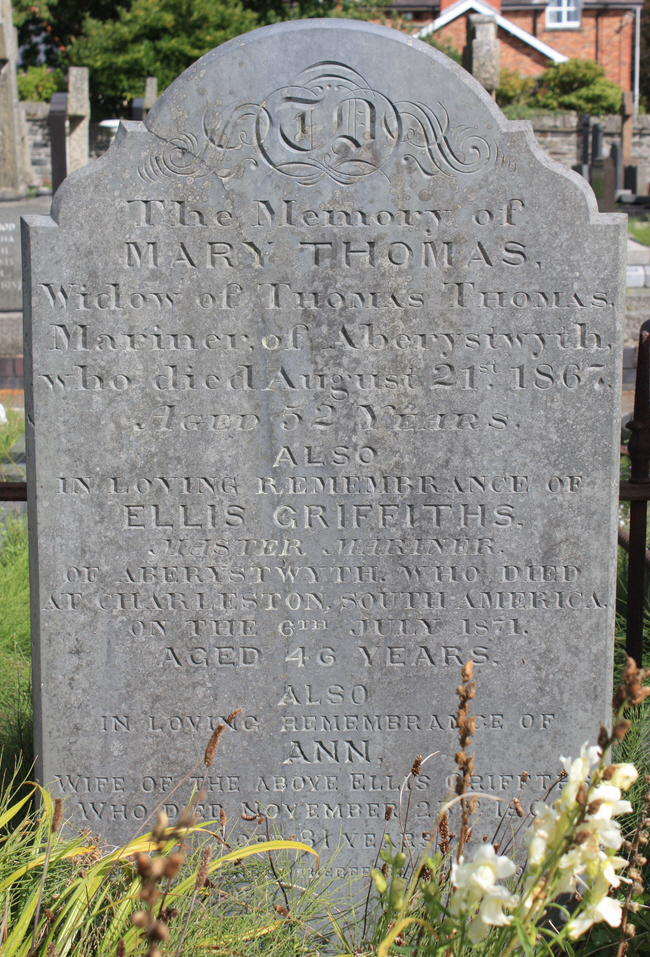 Ellis Griffiths died at Charleston South America (sic) - Charleston is in South Carolina in the United States of America.
---

Thomas Mortimer Green sailed on the barque Cambrian King in 1901 and "was not afterwards heard of".
---
---
PROFESSIONS OF THE DECEASED
A Sanitary Inspector.
---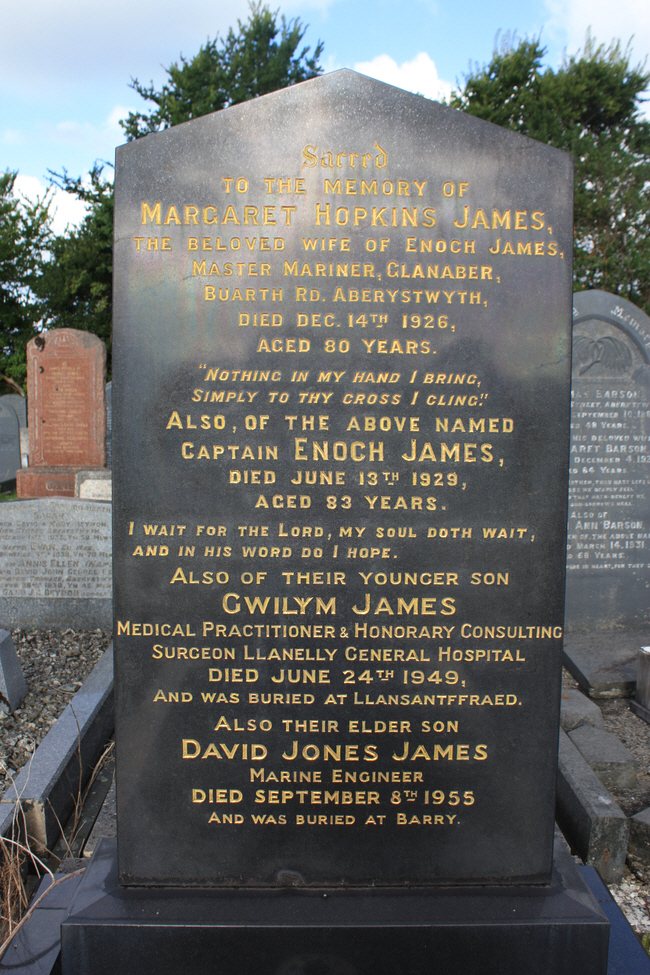 A Marine Engineer.
---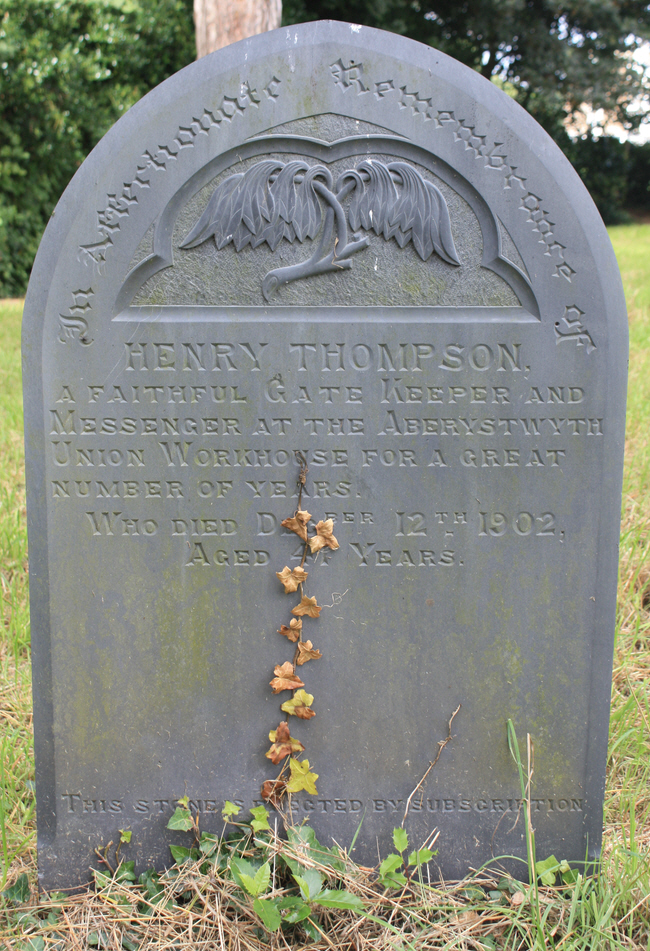 A Gate Keeper and Messenger at the Union Workhouse.
---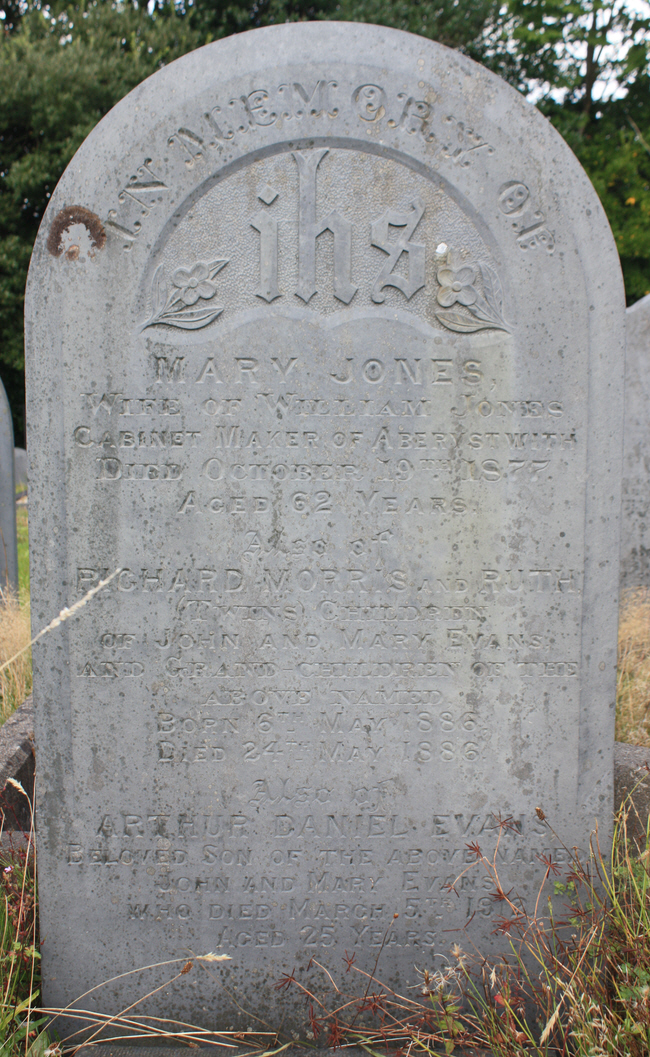 A Cabinet Maker.
---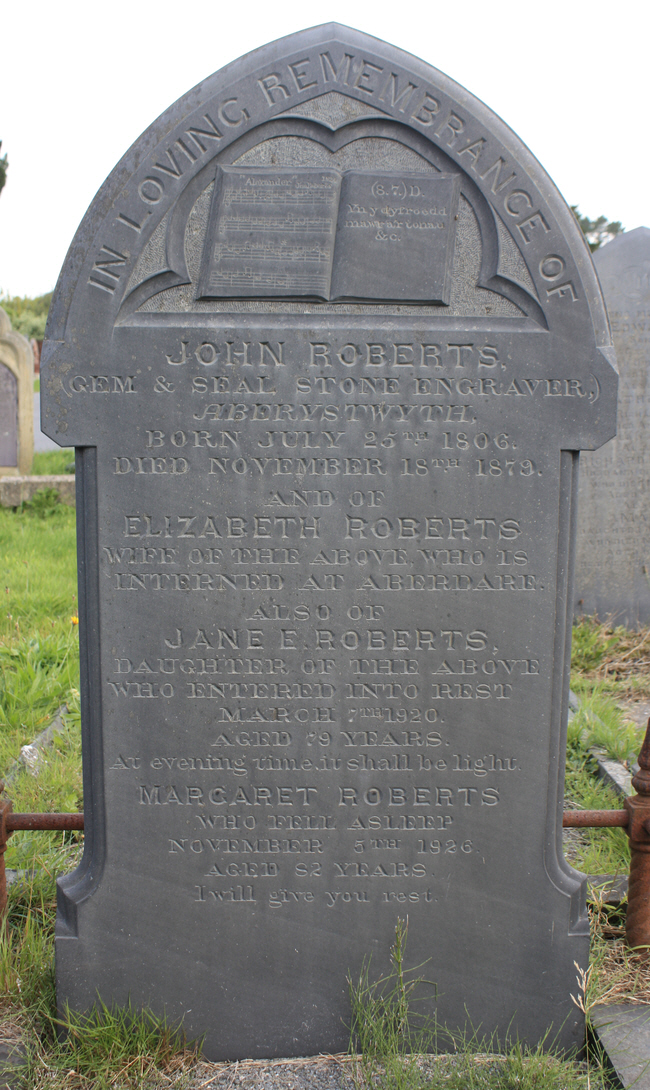 A Gem and Seal Stone Engraver.
---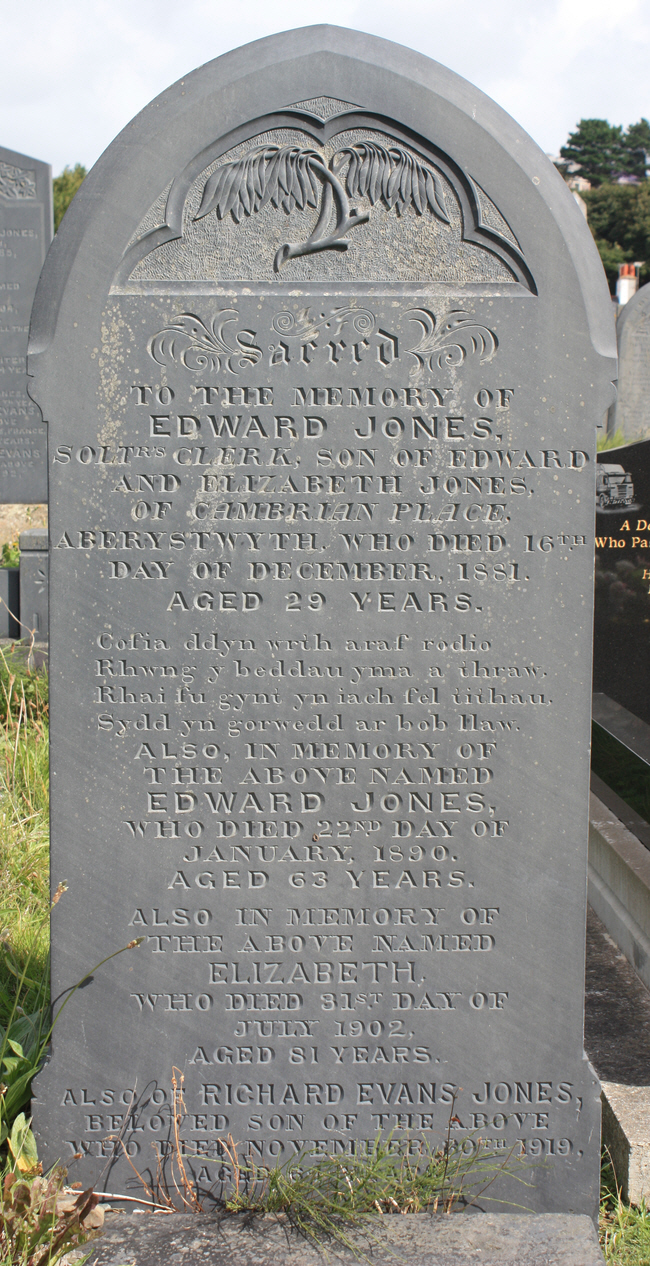 A Solicitors Clerk.
---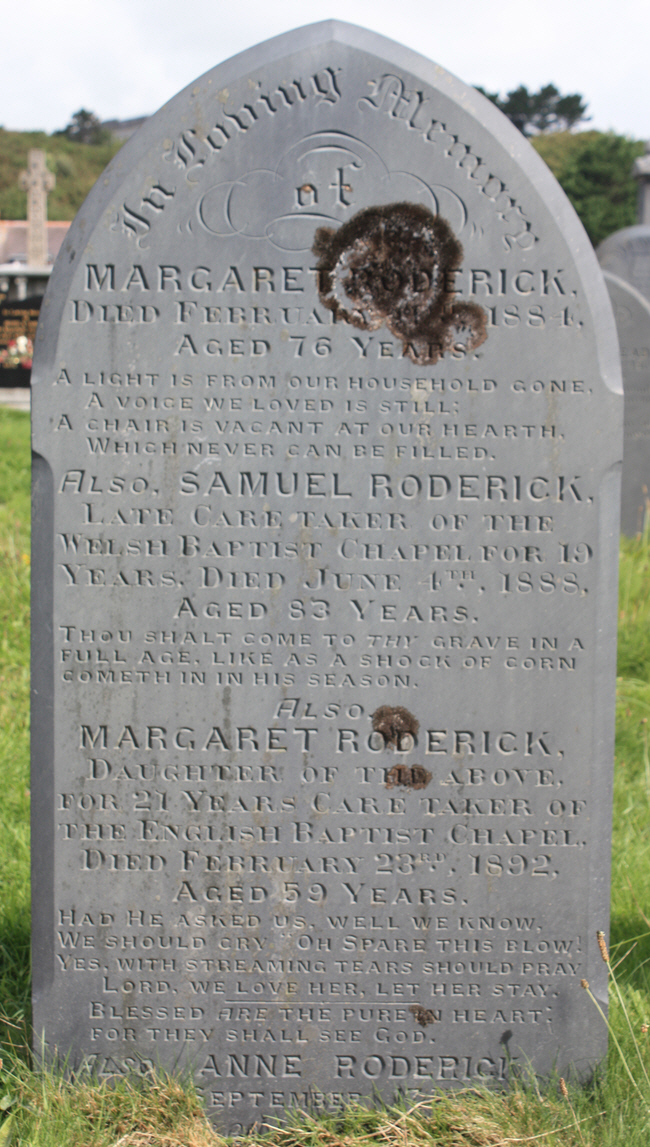 Two Caretakers of the English and the Welsh Baptist Chapels.
---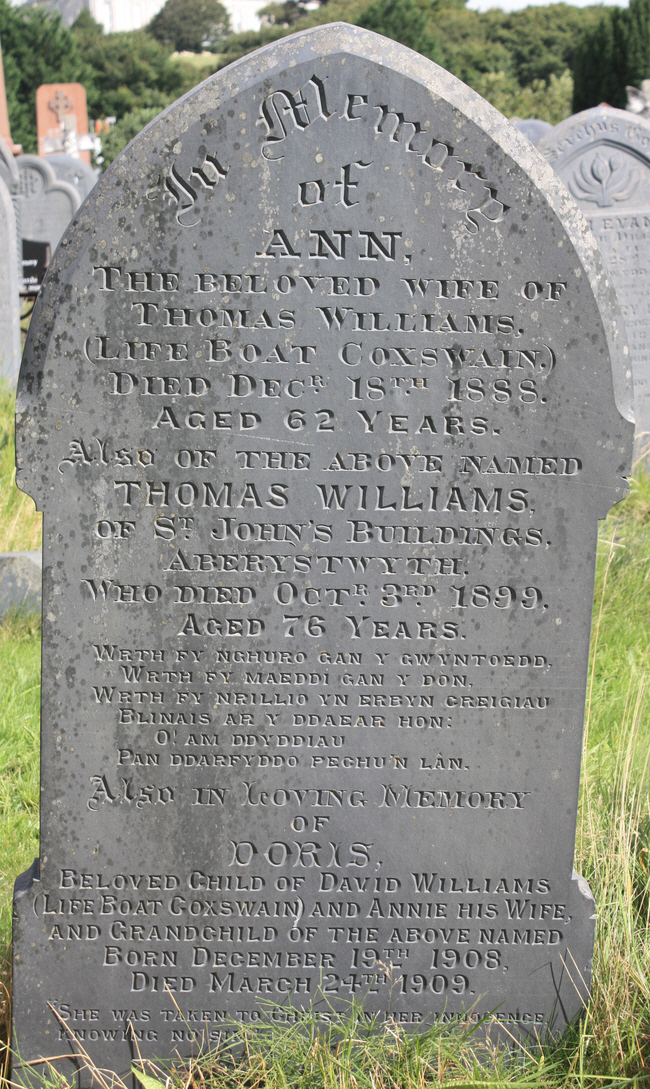 A Lifeboat Coxswain.
---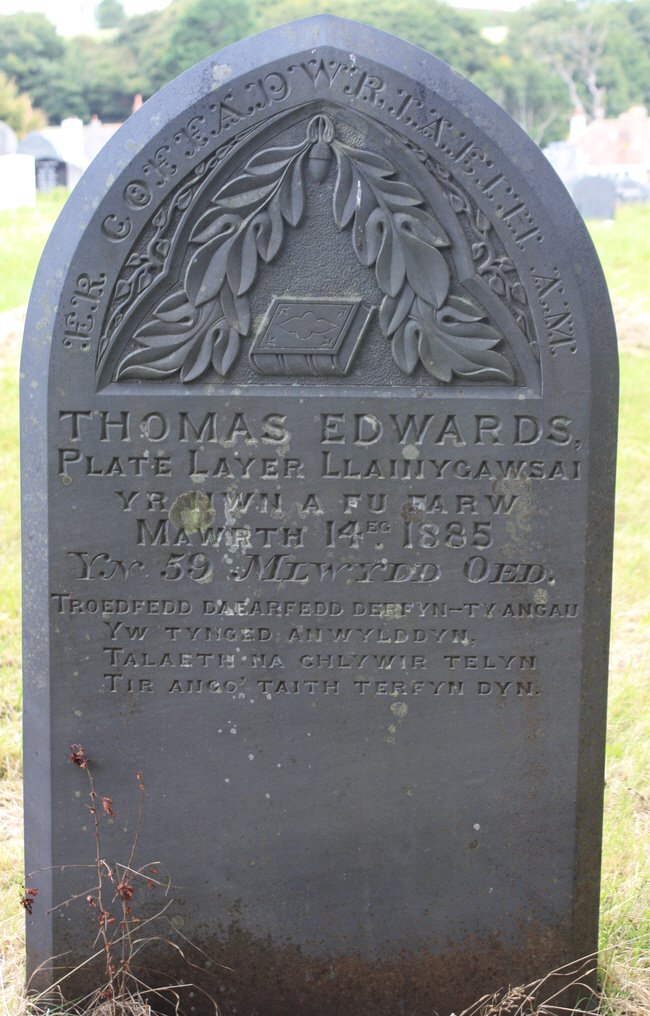 A Plate Layer.
---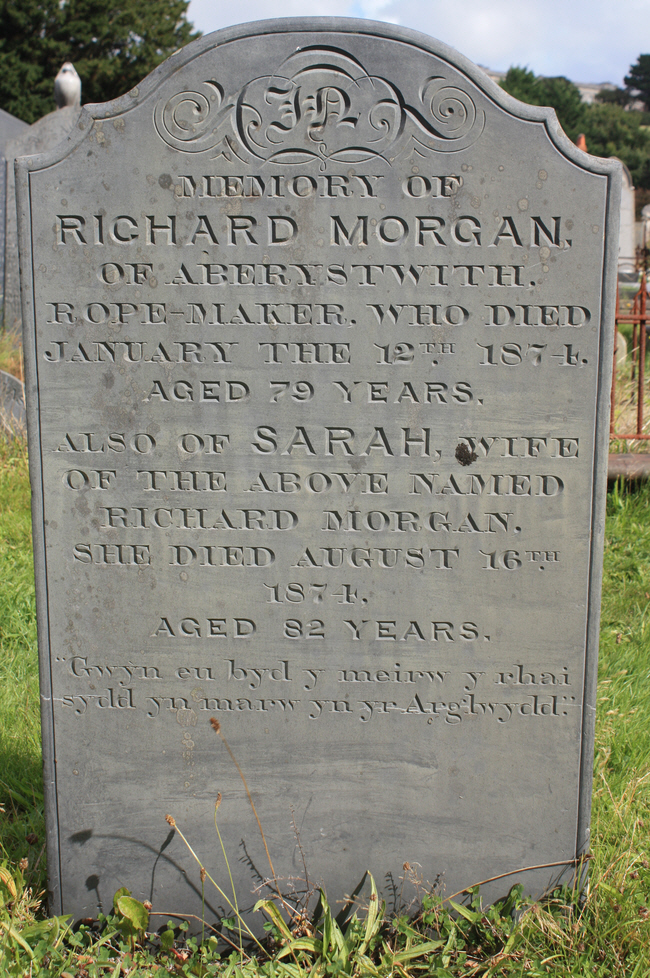 A Rope Maker.
---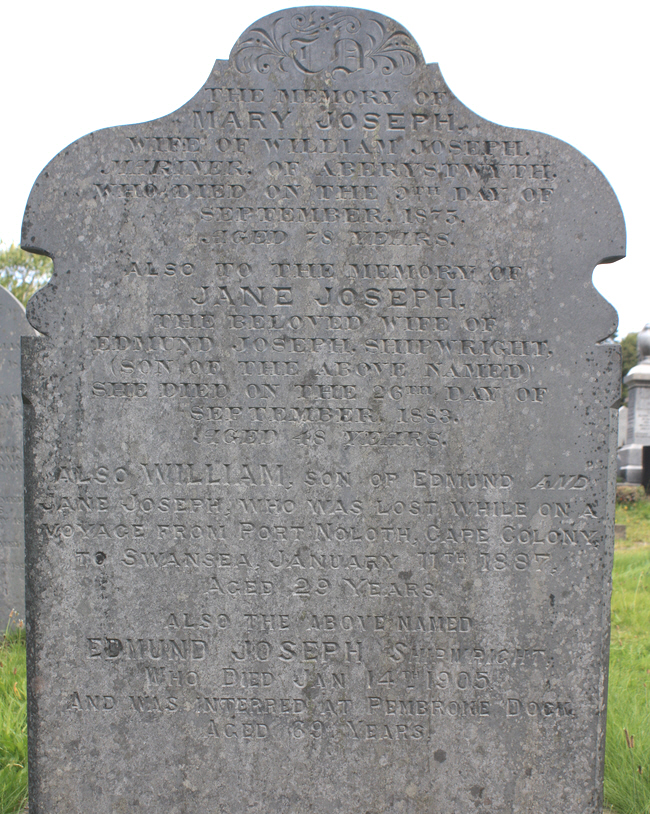 A Shipwright.
---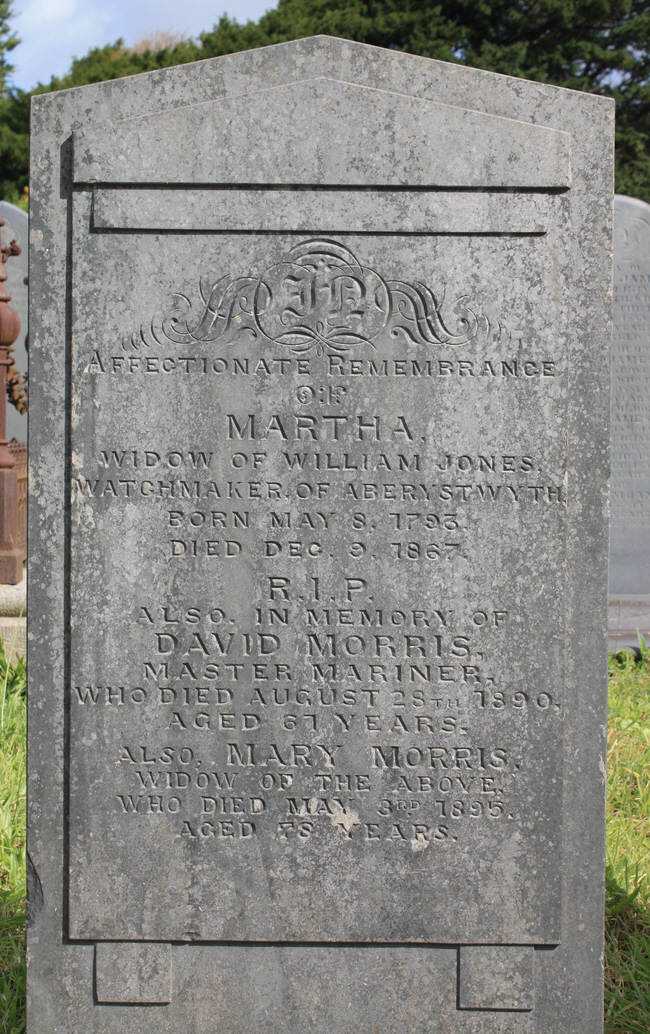 A Watchmaker.
---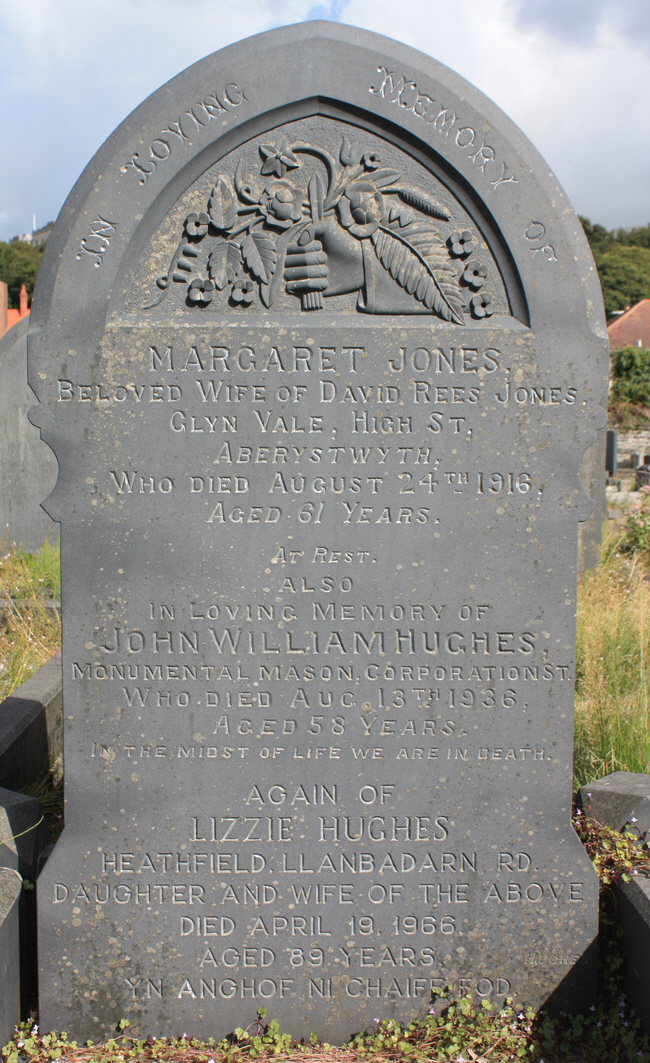 A Monumental Mason.
---
---
A second visit was made in June 22nd 2017 to complete our survey.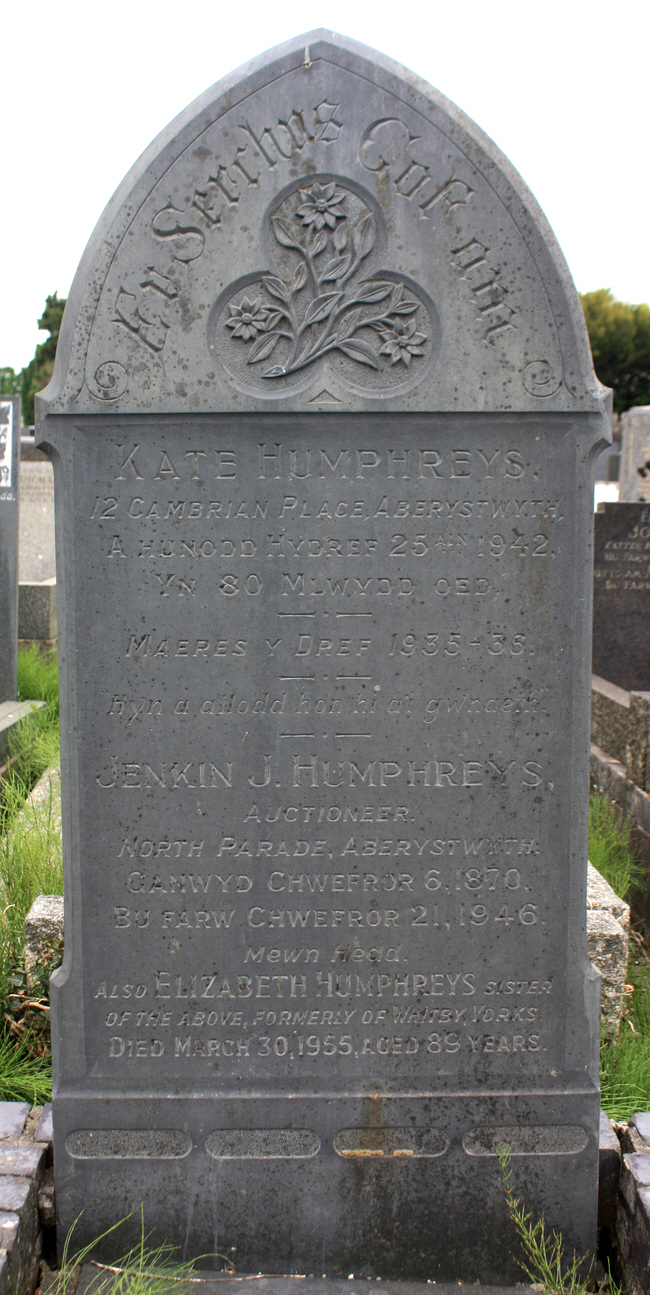 Jenkin was an Auctioneer.
---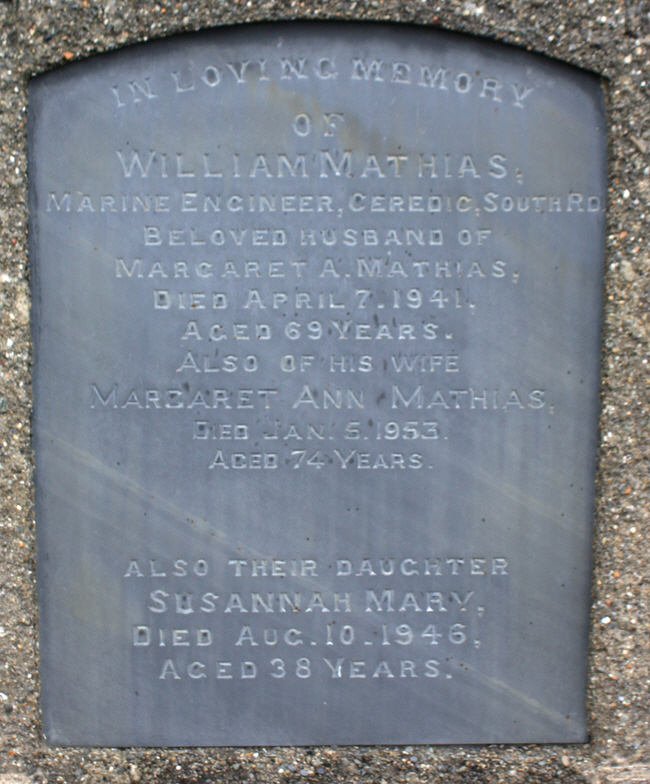 William was a Marine Engineer.
---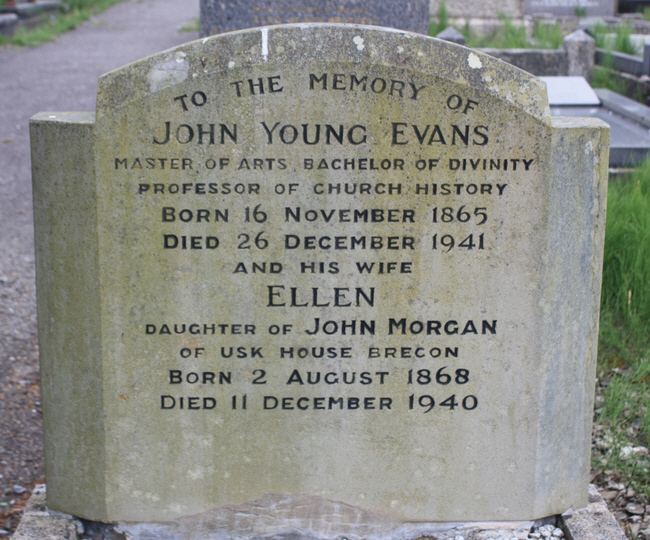 John was Professor of Church History.
---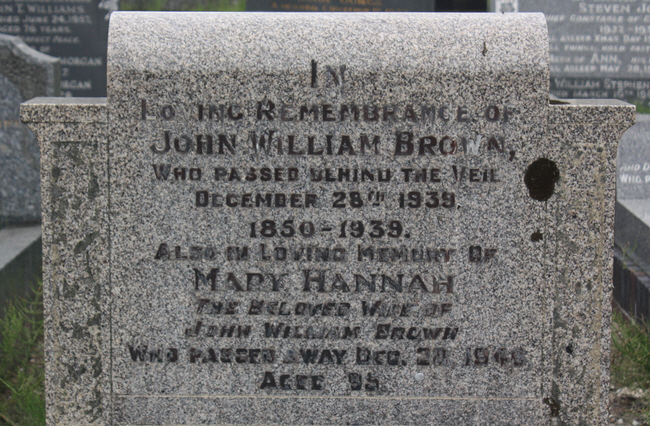 ".. who passed behing the veil...".
---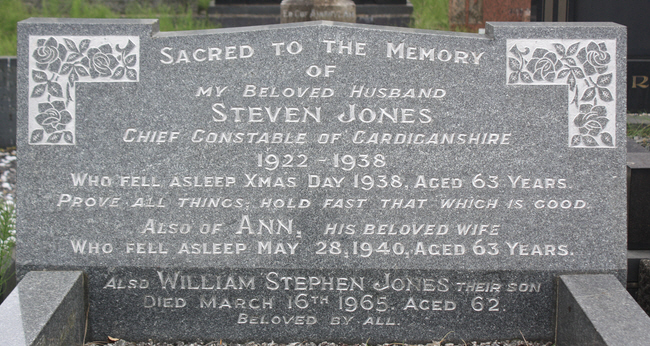 Steven was Chief Constable of Cardiganshire. He died on Christmas Day.
---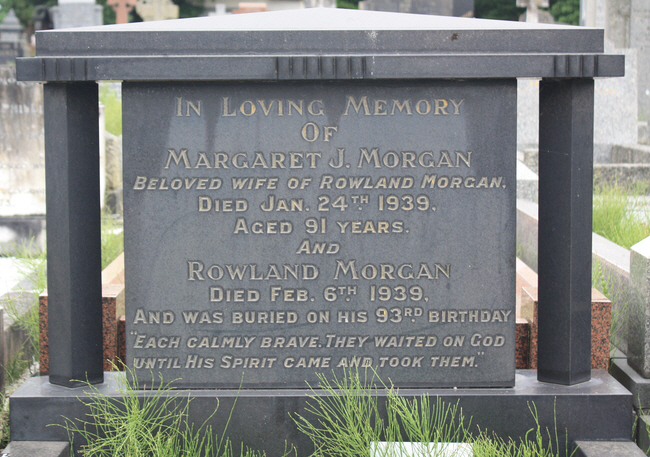 Rowland was buried on his 93rd birthday.
---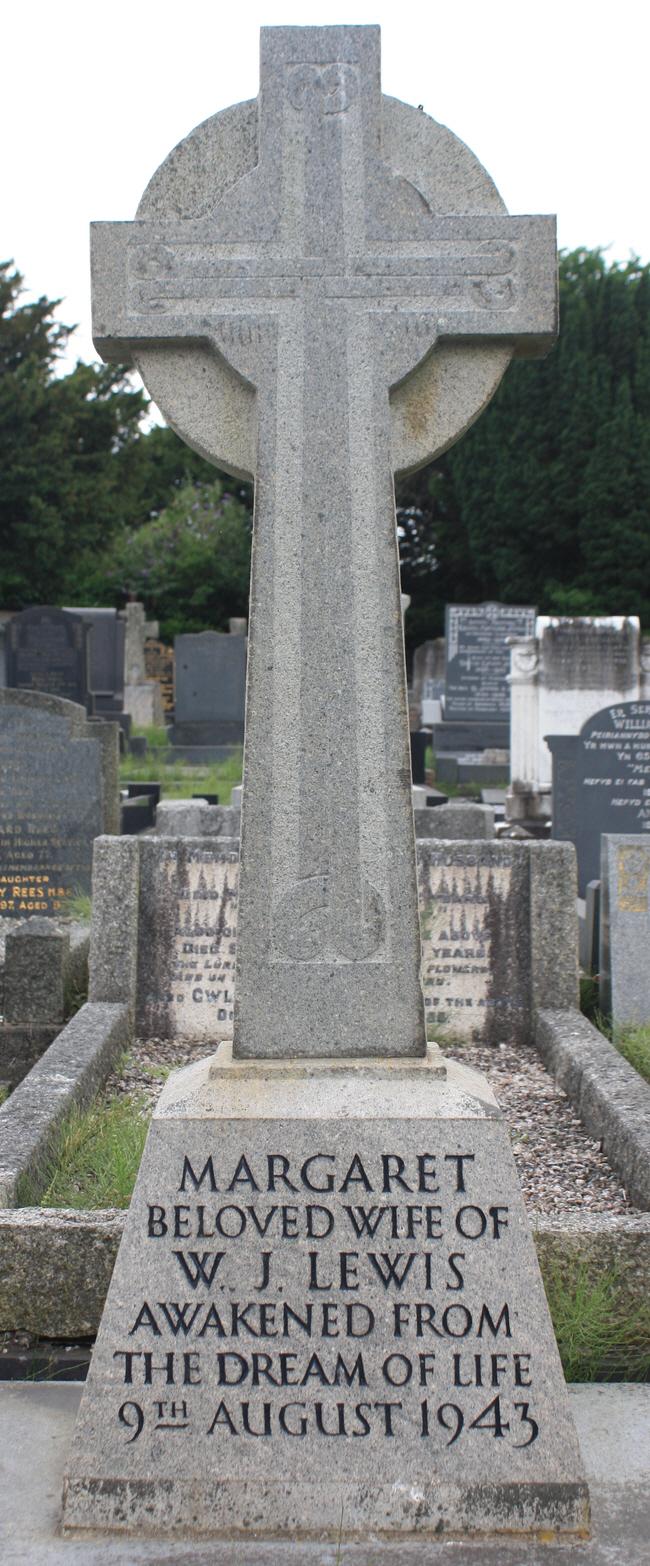 Margaret "awakened from the dream of life".
---
Thomas was a County Surveyor.
---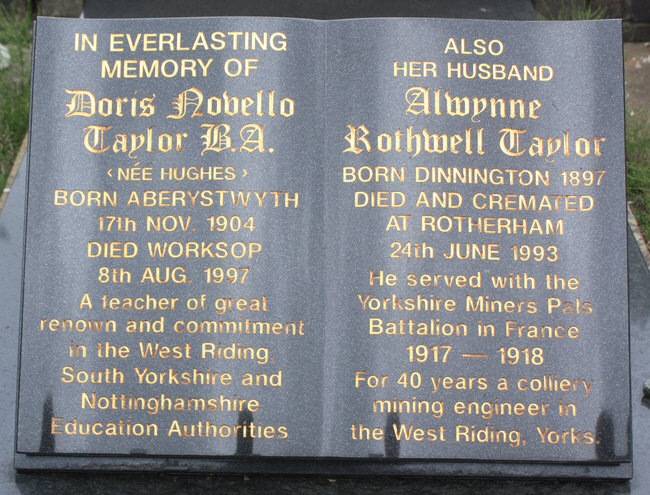 Doris was a Teacher and Alwynne was a Colliery Mining Engineer.
---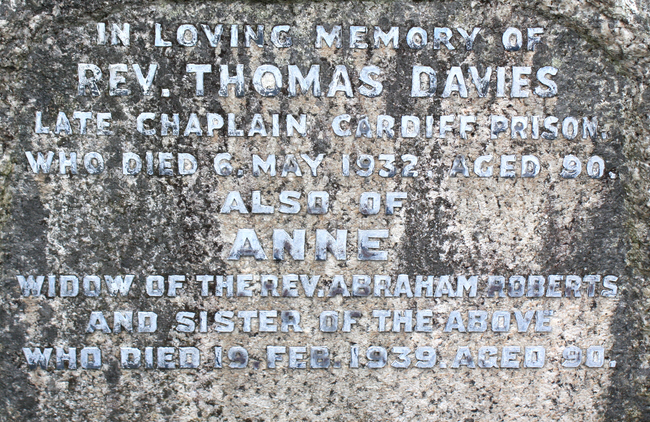 Thomas was Chaplain of Cardiff Prison.
---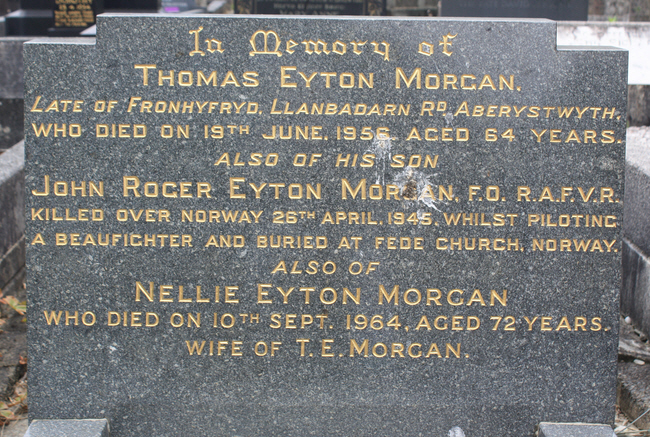 Jon was killed over Norway whilst flying a Beaufighter.
---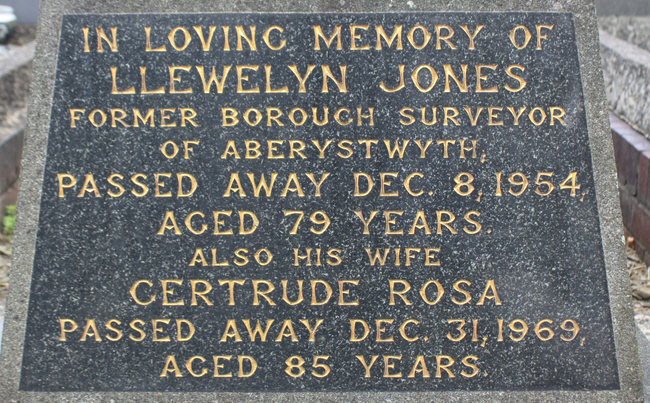 LLewelyn was a Borough Surveyor.
---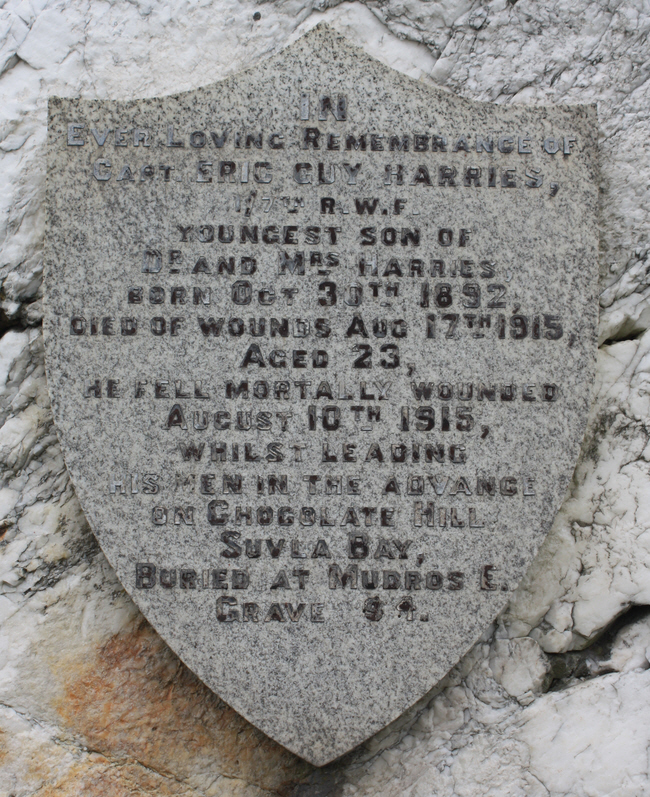 He fell mortally wounded on Chocolate Hill.
---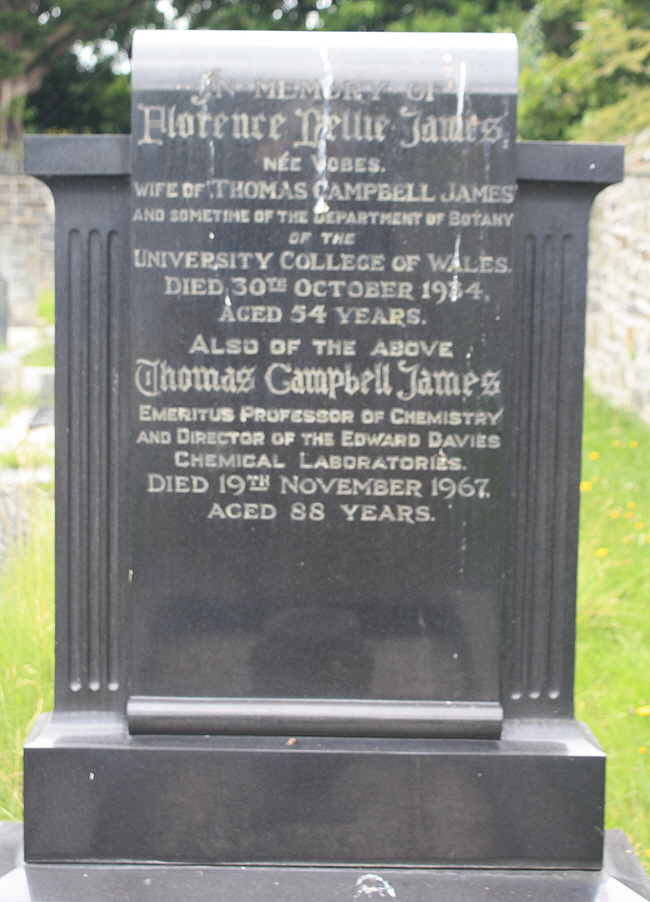 Thomas was Emeritus Professor of Chemistry and Director of the Edward Davies Chemical Laboratories.
---
Martin Nicholson - Daventry, United Kingdom.
This page was last updated on September 16th 2013.