Martin Nicholson's Cemetery Project
Overleigh Road Cemetery (Northern Section), Chester, Cheshire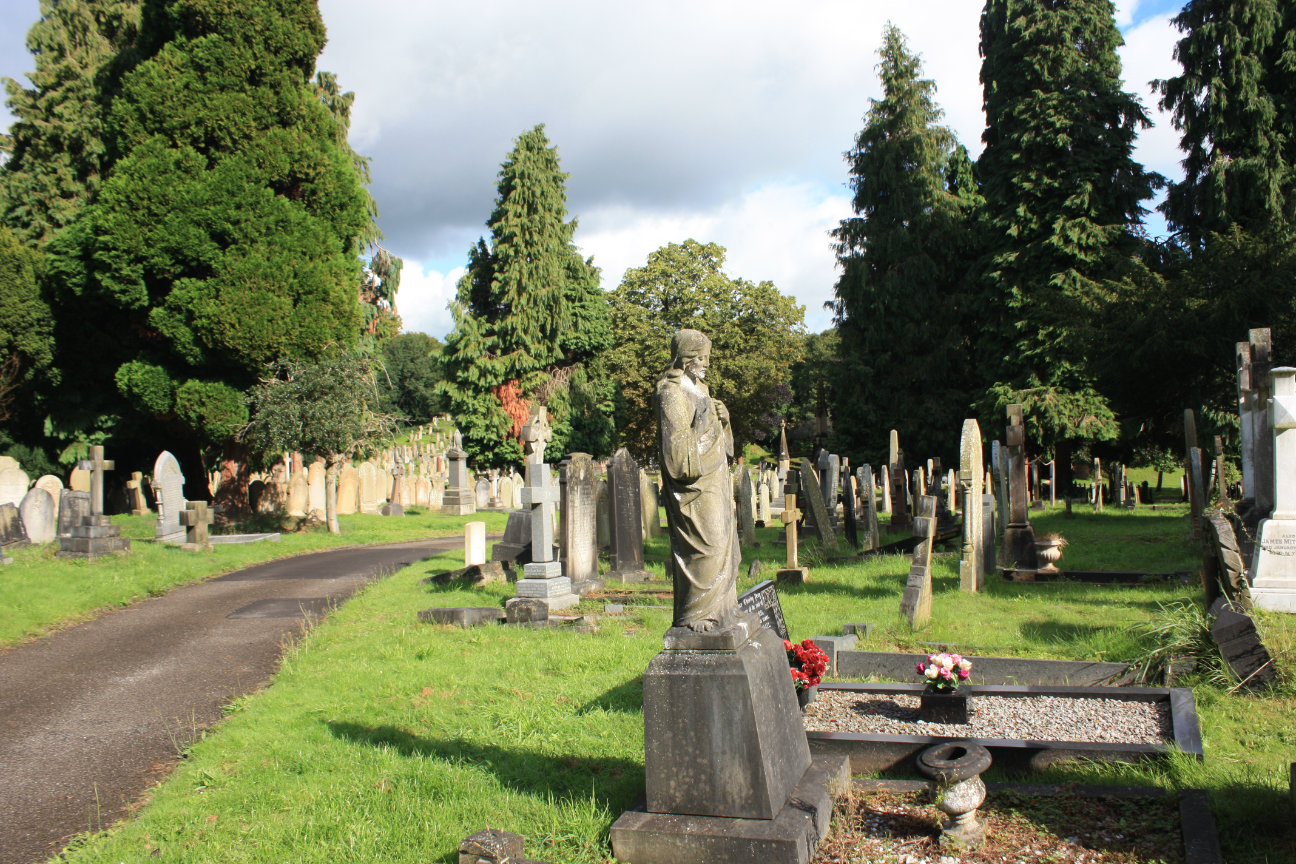 A general view.
---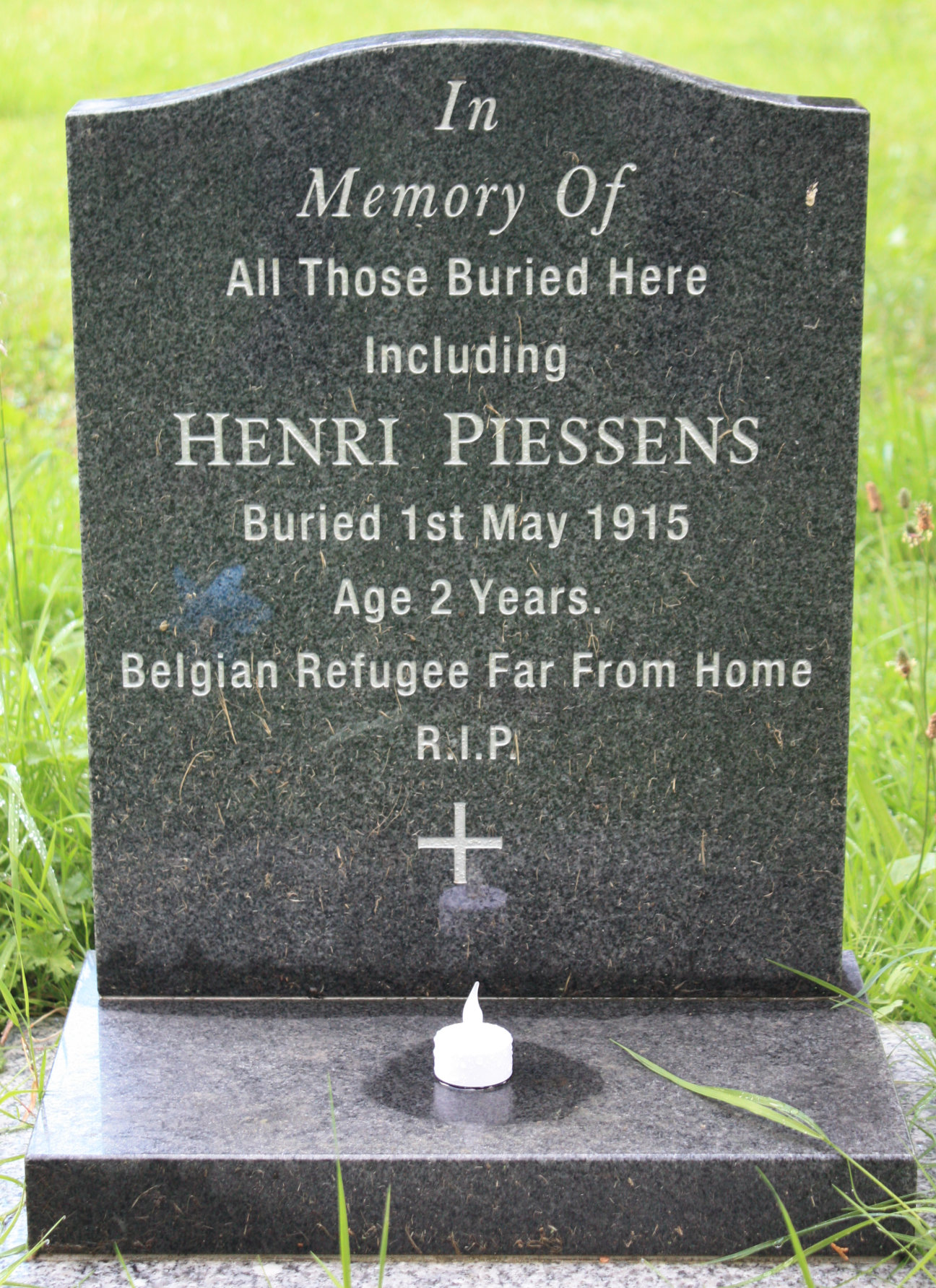 "Belgian Refugee Far From Home"
---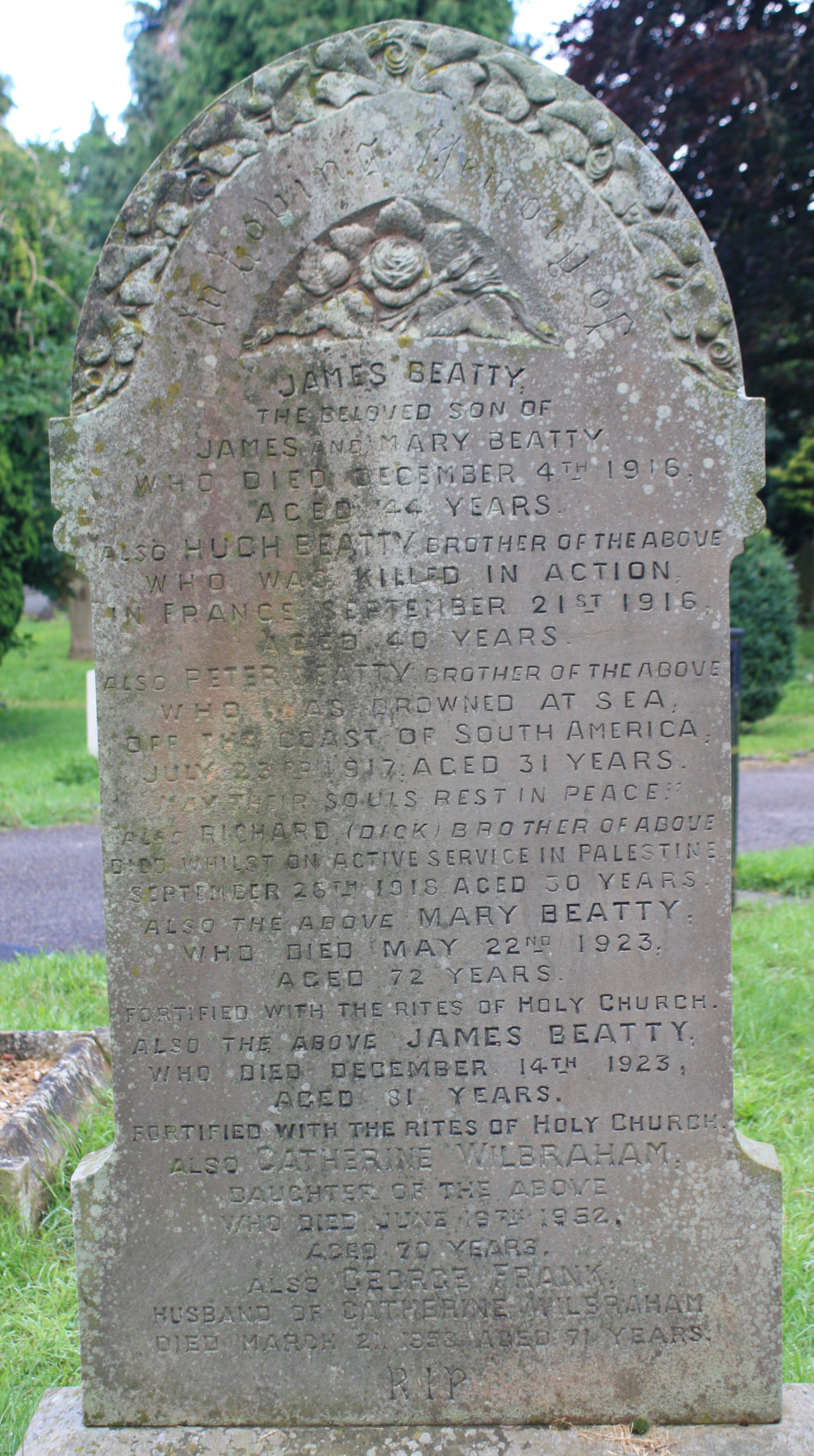 Peter was ".. drowned at sea off the coast of South America .." Two of his brothers were killed on active service.
---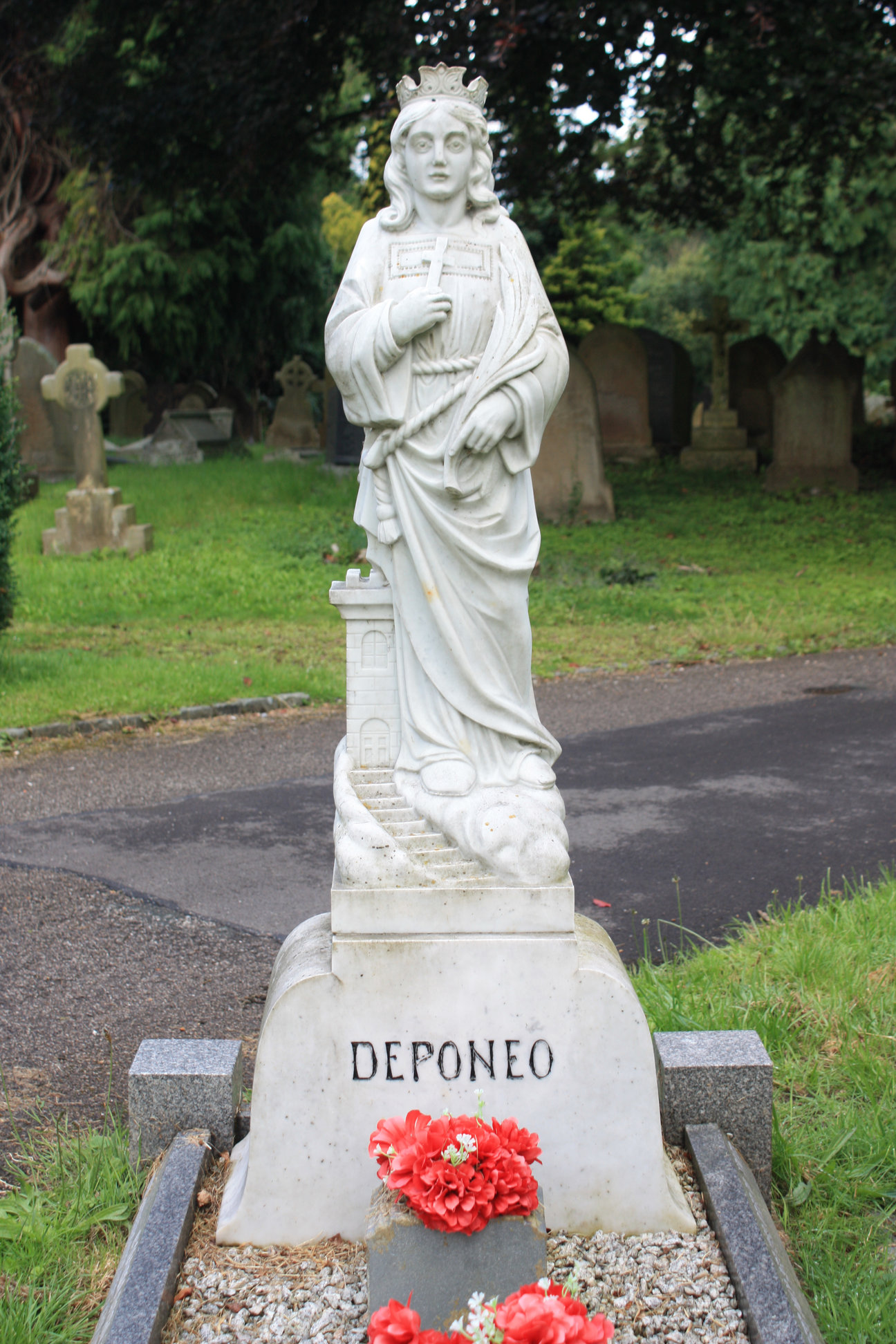 A particularly ornate statue on the top of the headstone..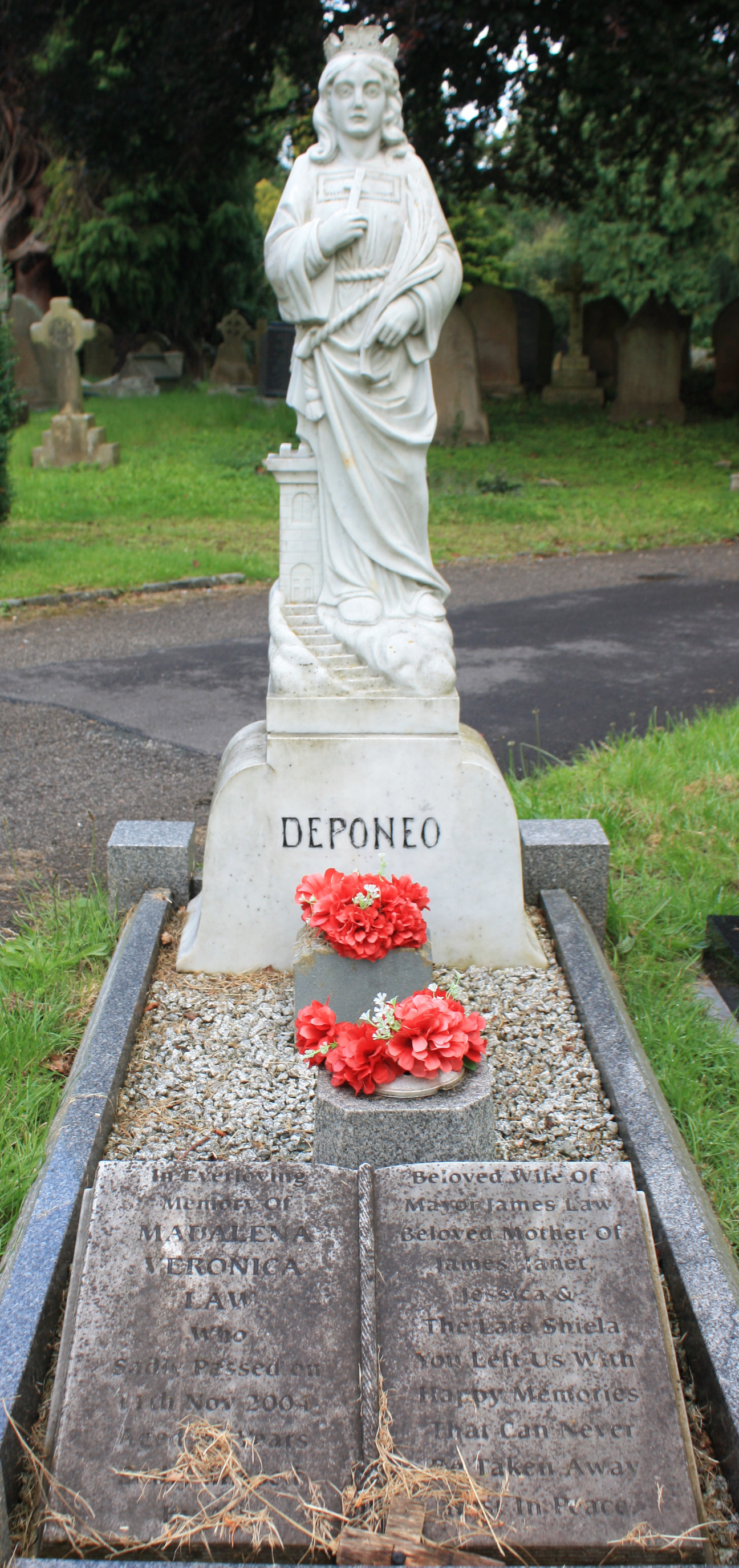 ---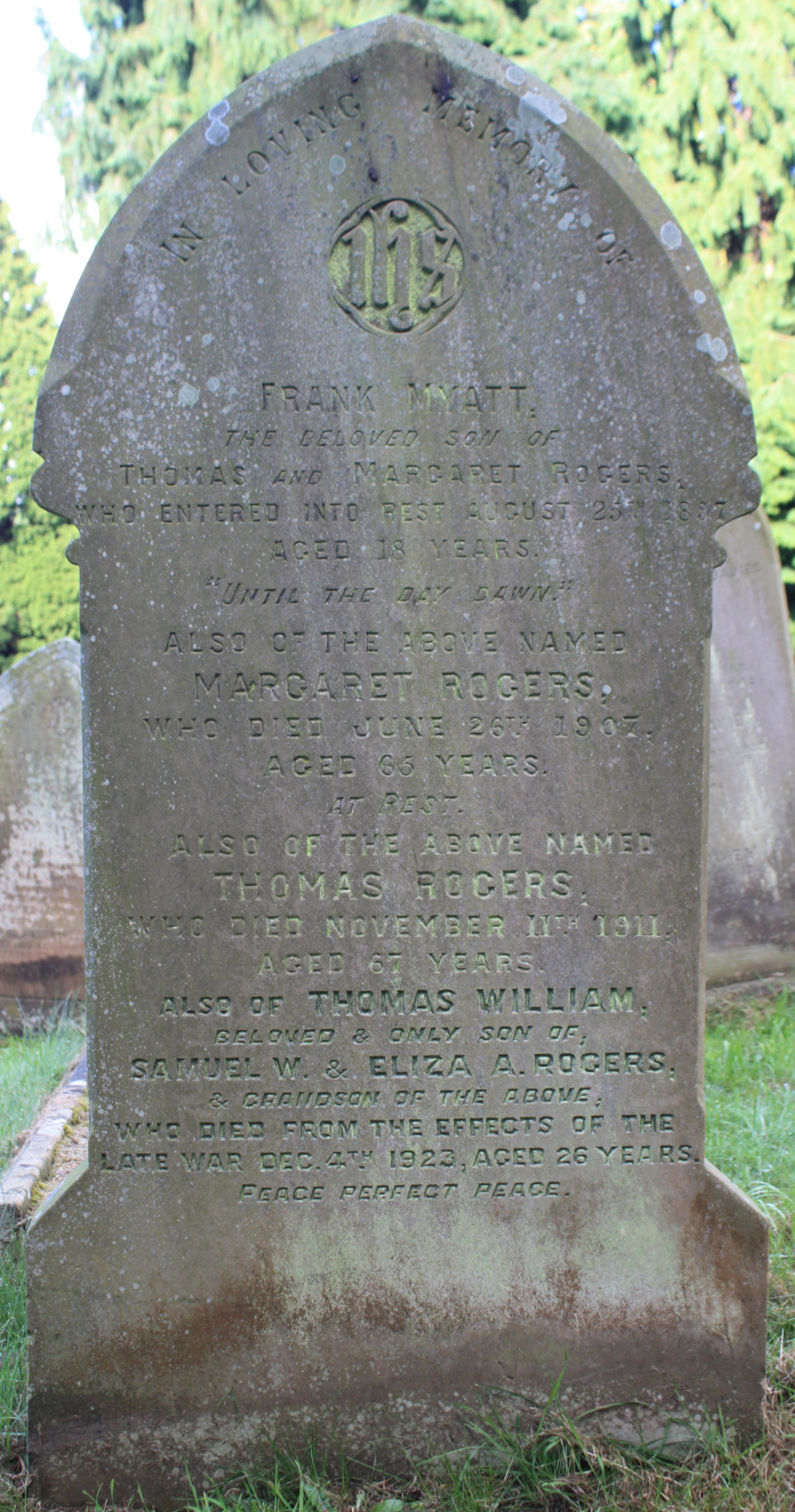 Thomas died "from the effects of the late war".
---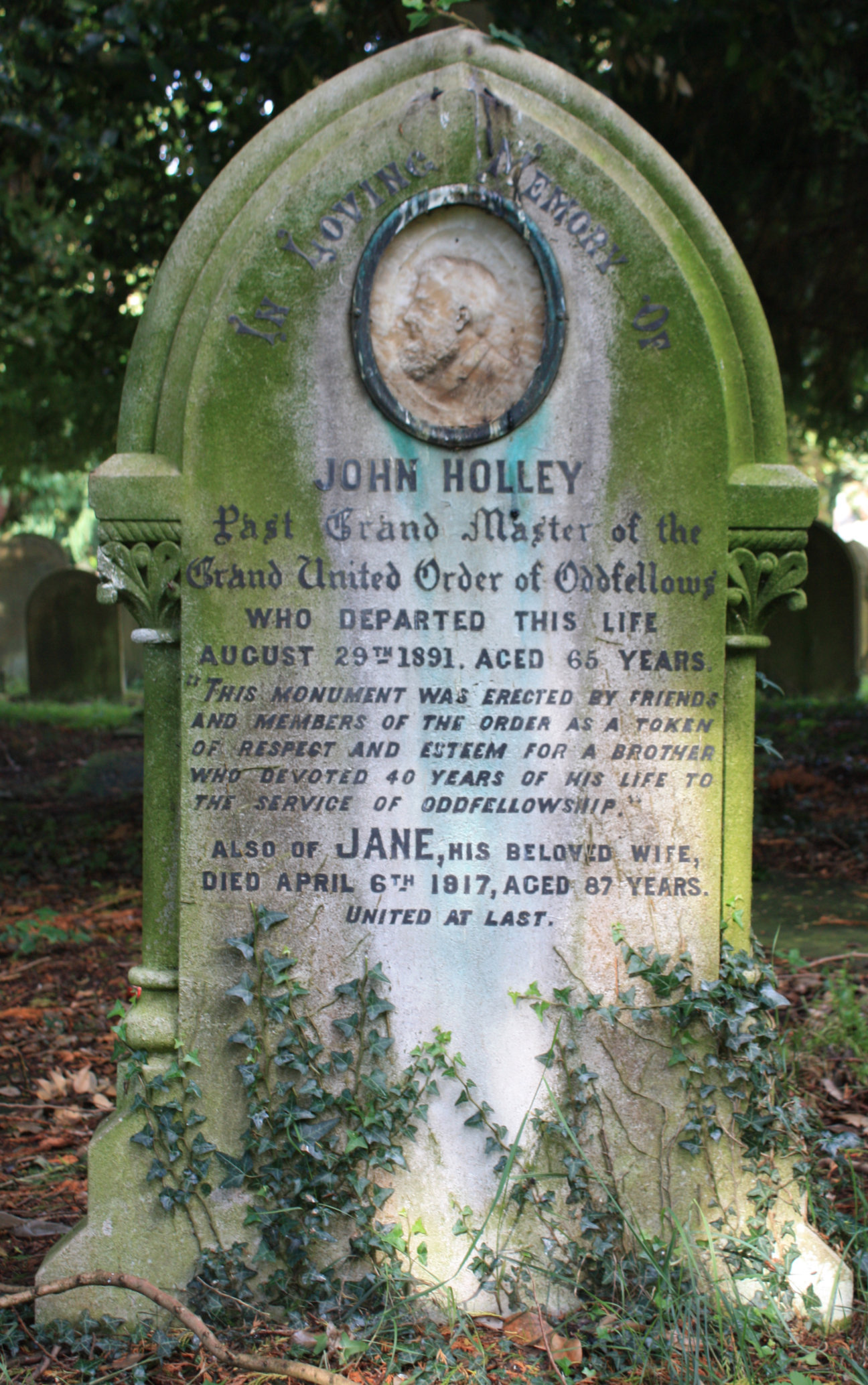 John Holley was once the Grand Master of the Grand United Order of Oddfellows.
---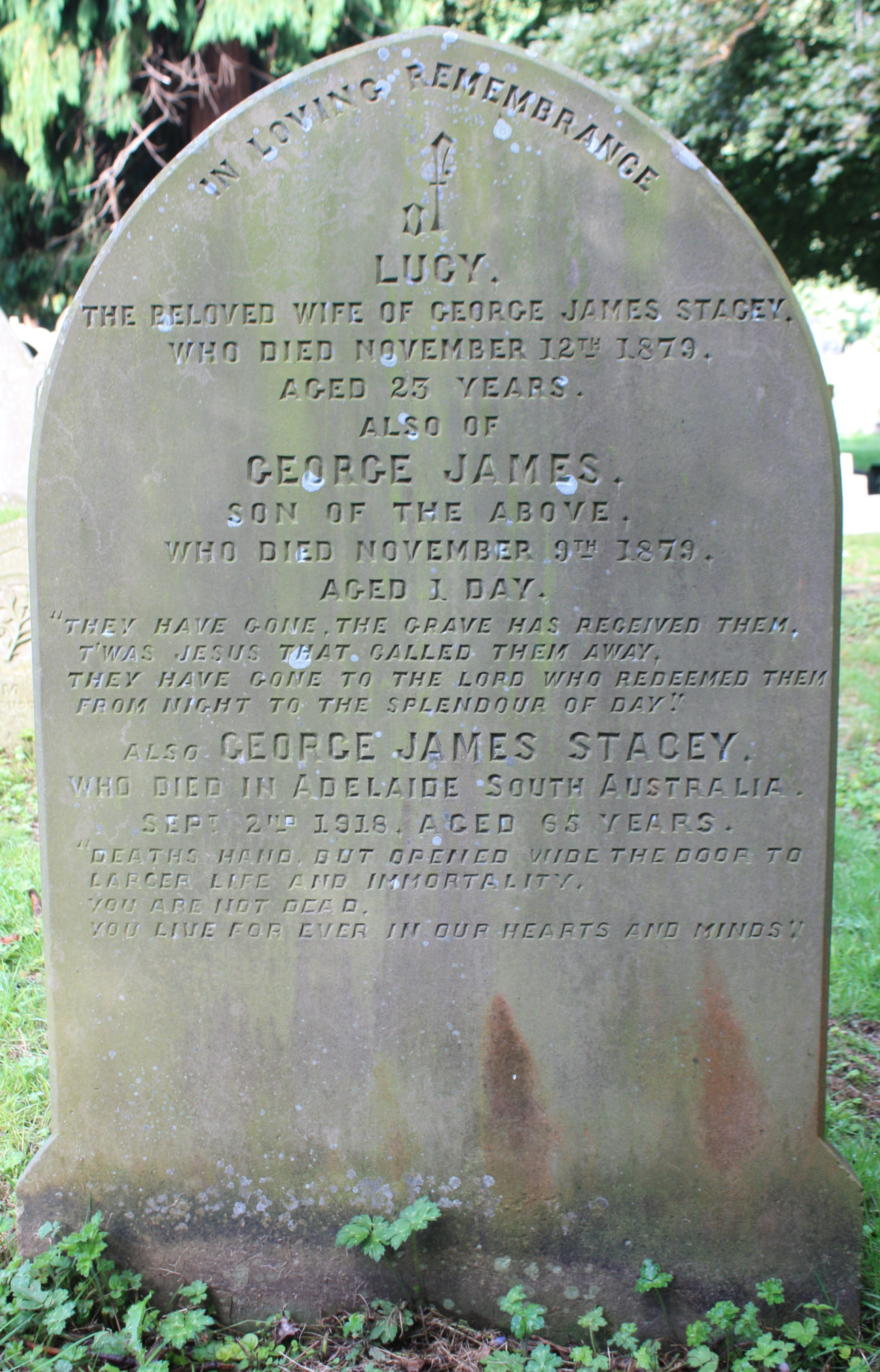 George Stacey lost his son aged 1 day and his wife 3 days later.
---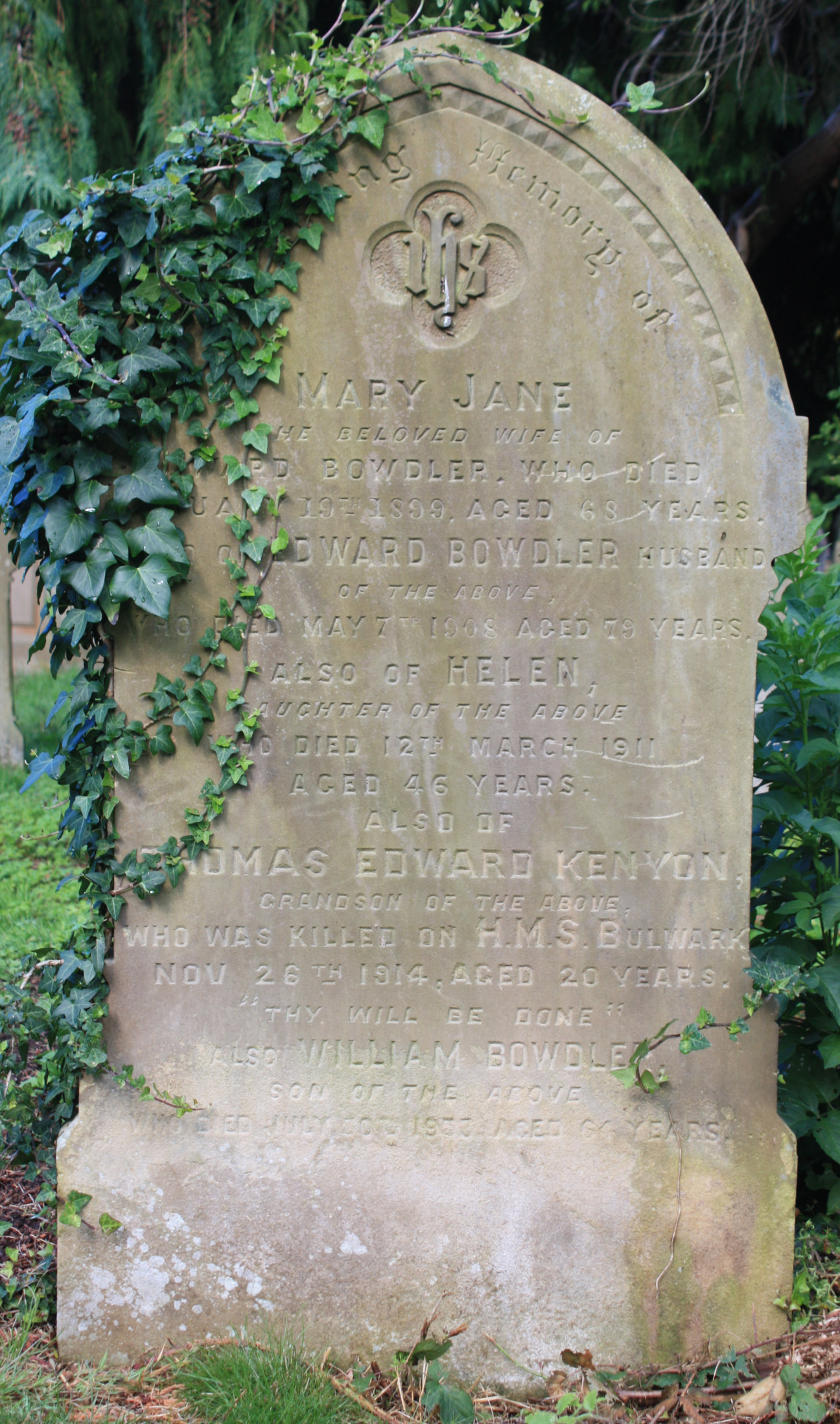 Thomas Kenyon was killed on HMS Bulwark in 1914.
Following the outbreak of the First World War, Bulwark, along with the rest of the squadron, was attached to the Channel Fleet, conducting patrols in the English Channel. On 26 November 1914, while anchored near Sheerness, she was destroyed by a large internal explosion with the loss of 736 men.
---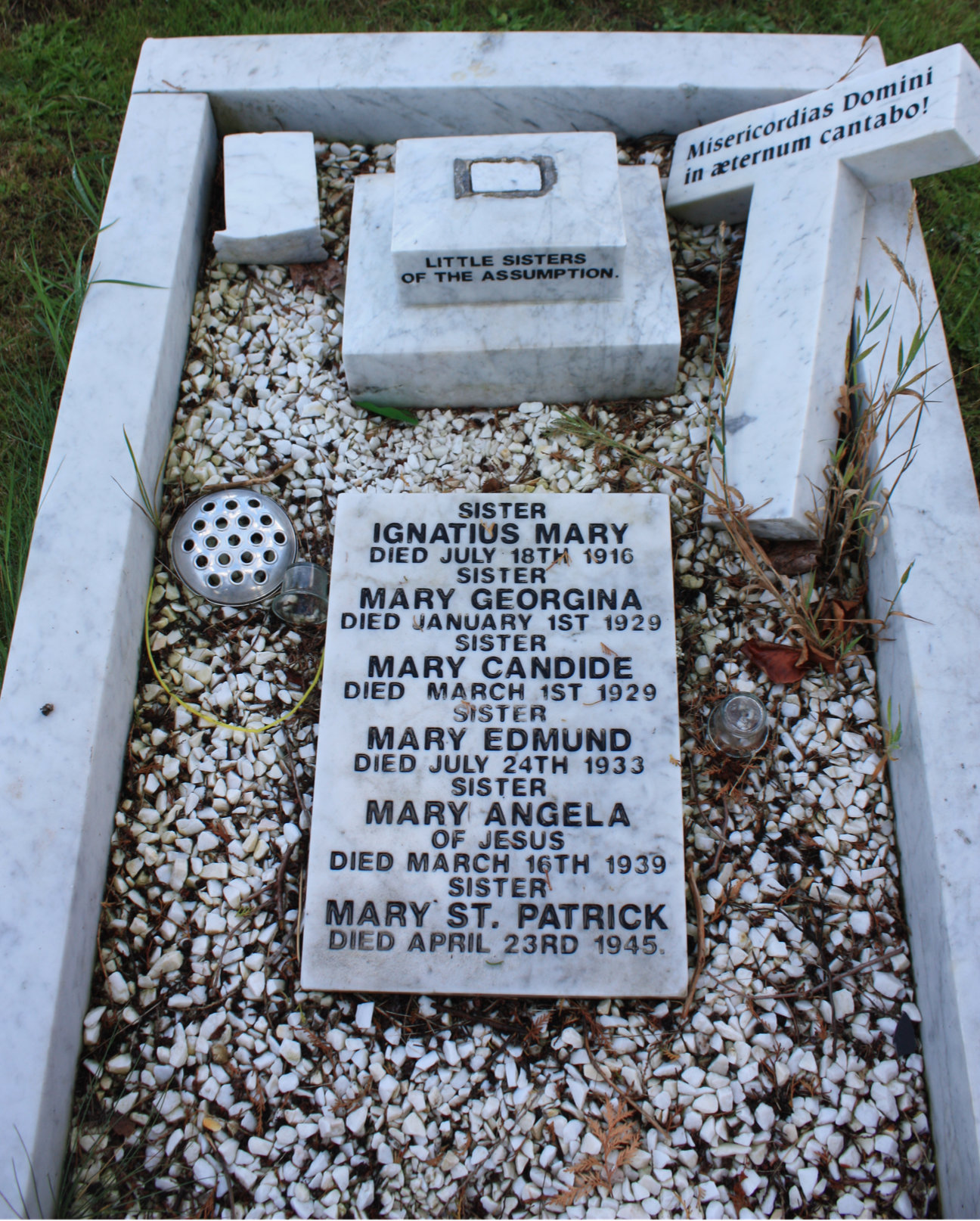 A mass grave for the Little Sisters of the Assumption.
---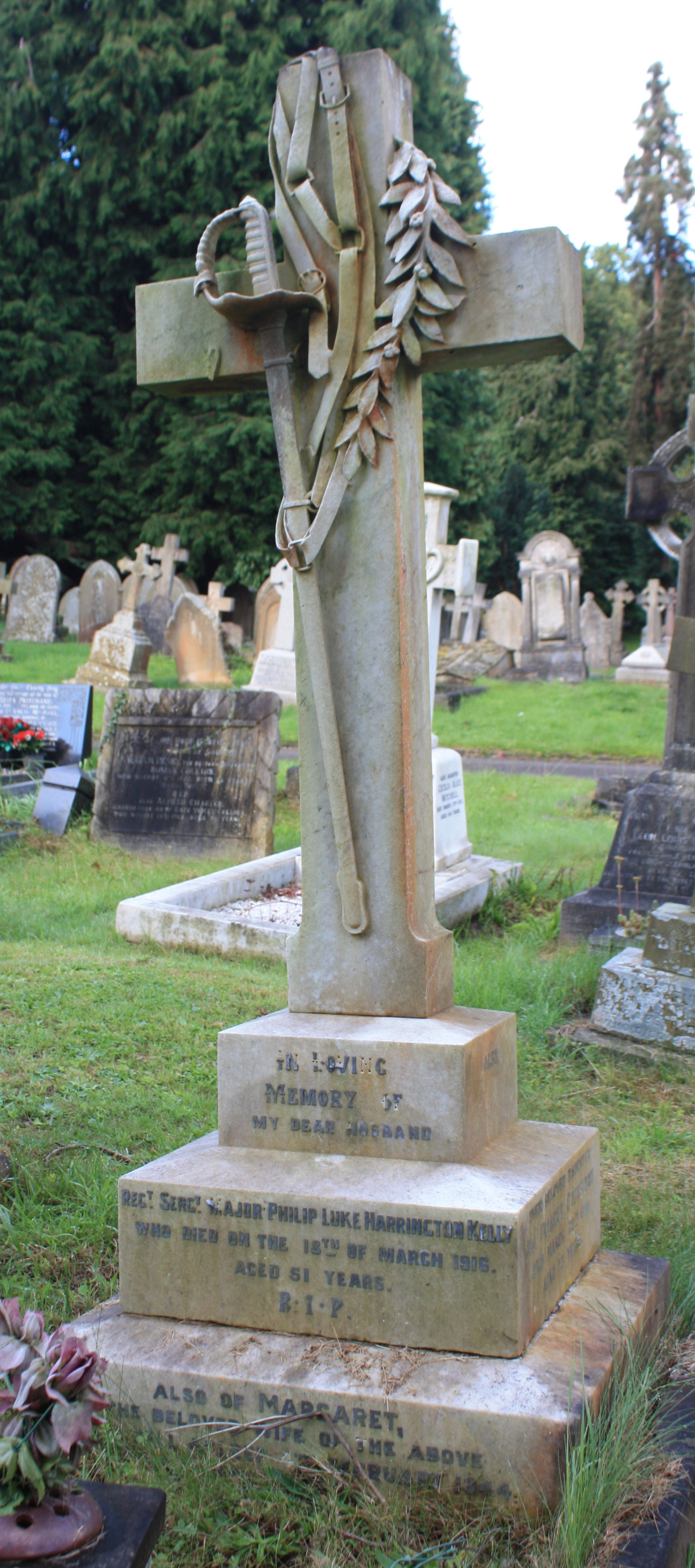 No prizes for guessing that this is the grave of an old soldier.
---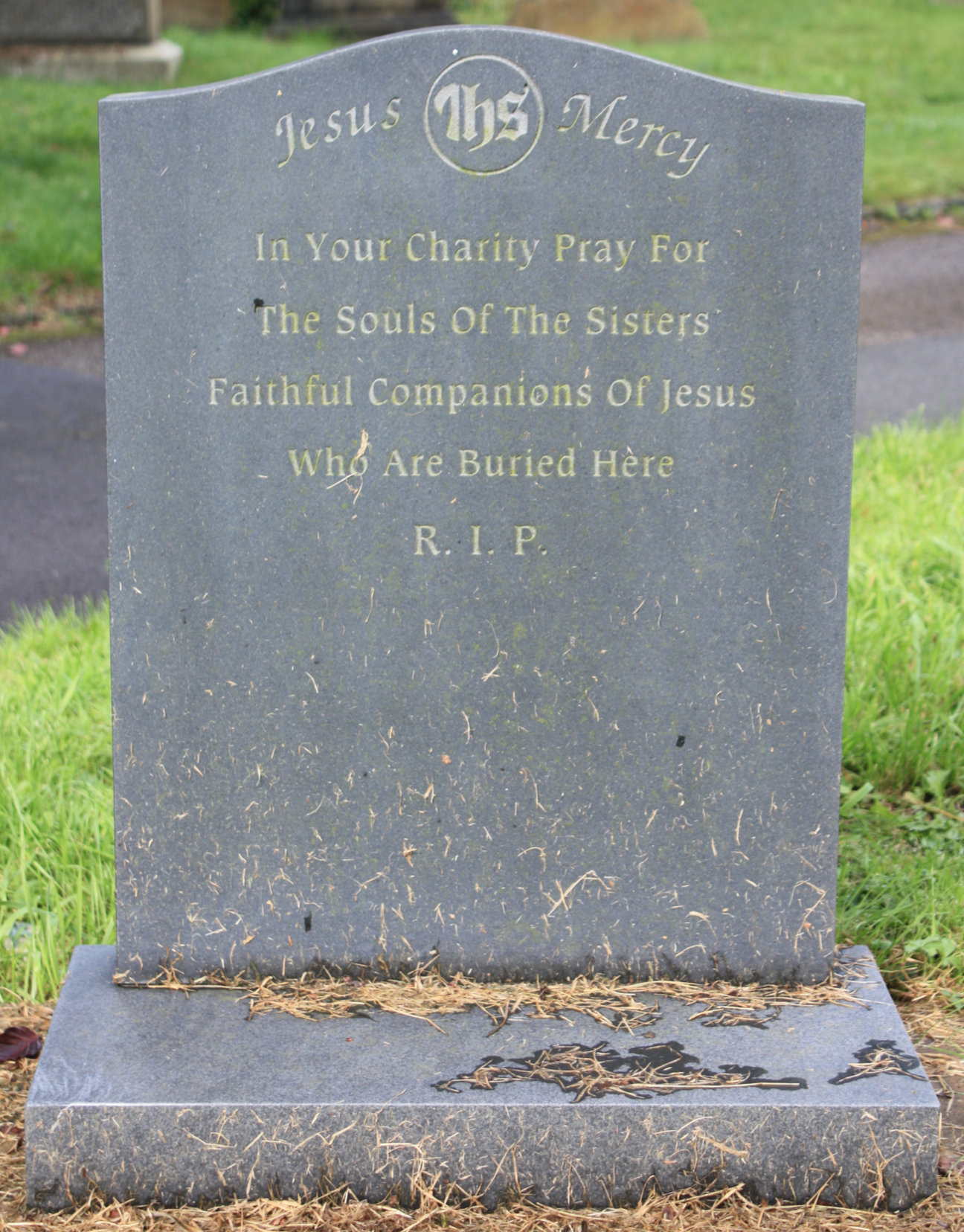 An unusual grave in that it isn't clear exactly who is being remembered.
---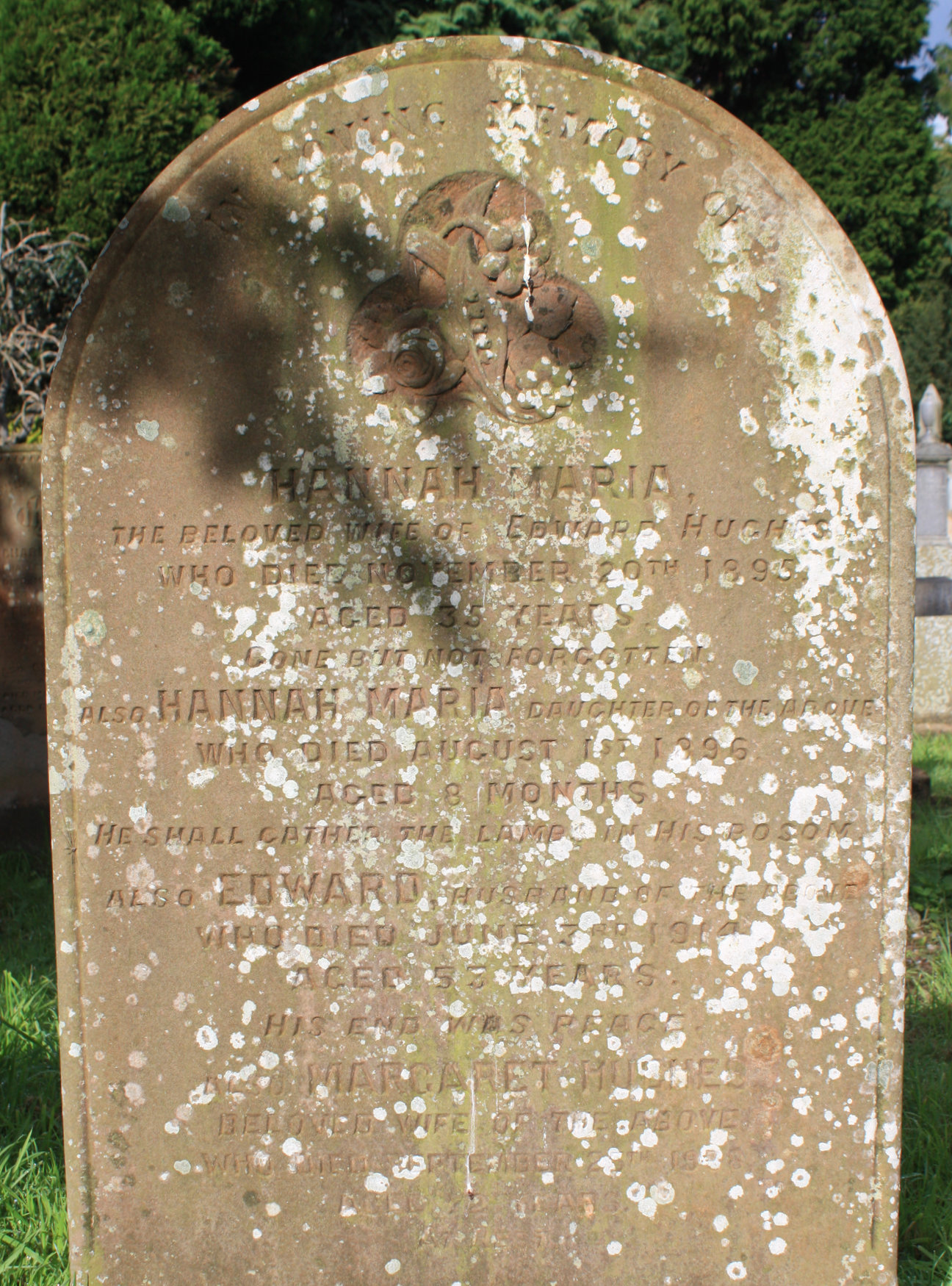 Edward lost his wife on November 20th 1895 and his daughter, aged 8 months, on August 1st 1896. A very sad story.
---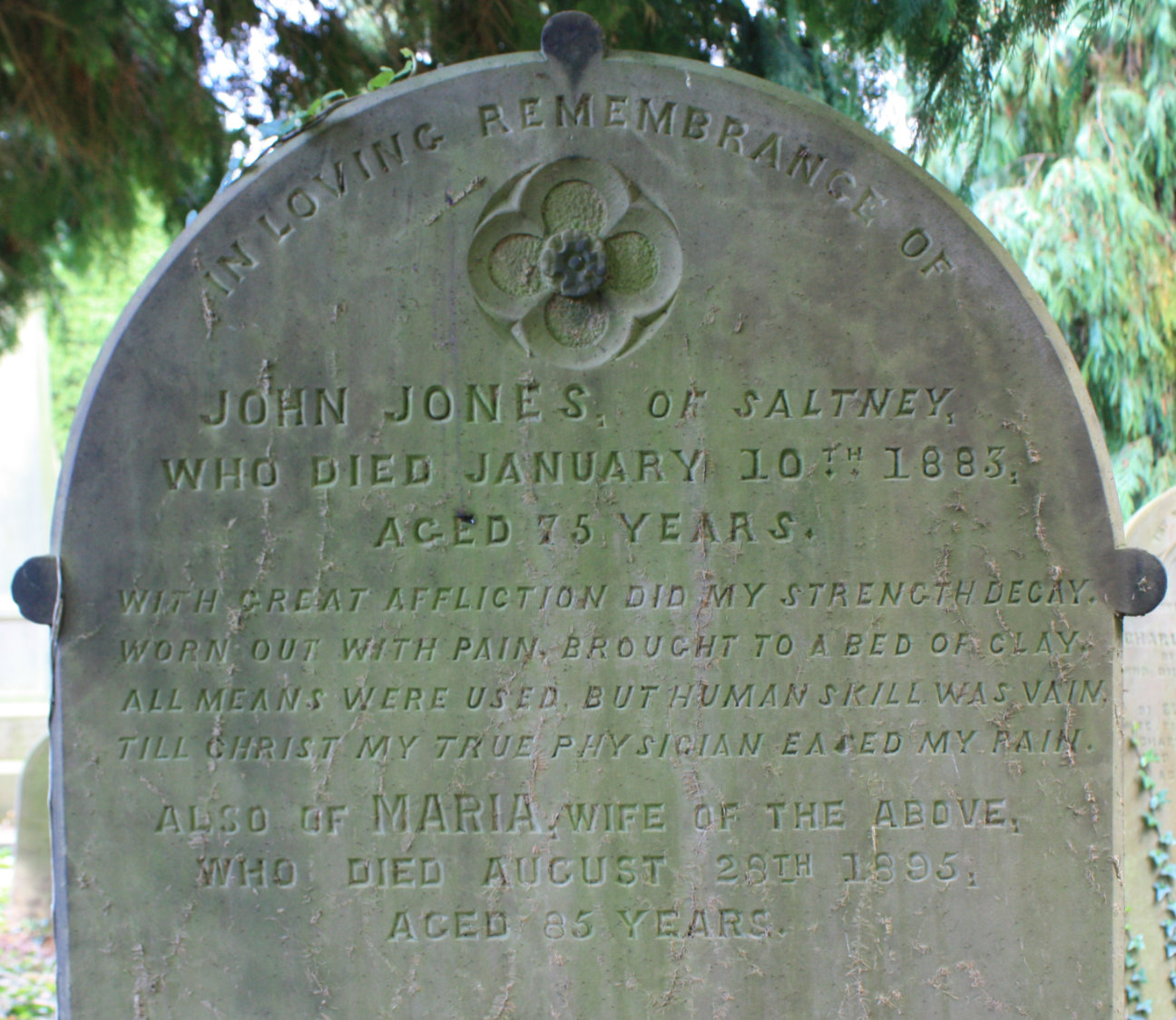 "Worn out with pain, brought to a bed of clay".
---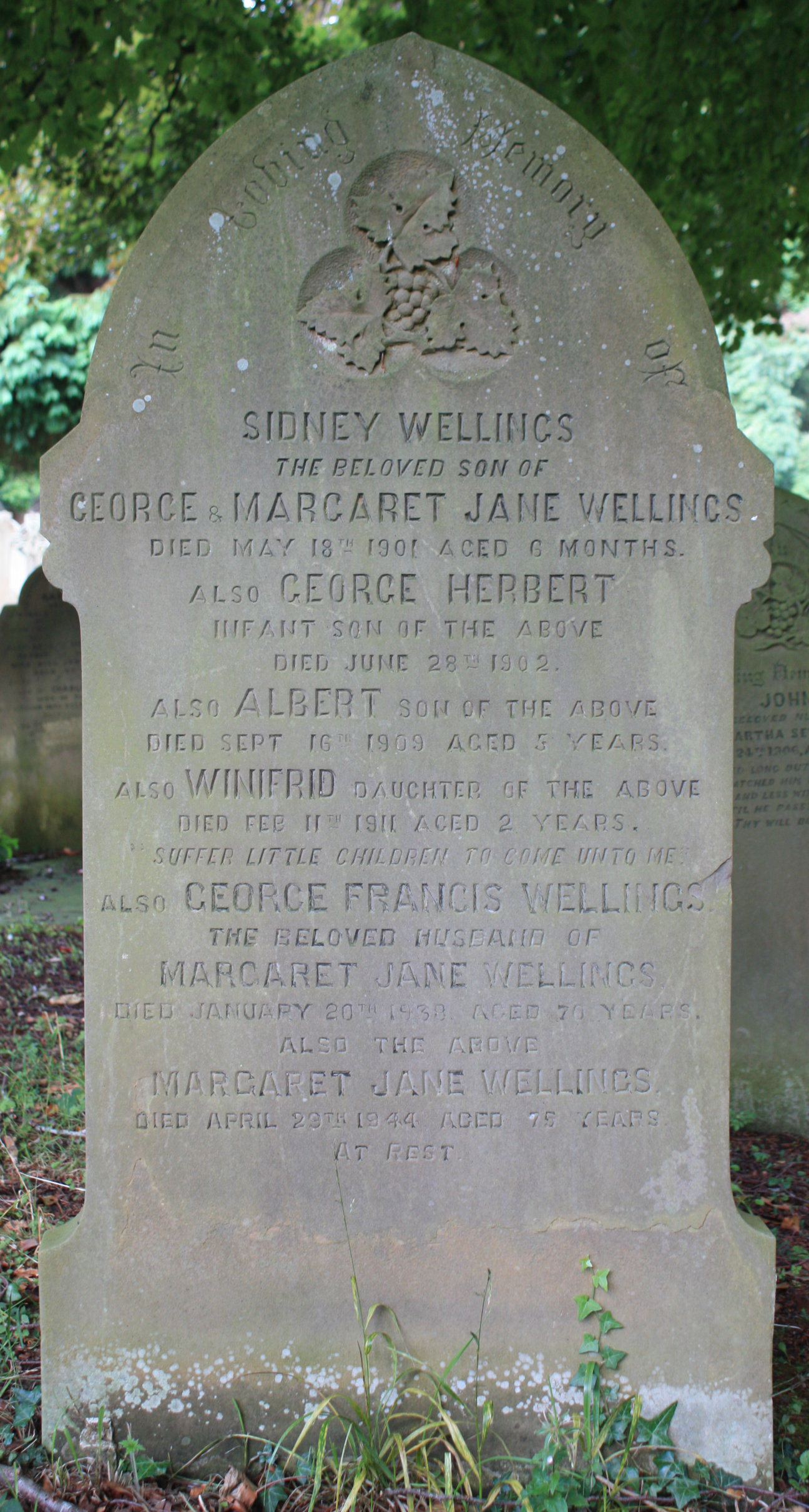 George and Margaret Wellings lost four children before their 6th birthday.
---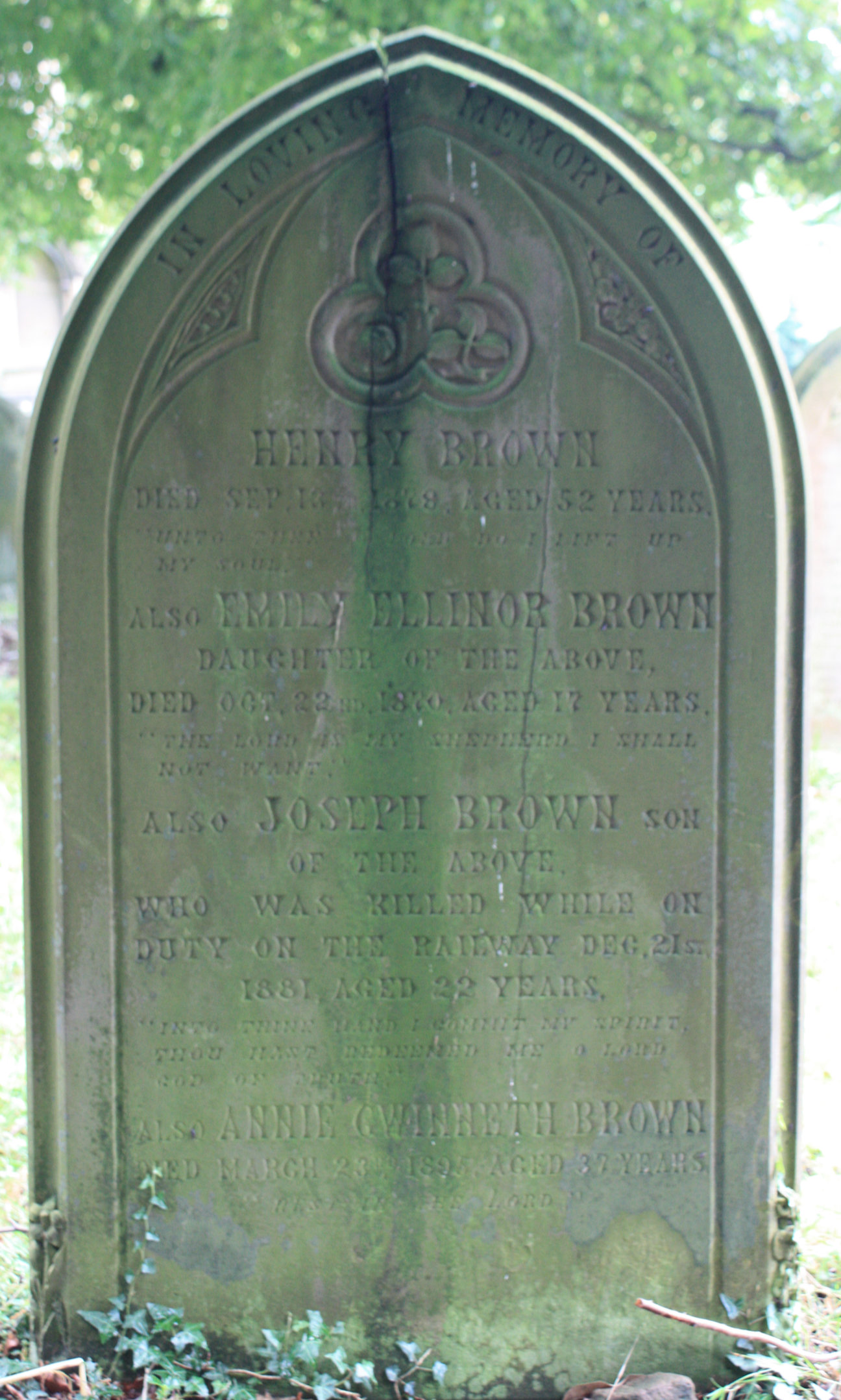 Joseph Brown "was killed while on duty on the railway".
---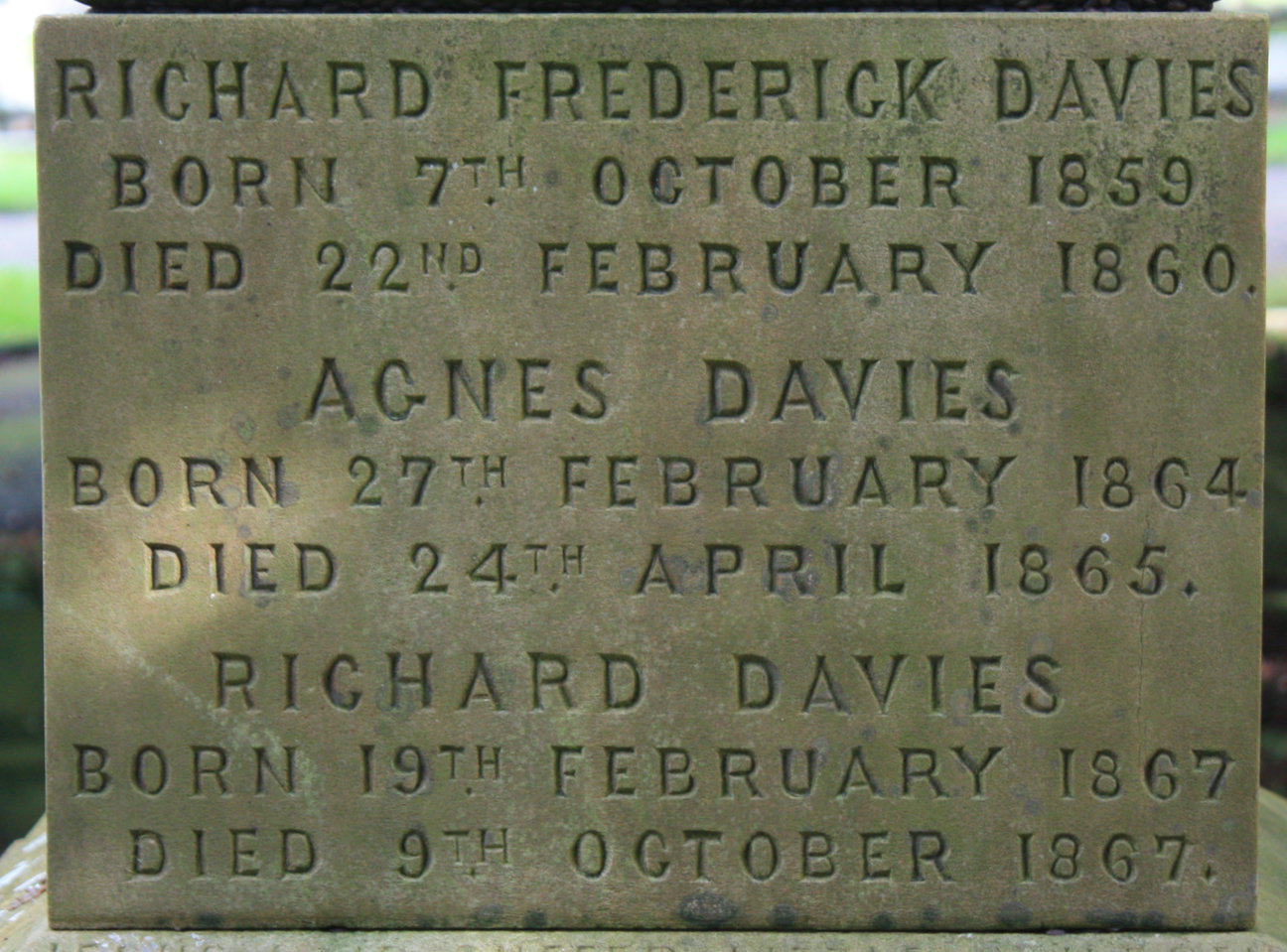 A stark memorial to three young children.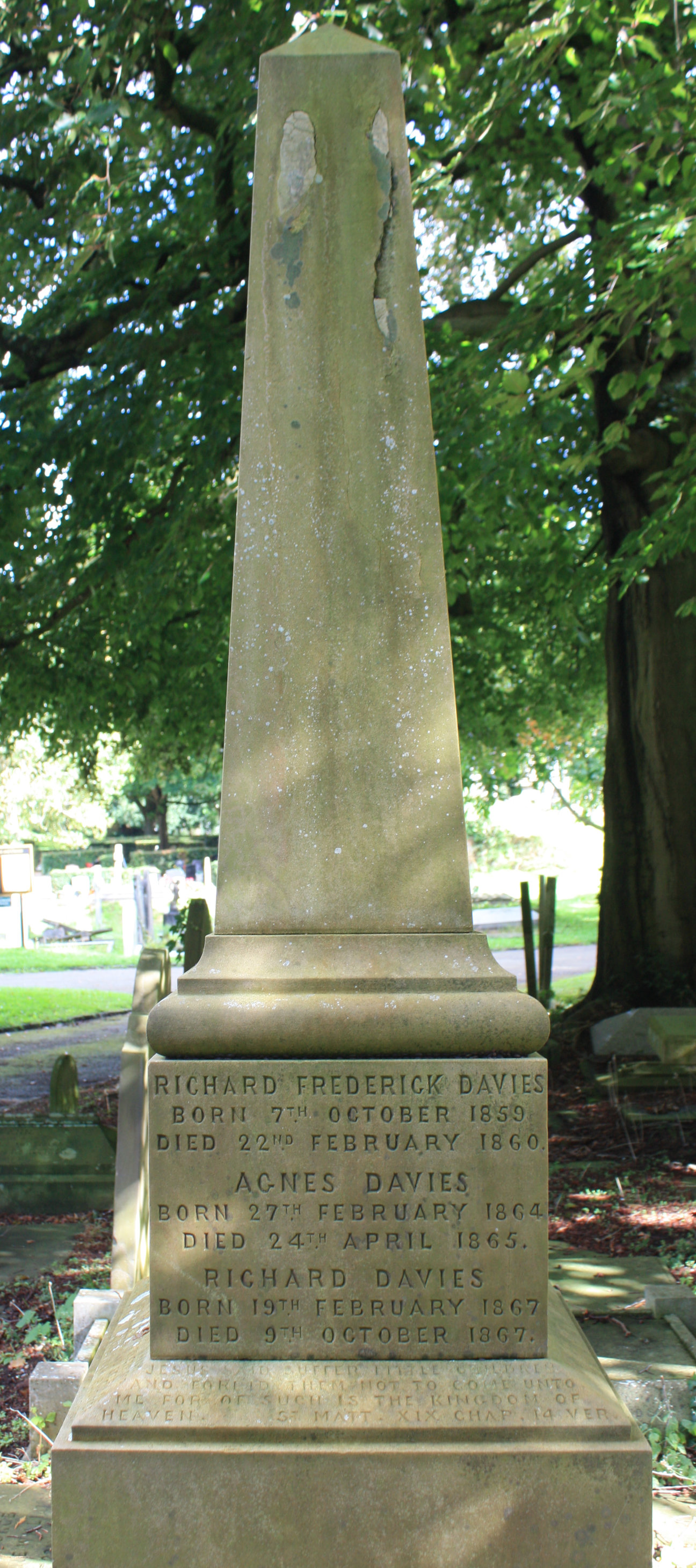 ---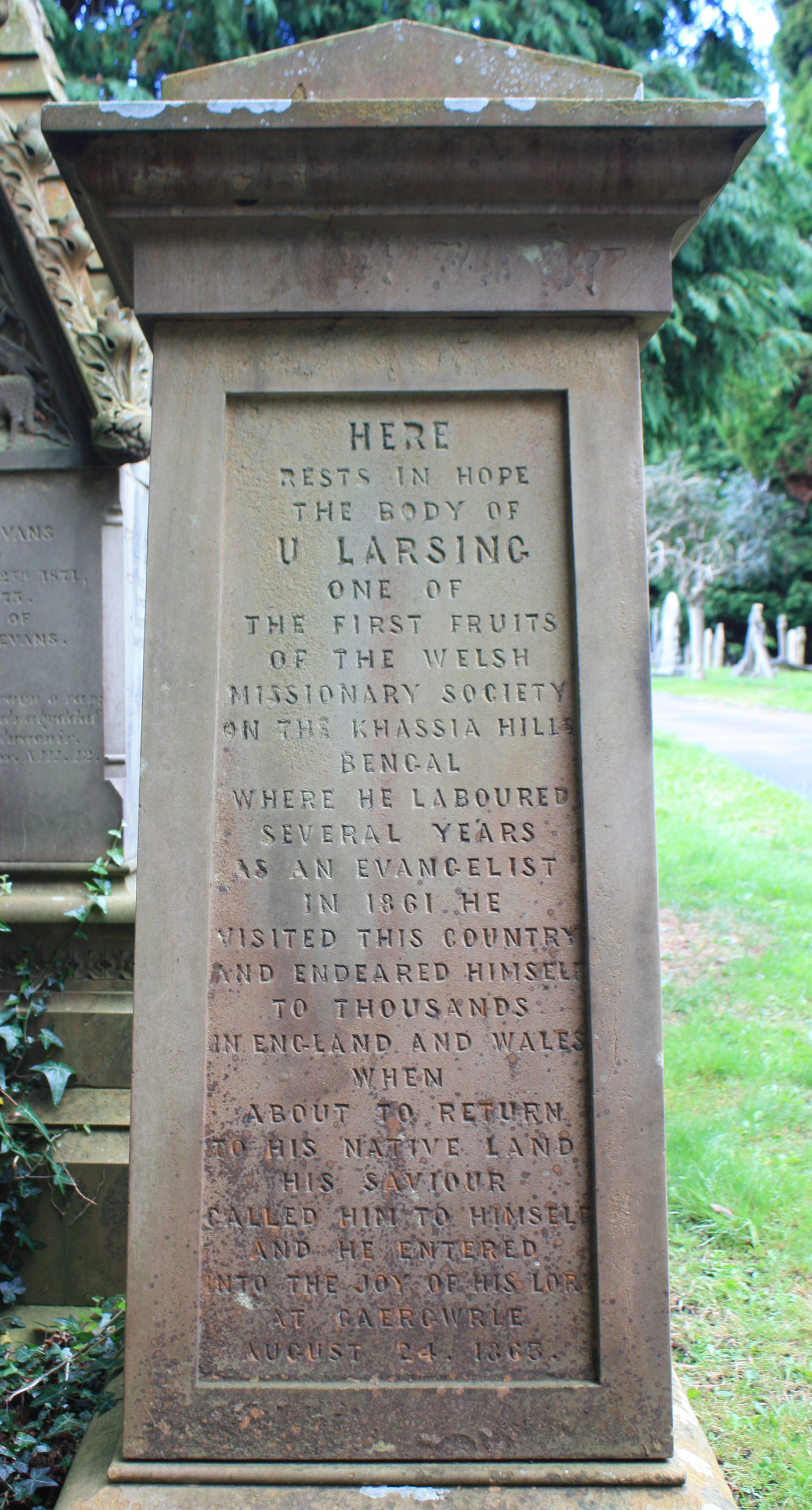 U Larsing was an Indian born missionary who died during his evangelical work in England and Wales.
---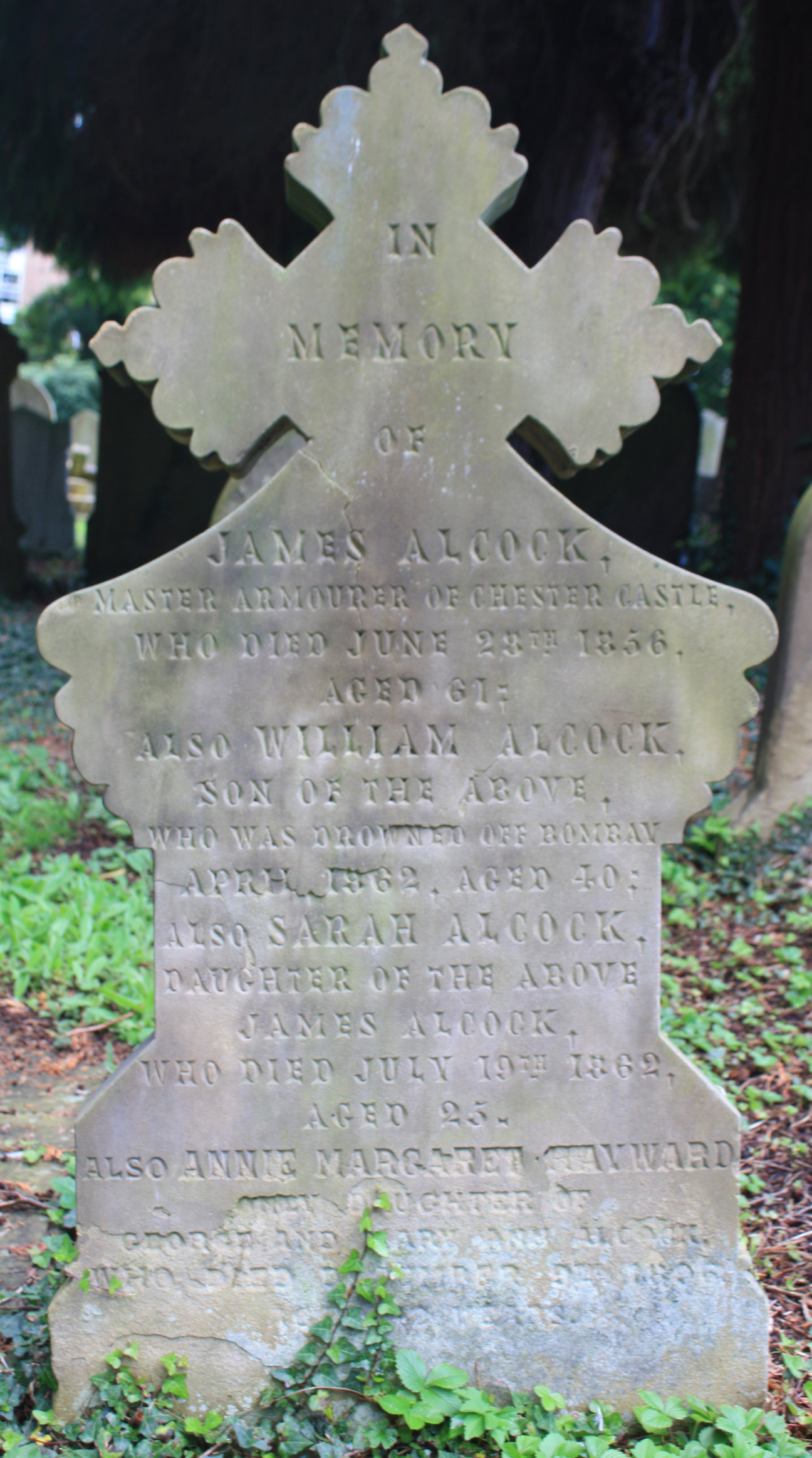 James Alcock was Master Armourer of Chester Castle. His son was "drowned off Bombay".
---
Robert Evans died in Melbourne, Australia and was buried at the, charmingly named, Kangaroo Ground Cemetery.

---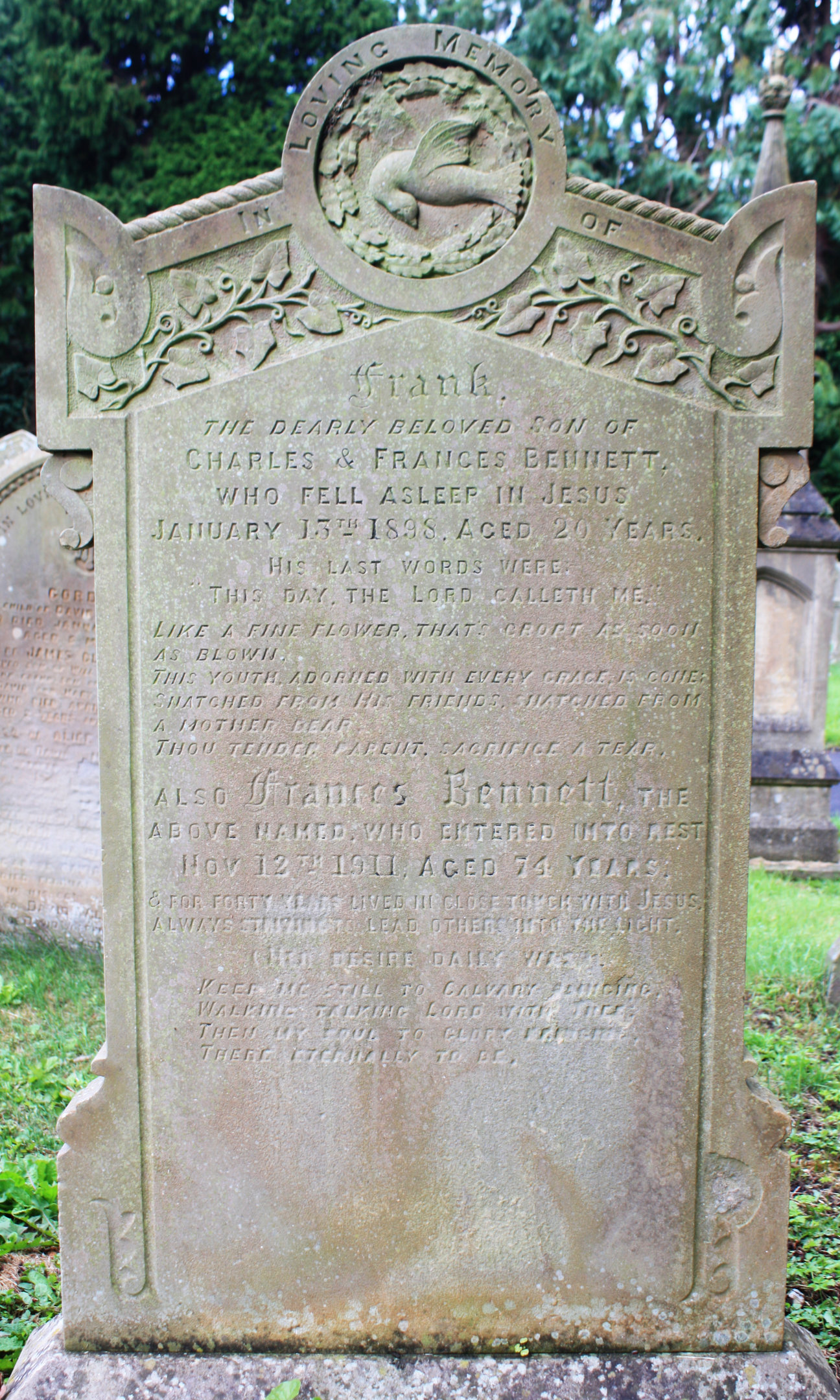 His last words were "This day, the Lord calleth me"..
---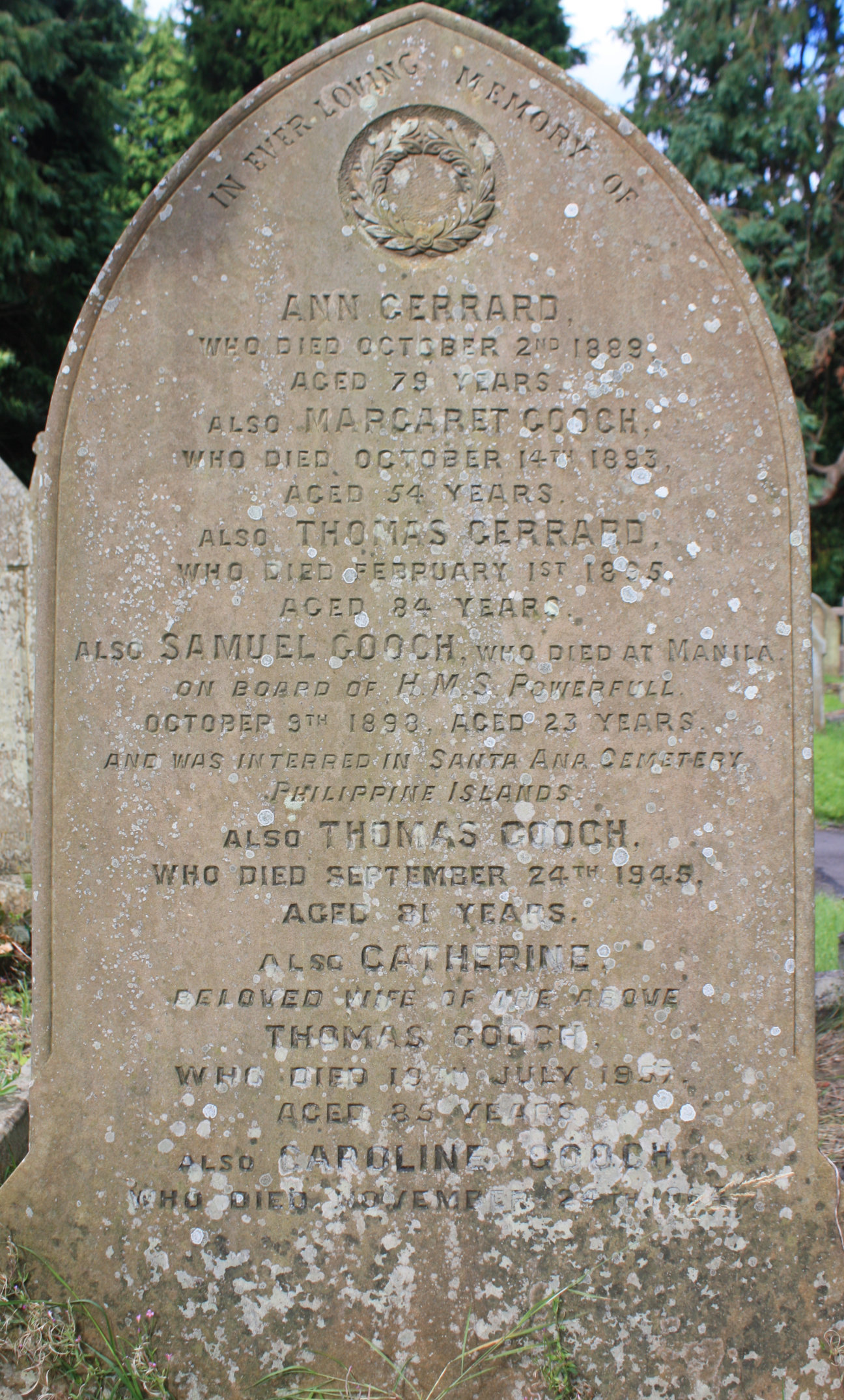 Samuel Gooth died at Manila on board H M S Powerful in 1898. He was aged 23.
HMS Powerful was a ship of the Powerful class of protected cruisers in the Royal Navy. She served with her sister ship, Terrible, on the China Station and provided landing parties which fought in the relief of the Siege of Ladysmith in the Second Boer War. Crews from the two ships also took part in suppressing the Boxer Rebellion in China. After 1904 they were laid up as an economy measure.
---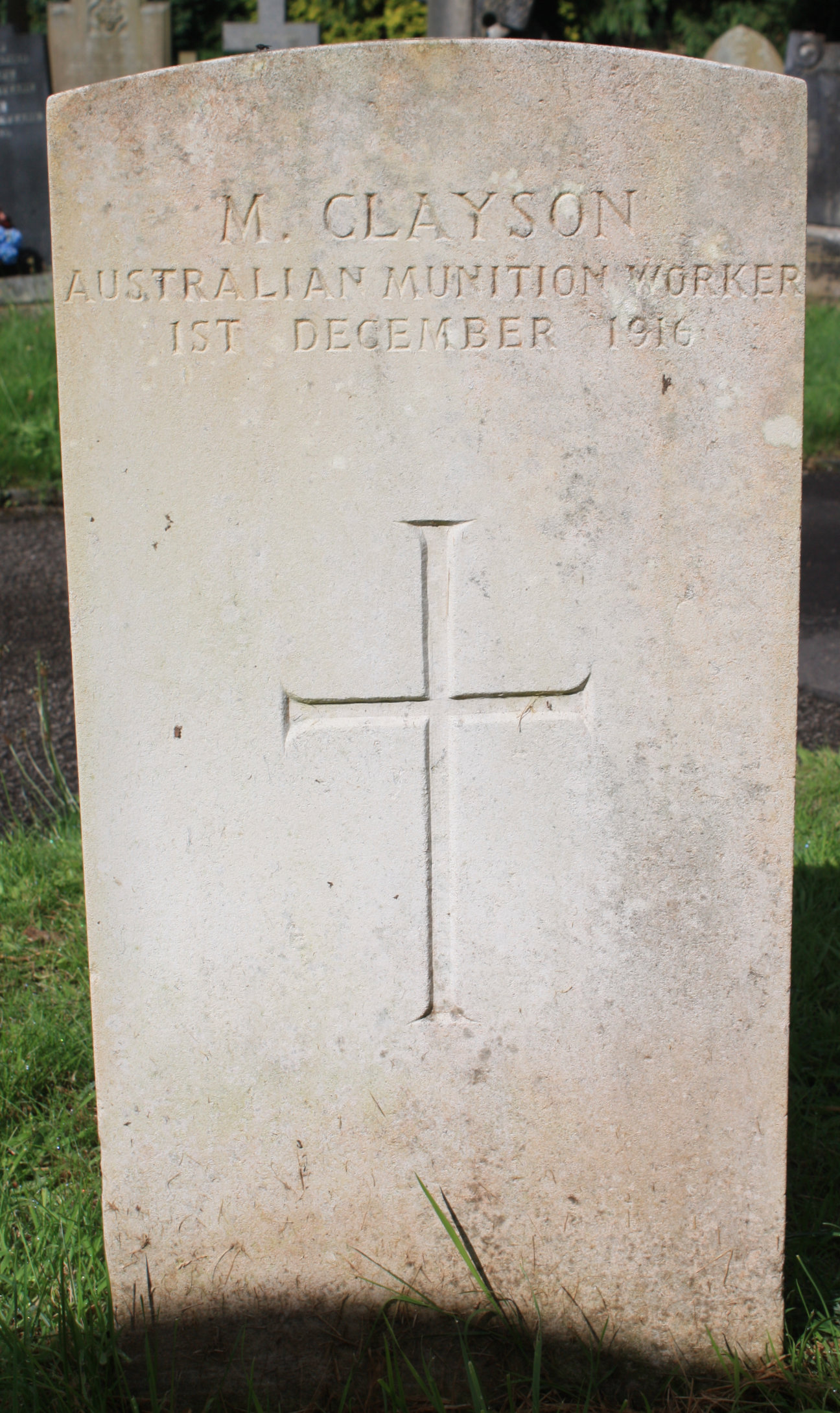 This is the first time I have a war grave for an Australian Munition Worker in a UK cemetery.
---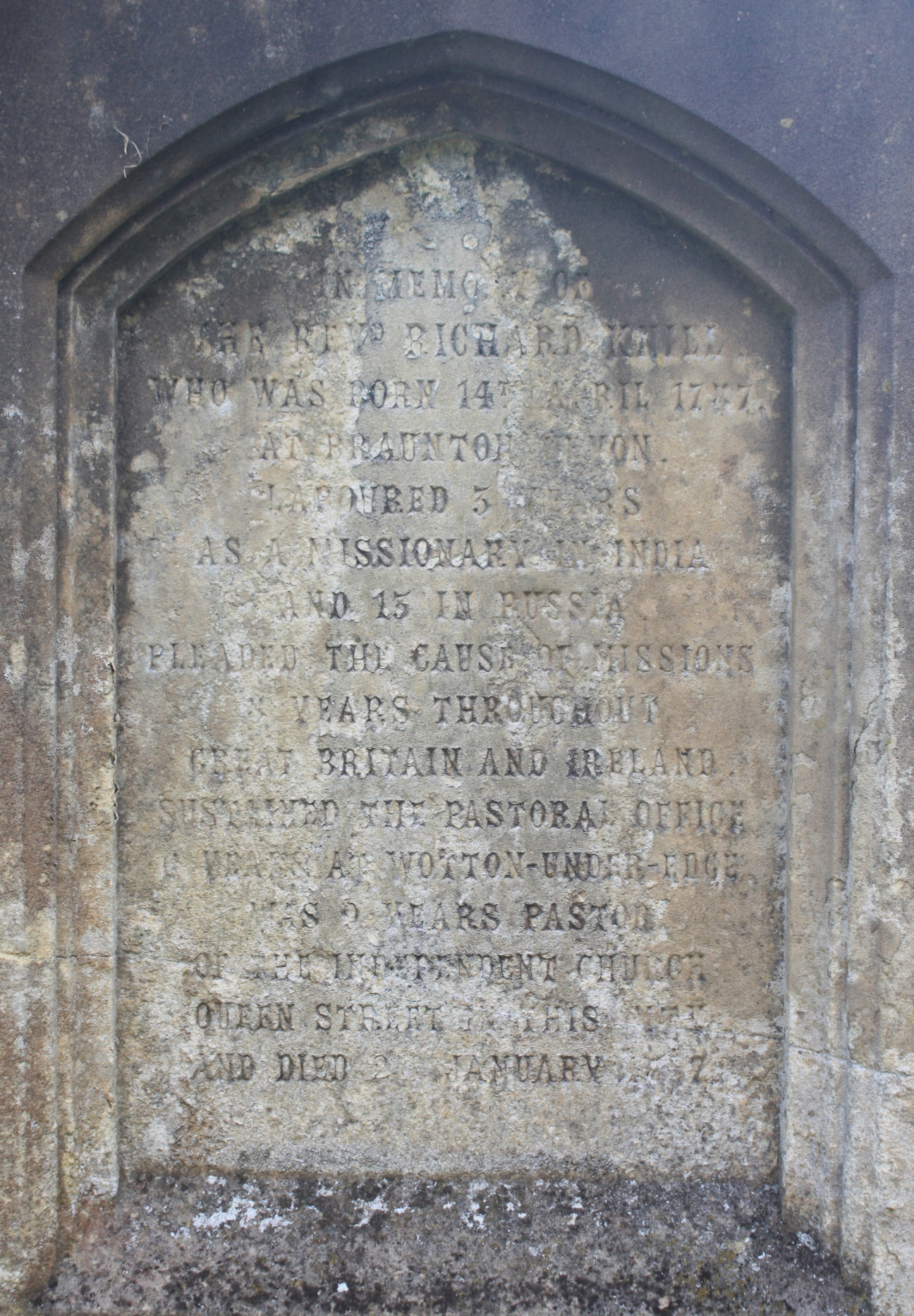 Richard Knill served as a missionary in India, Russia and the United Kingdom. He was also the author of a number of religious tracts.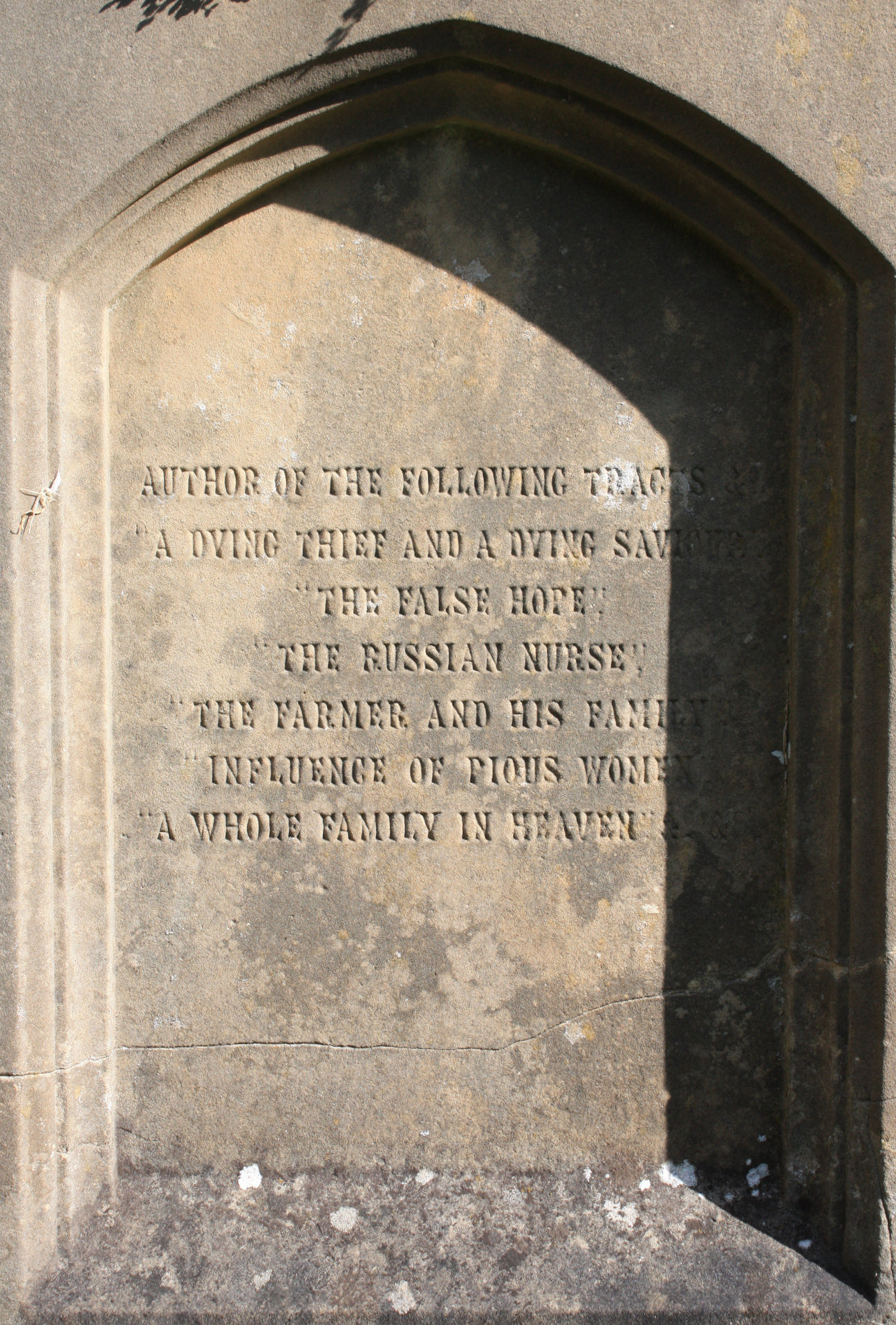 ---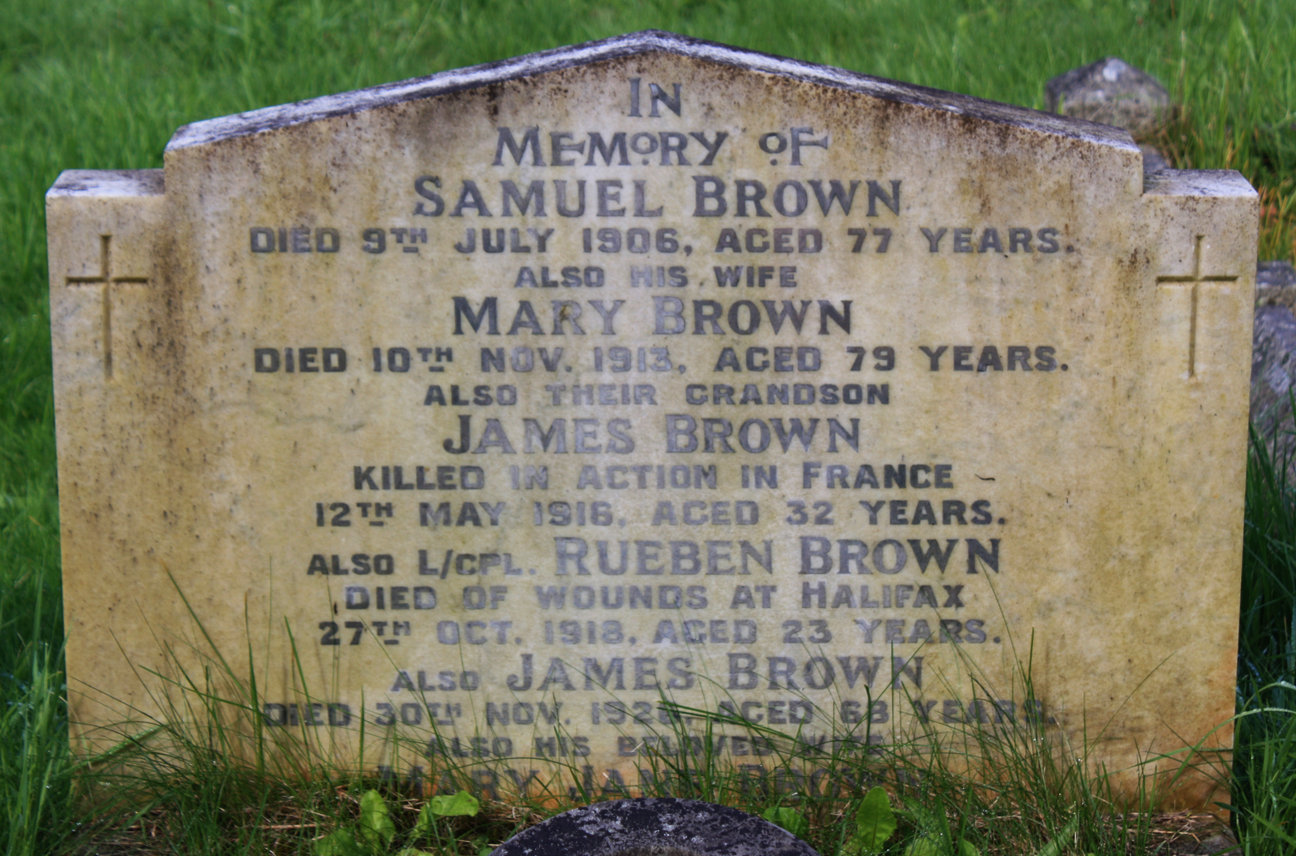 Samuel and Mary Brown lost two sons during the 1914-1918 war.
---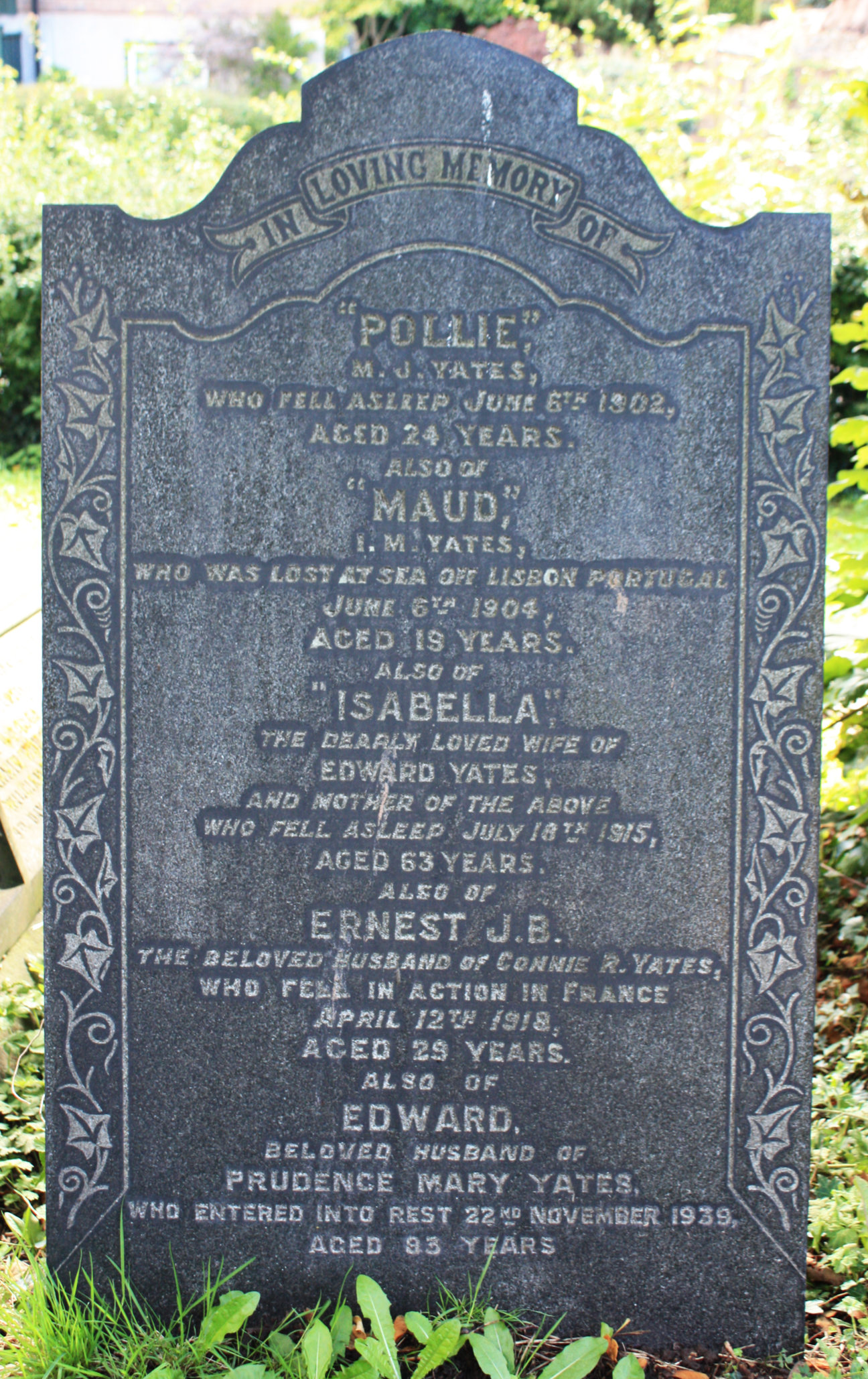 Maud Yates was "lost at sea off Lisbon Portugal".
---

Two children (11 and 8) "drowned by falling through the ice trying to save a fellow playmate".
---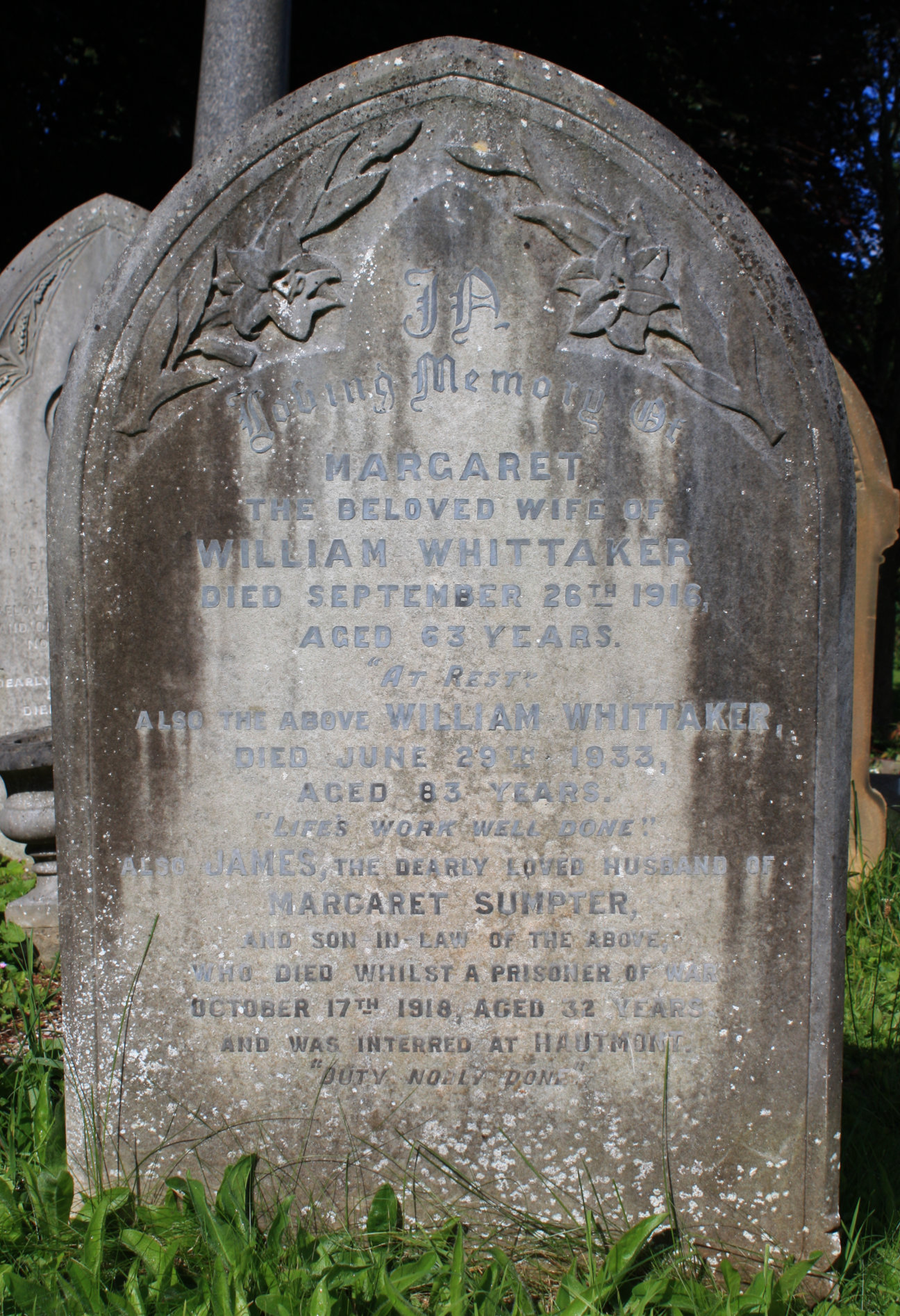 James died while he was a Prisoner of War.
---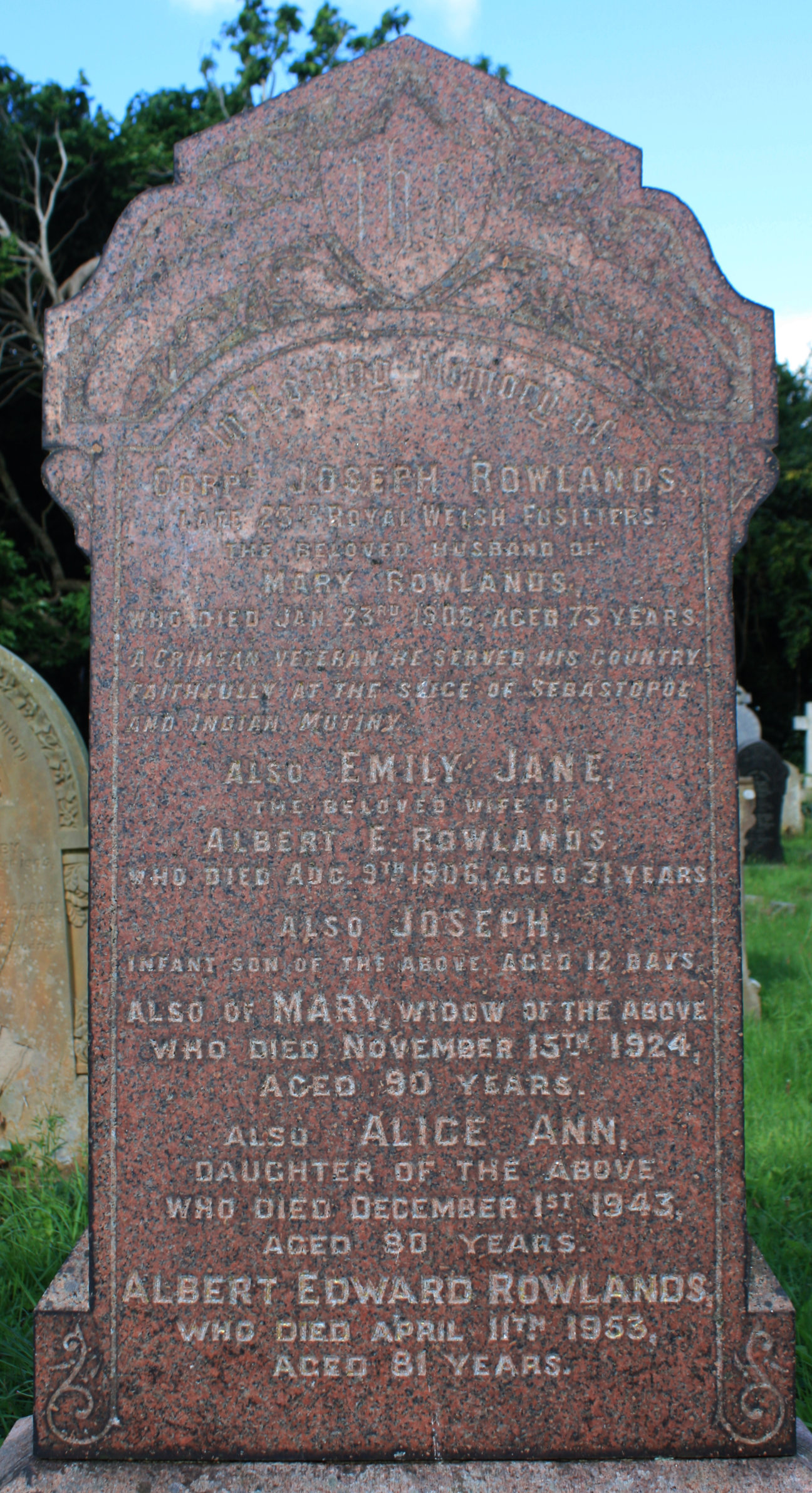 Joseph Rowlands served in the Crimean War and in the Indian Mutiny.
---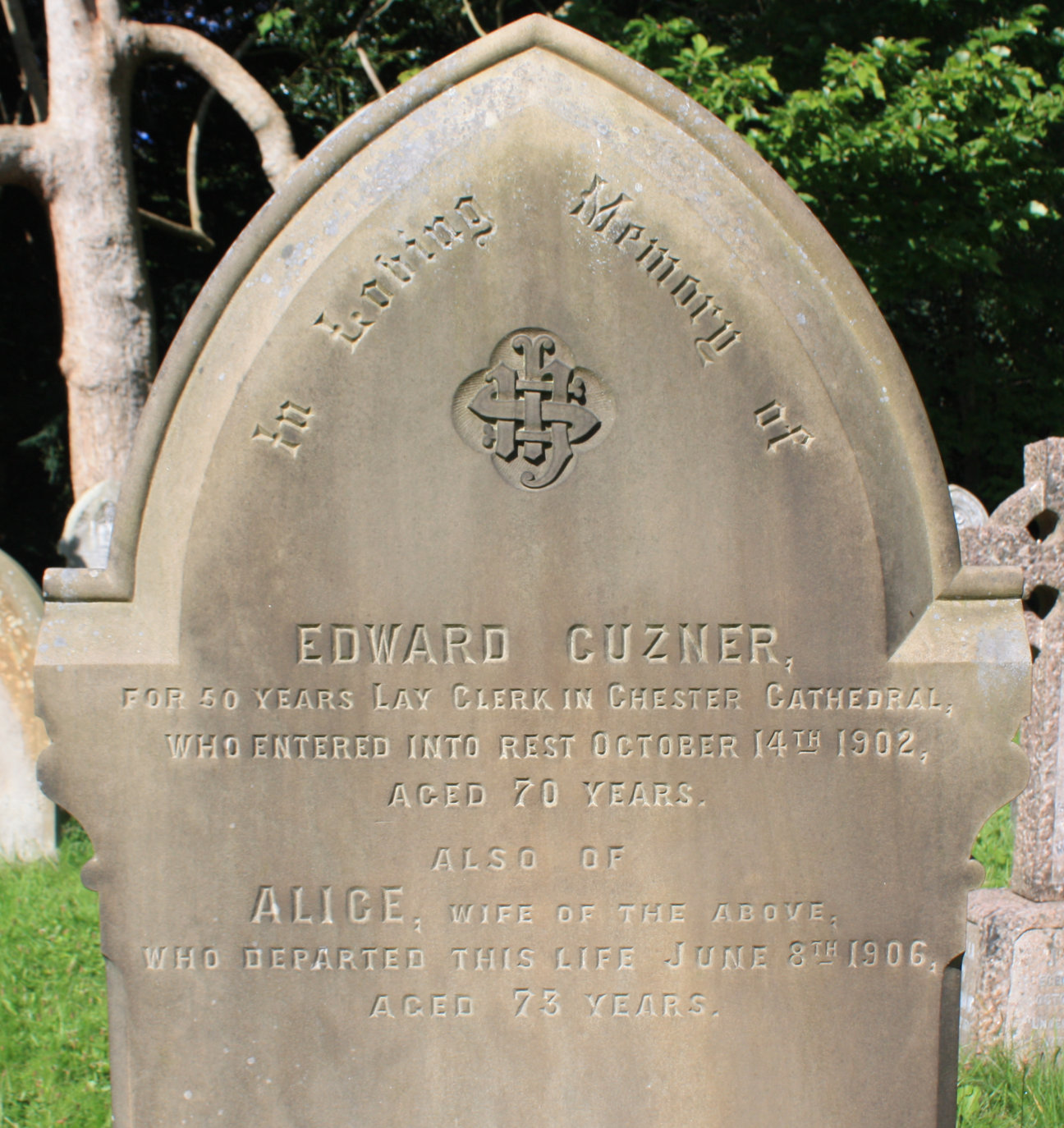 Edward Cuzner was a Lay Clerk in Chester Cathedral.
---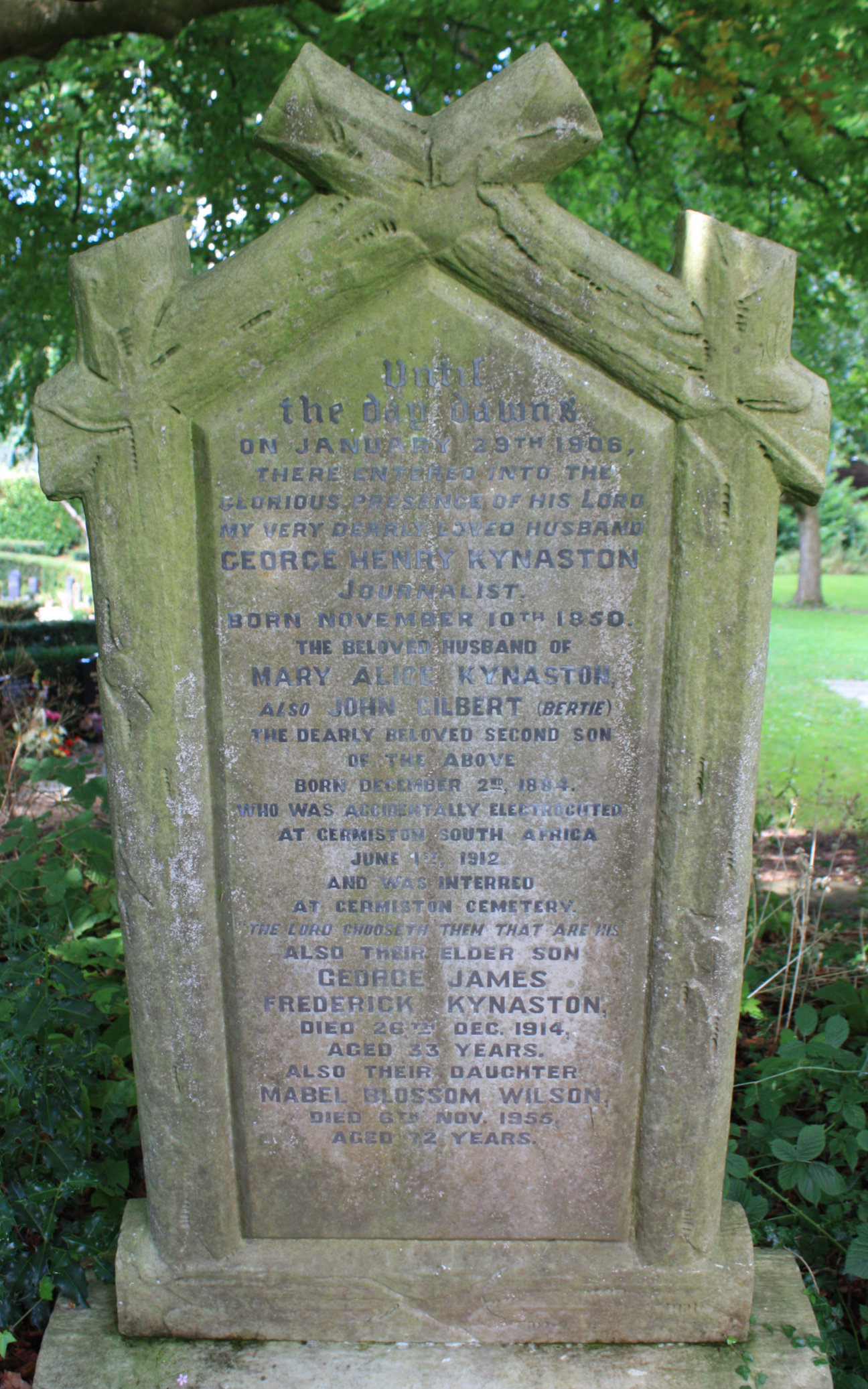 John Kynaston was "accidentally electocuted" at Germiston South Africa.
---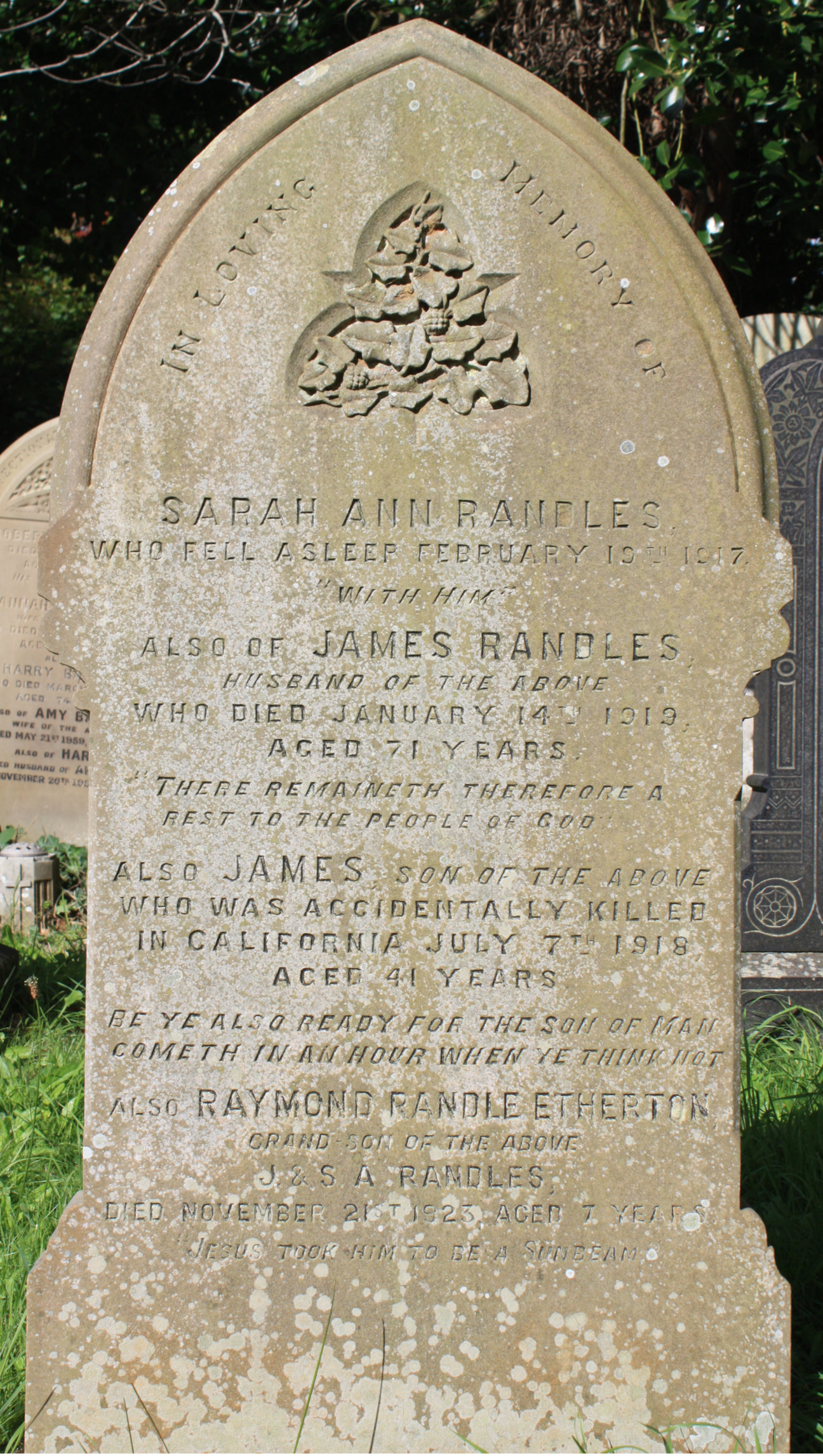 James Randles was "accidentally killed in California".
---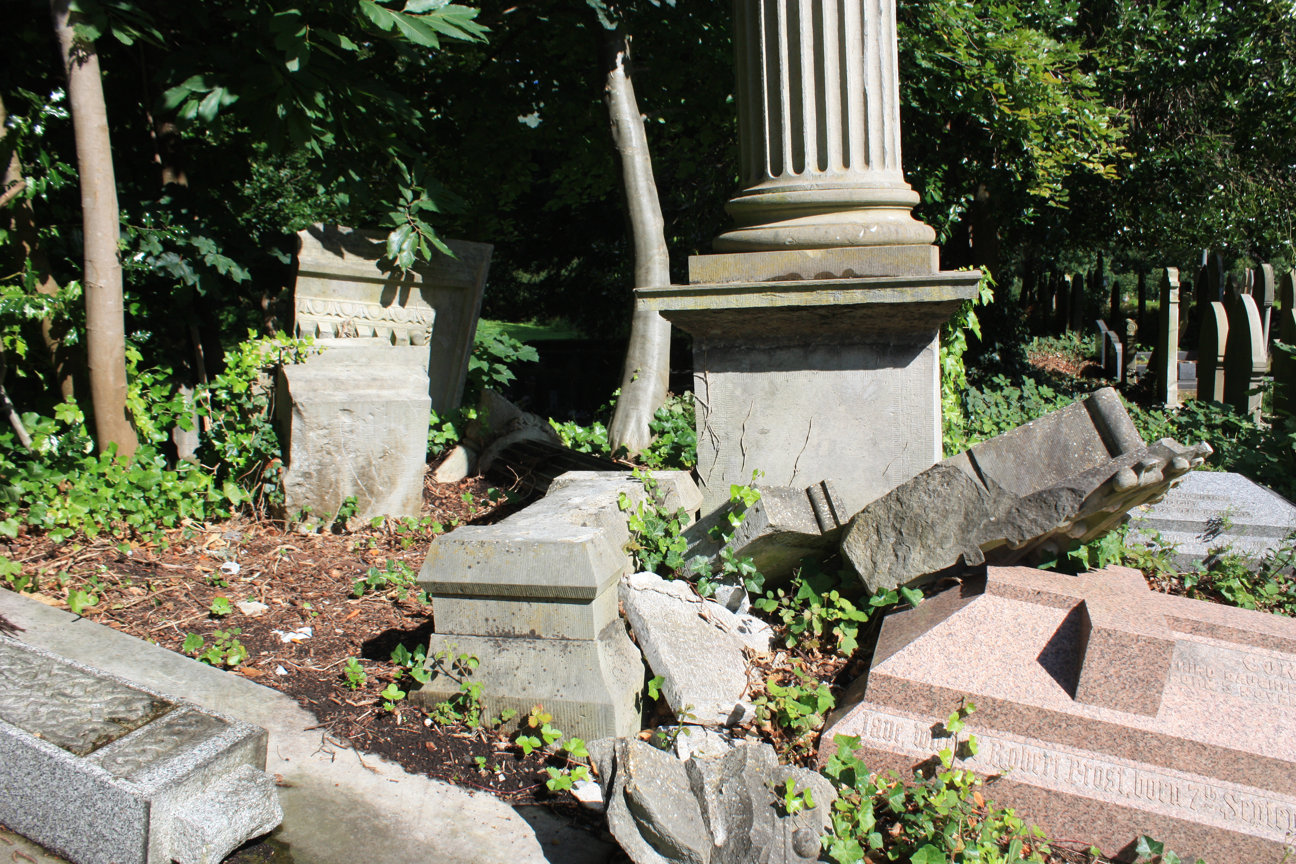 Some sections of the cemetery had been vandalised.
---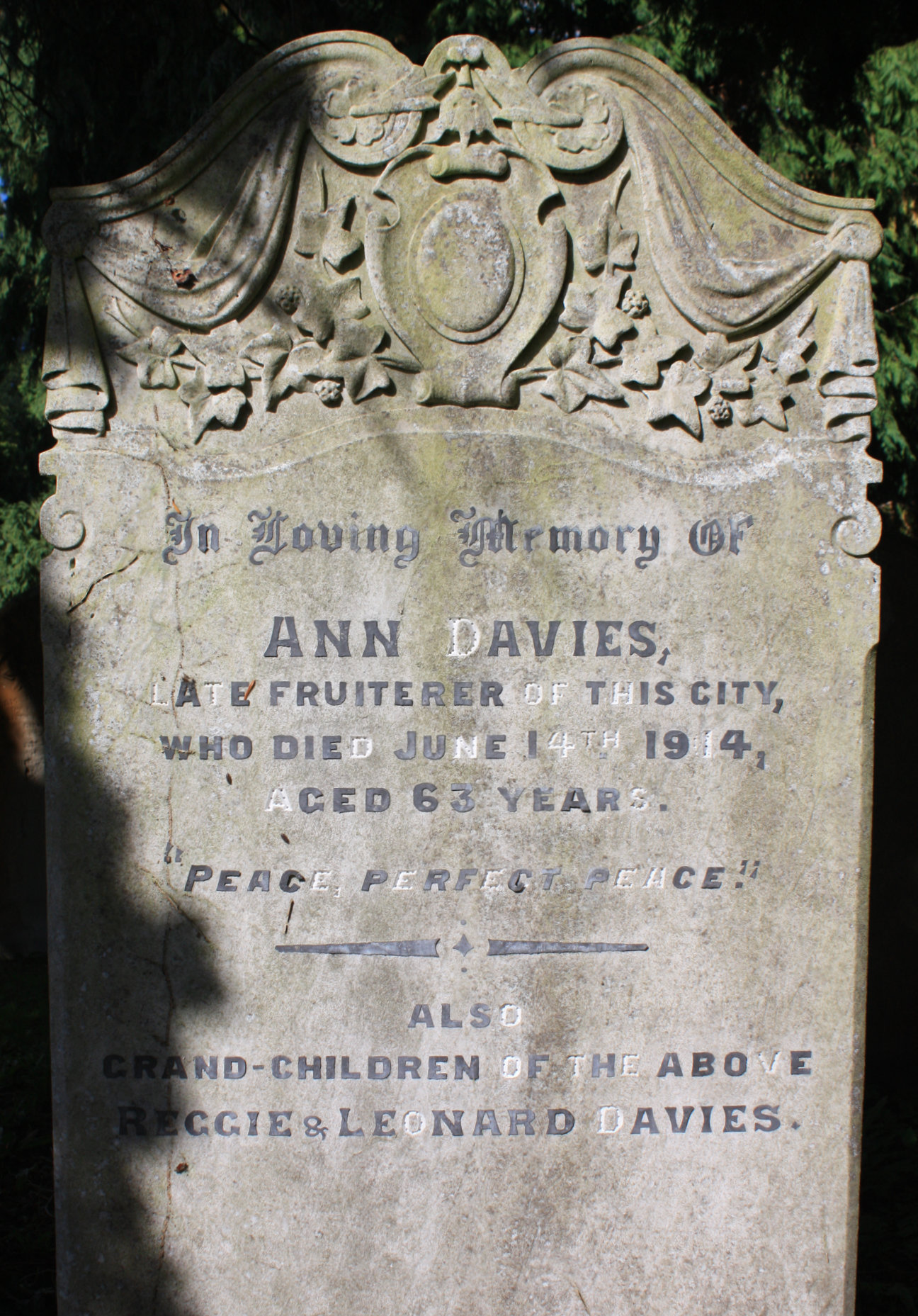 Ann Davies was a Fruiterer.
---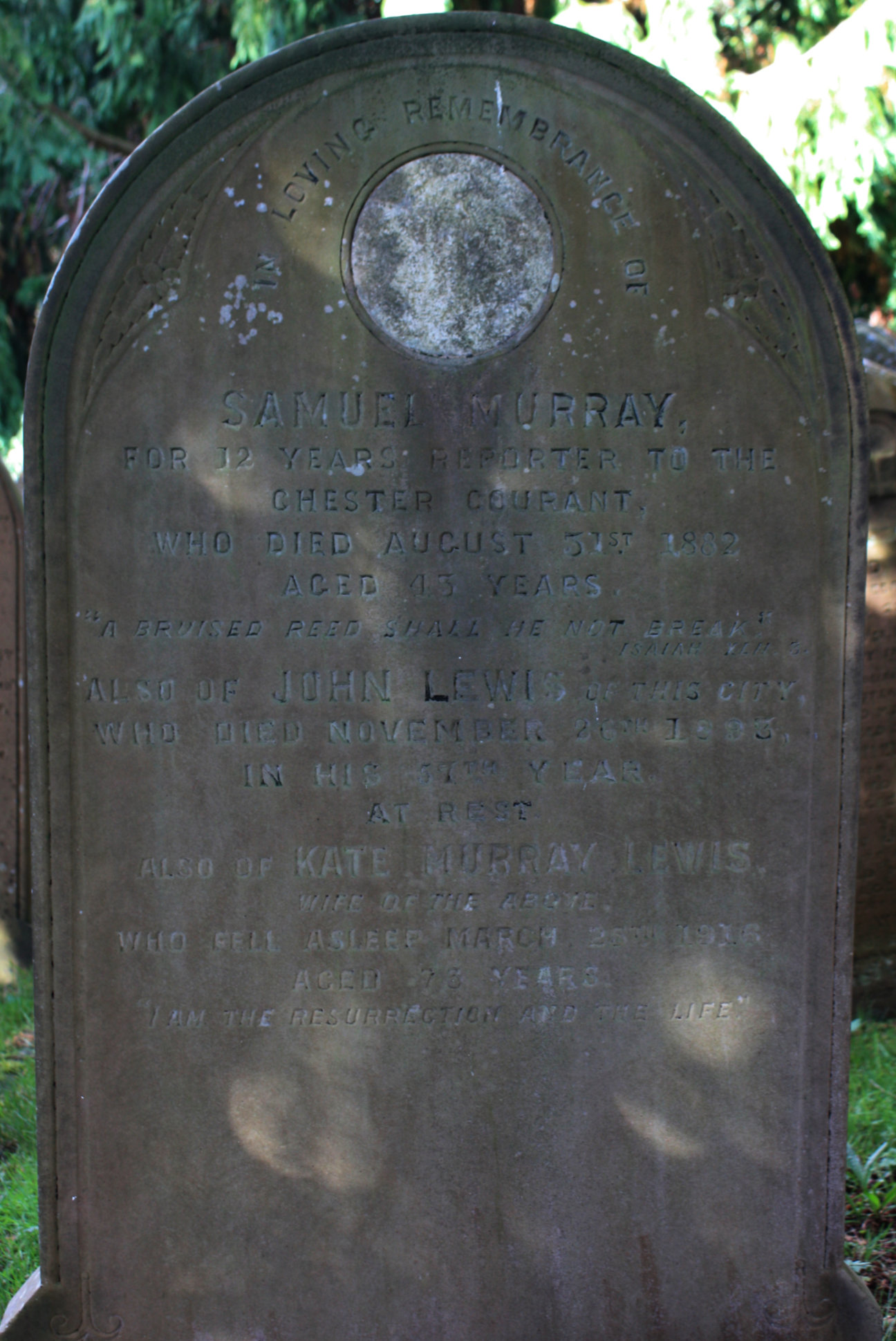 Samuel Murray was a Reporter for the Chester Courant.
---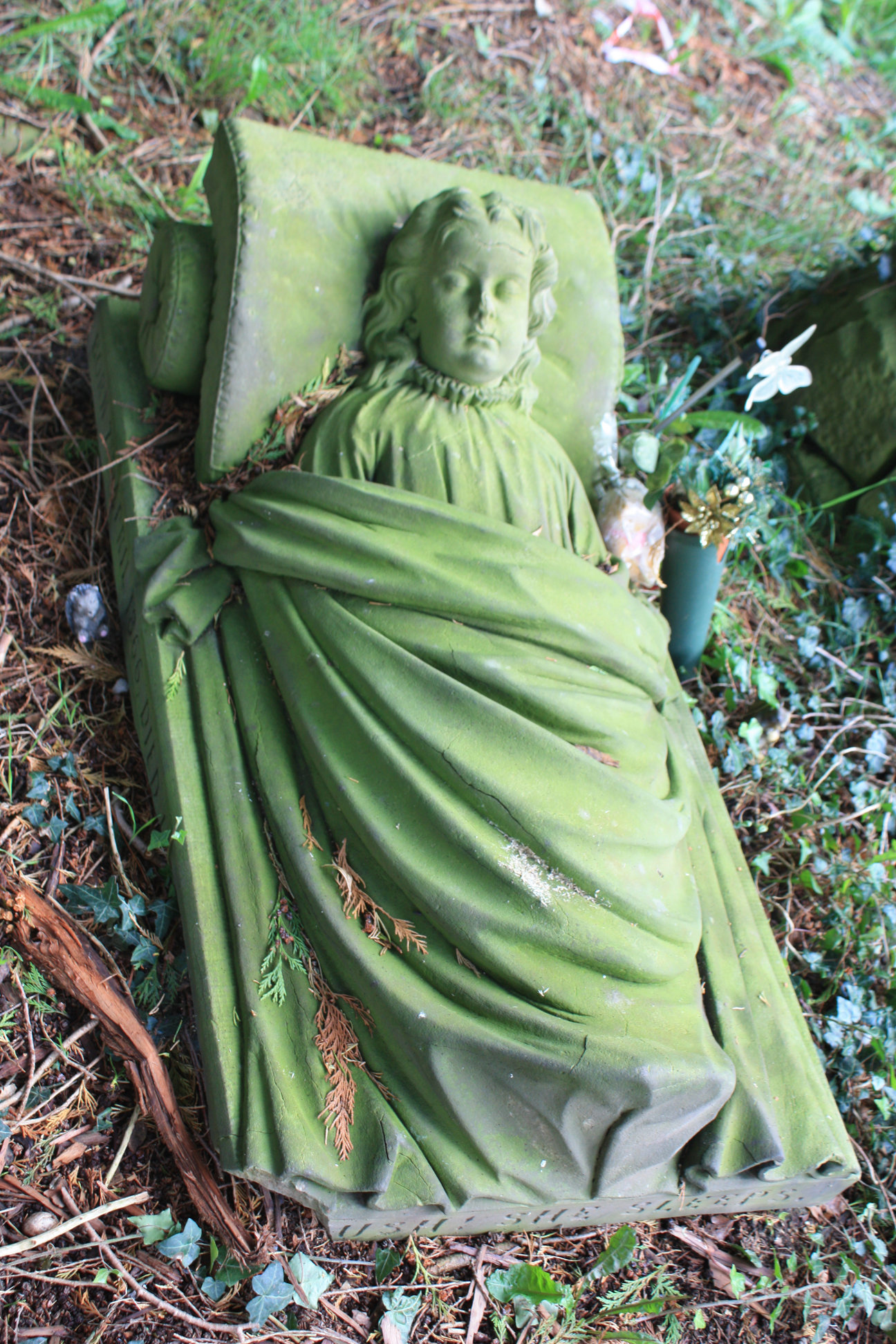 This memorial to Mabel - born April 1866 - is in a wonderful state of preservation.
---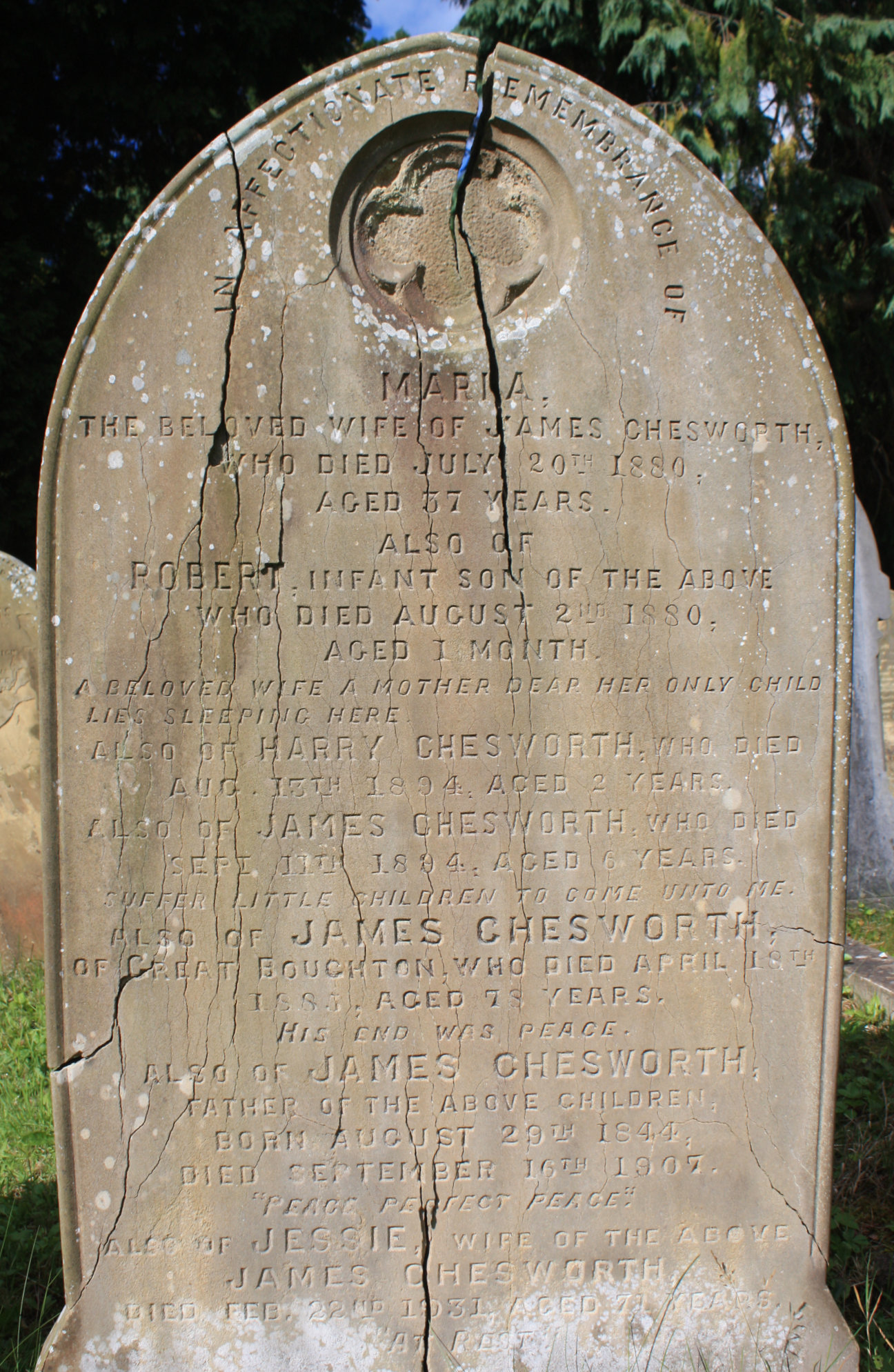 James Chesworth lost his wife and infant son in 13 days. Two other children died less than a month apart.
---
William Churchill of Chester (UK) died in Cheyenne, Wyoming in 1877.
---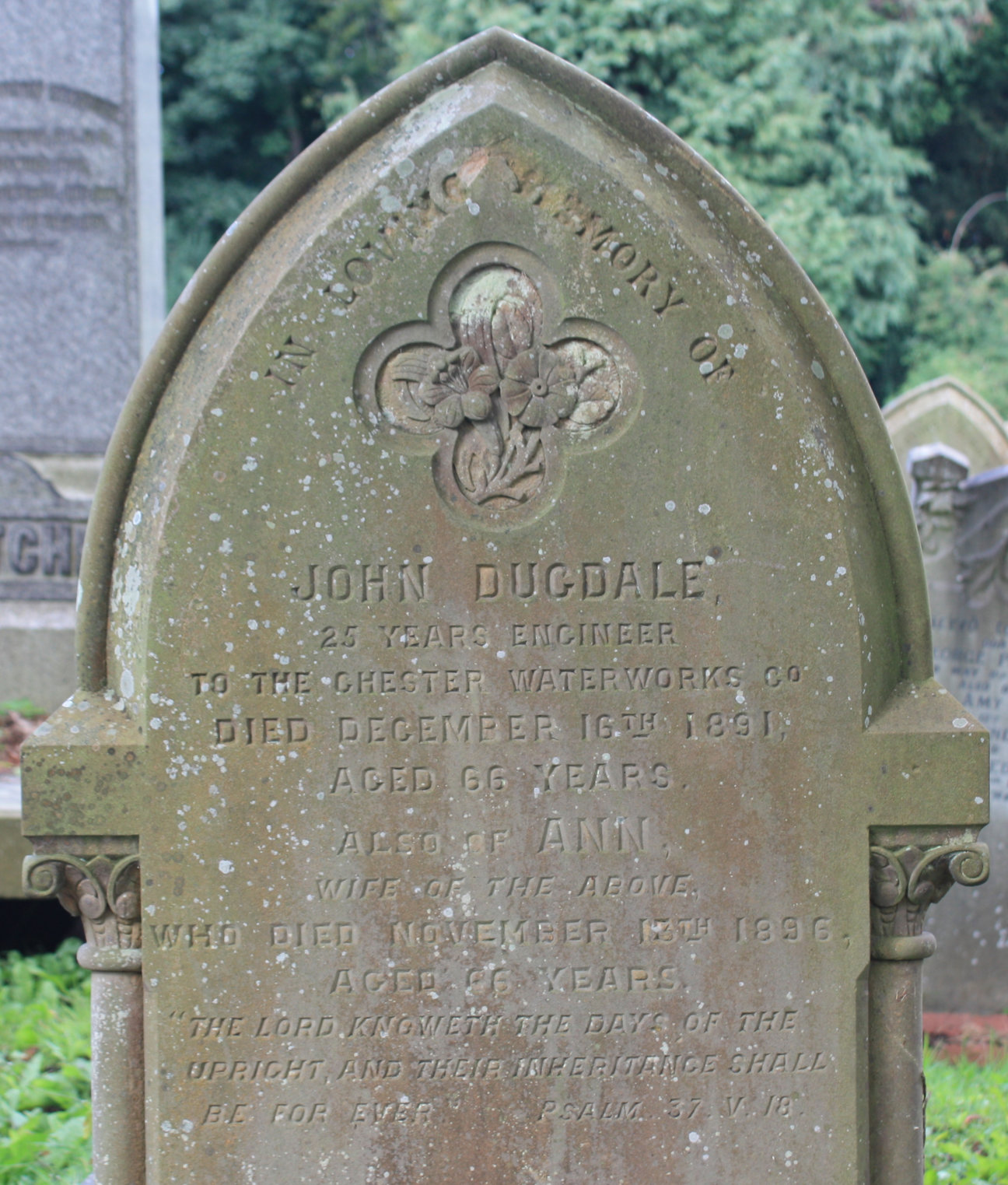 John Dugdale was a Engineer with the Chester Waterworks Company.
---

Born at Pueblo, Colorado, a graduate of Yale and died at Chester, Cheshire - an unusual combination.
---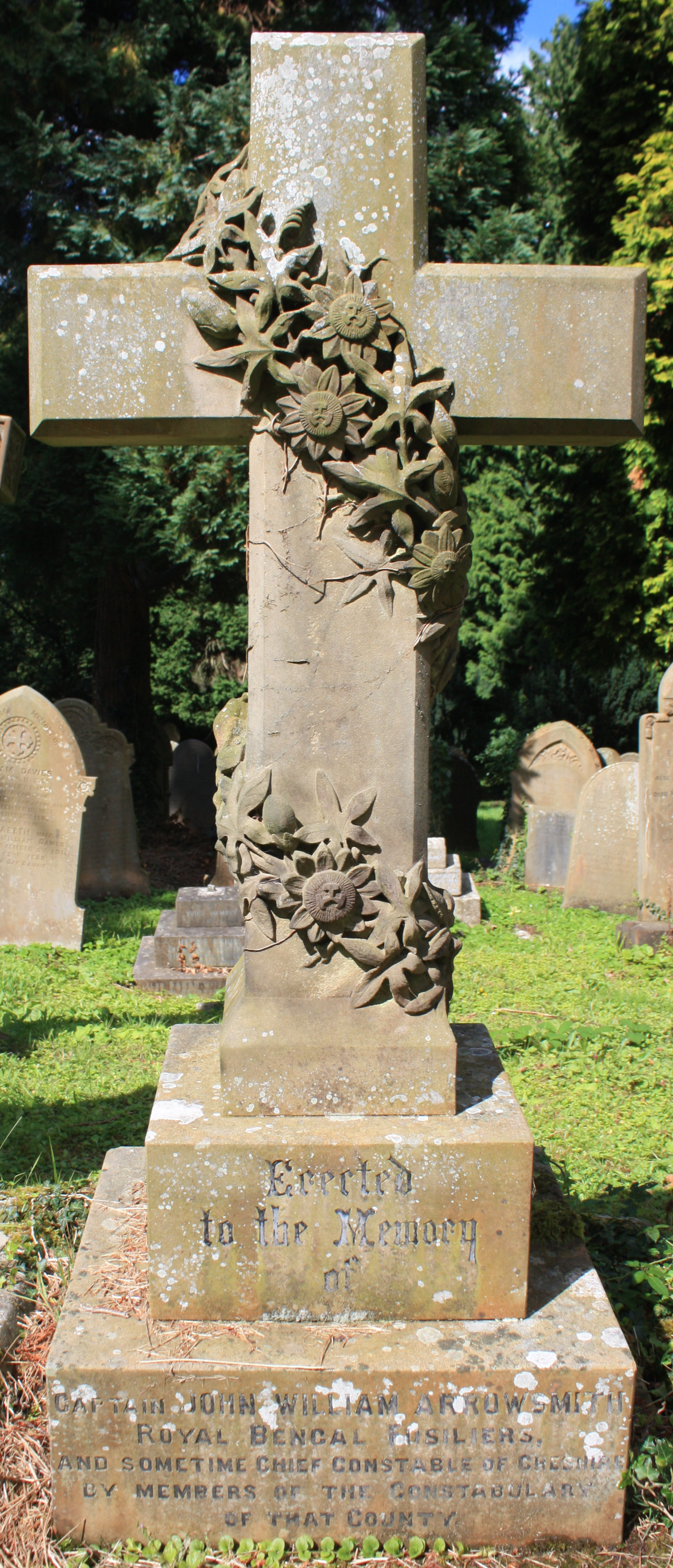 John Arrowsmith was Chief Constable of Cheshire.
---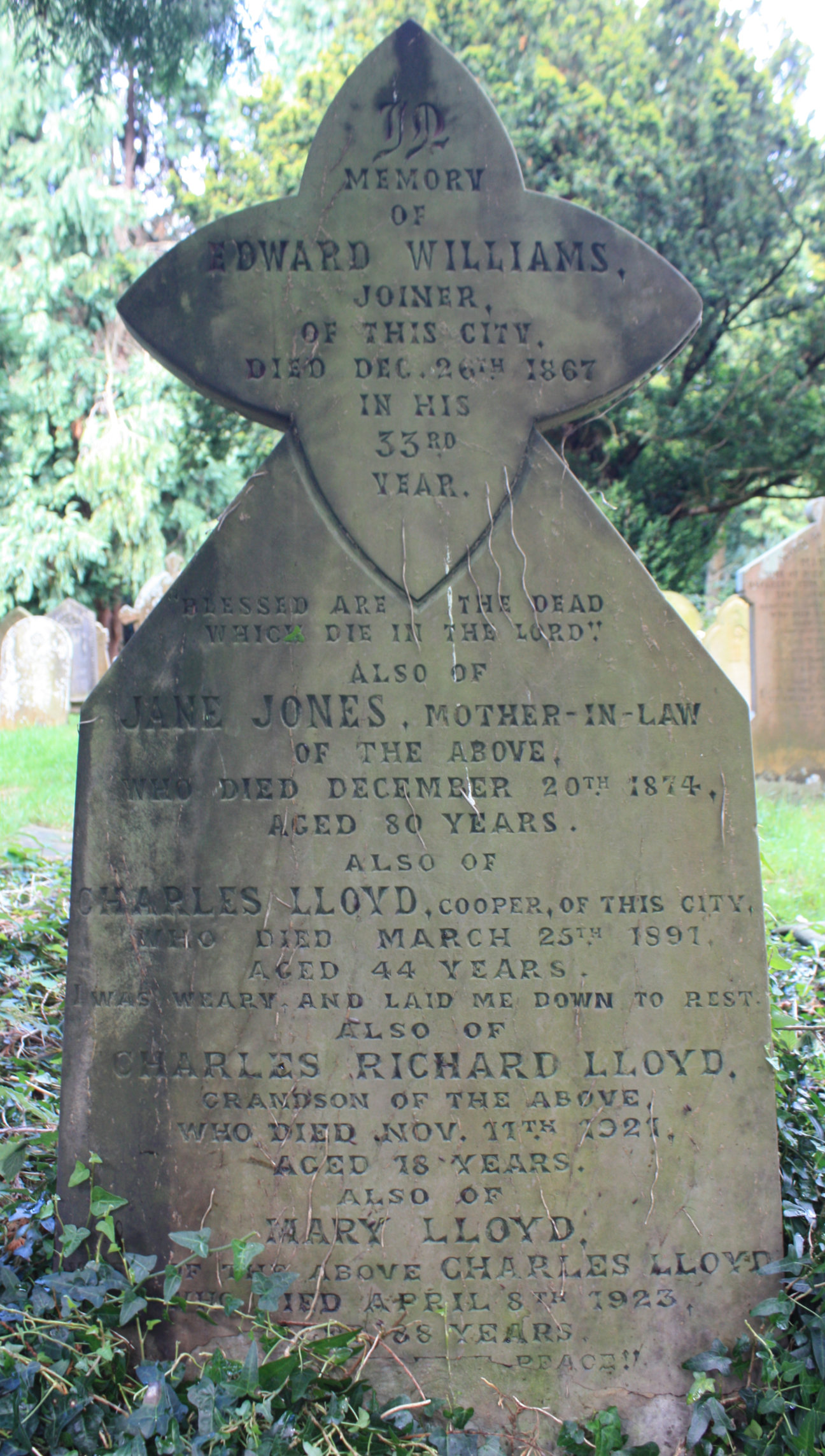 Edward Williams was a Joiner and Charles Lloyd was a Cooper.
---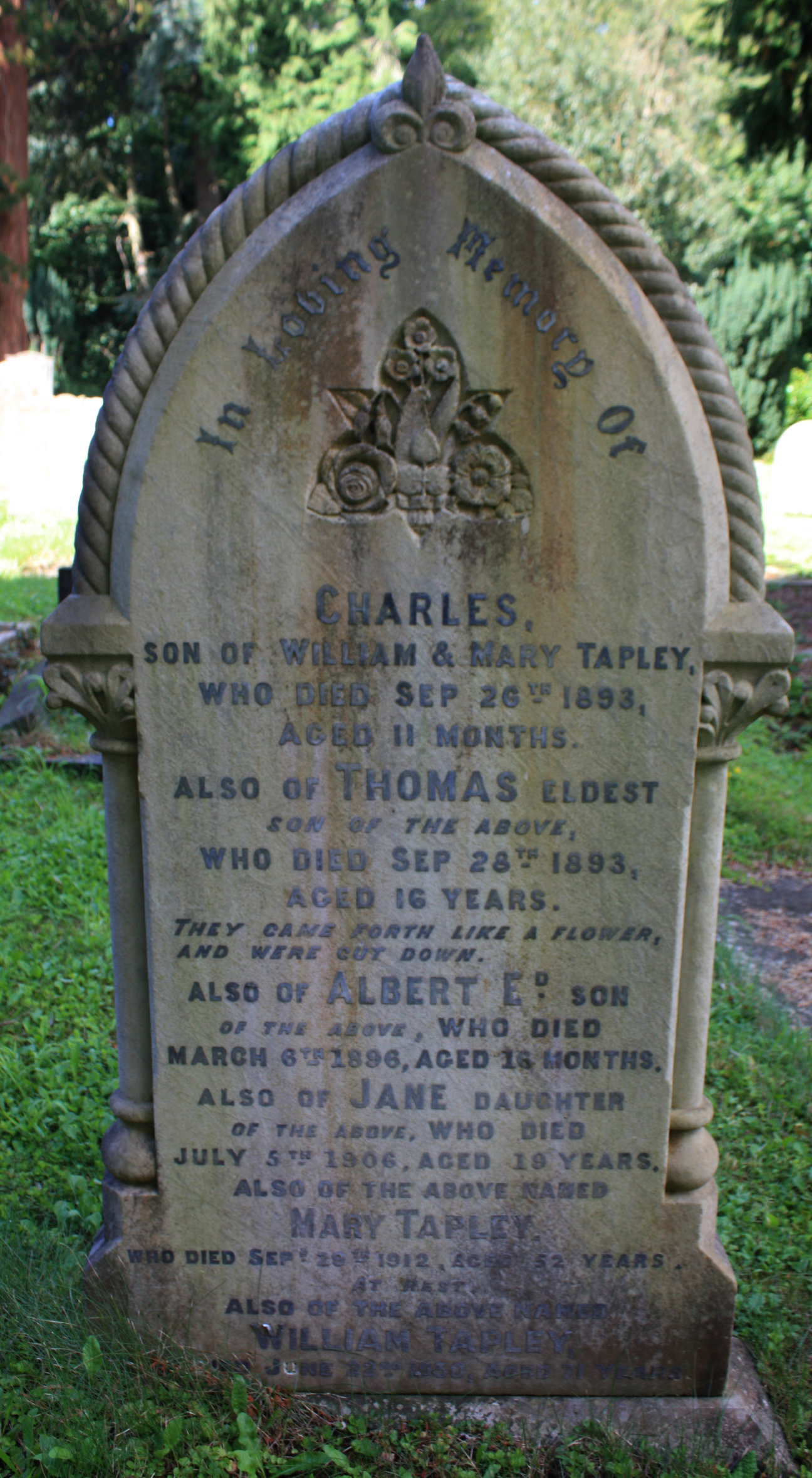 Two siblings who died 2 days apart.
---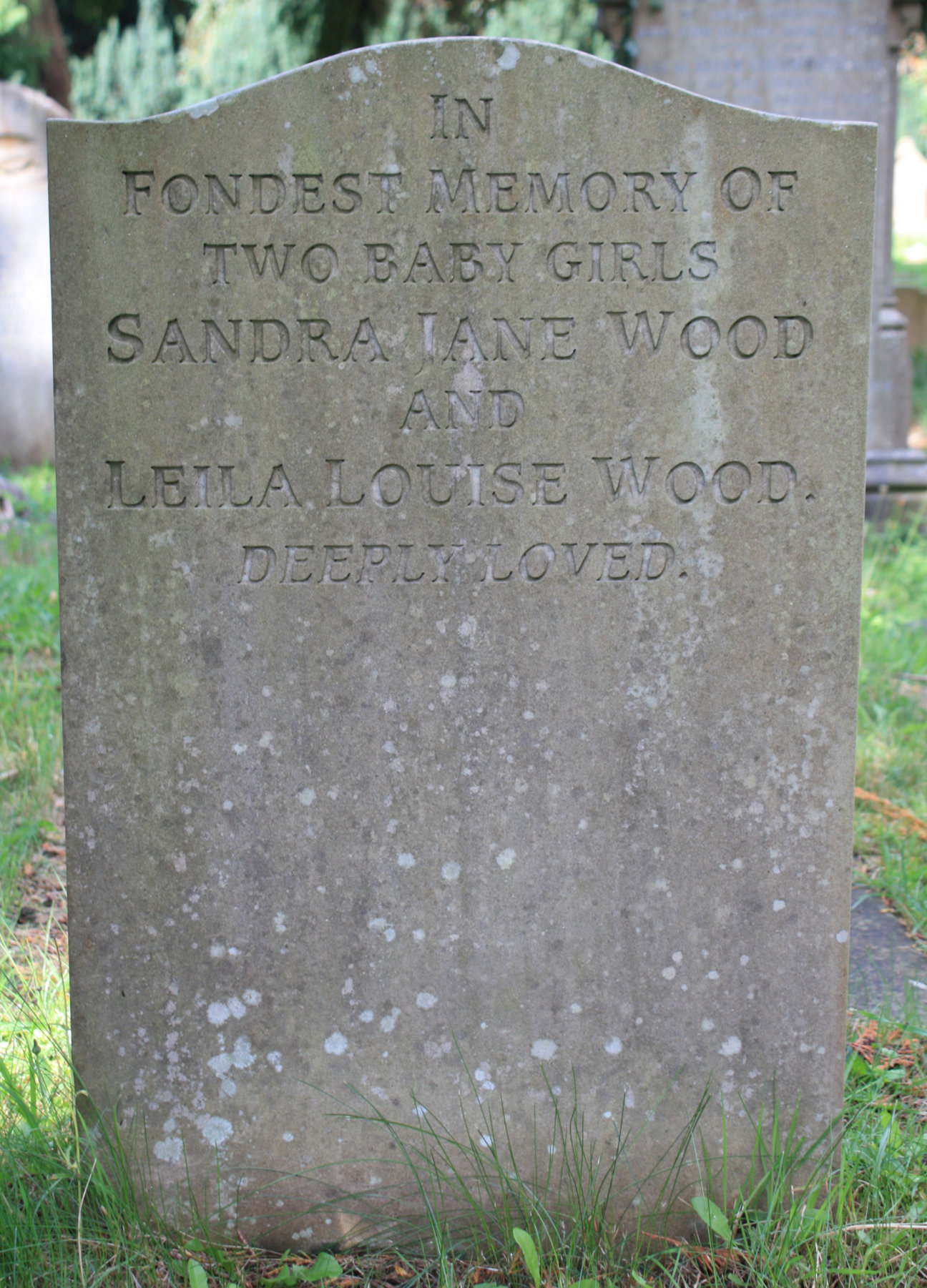 "In fondest memory of two baby girls ...".
---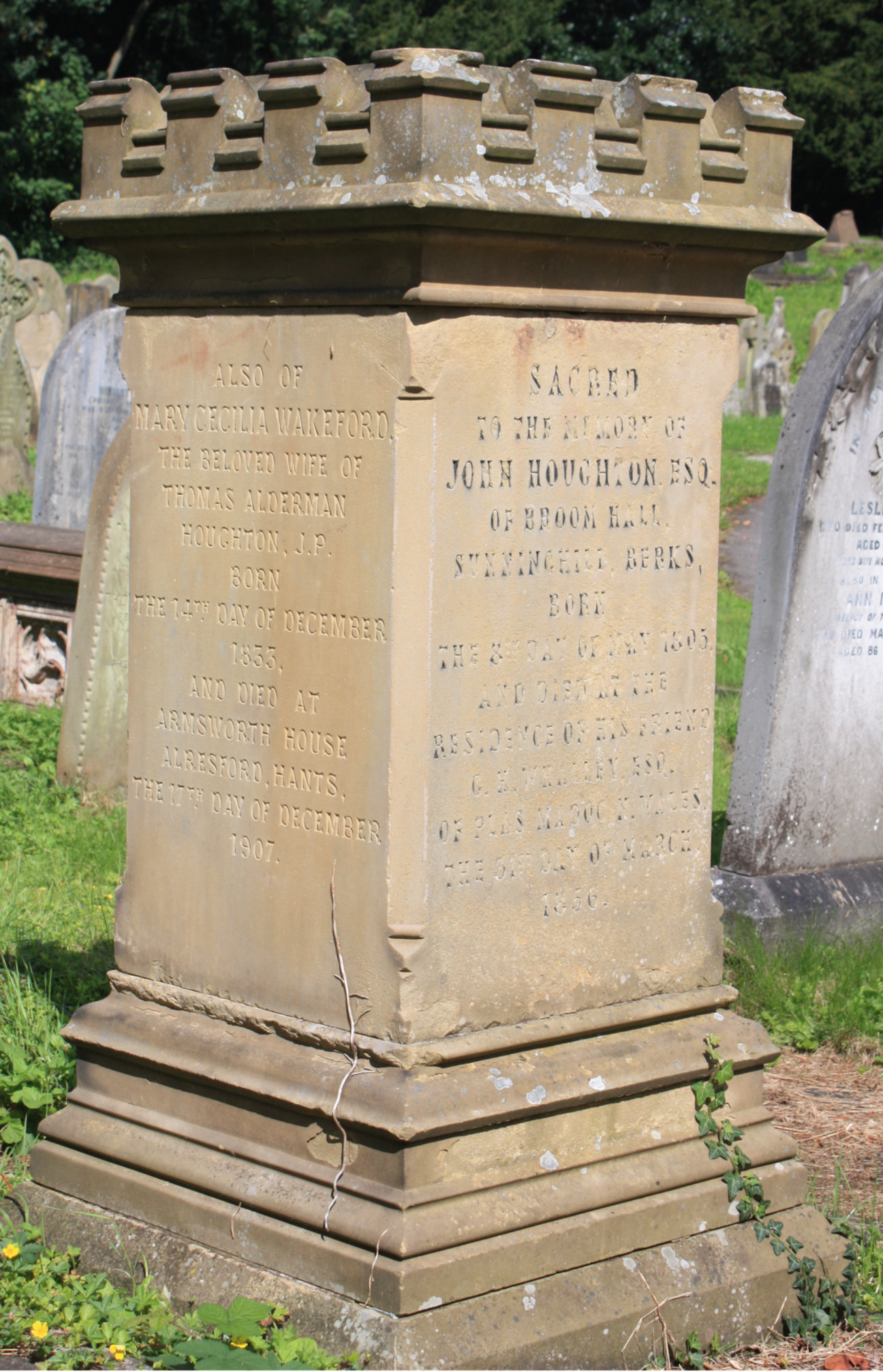 You don't seen many memorials in the shape of a castle.
---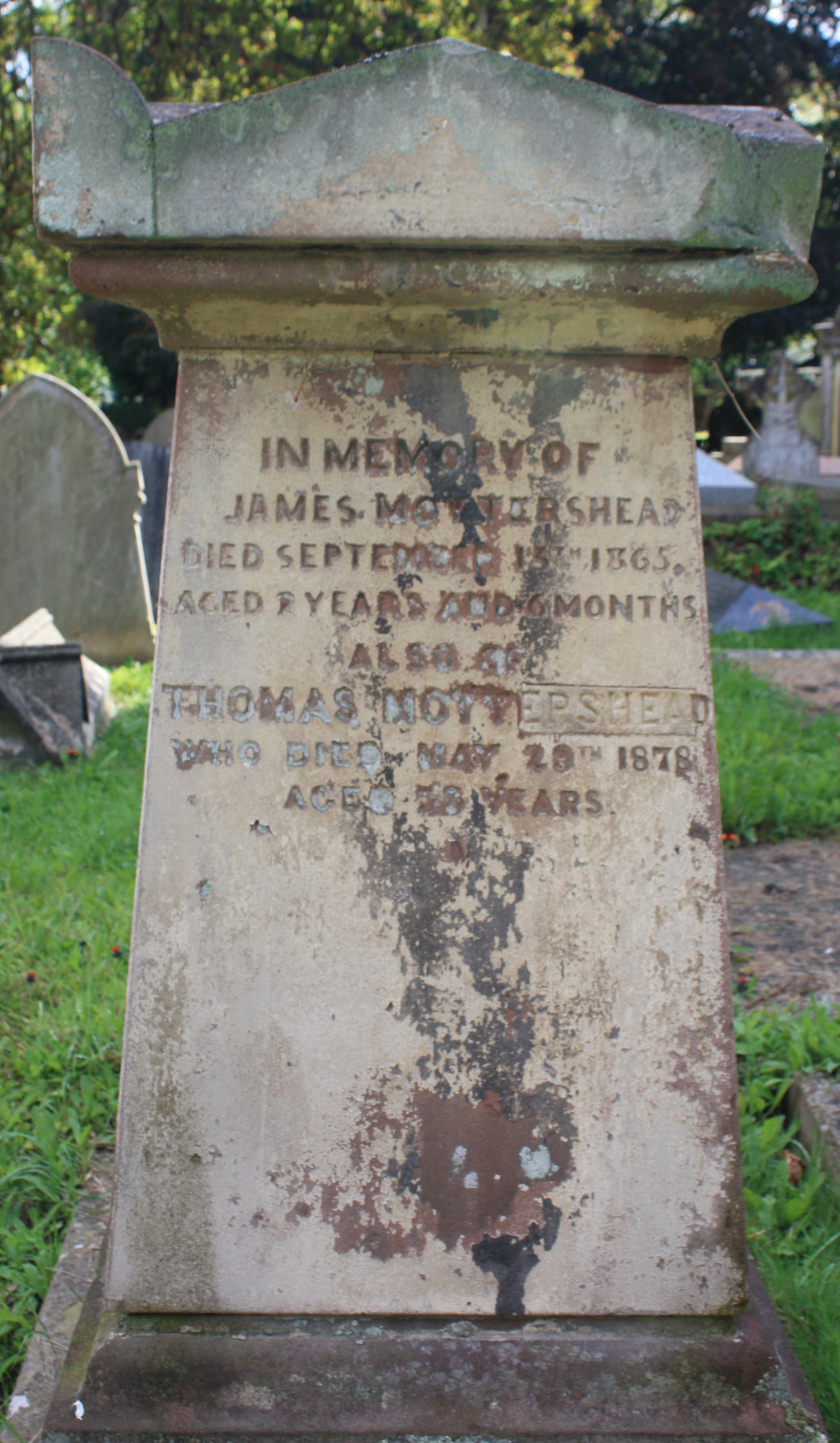 The mason had to re-engrave the surname of the deceased.
---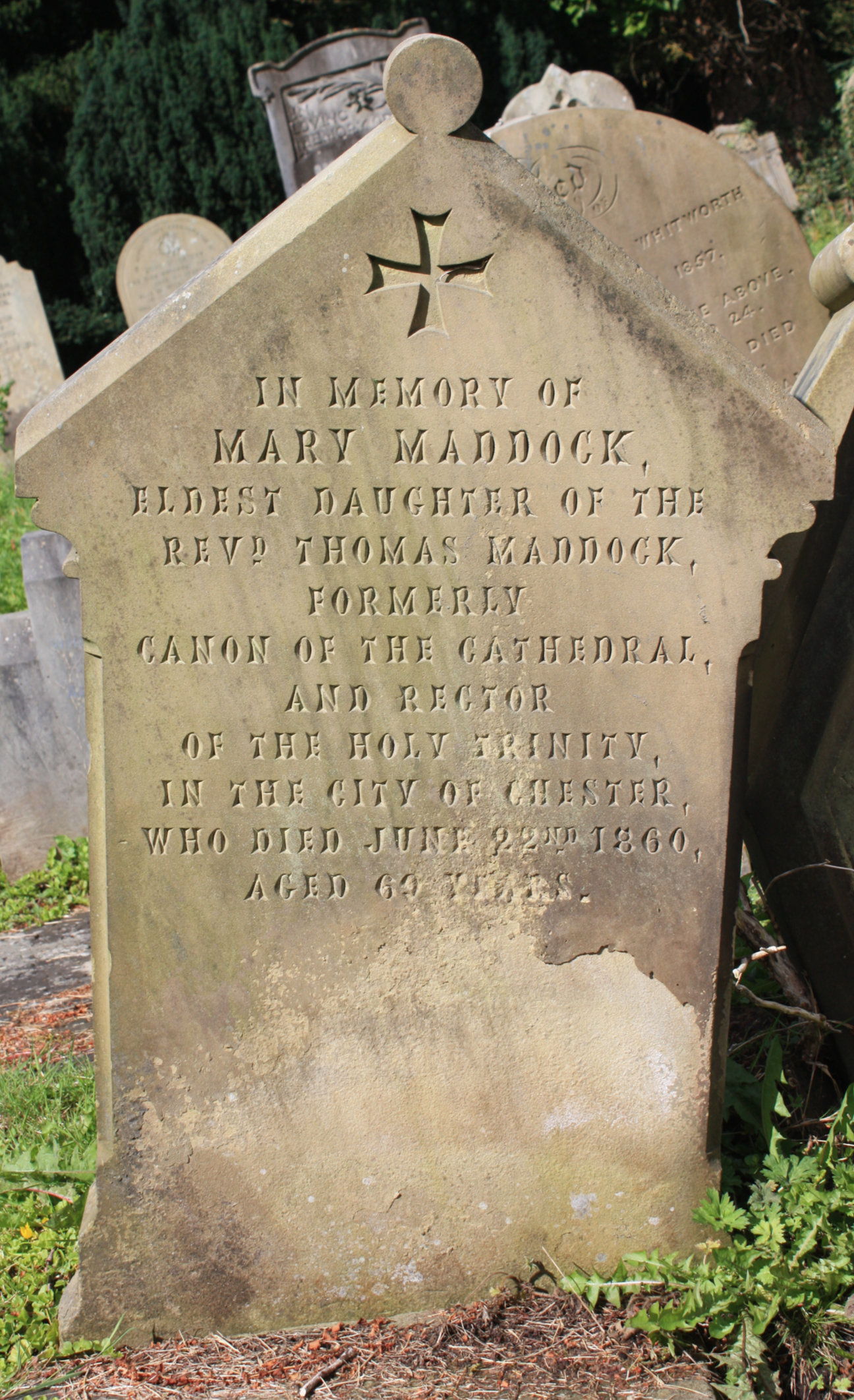 Thomas was Canon of the Cathedral and Rector of Holy Trinity church.
---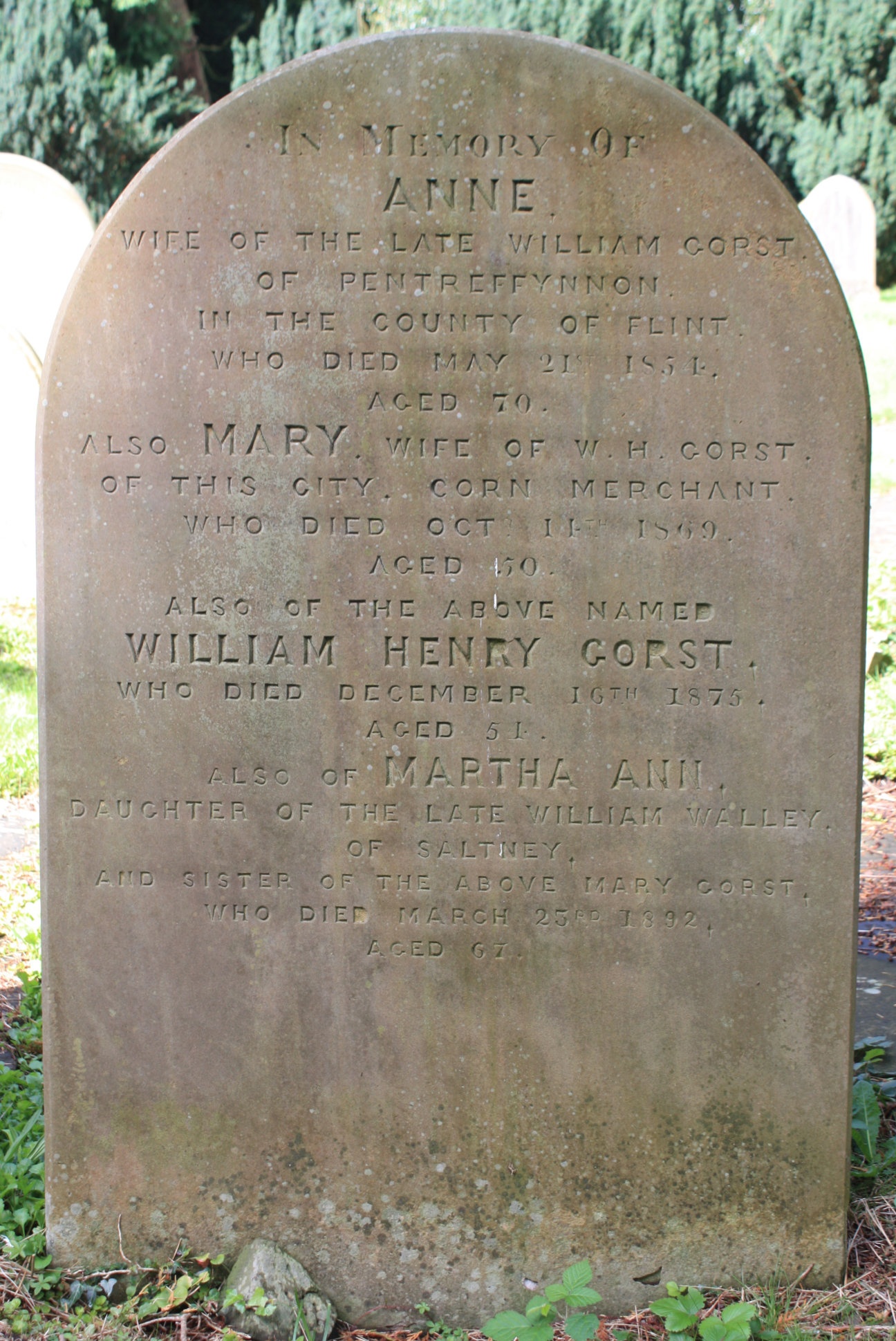 William Gorst was a Corn Merchant.
---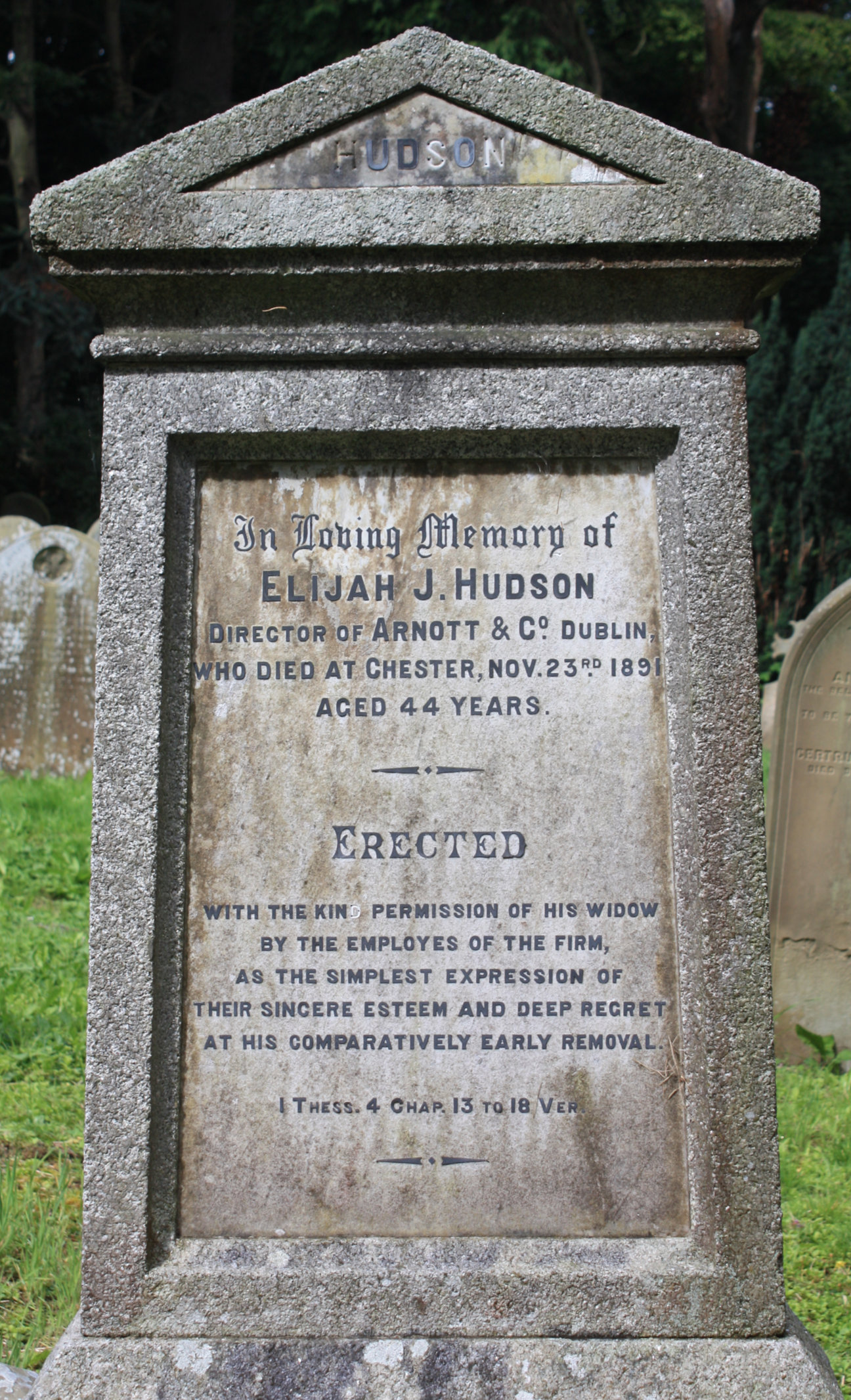 "Erected with the kind permission of his widow ...".
---

The mason seems to have corrected an entire line of text.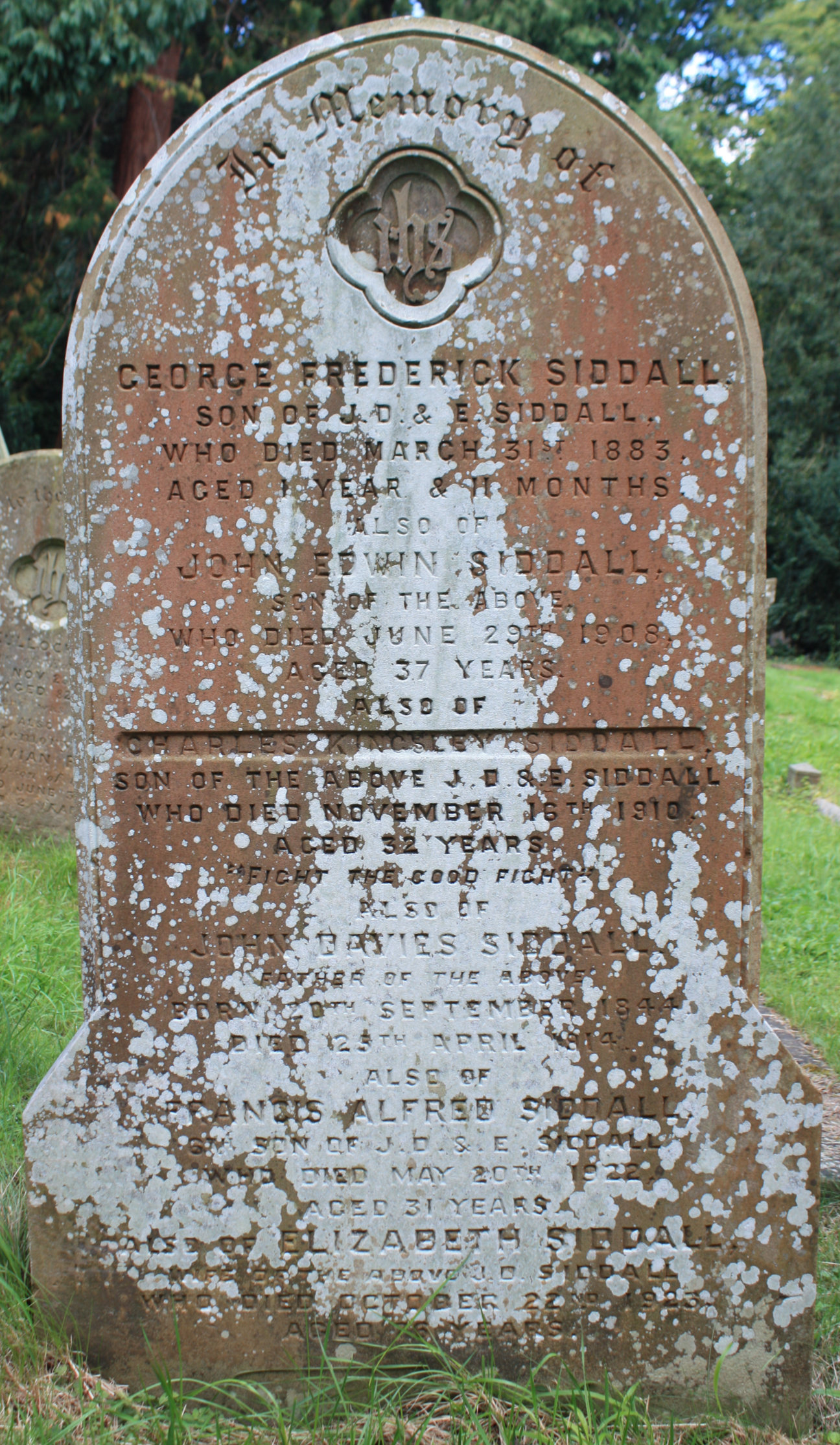 ---
Corporal Joseph Thomas died of Enteric Fever at Kimberley, South Africa.
---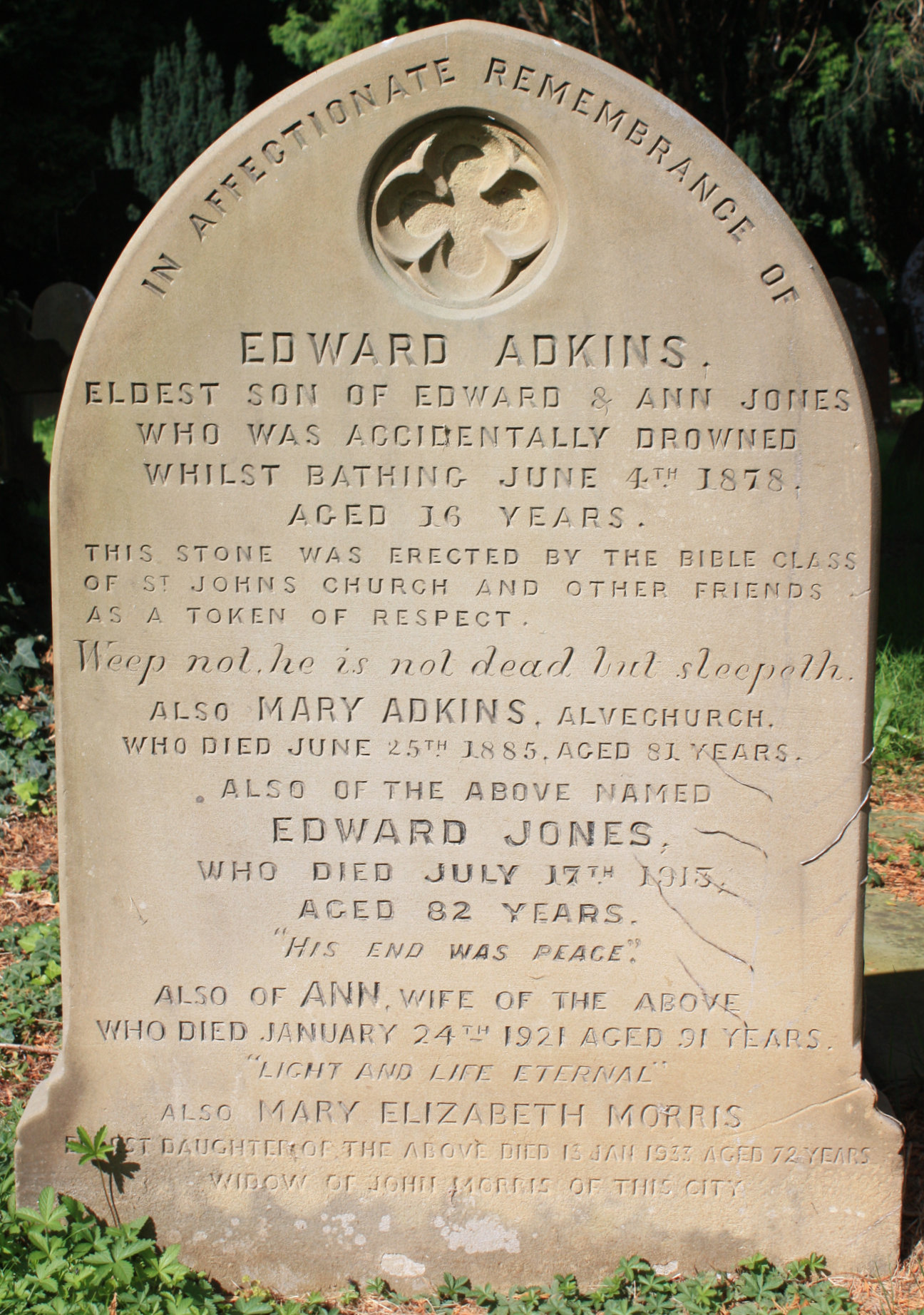 Edward Adkins was "accidentally drowned whilst bathing".
---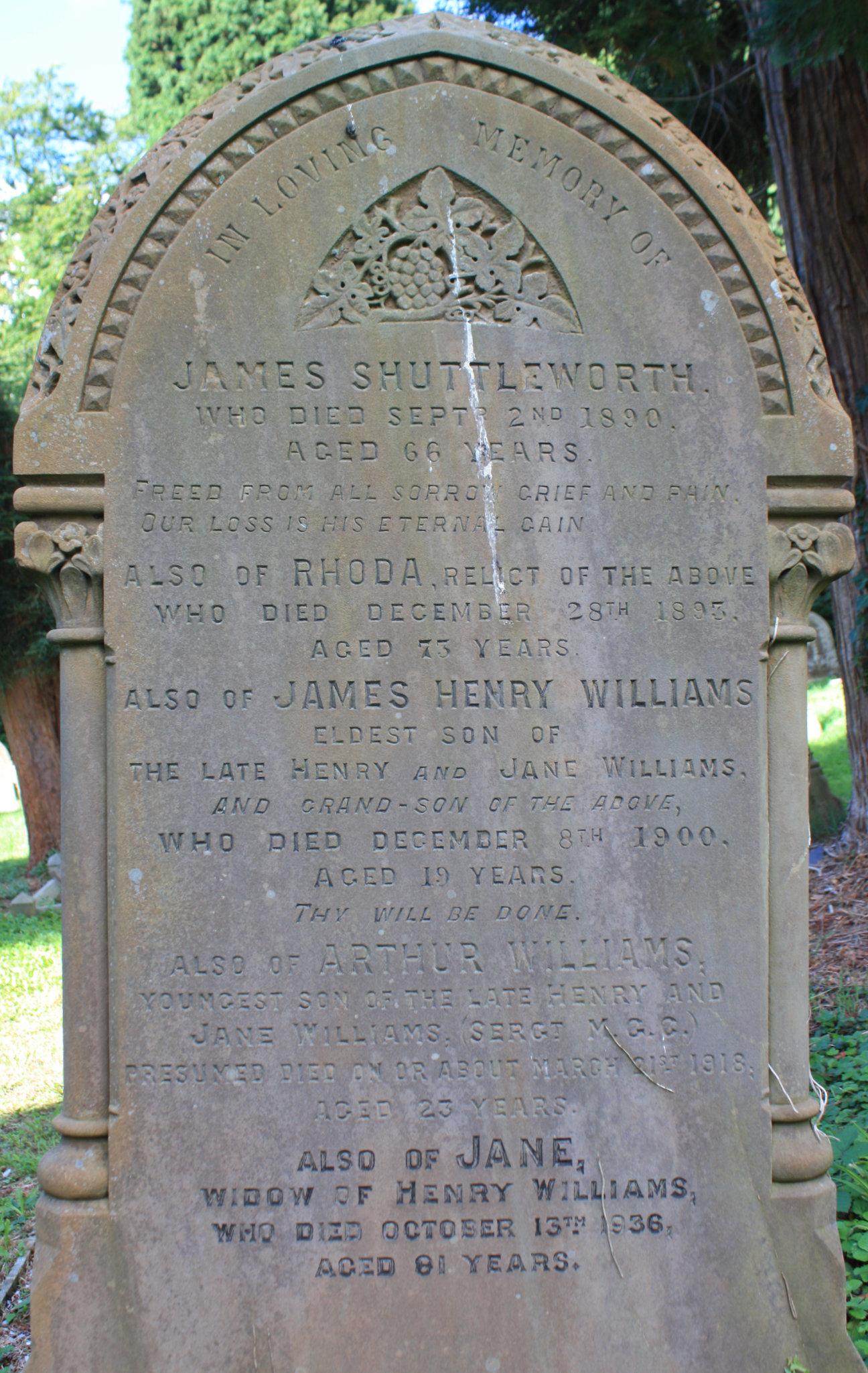 "Presumed died on or about March 21st 1918"
---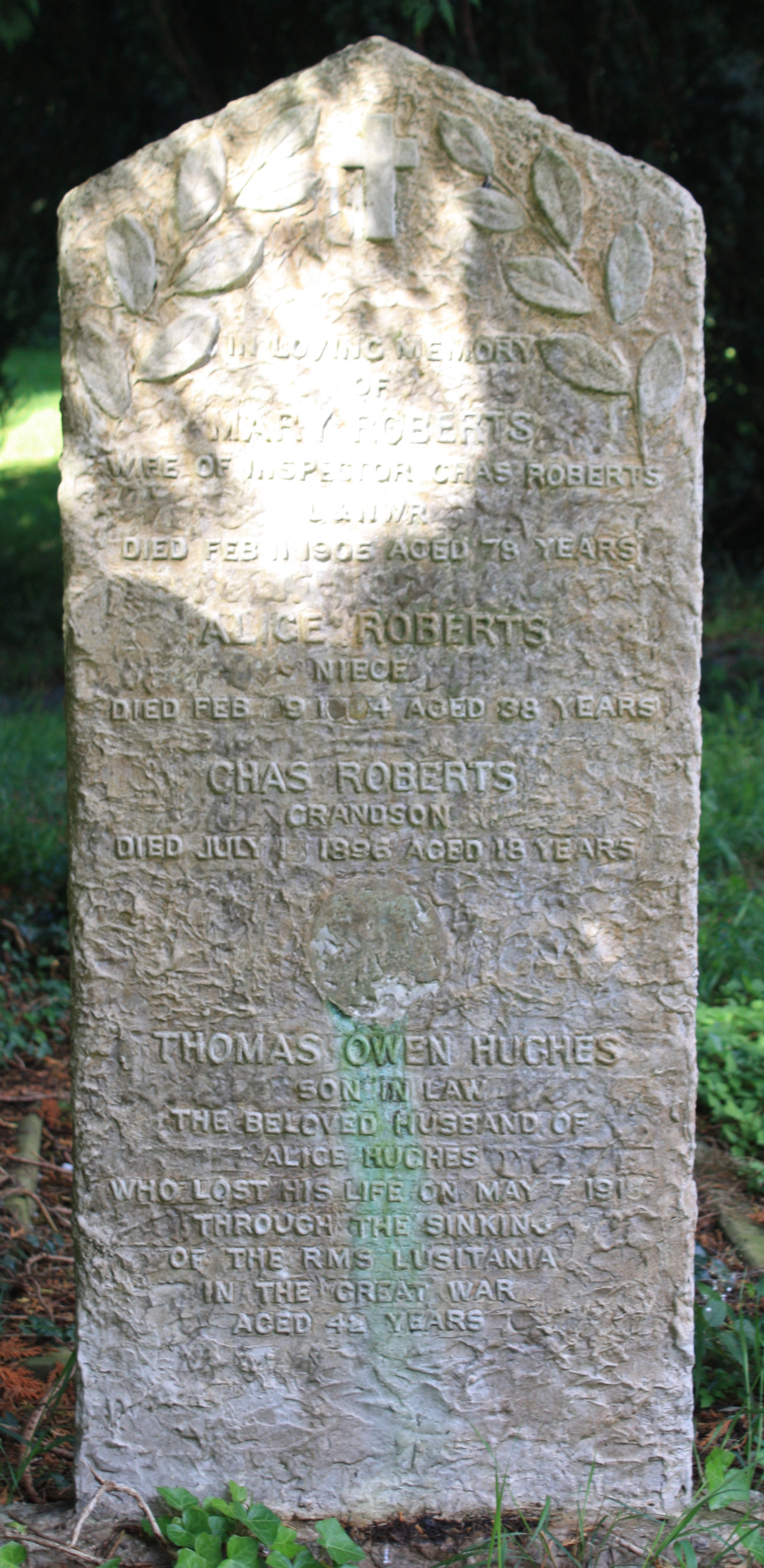 Thomas Hughes lost his life in the sinking of the Lusitania.
---

Francis was Manager of the North and South Wales Bank.
---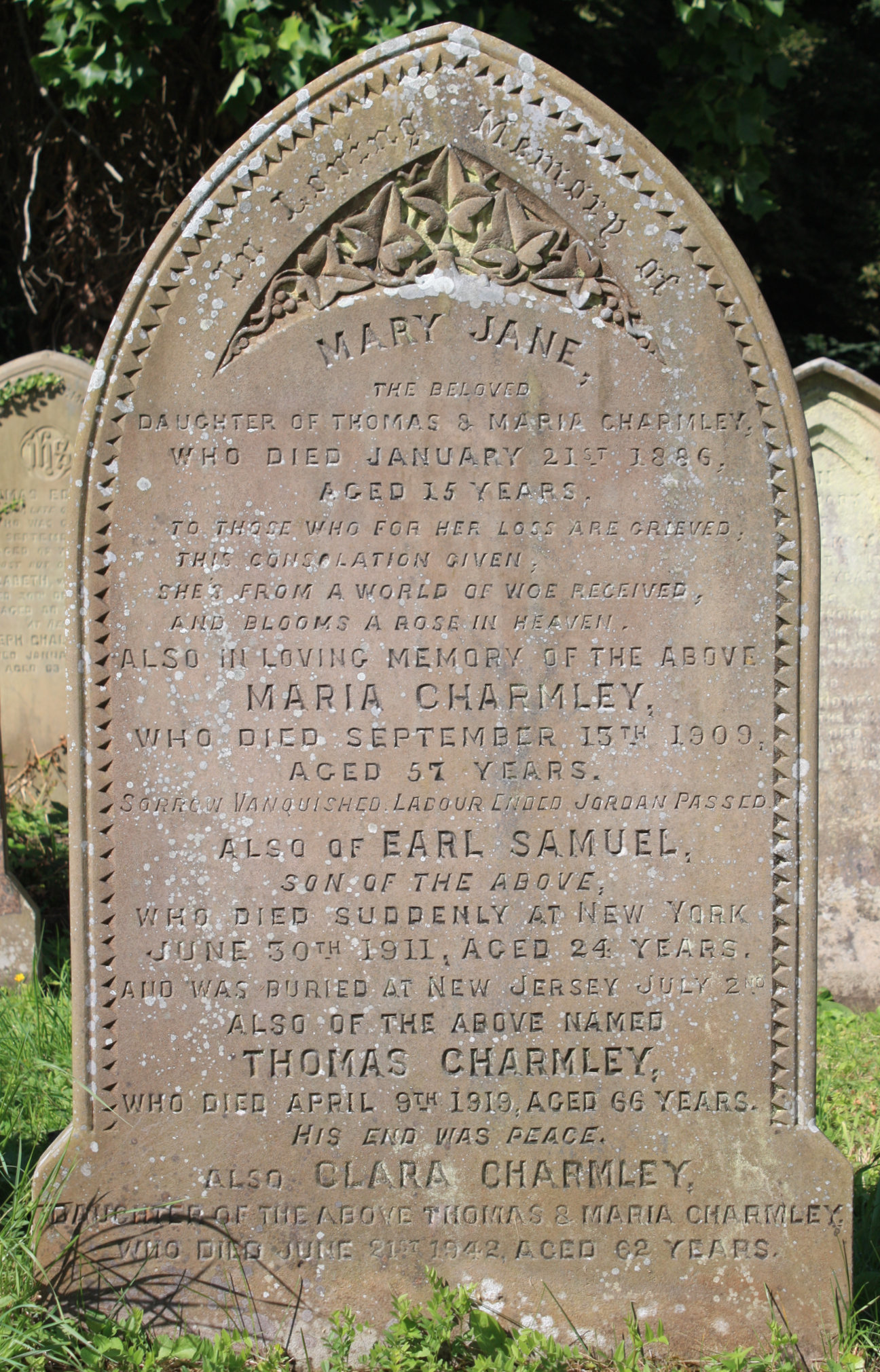 Earl died in New York and was buried in New Jersey.
---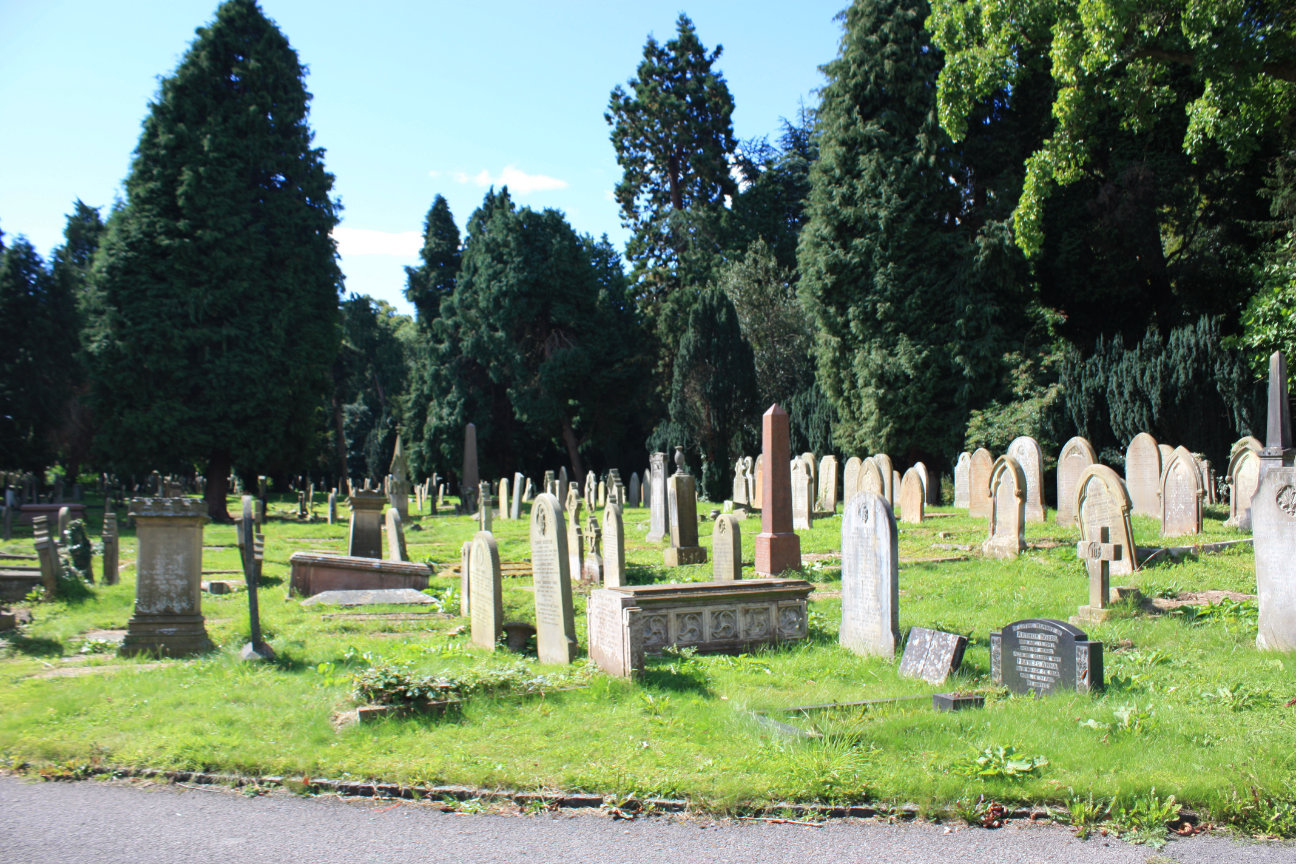 A general view.
---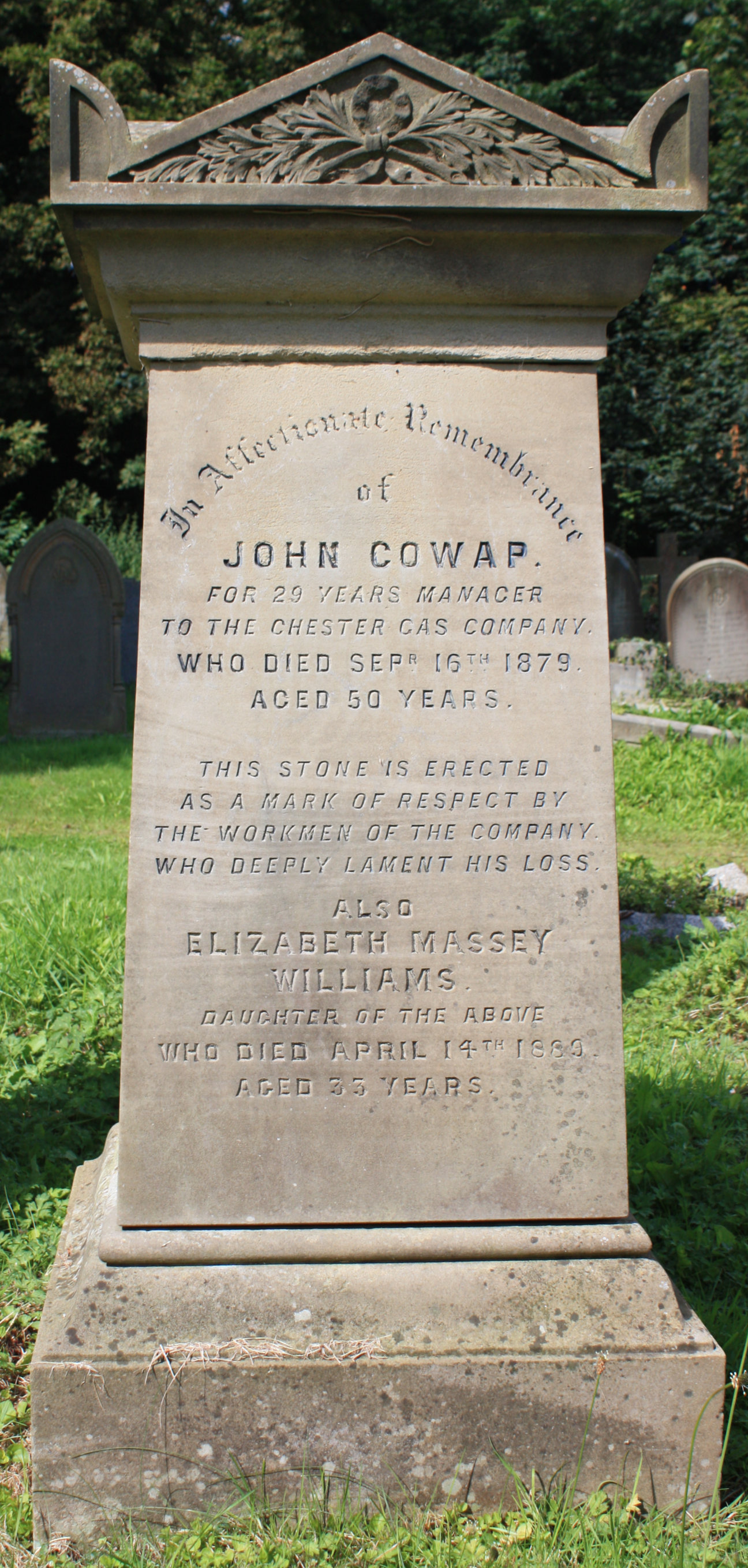 John Cowap was Manager of the Chester Gas Company.
---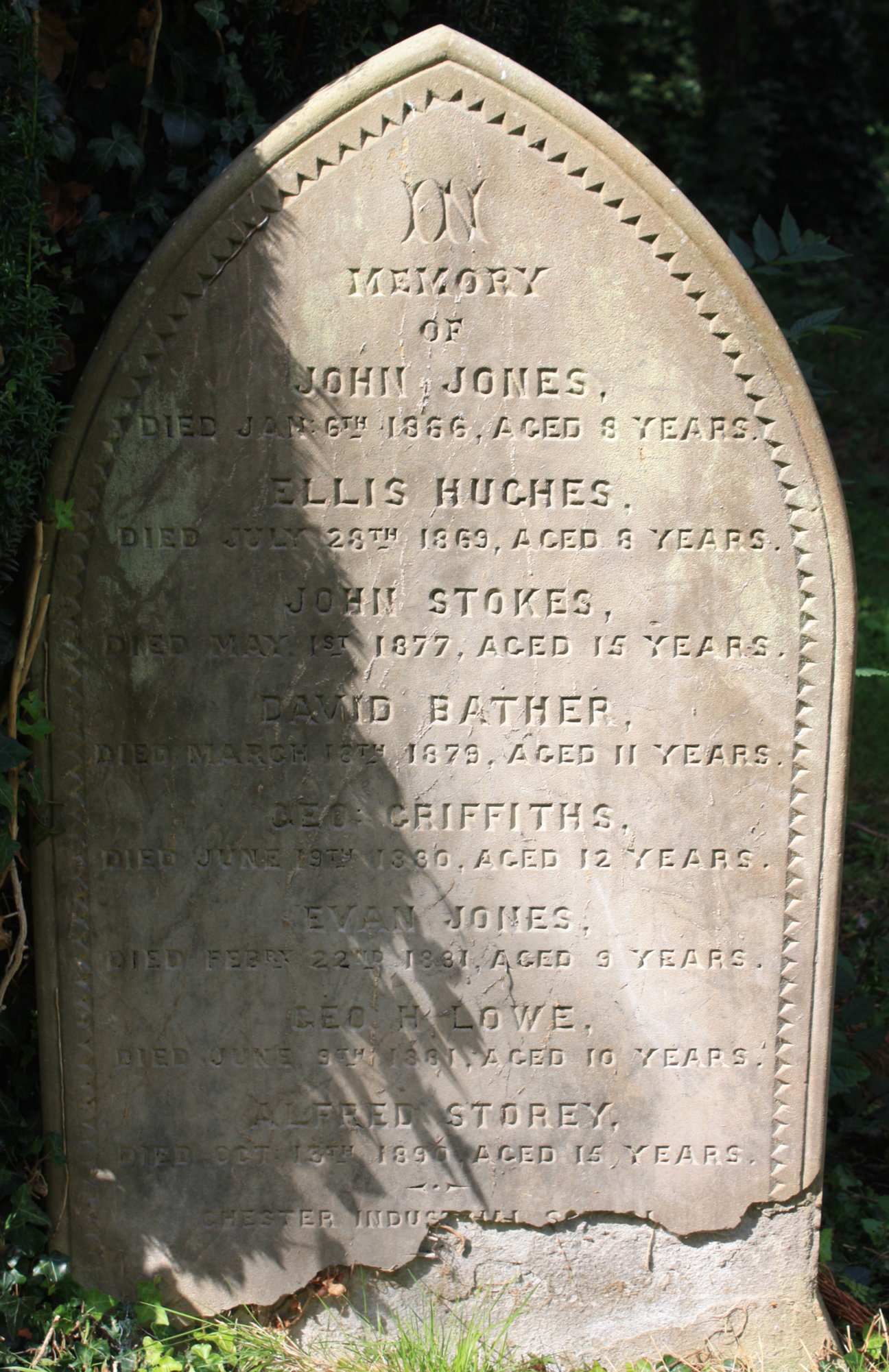 Eight children - none reached the age of 16.
---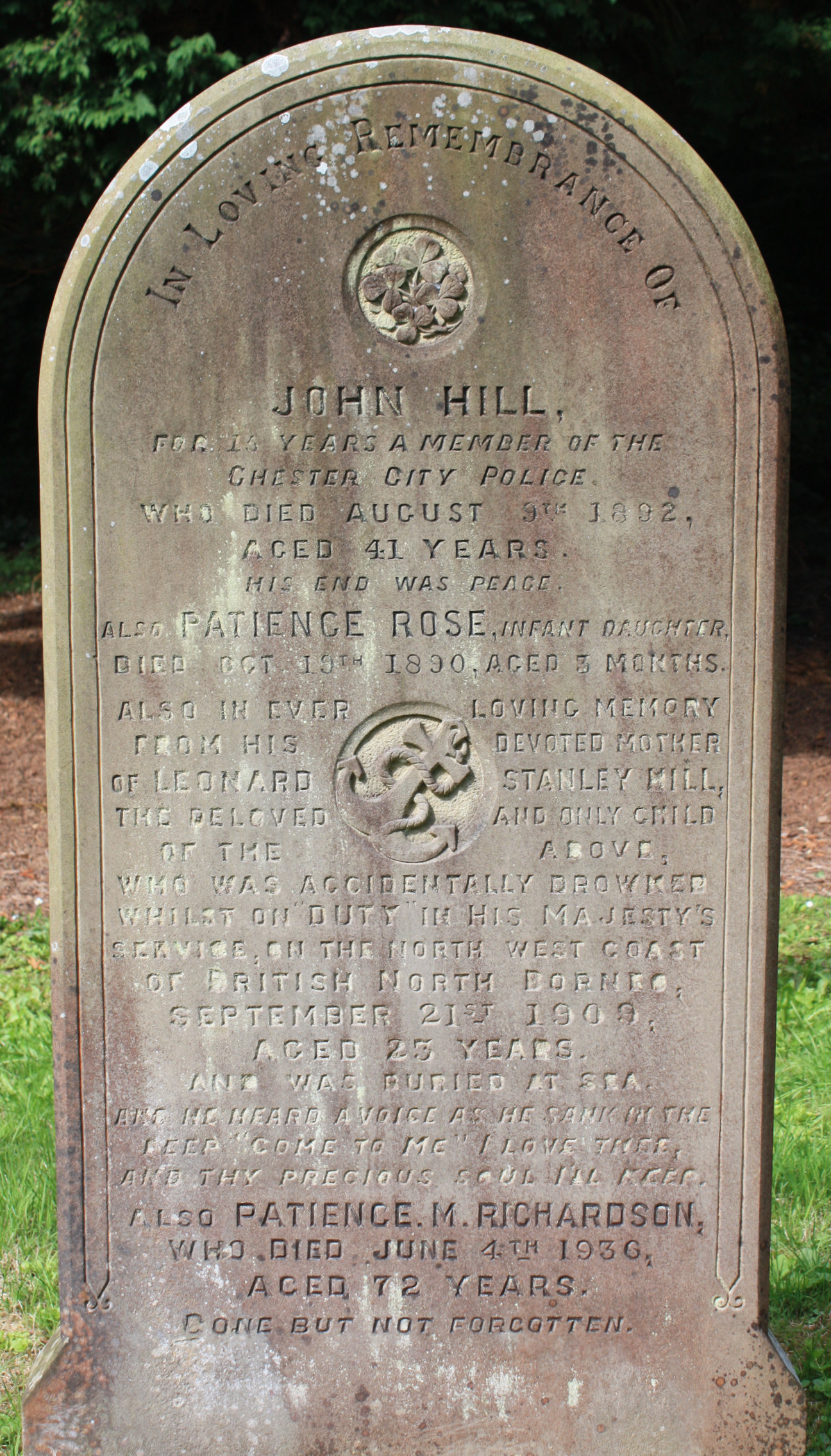 John Hill was a Policeman. His son Leonard was drowned off the North-West coast of British North Borneo.
---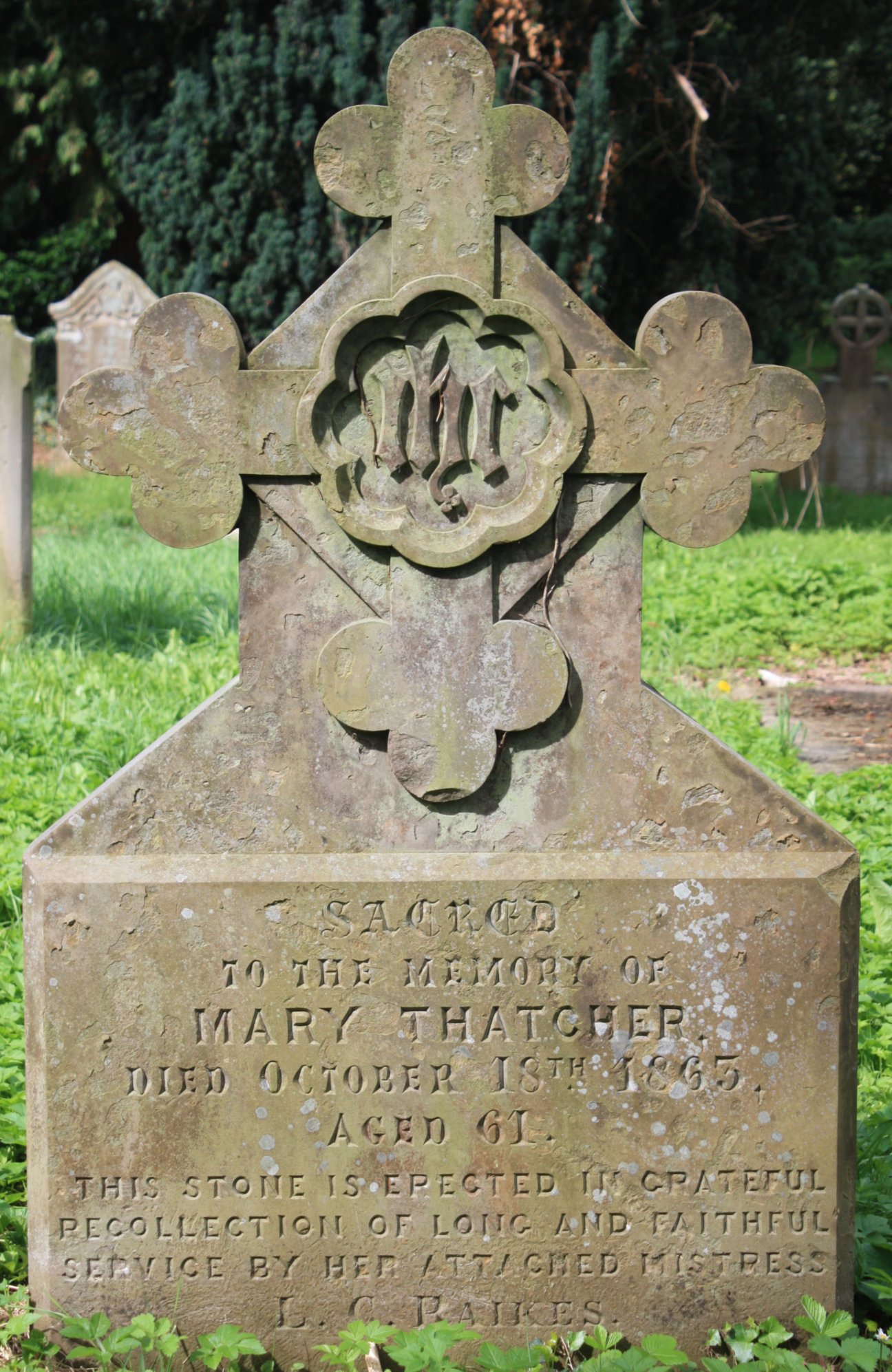 This memorial was erected by Mary's employer.
---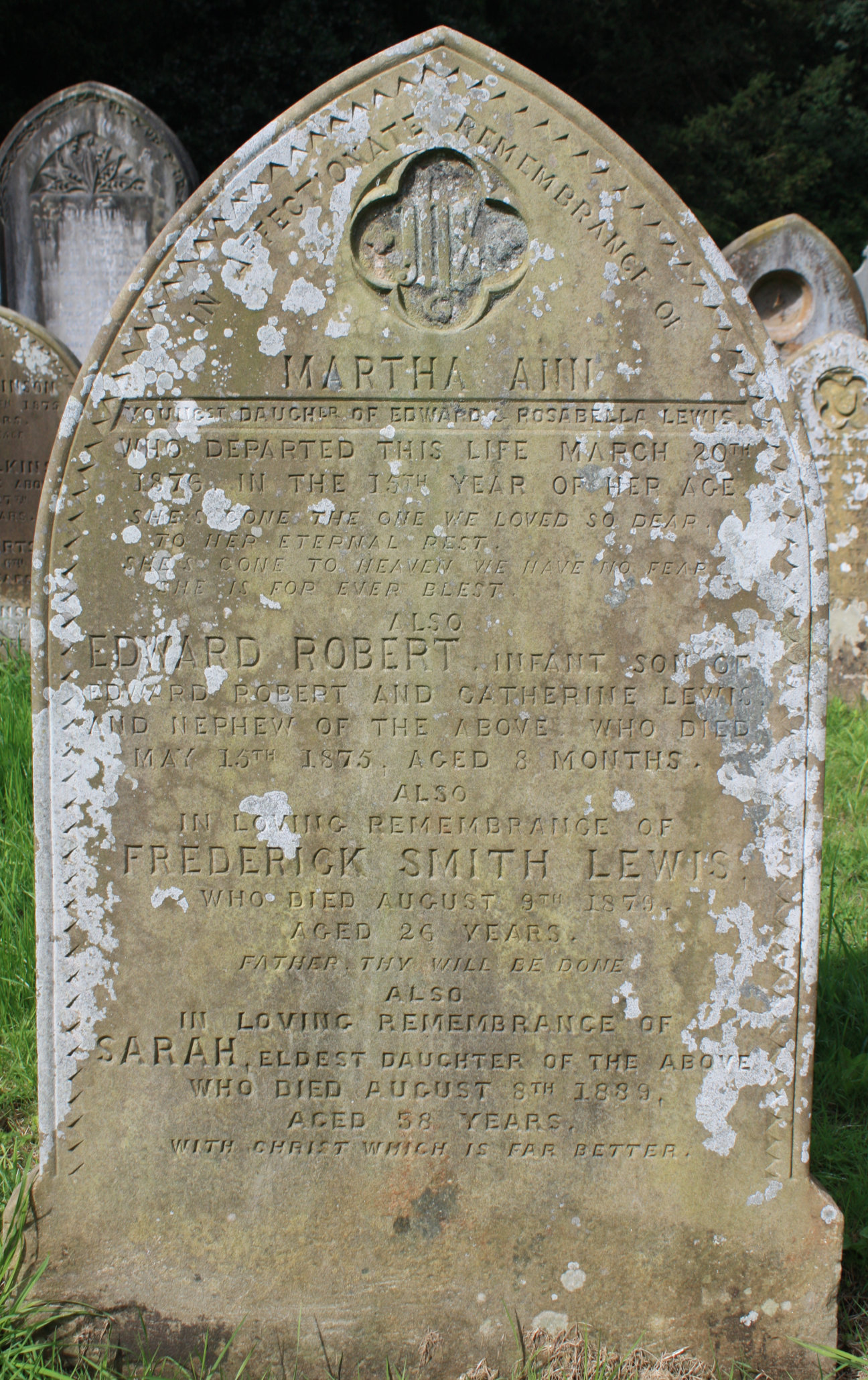 The mason had to make some corrections to the inscription.
---
Margaret died after "prolonged sufferings".
---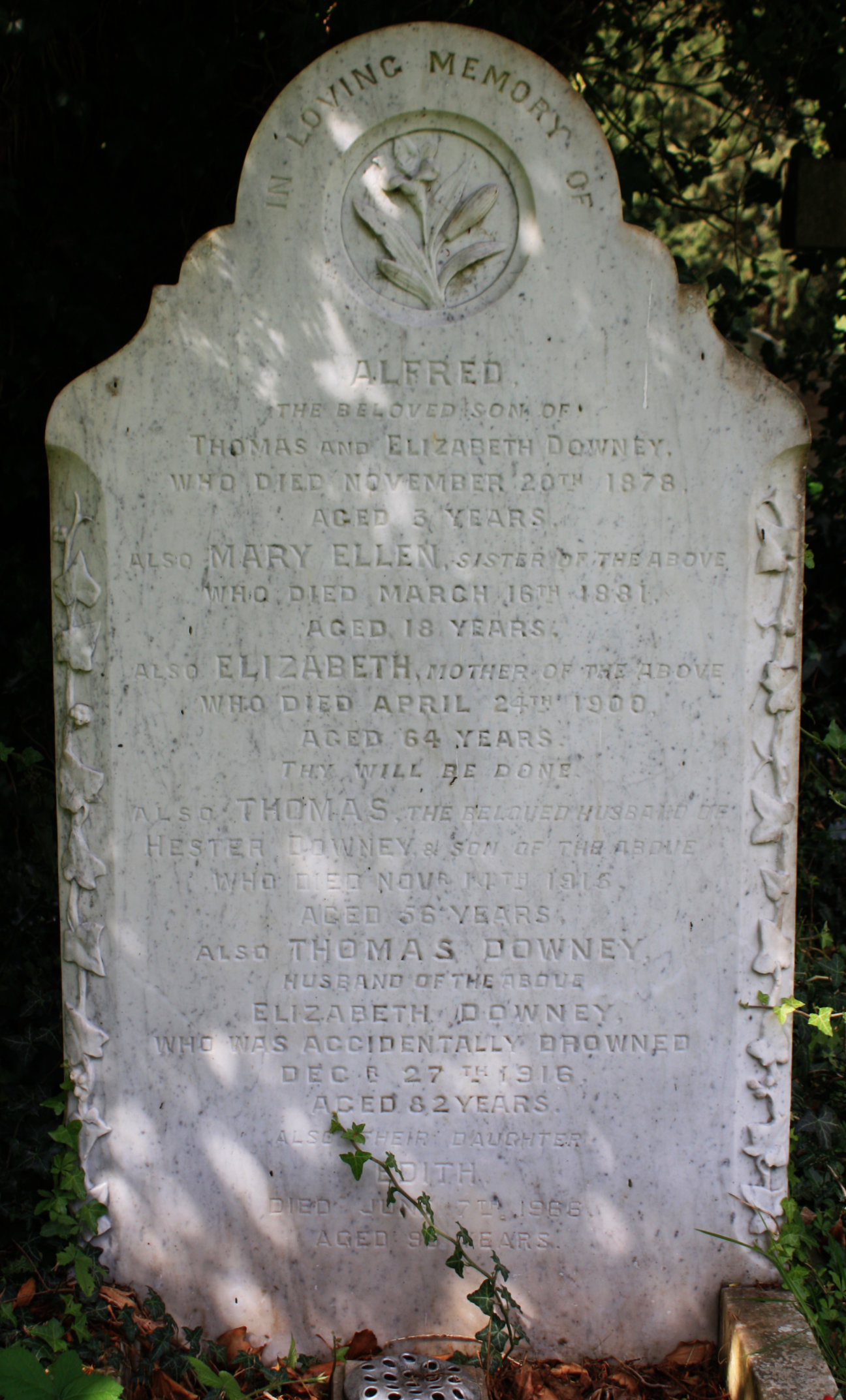 Thomas Downey was "accidentally drowned" - aged 82.
---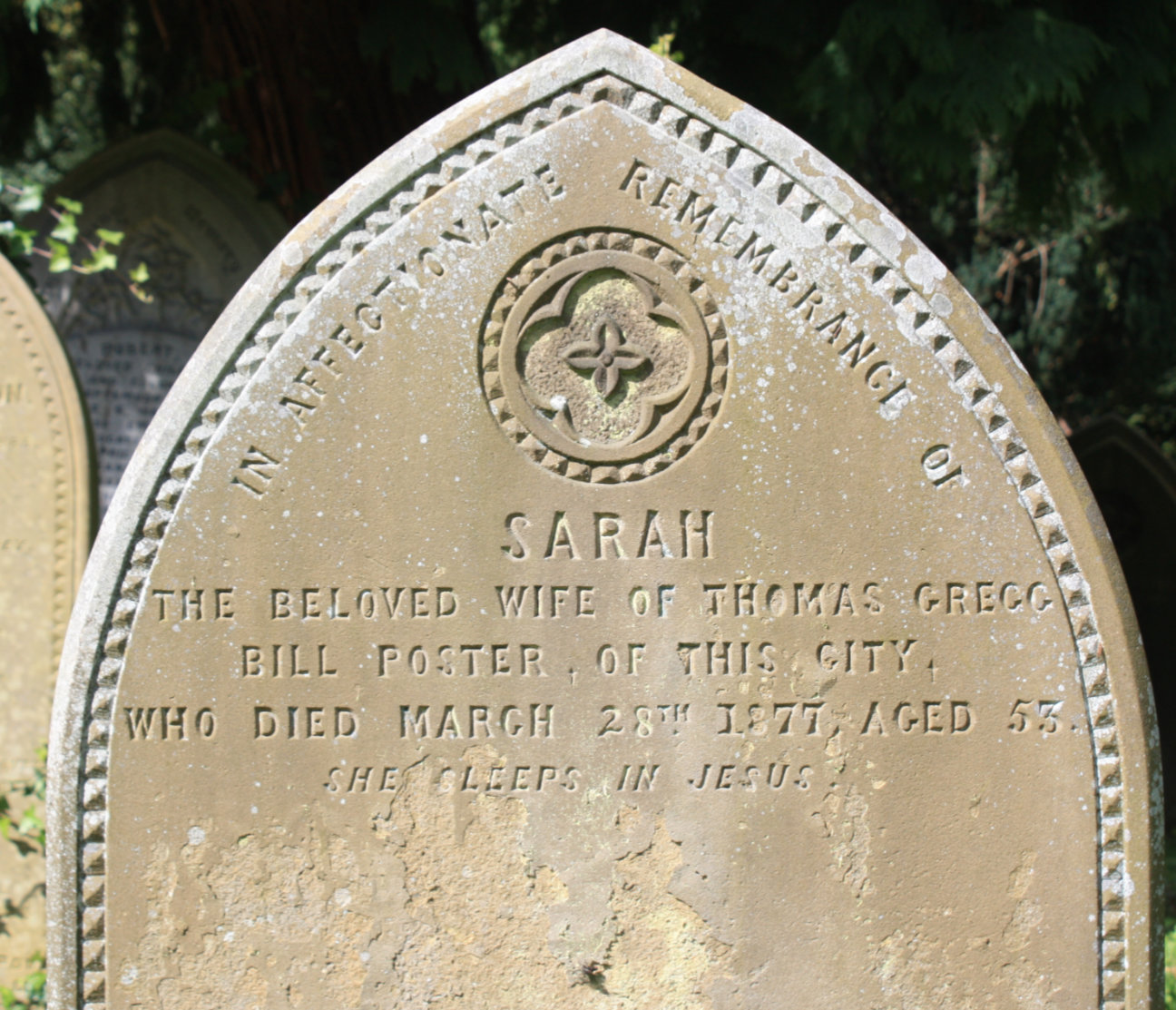 Thomas Gregg was a Bill Poster.
---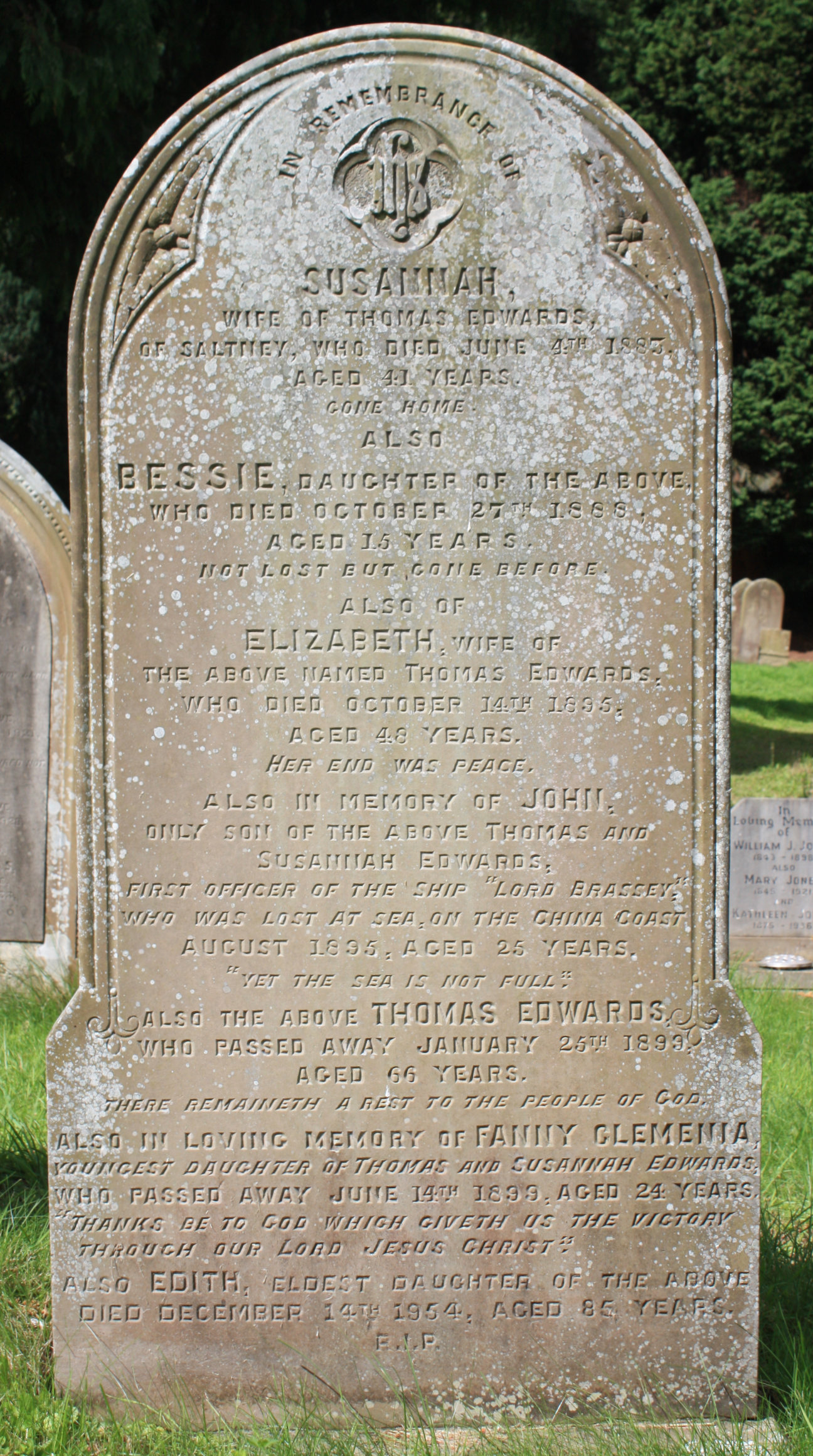 John Edwards was First Officer of the ship "Lord Brassey" he "was lost at sea, on the China coast".
---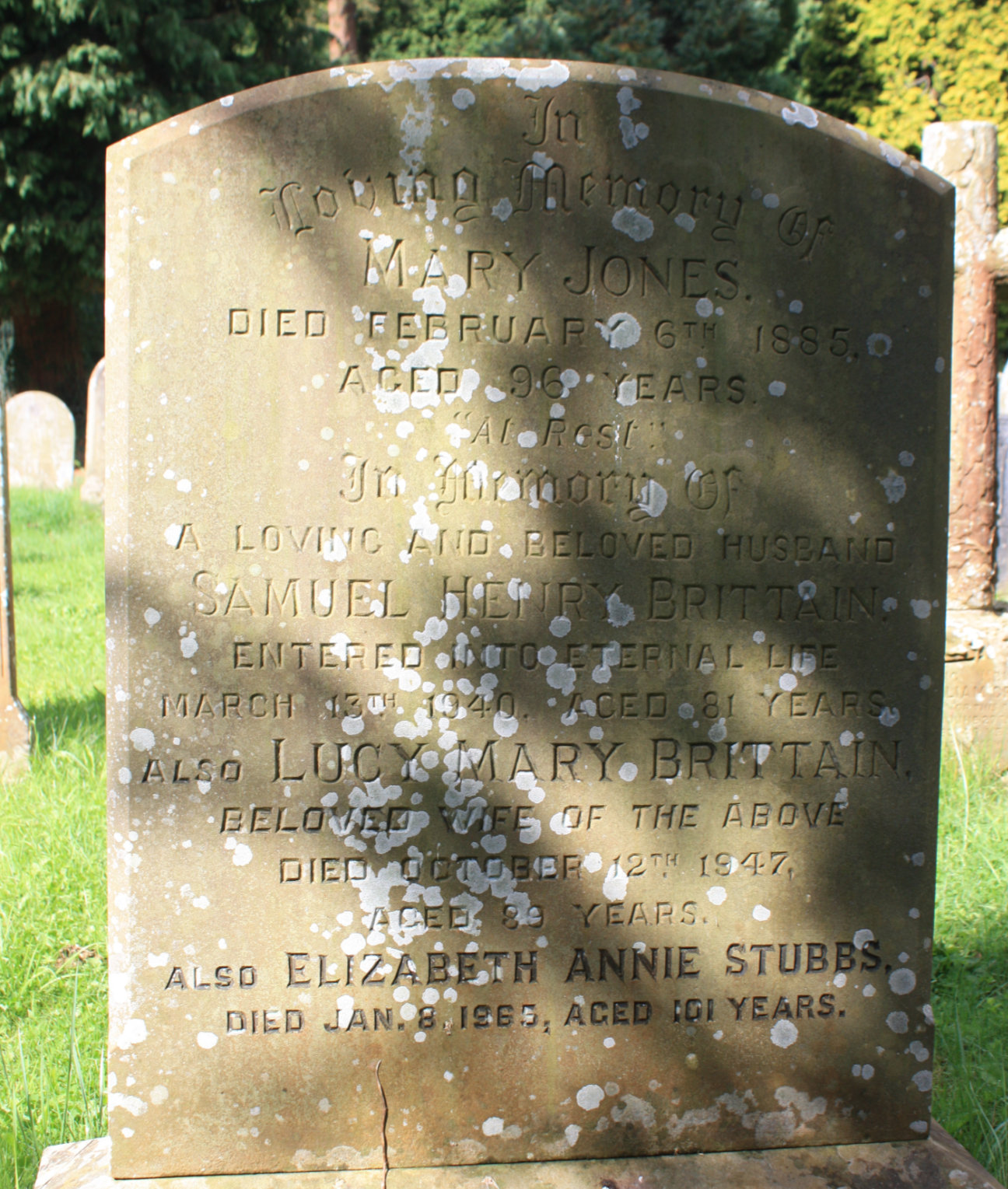 Aged 101.
---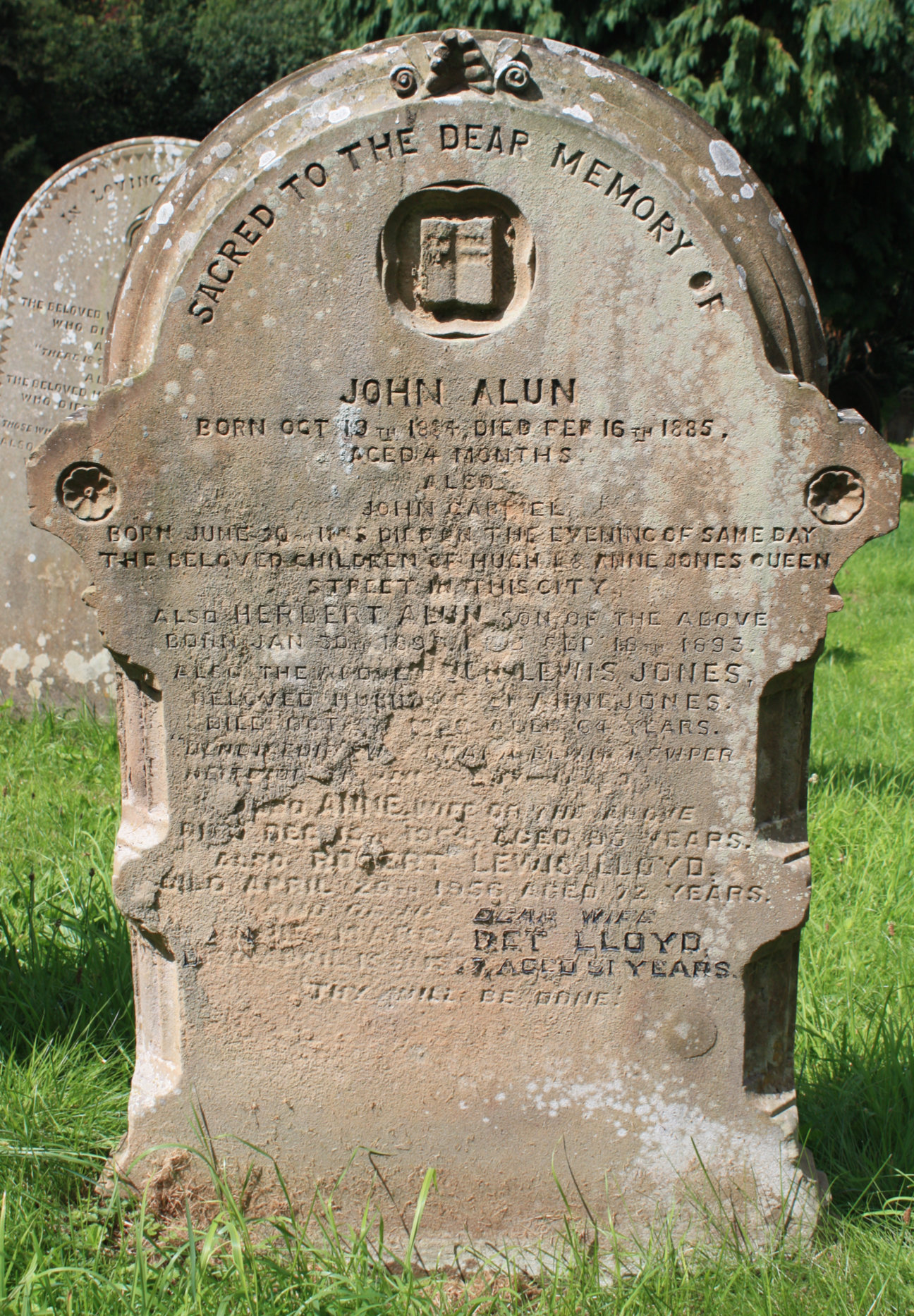 "Died on the evening of the same day".
---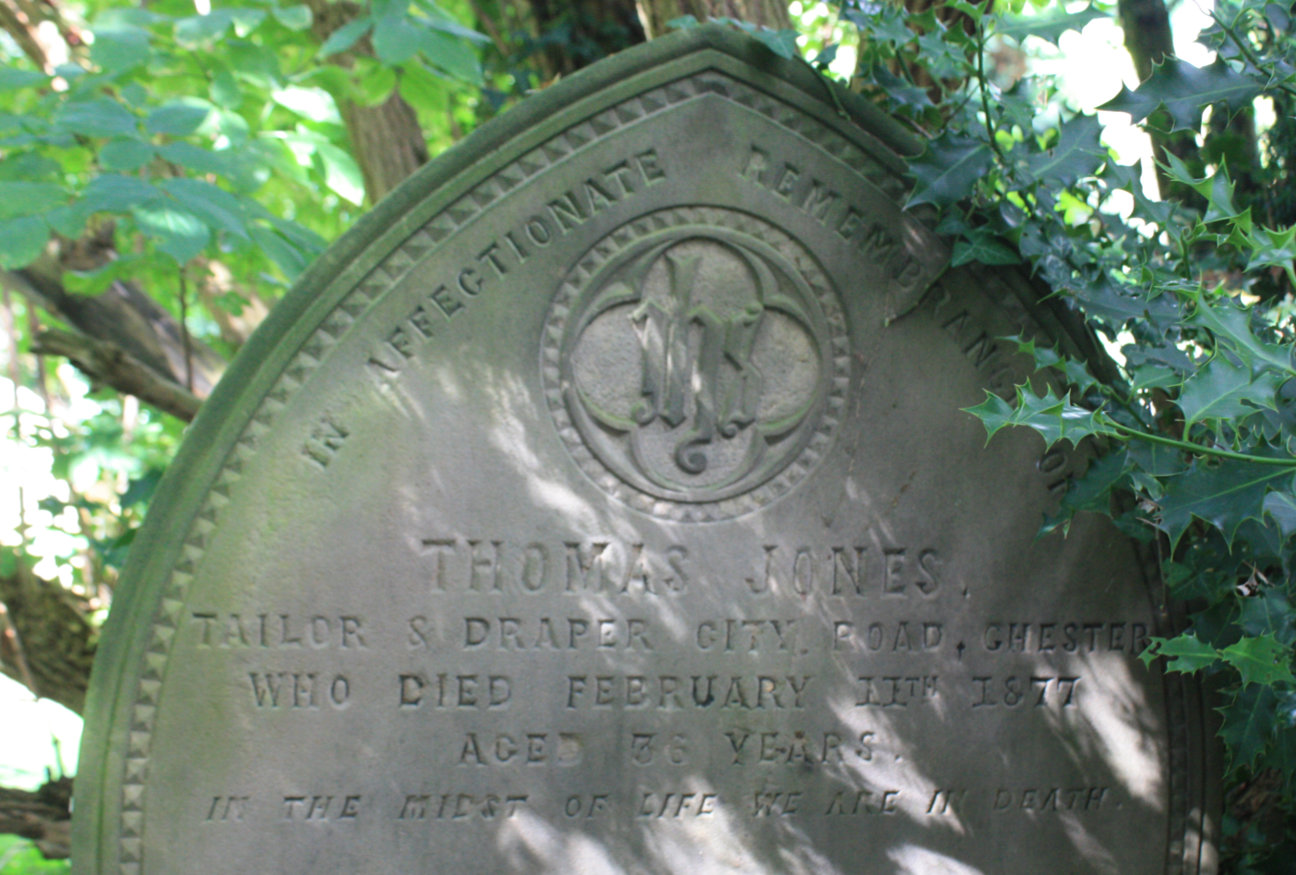 Thomas Jones was a Tailor and Draper.
---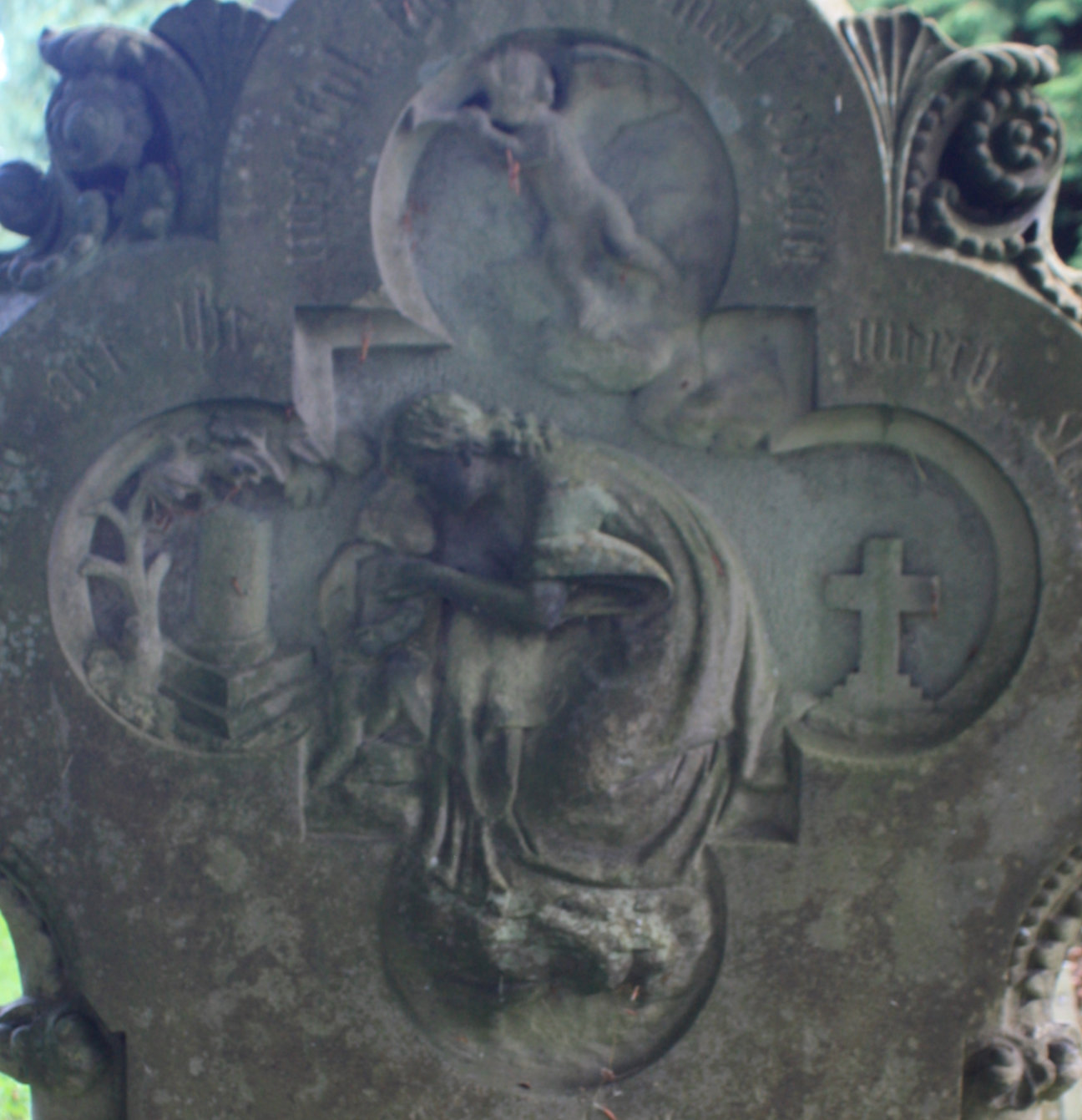 This gravestone has a spectacularly ornate top section.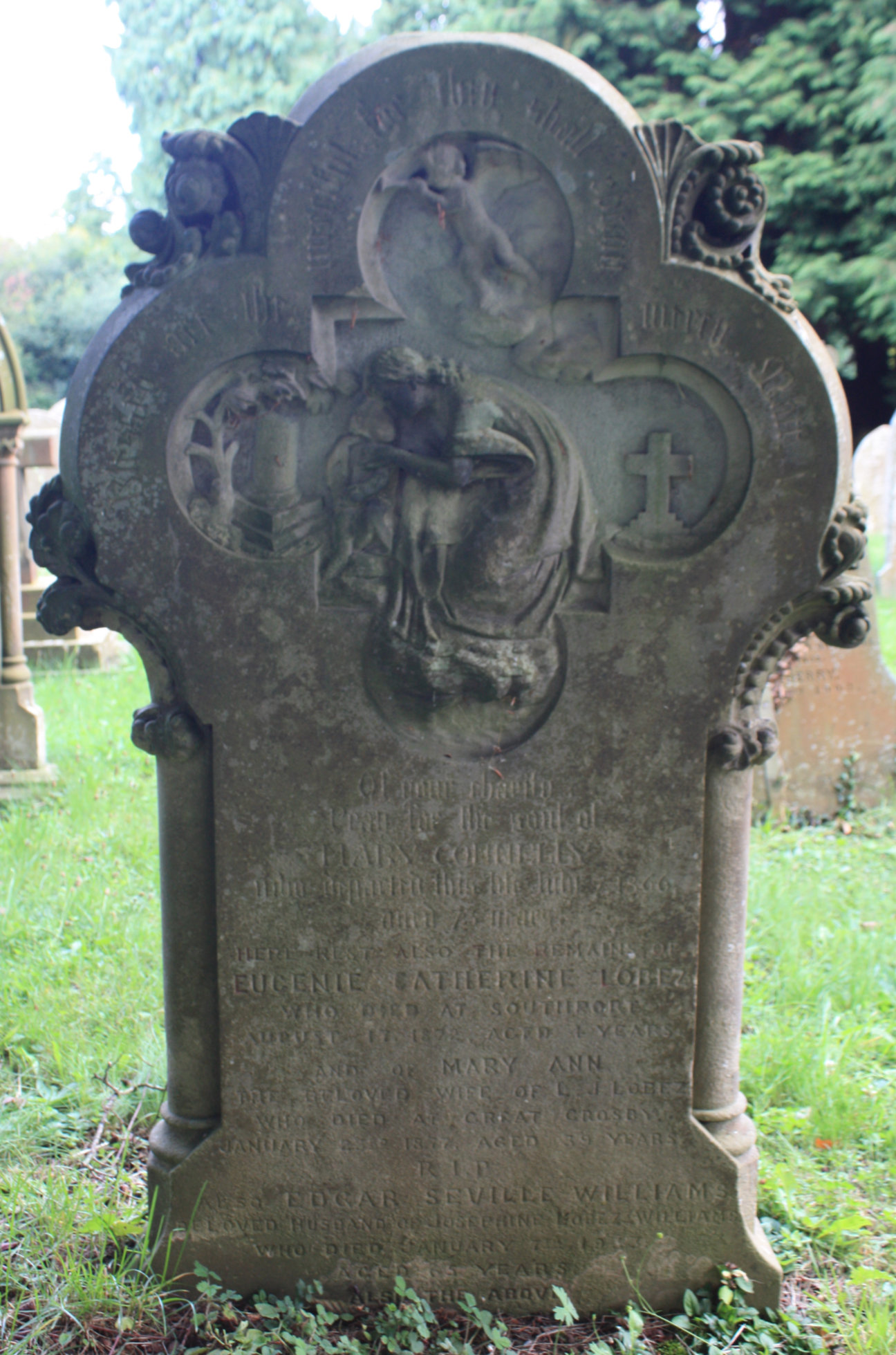 ---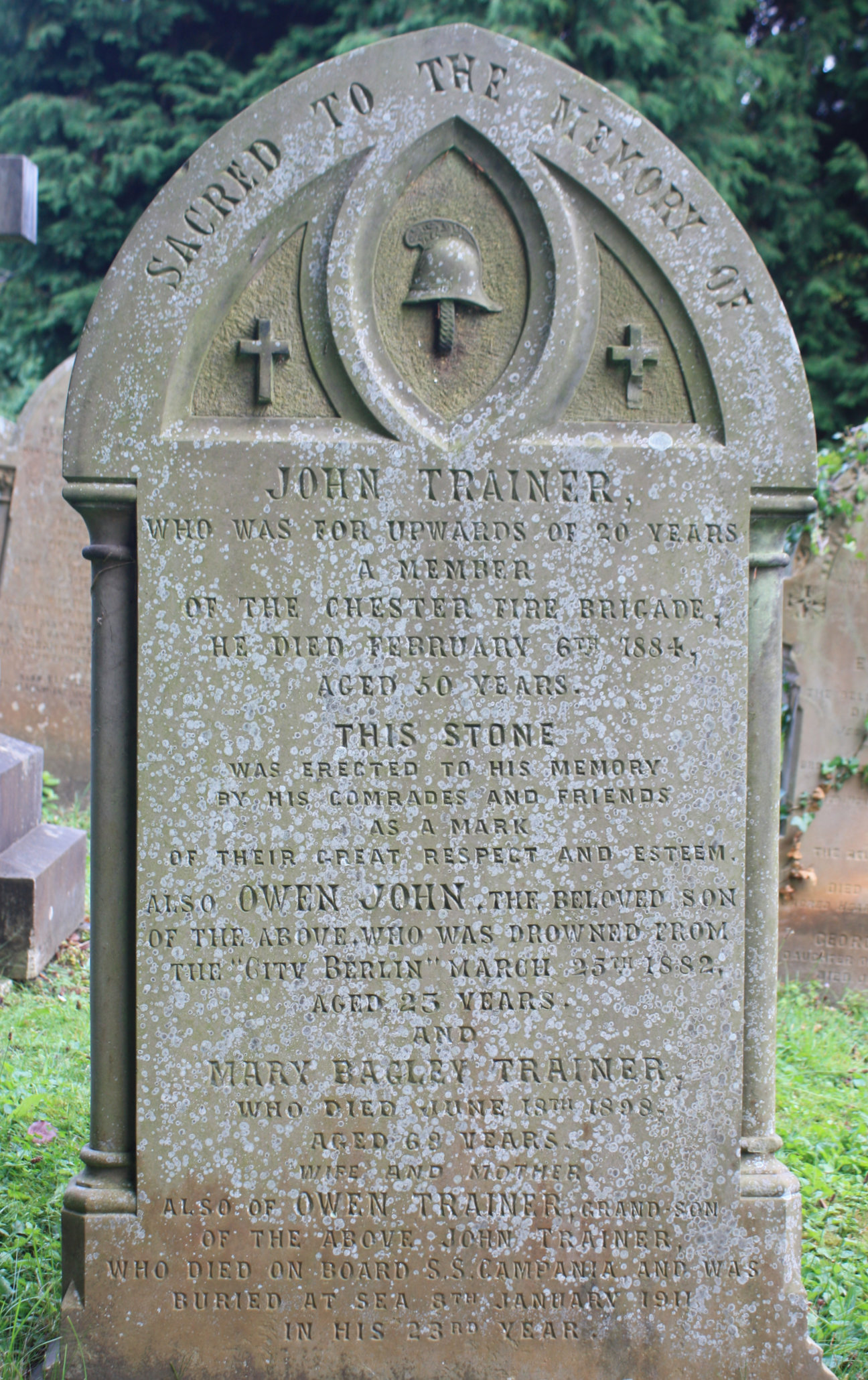 John Trainer was a member of the Chester Fire Brigade.
---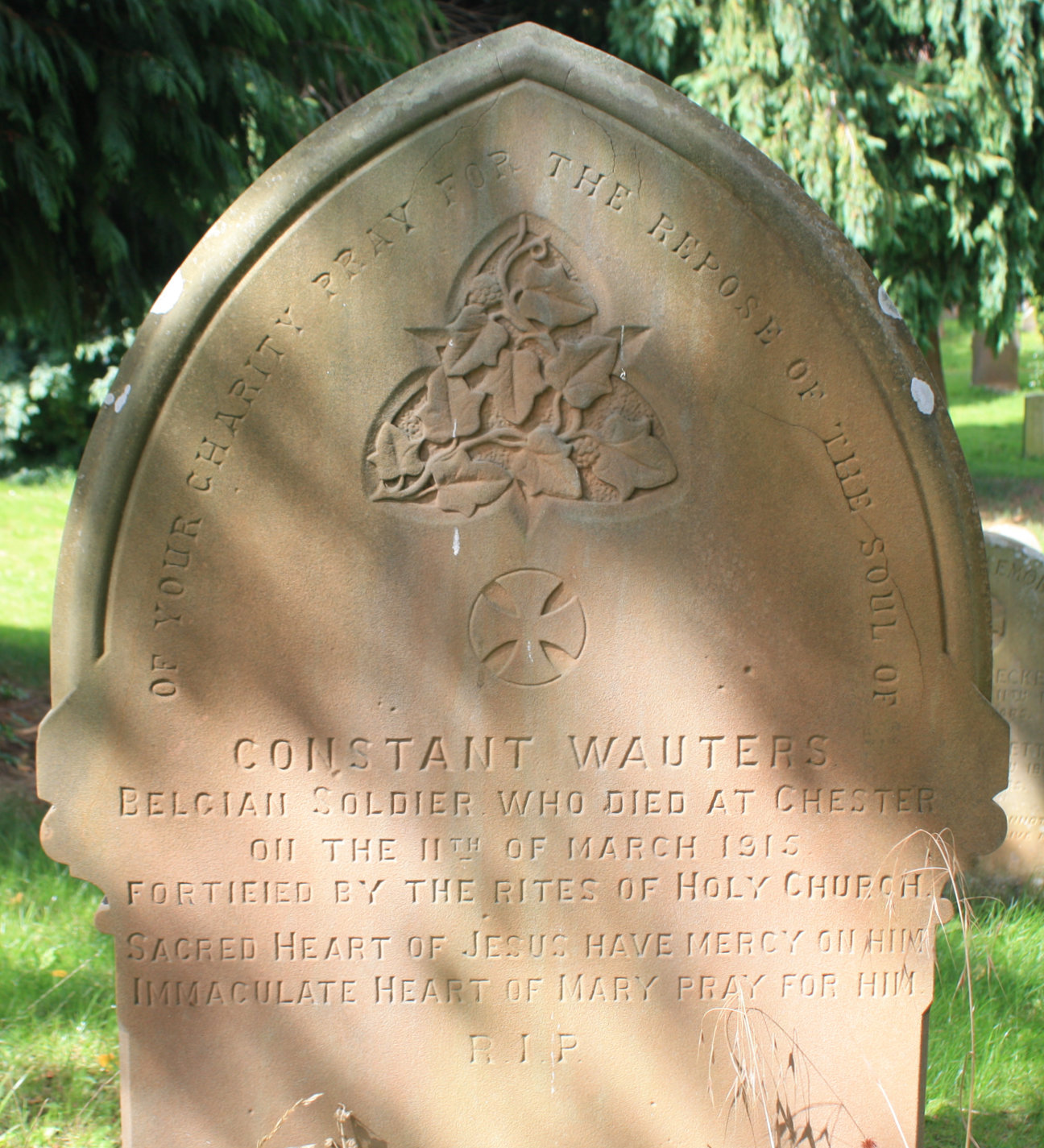 Constant Wauters was a Belgian soldier who died in Chester in 1915.
---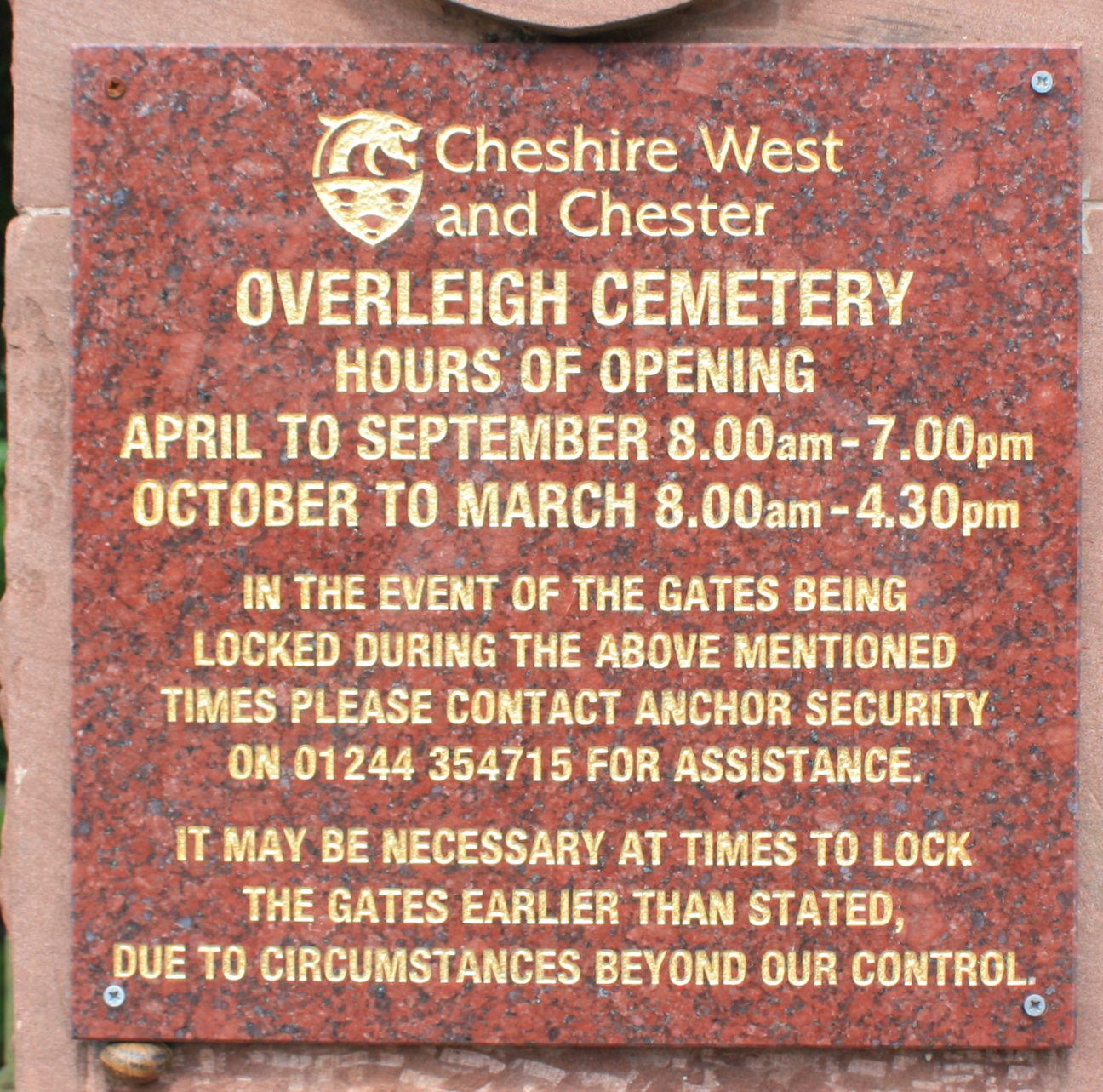 The sign at the front gate.
---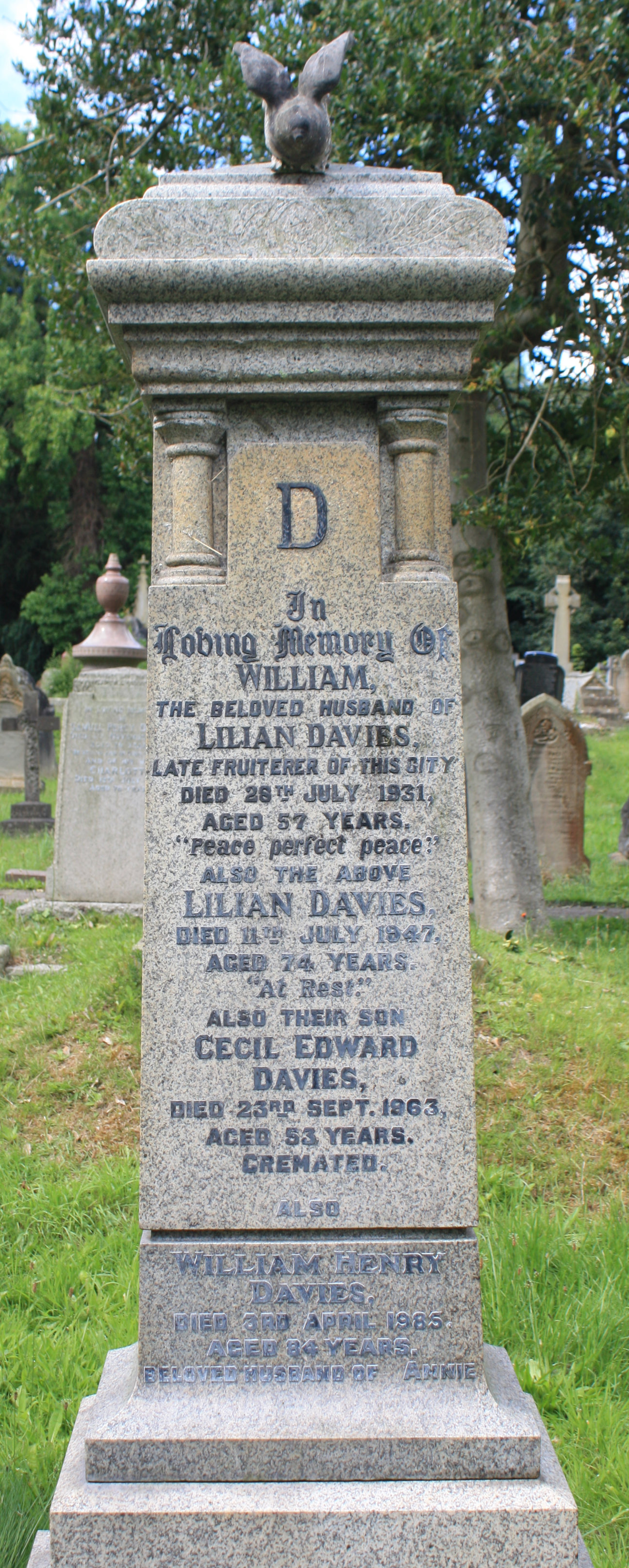 Lilian Davies was a Fruiterer.
---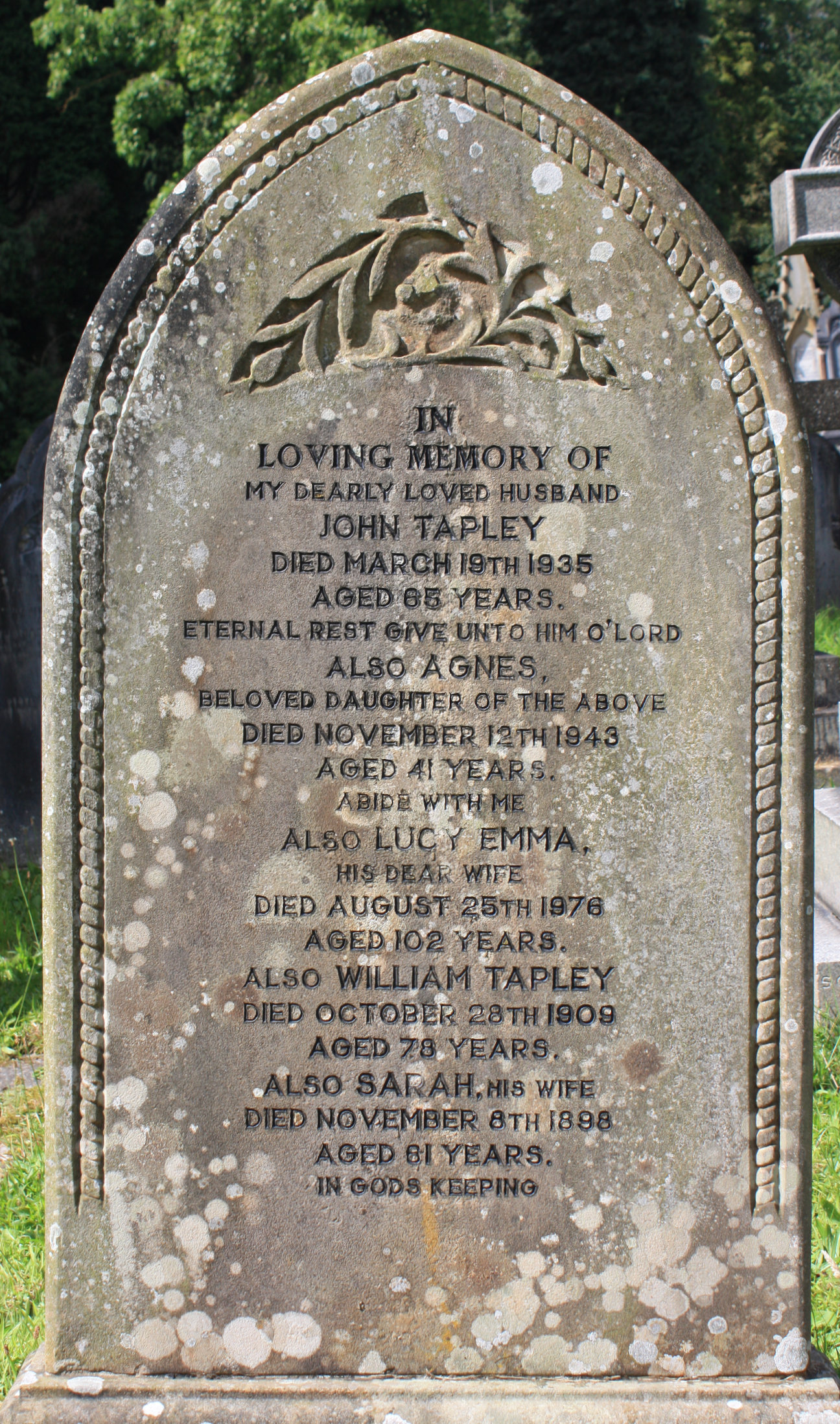 Aged 102.
---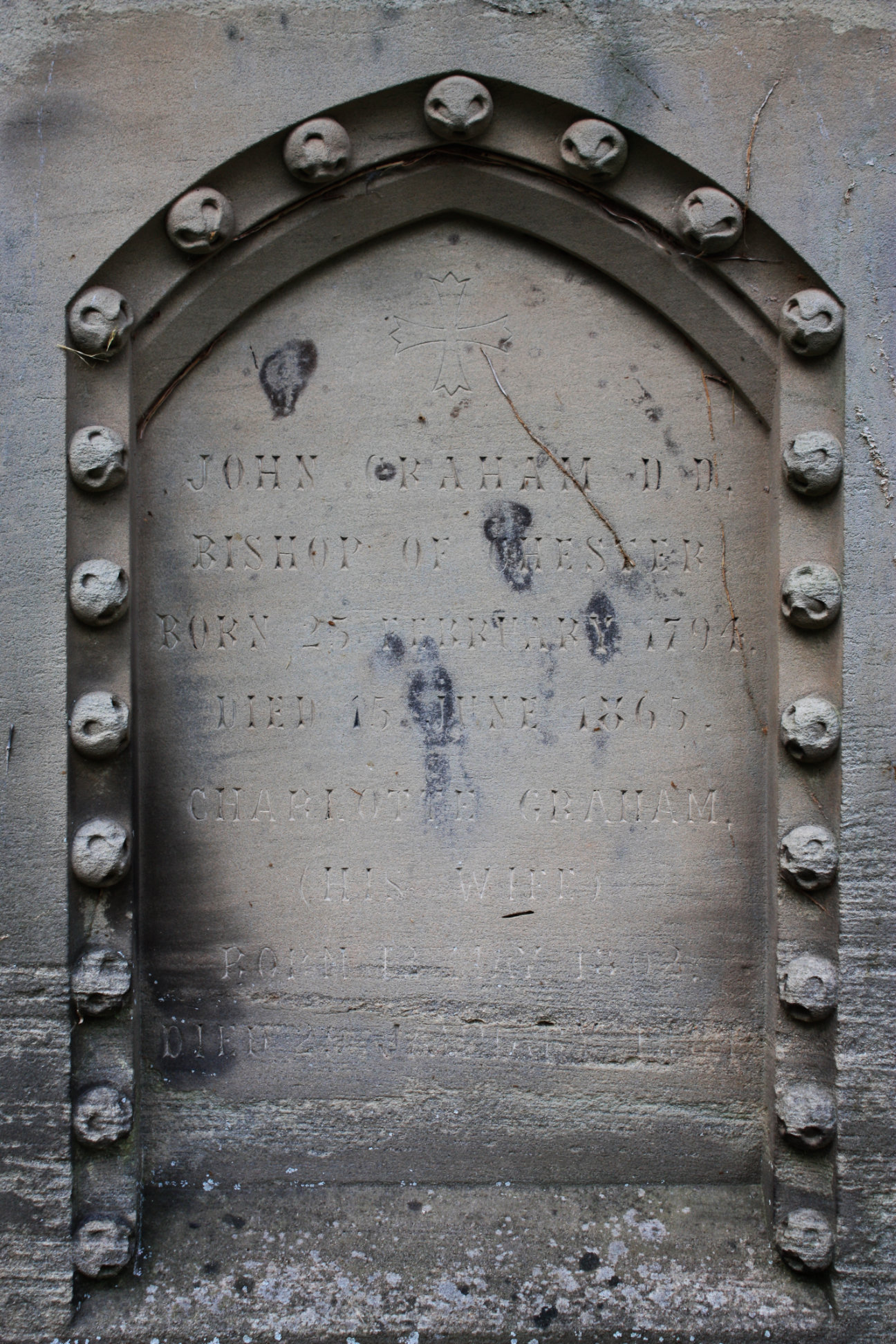 The Rev. John Graham (23 February 1794, Durham – 15 June 1865, Chester) was an English churchman and academic. He was master of Christ's College, Cambridge from 1830 to 1848 and Bishop of Chester from 1848 to 1865. Graham died at the Bishop's Palace, Chester, on 15 June 1865, and was buried in Chester cemetery on 20 June 1865.

---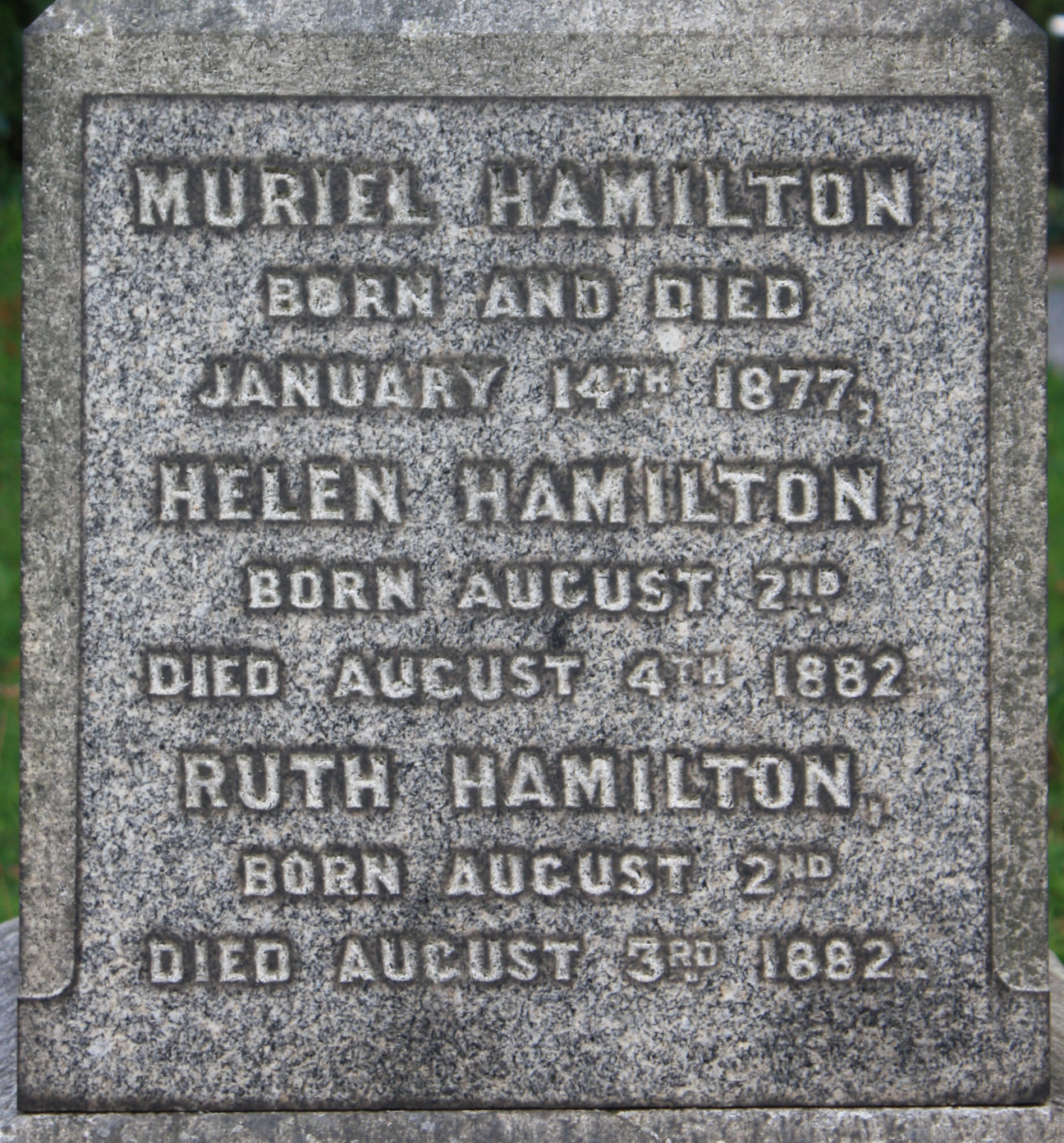 Three siblings died in the first week of life.

---

Arthur Rigg was the Principal of the Chester Diocesan Training College.
---
Jon Lees was killed by falling on barbed wire whilst he was hunting.
---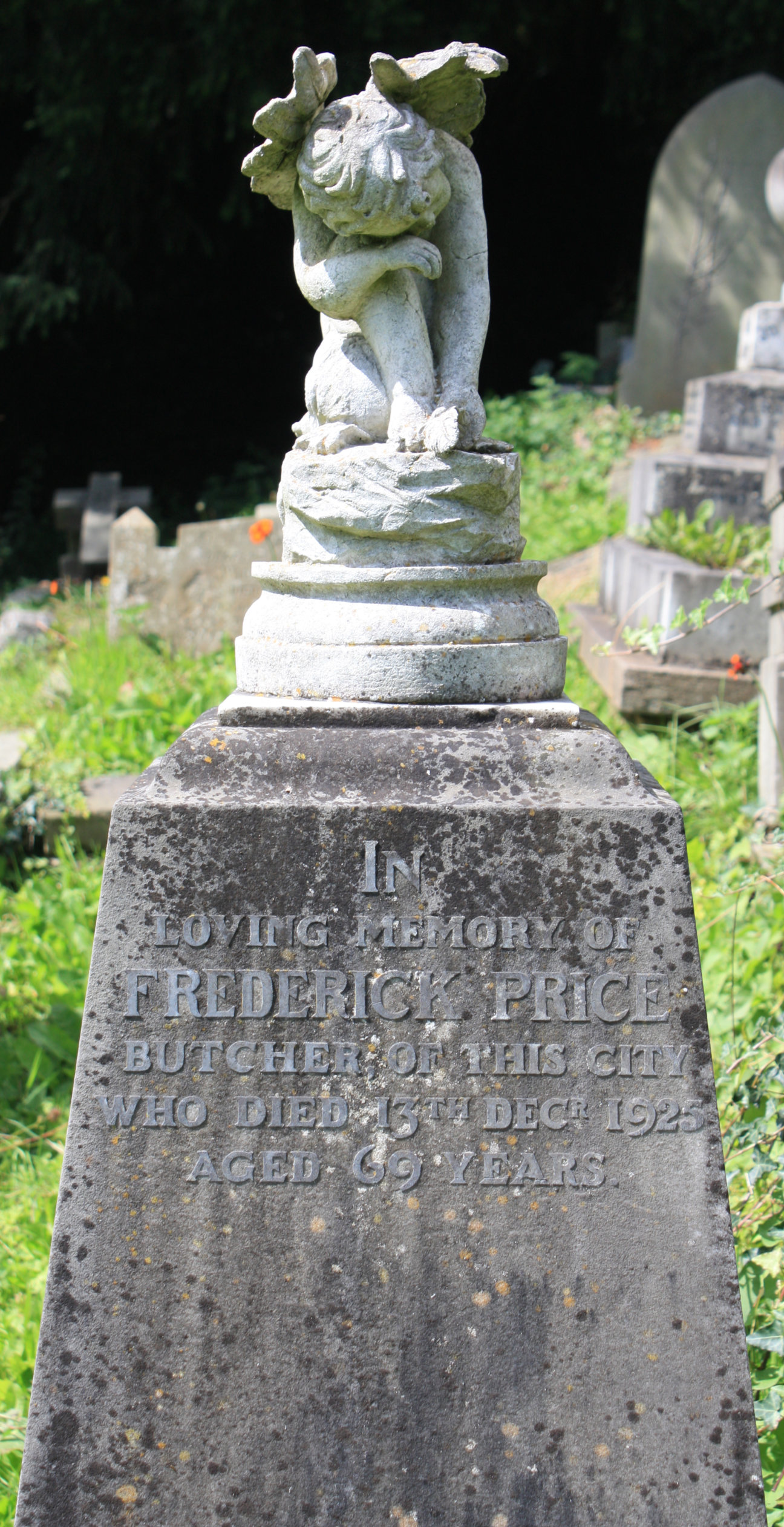 Frederick Price was a Butcher.
---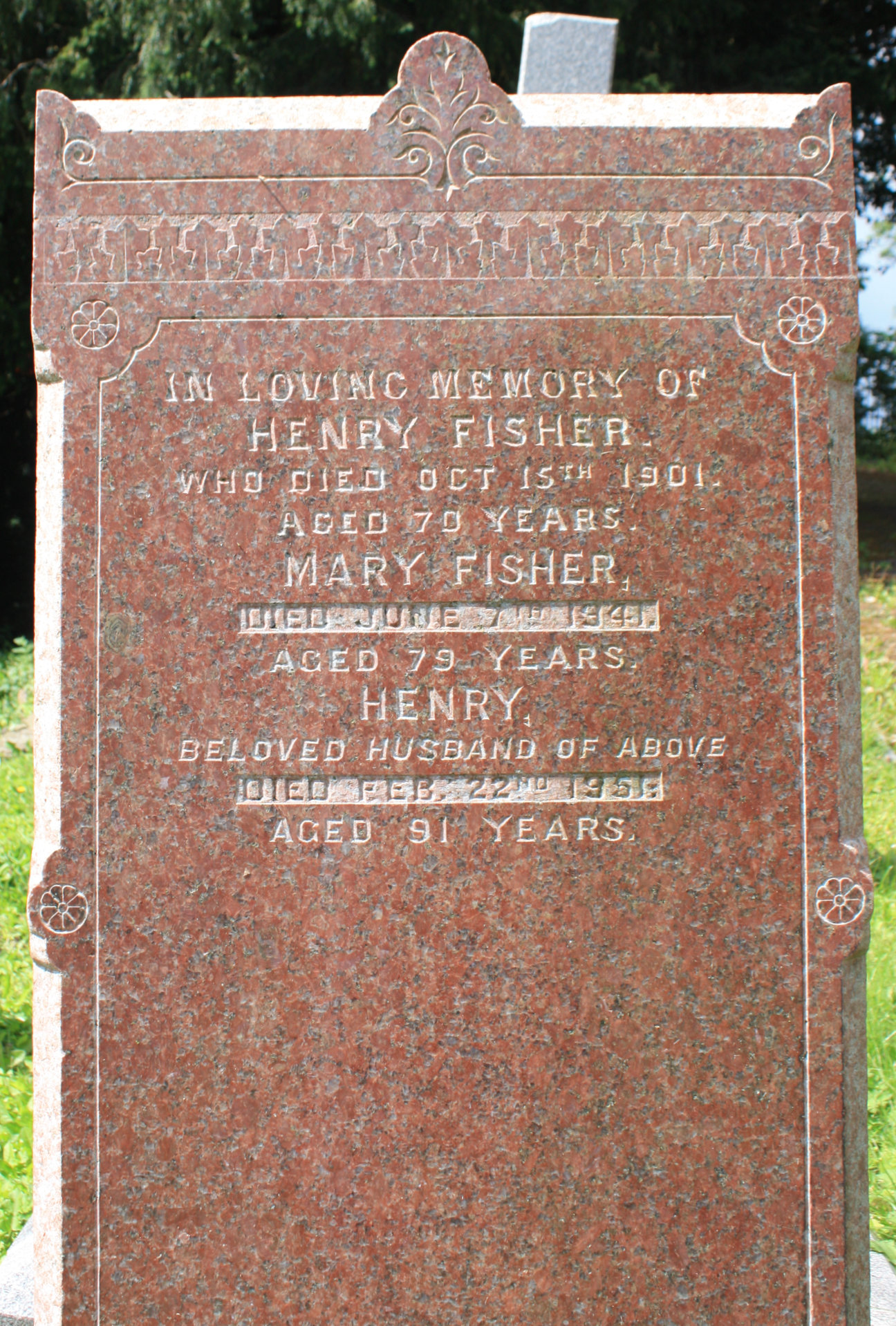 The mason got into a muddle over the dates of death of the two deceased.
---
John Bassett was Collector of Inland Revenue Chester.
---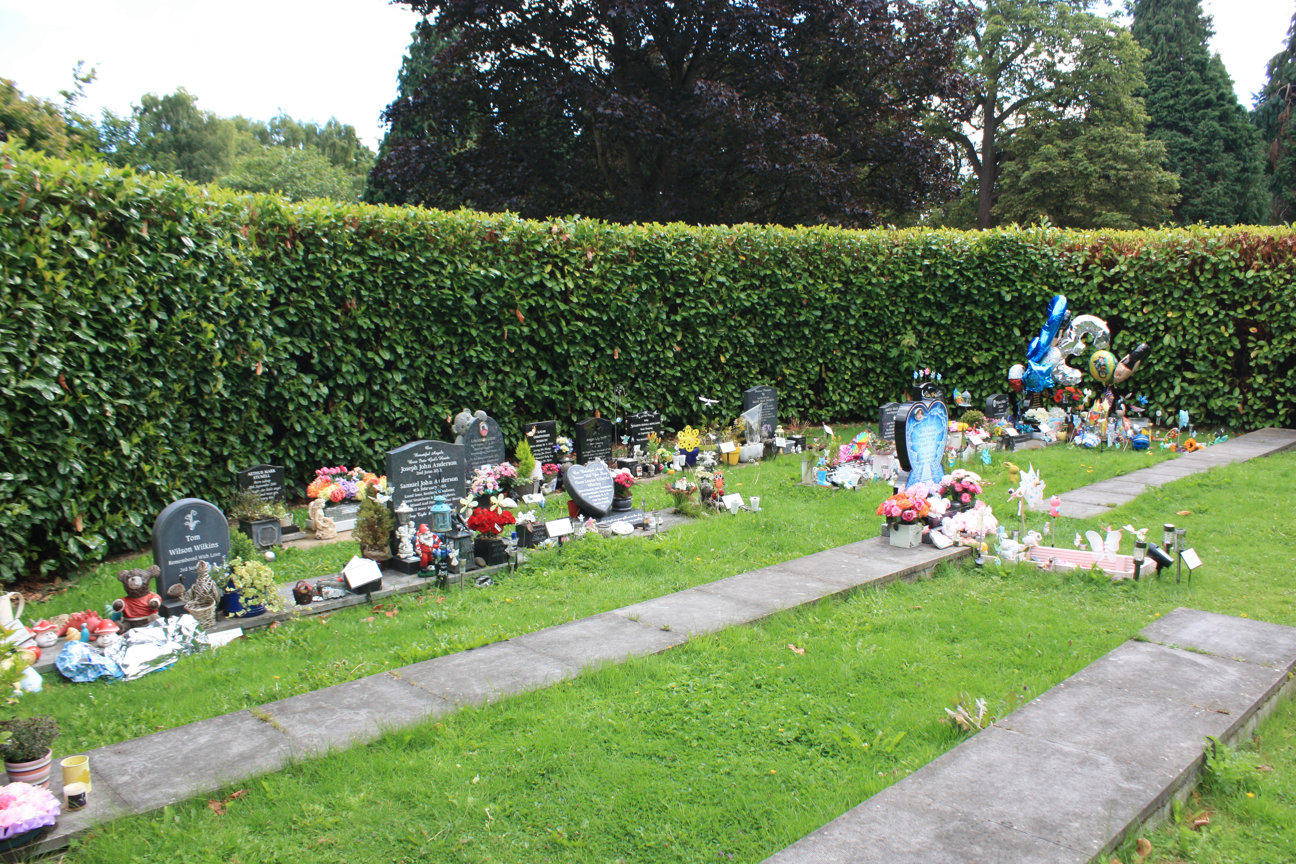 The Childrens' Cemetery was both colourful and poignant.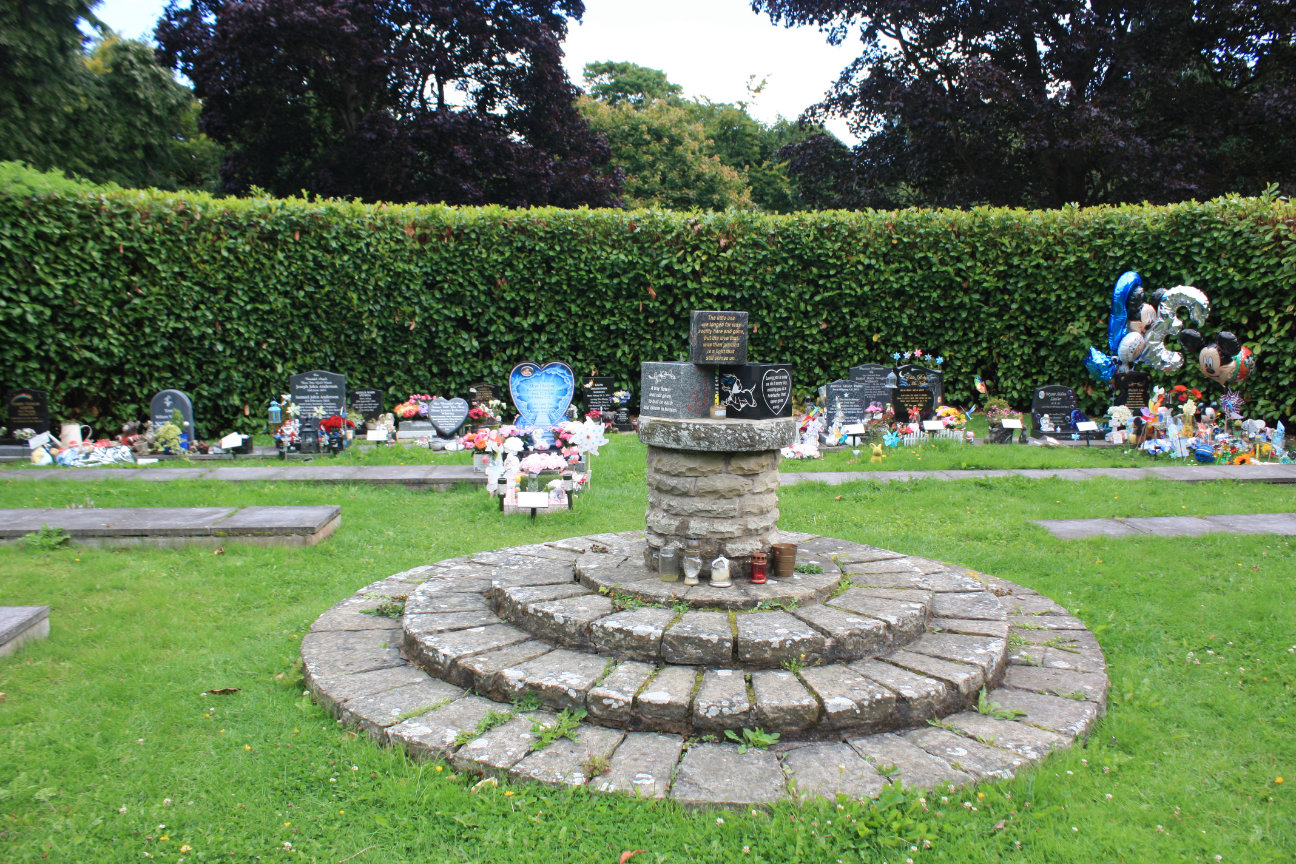 ---
Very ornate and clearly very expensive but there was nothing we could find that gave any hint as to who was buried here.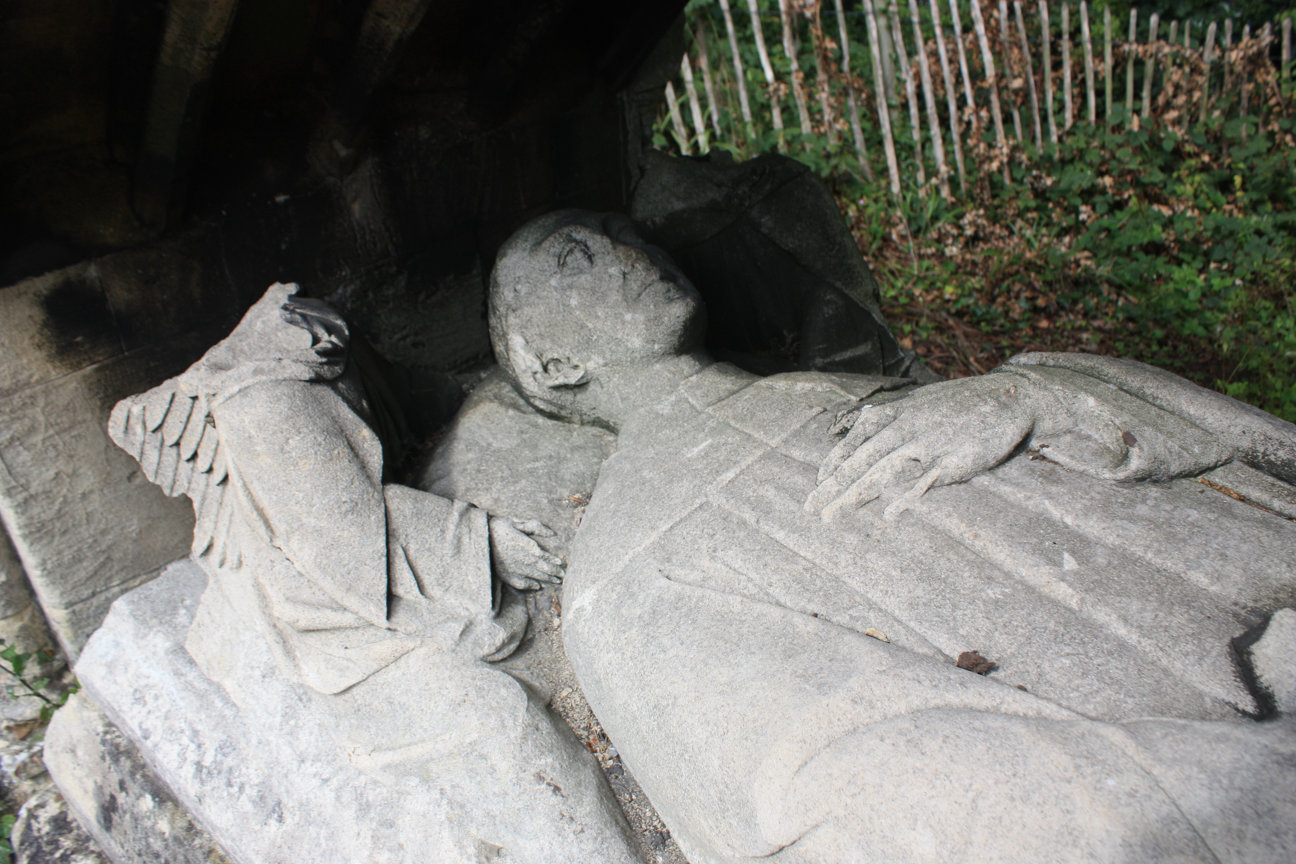 ---
One section of the cemetery had several high-status memorials almost hidden by foiliage.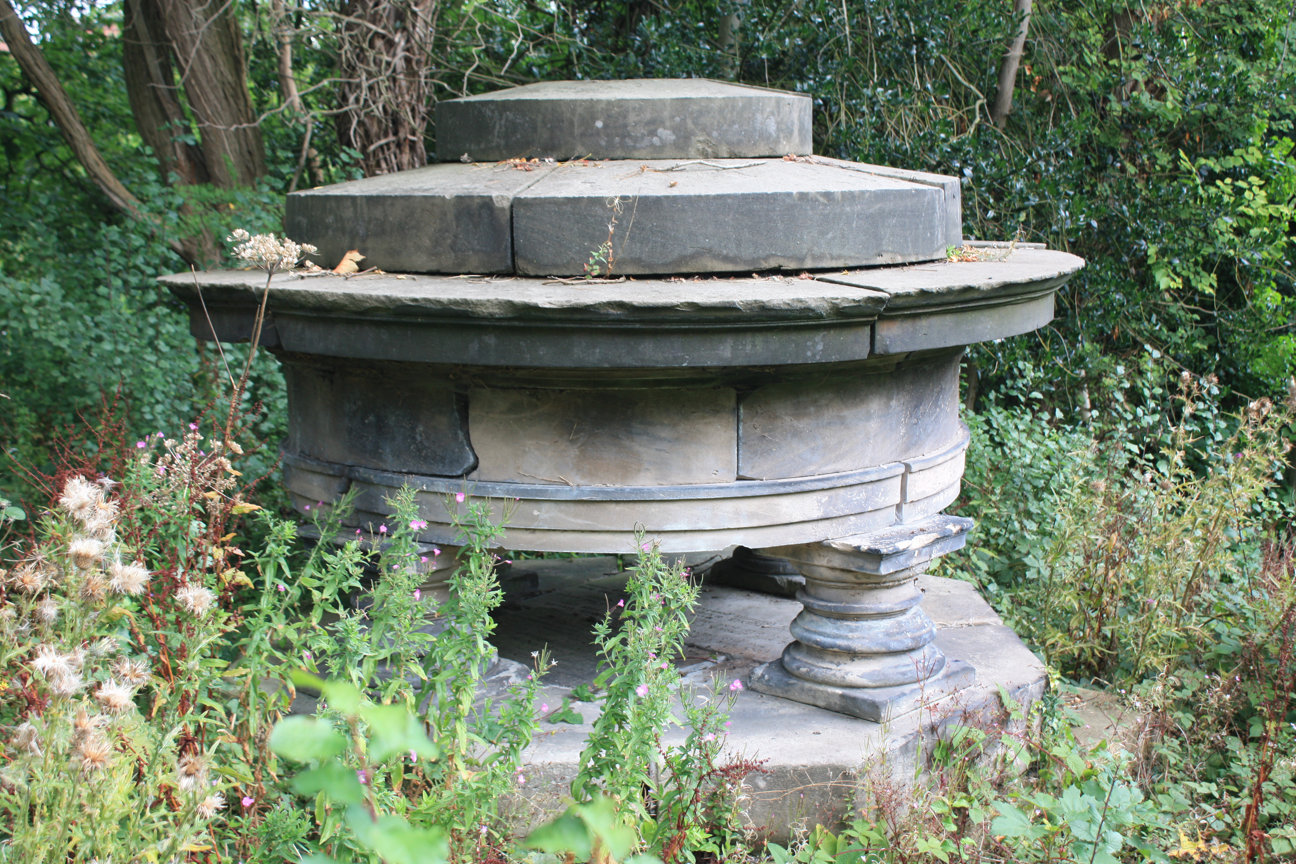 This curious design remembers Robert Turner.
---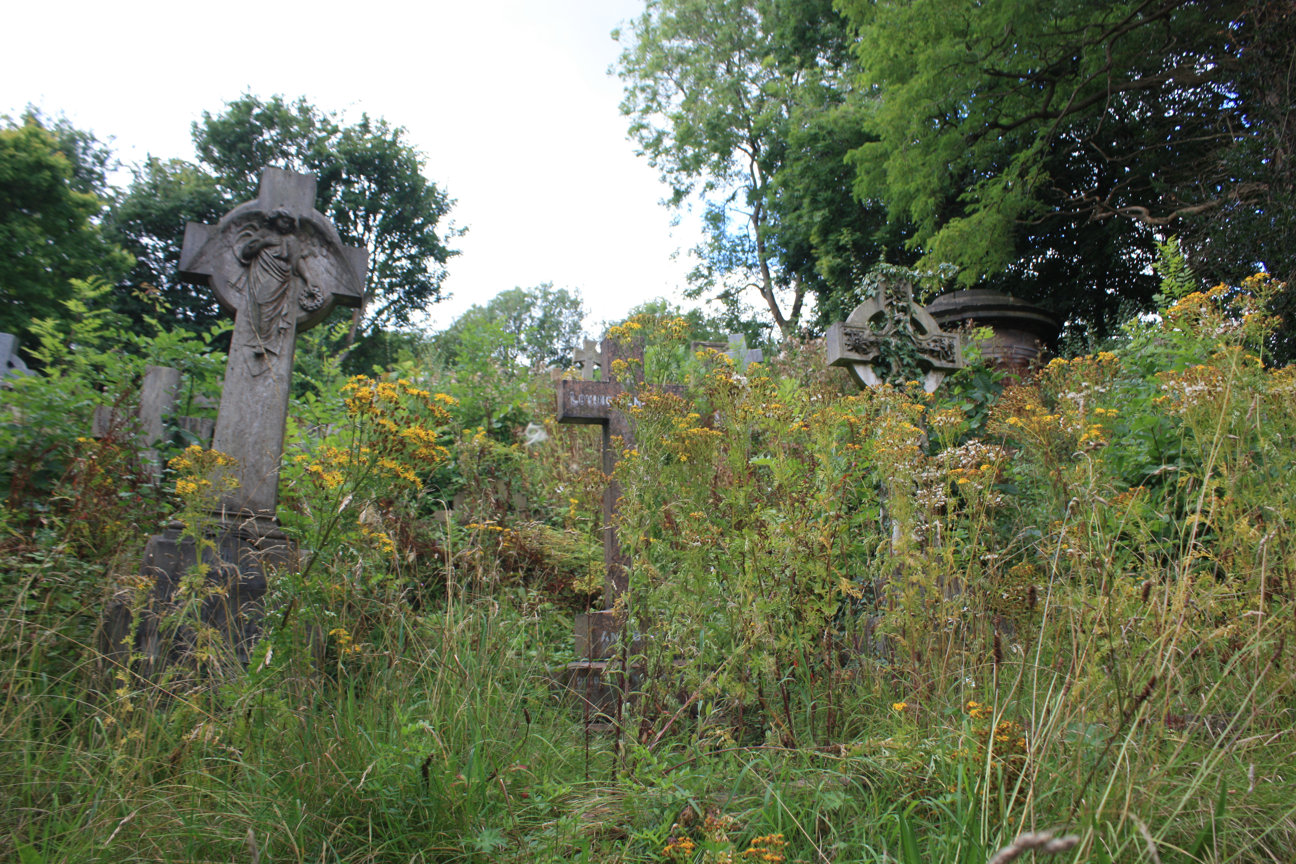 This section was impossible to survey and was a total contrast to a small circular section of the cemetery that had been maintained to a high standard.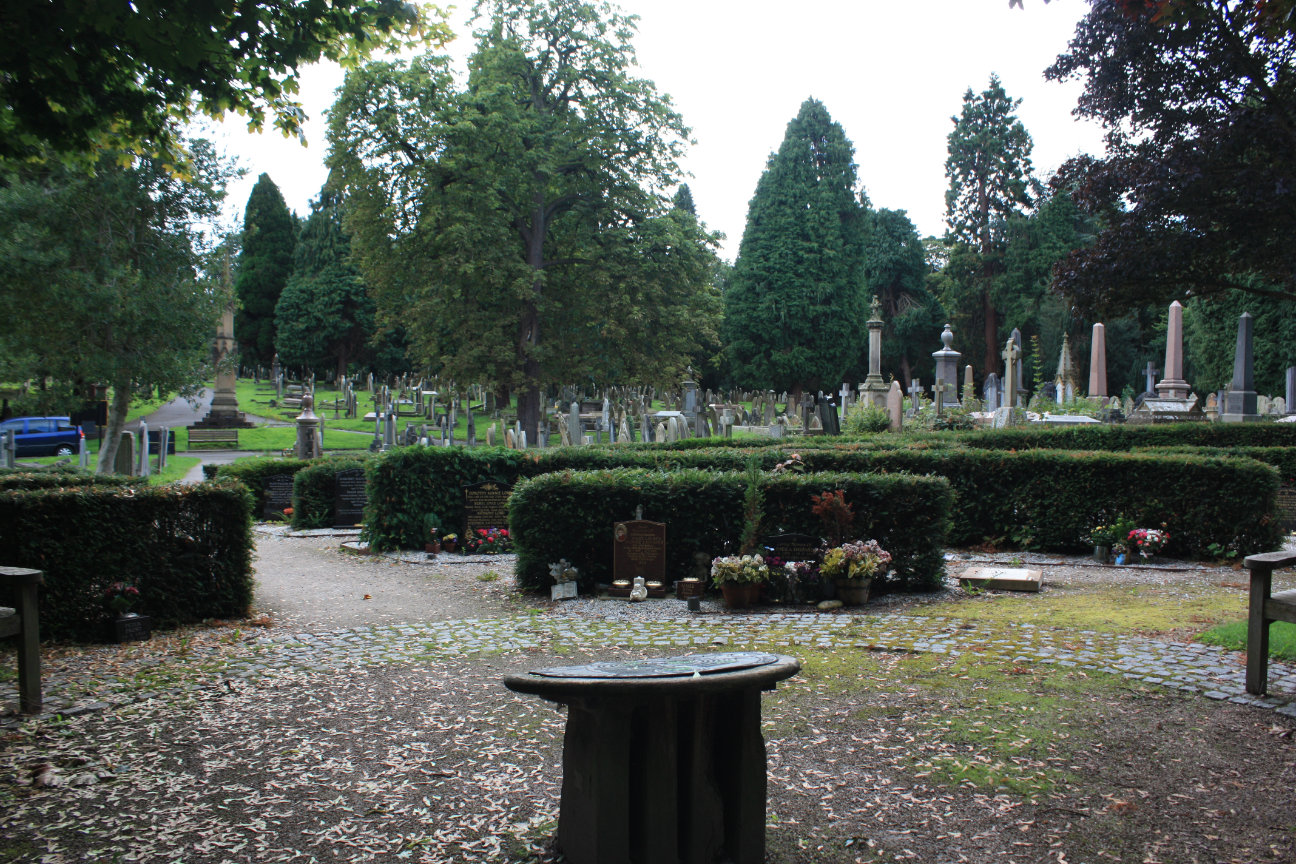 ---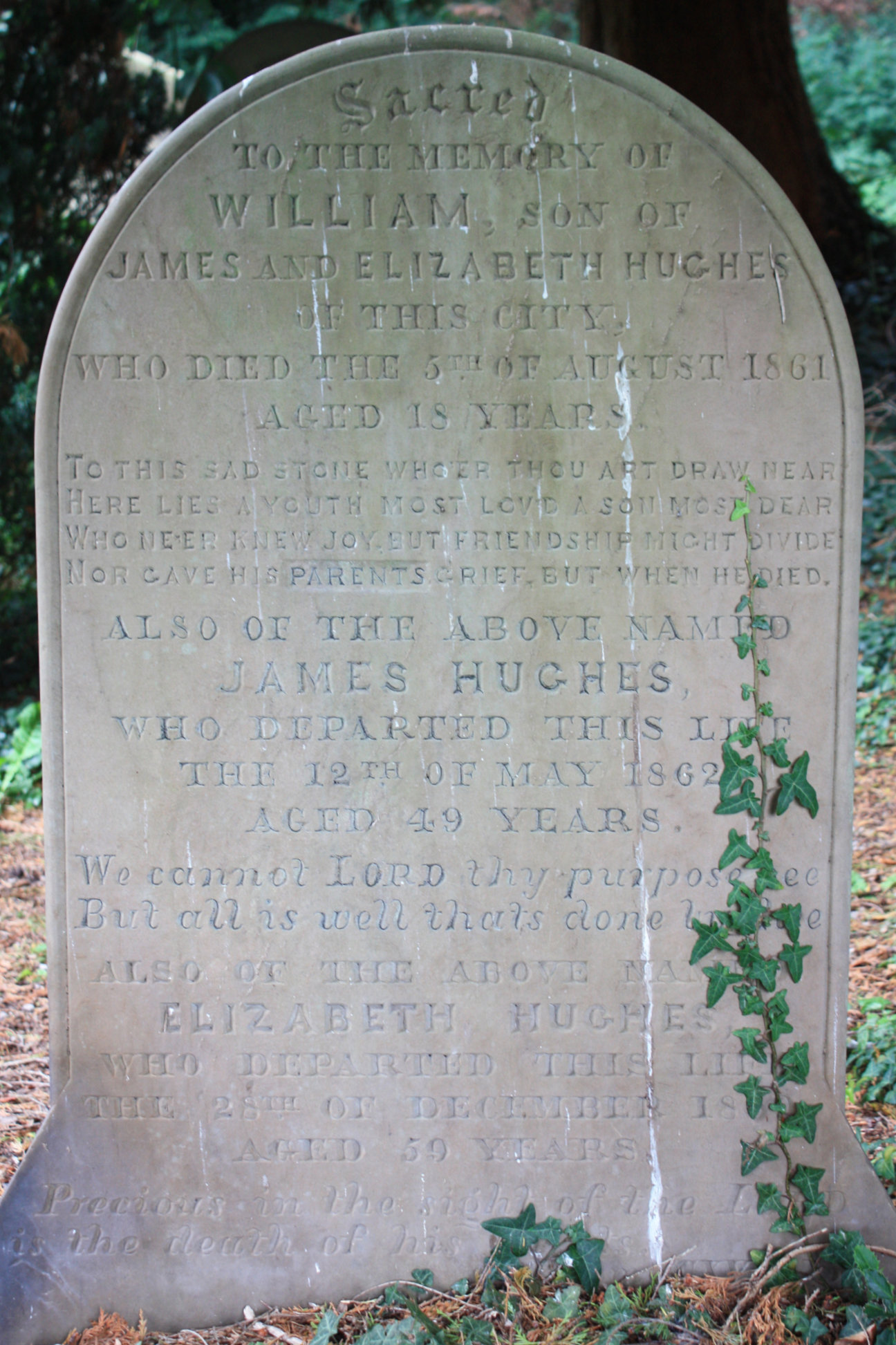 One word had to be re-engraved.
---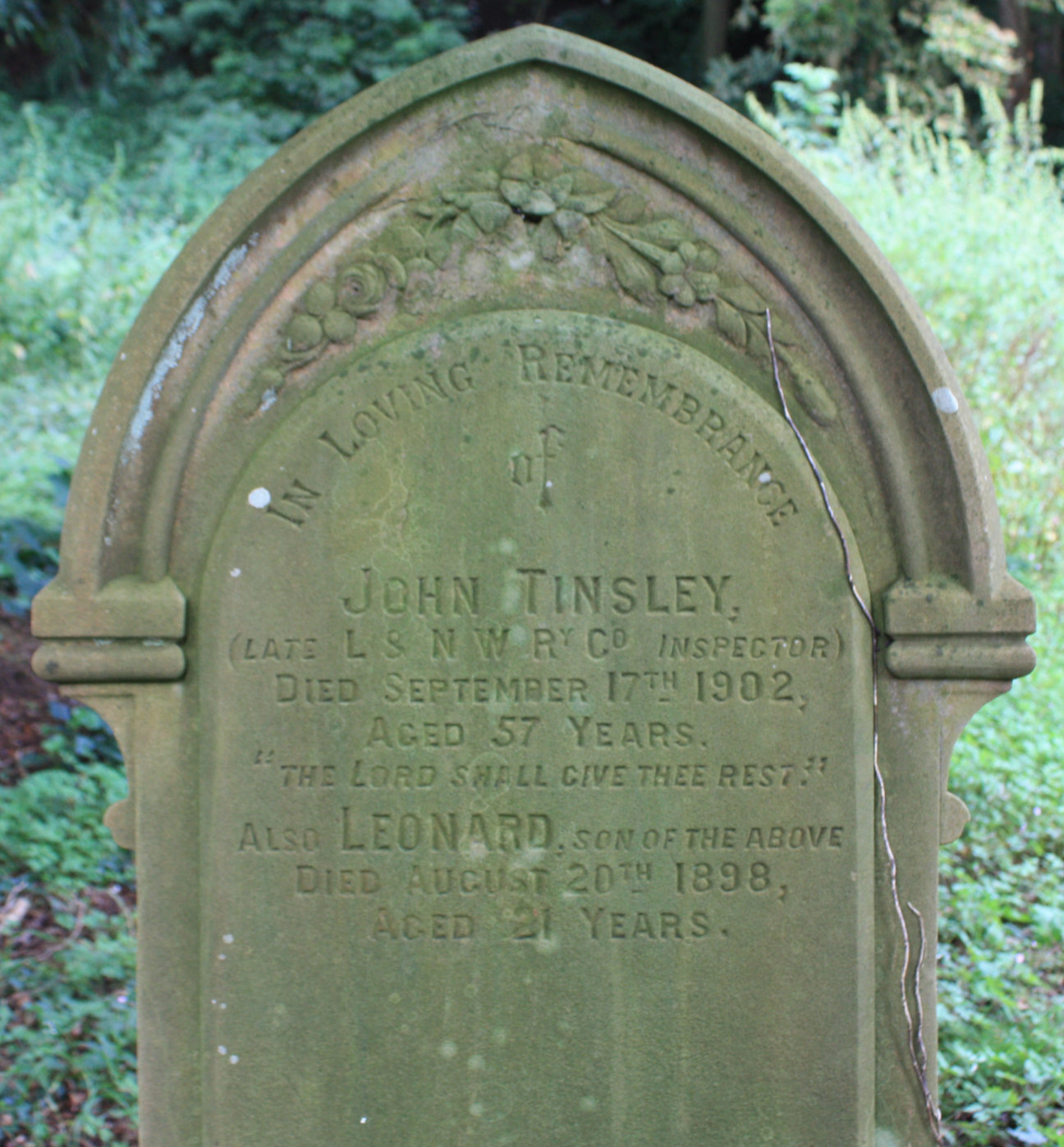 John Tinsley was an Inspector for London and North Western Railway.
---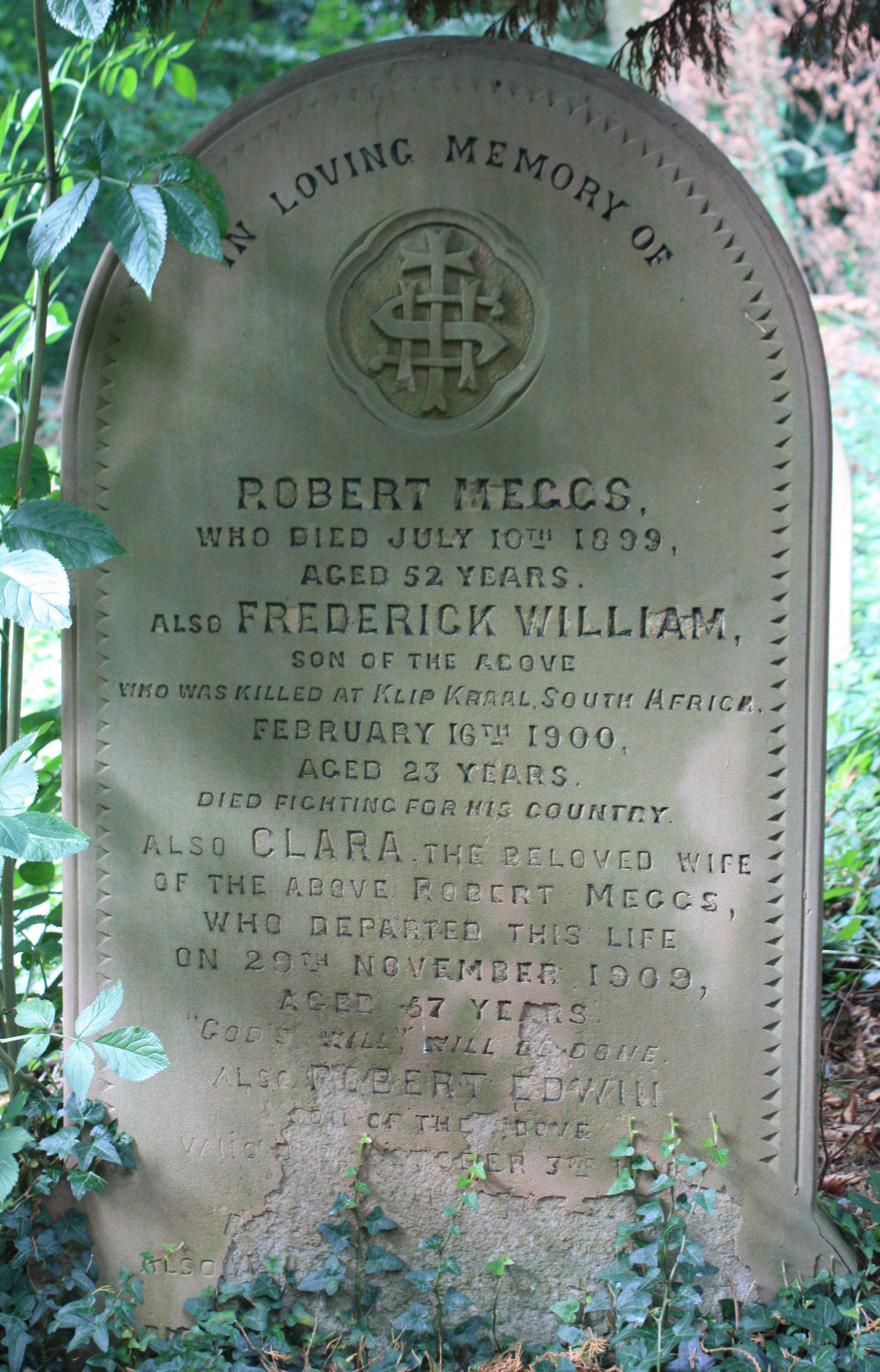 Frederick Meggs was killed at Klip Kraal, South Africa during the Boer War.
---
A general view.
---
Claire Christine Nicholson and Martin Piers Nicholson - Ticklerton (Shropshire) and Daventry (Northhamptonshire), United Kingdom.
This page was last updated on August 15th 2017.