Martin Nicholson's Cemetery Project
St Michael and All Angels, Edvin Ralph, Herefordshire
Under the tower of the 12th century church there are seven monuments of great historical interest. Sadly the description included in the small guide book is very hard to reconcile with what a visitor to the church can see.
---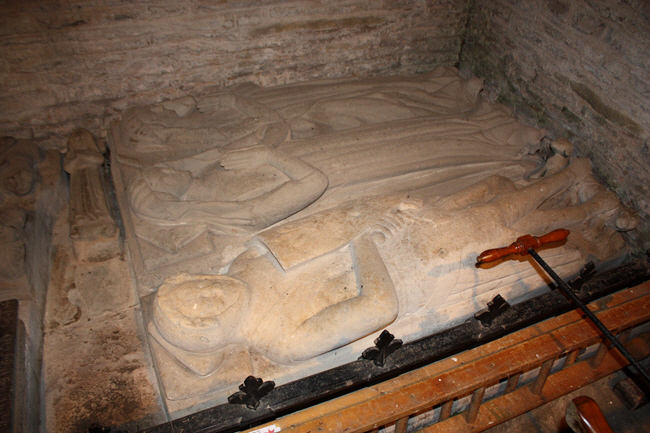 This effigy is of a knight and his two wives. The knight has his legs crossed and we suspect that this has some significance as we have seen the same thing elsewhere.
---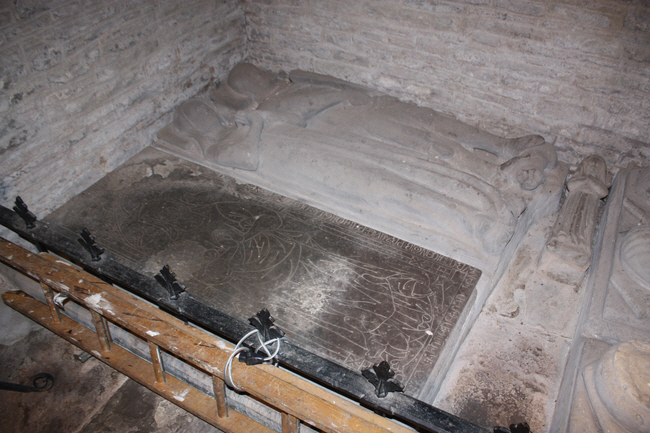 In the corner is an effigy of a knight and his wife dating back to about 1325. By their feet is a 14th century effigy, perhaps of a child. Nearest the camera is a rare and exceptional form of a pardon monument that records the granting of 30 days and 60 days of pardon from 2 bishops - the Latin inscription reads "Here liest the Lady Maud, she was the wife of Sir Thomas de Edefen. To whomsoever shall say a Pater and an Ave for the soul of Maud de Edefin, the Lord Bishop of Worcester will allow 30 days of pardon, and the Lord Bishop of Hereford 60 days of pardon".
---
Martin Nicholson - Church Stretton, United Kingdom.
This page was last updated on Jan 14th 2014