Martin Nicholson's Cemetery Project
Gloucester Cathedral, Gloucester, Gloucestershire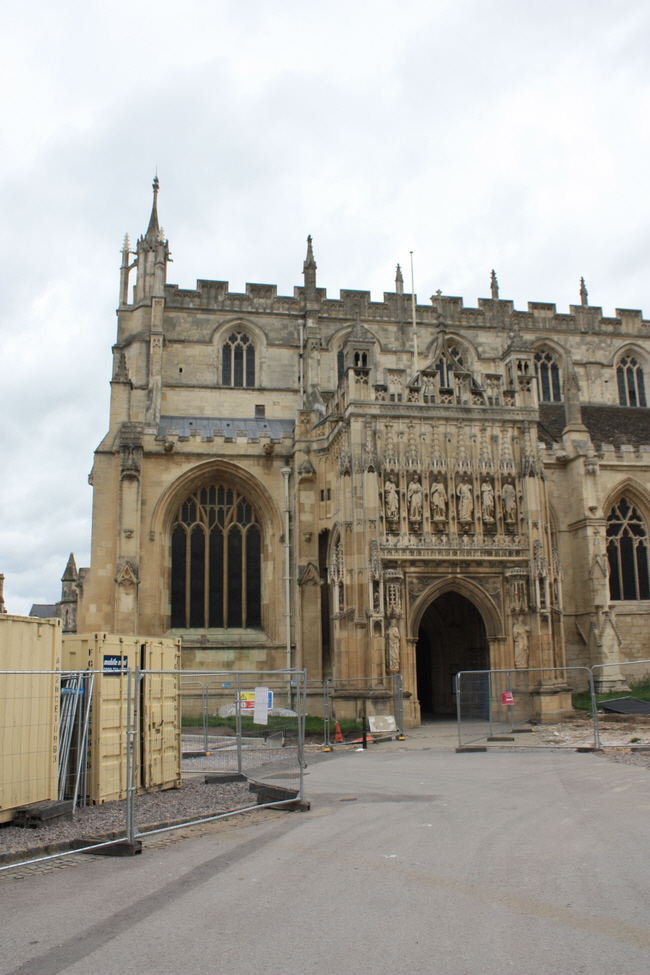 Gloucester Cathedral, formally the Cathedral Church of St Peter and the Holy and Indivisible Trinity, in Gloucester, England, stands in the north of the city near the River Severn. It originated in 678 or 679 with the foundation of an abbey dedicated to Saint Peter - later dissolved by King Henry VIII.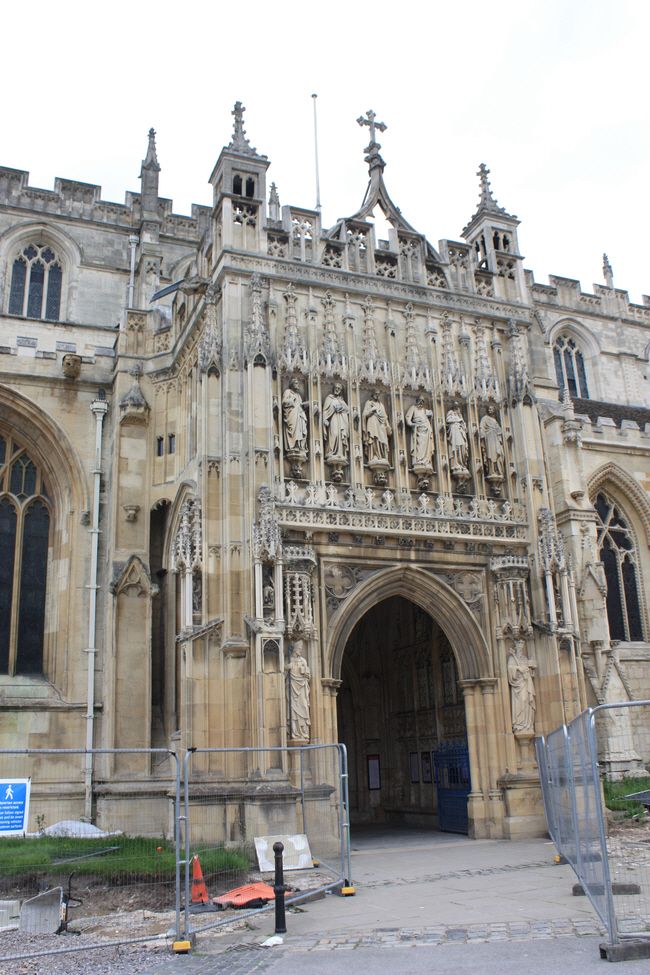 ---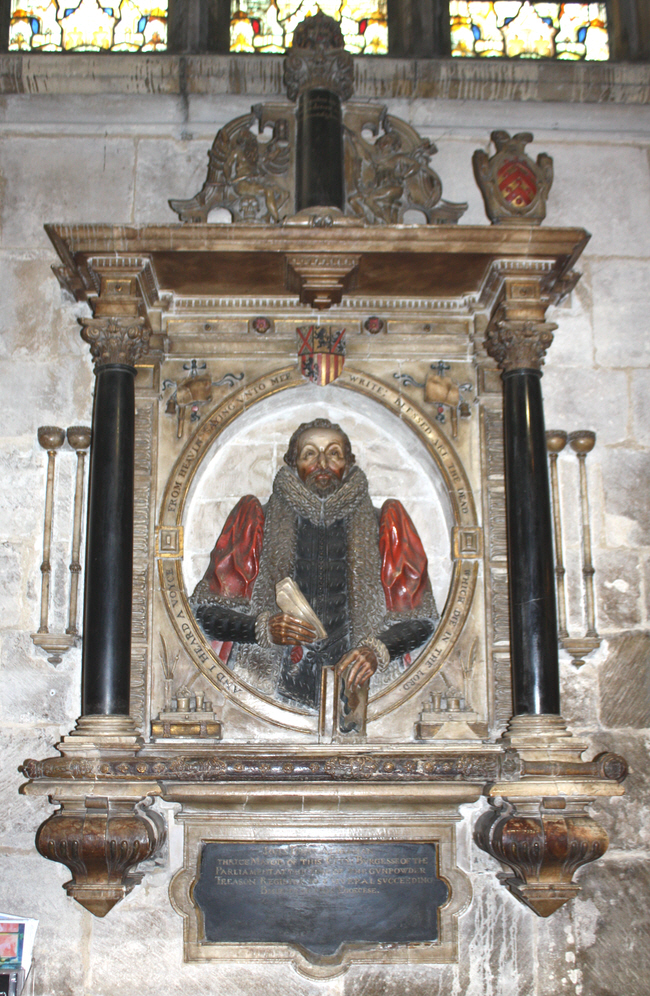 Alderman John Jones - died 1630.
---
Sir Charles Hubert Hastings Parry, 1st Baronet (27 February 1848 – 7 October 1918) was an English composer, teacher and historian of music.
---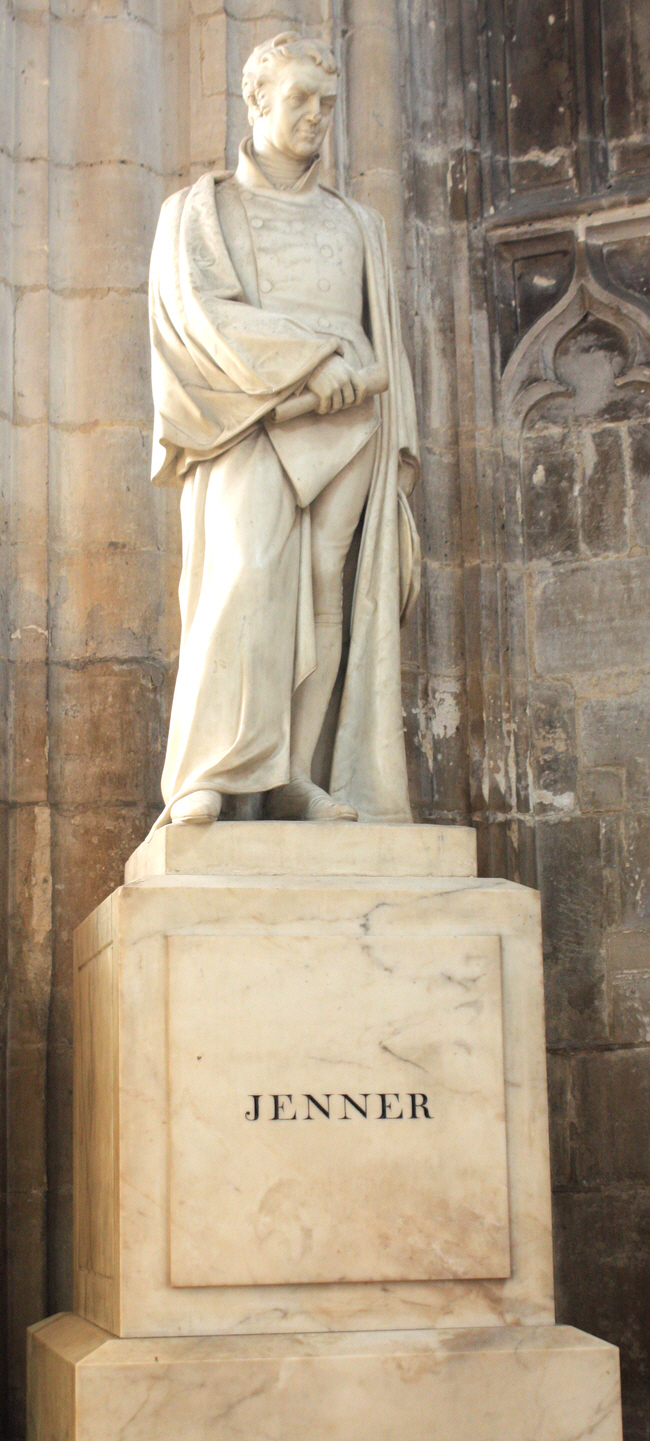 Edward Jenner, FRS (17 May 1749 – 26 January 1823) was an English physician and scientist who was the pioneer of smallpox vaccine, the world's first vaccine.
---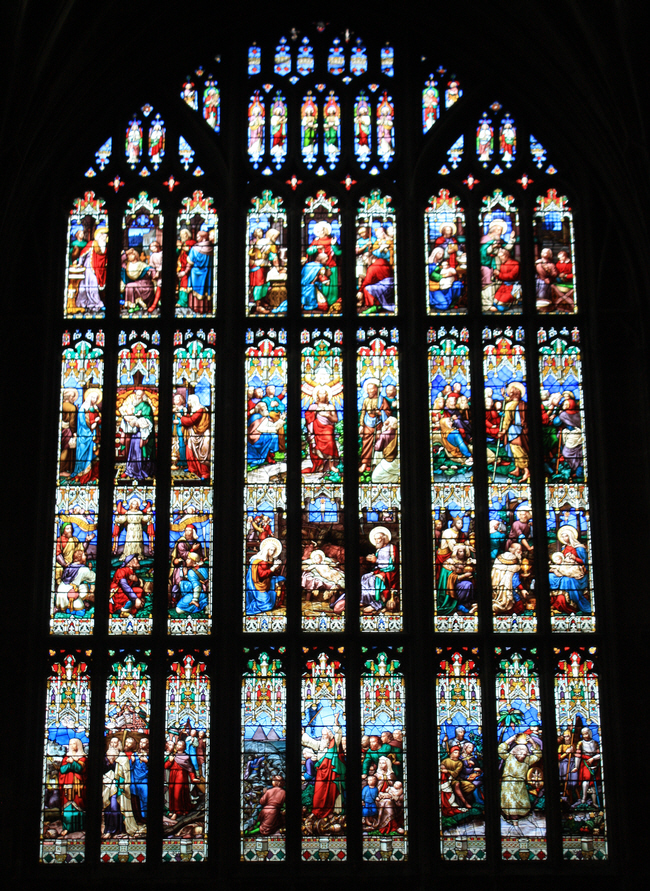 The west window contains glass from 1859. It shows the Bible stories of Noah's Ark and Moses crossing the Red Sea with the birth of Christ shown in the centre.
---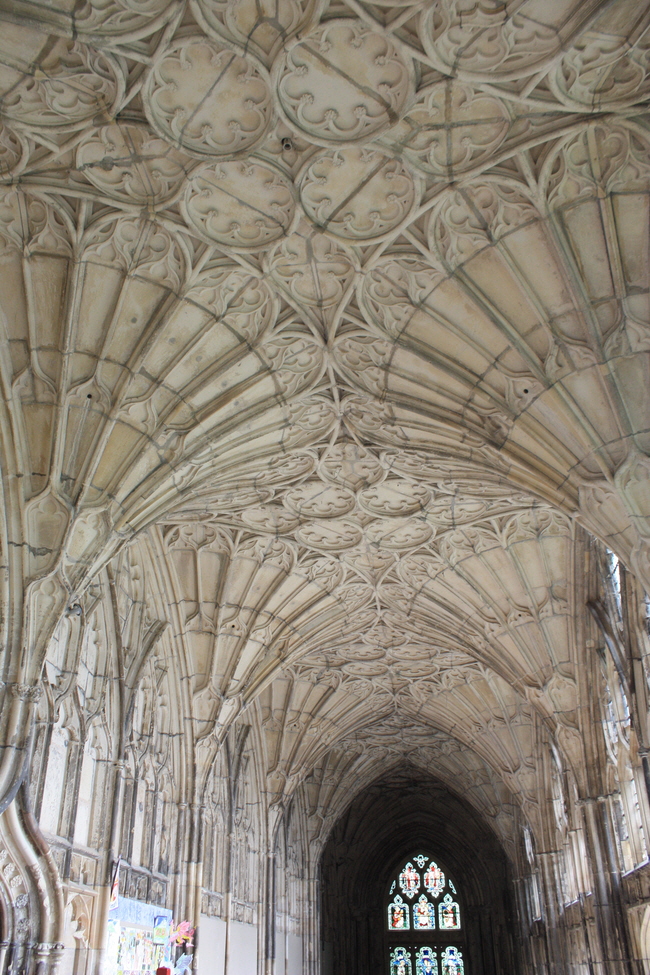 The fan vaulting is 650 years old.
---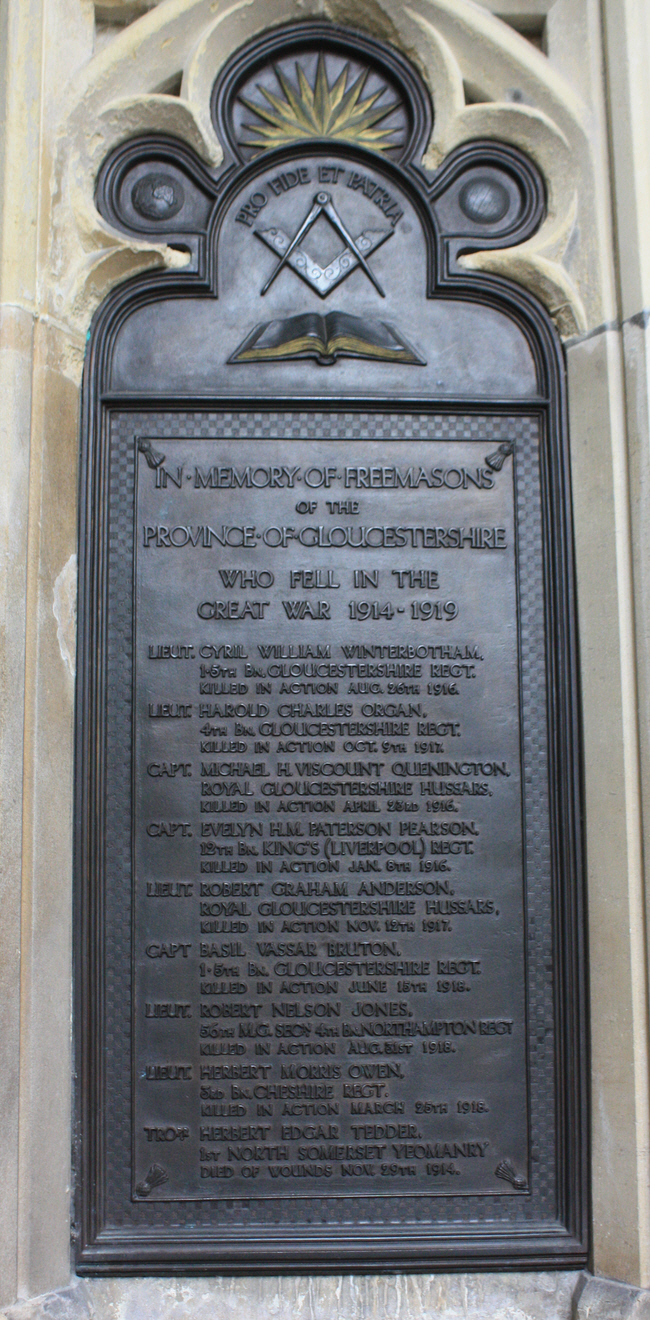 A war memorial specifically for those Freemasons who died in the 1914-1919 war.
---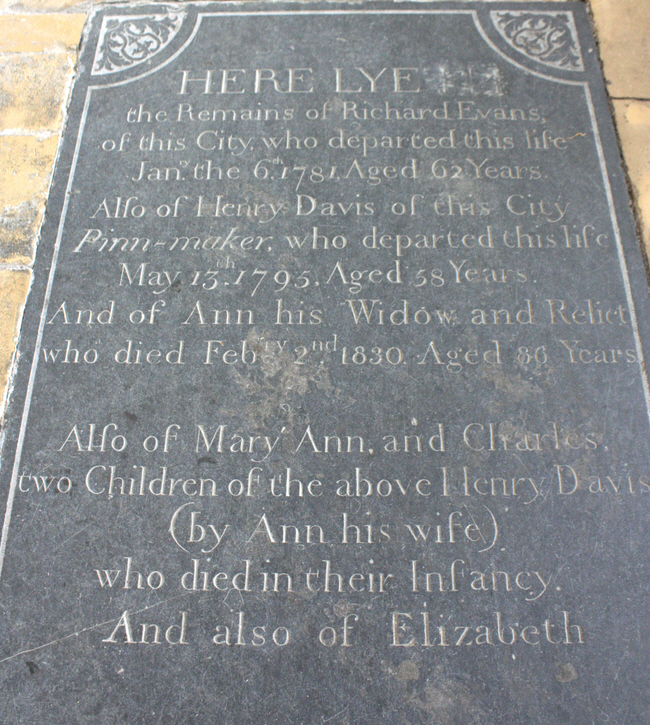 Henry Davis was a Pin Maker.
---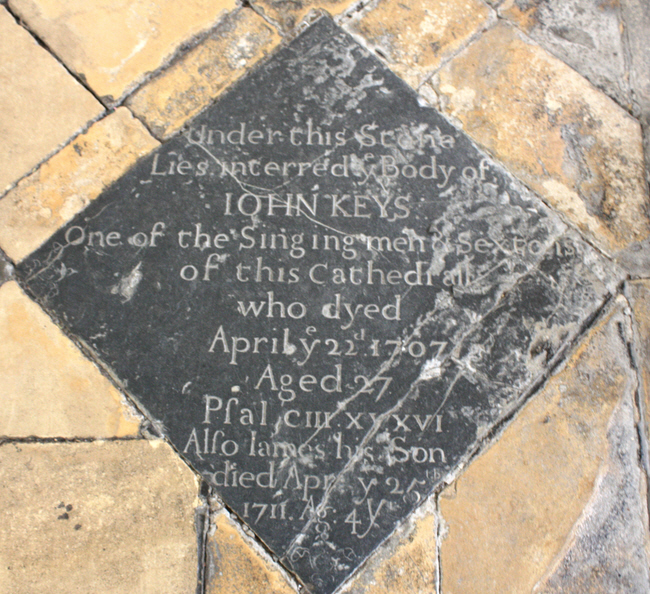 John Keys was "One of the Singing Men & Sextons".
---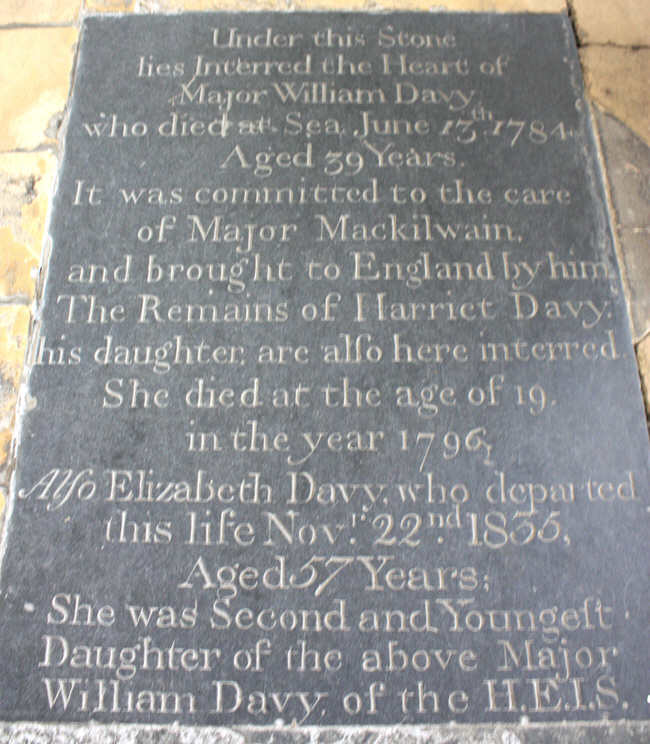 Major William Davy died at sea in 1784 and his heart was transported to England by Major Mackilwain.
---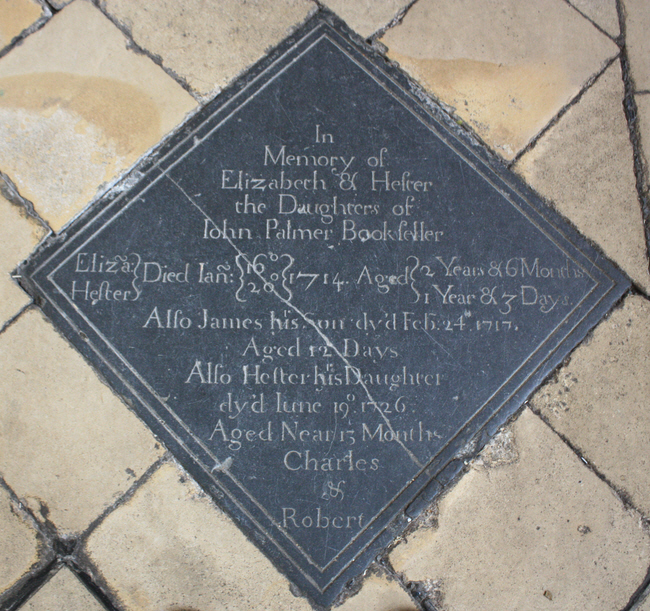 John Palmer was a Bookseller.
---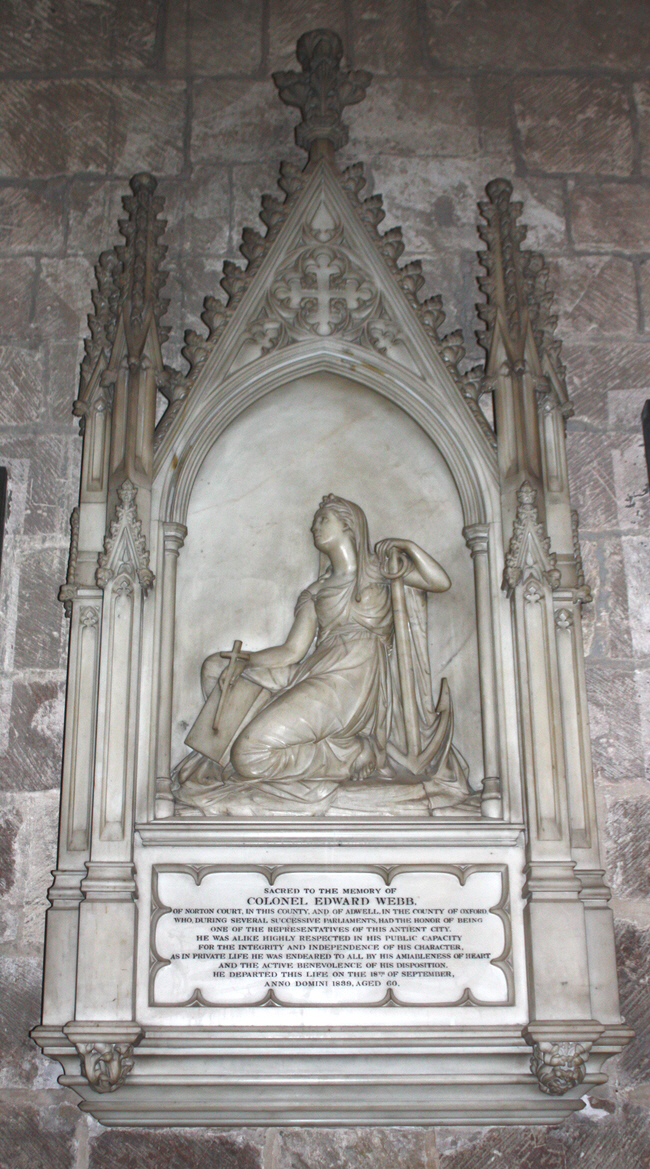 Colonel Edward Webb died in 1859 aged 60. He had been the Member of Parliament for Gloucester "during several successive parliaments".
---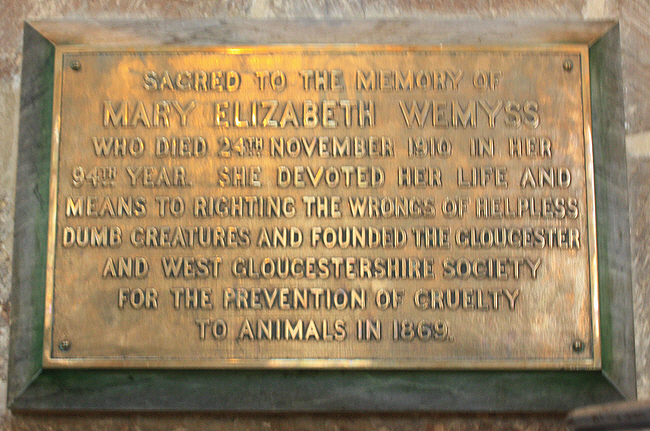 Mary Wemyss founded the Gloucester and West Gloucestershire Society for the Prevention of Cruelty to Animals in 1869.
---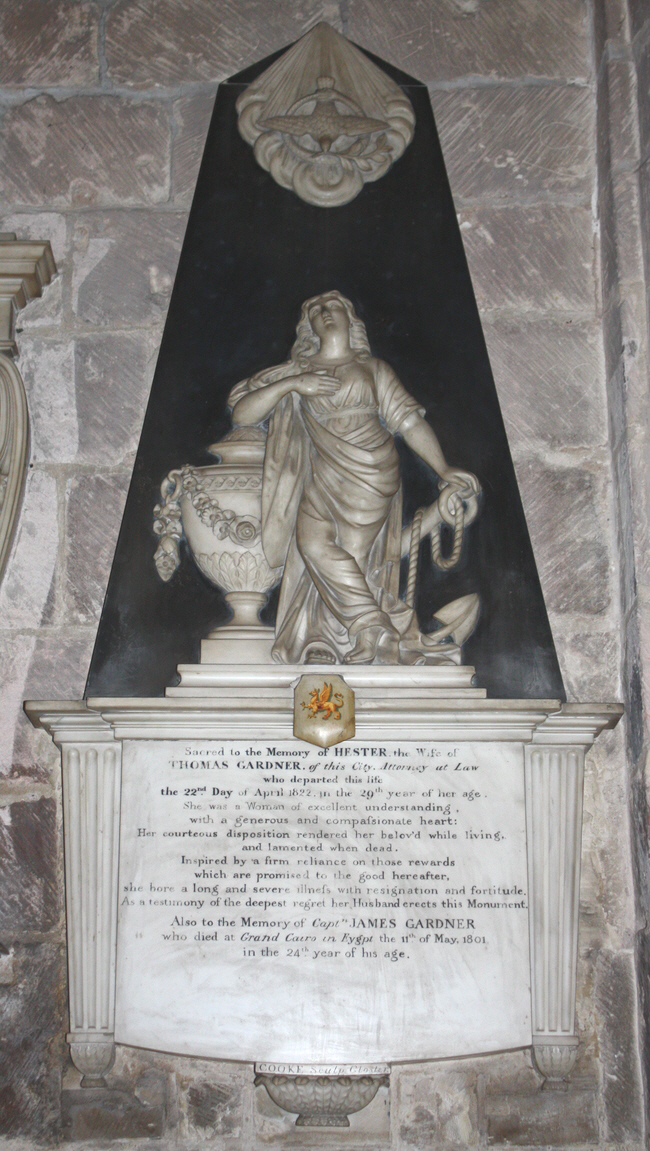 Hester Gardner died in 1822 aged 28. "She bore a long and severe illness with resignation and fortitude".
---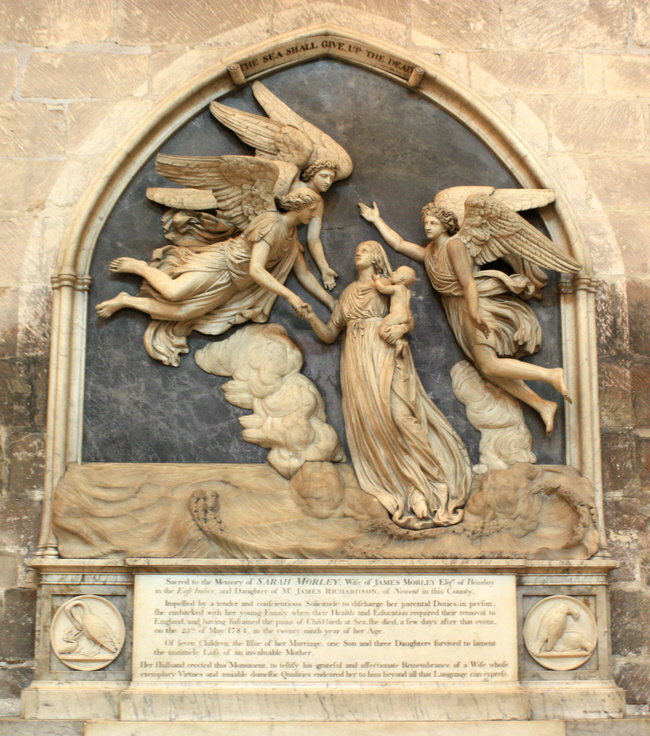 Sarah Morley died a few days after having given birth at sea during a voyage from India.

---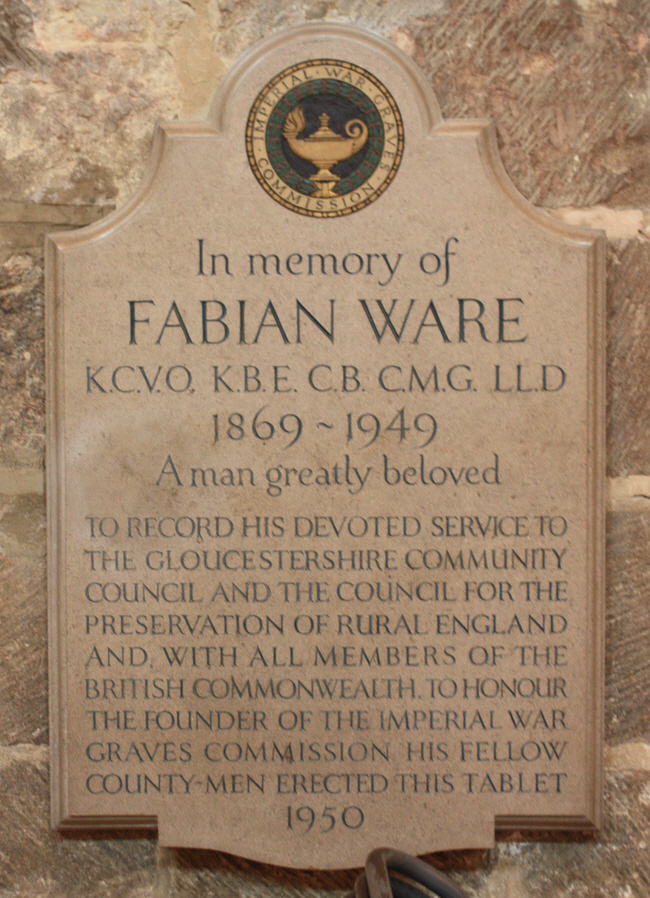 Major General Sir Fabian Arthur Goulstone Ware KCVO KBE CB CMG (17 June 1869 – 29 April 1949) was the founder of the Imperial War Graves Commission, now the Commonwealth War Graves Commission.
---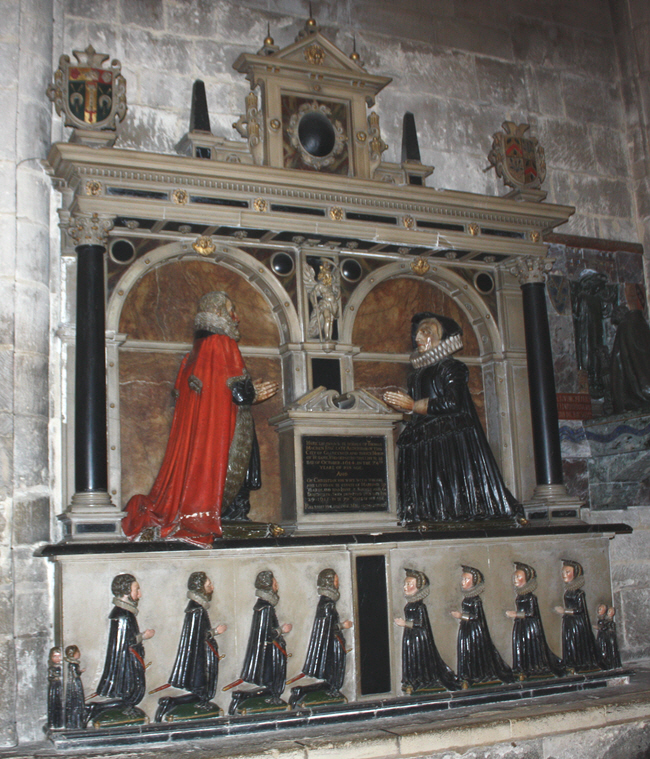 Alderman Thomas Machen died in 1614 aged 73. His wife Christian, who bore him 7 sons and 6 daughters, died the next year aged 69.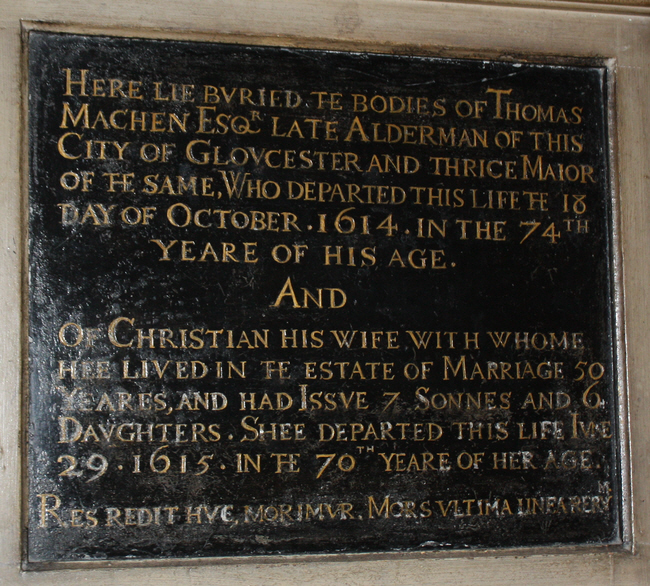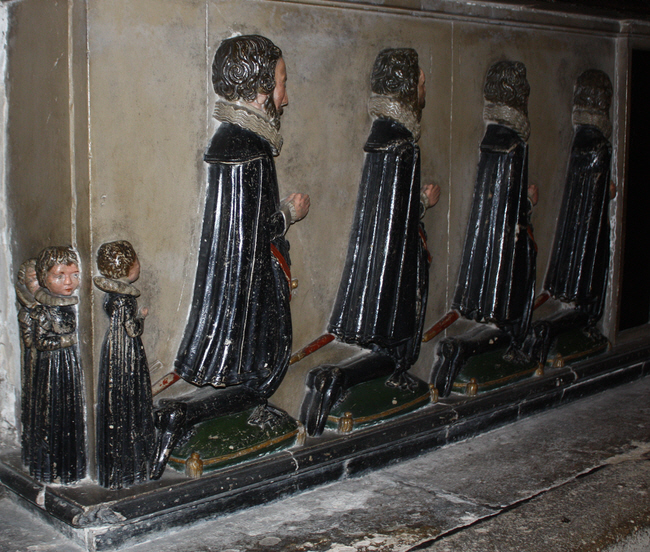 The smaller sized figures are used to show the children who had predeceased their parents.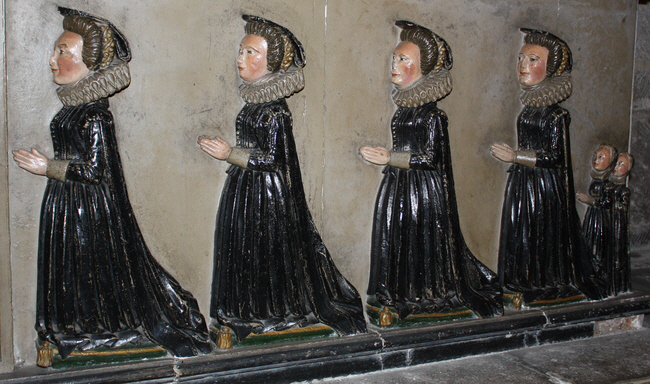 ---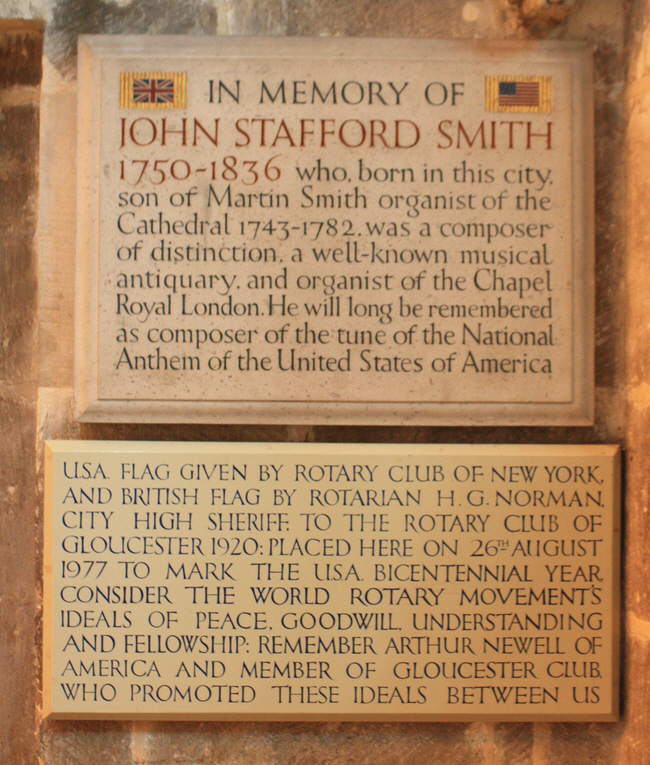 John Stafford Smith (30 March 1750 – 21 September 1836) was a British composer, church organist, and early musicologist. He was one of the first serious collectors of manuscripts of works by Johann Sebastian Bach.
Stafford Smith is best known for writing the music for "The Anacreontic Song", which became the tune for the American patriotic song "The Star-Spangled Banner" following the War of 1812, and in 1931 was adopted as the national anthem of the United States.
---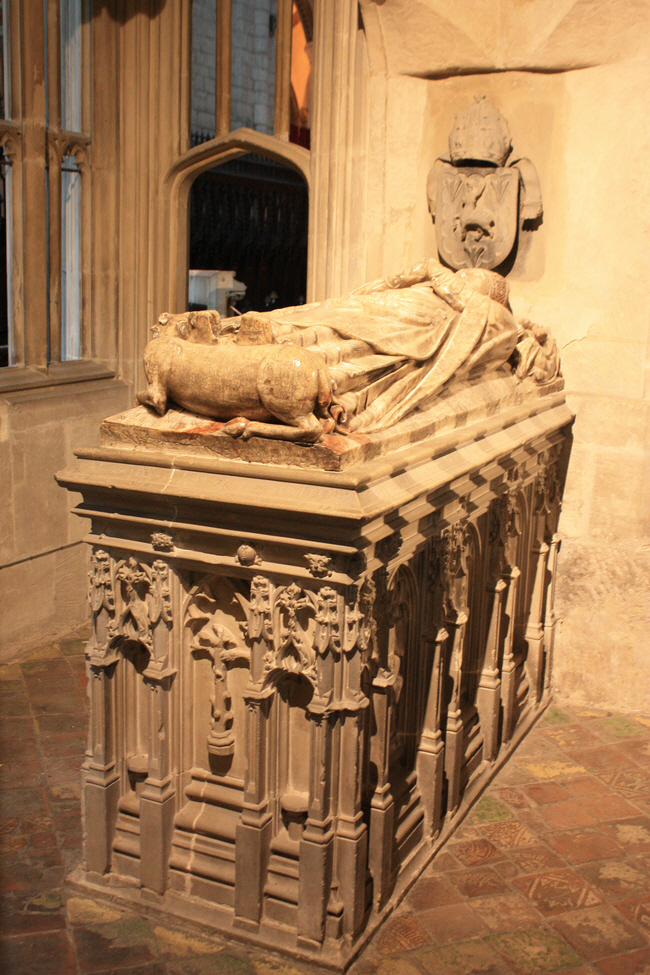 Abbot Malvern was the last Abbot of St Peter's Abbey. This tomb was erected 1514 and 1539 but he was never buried here.
---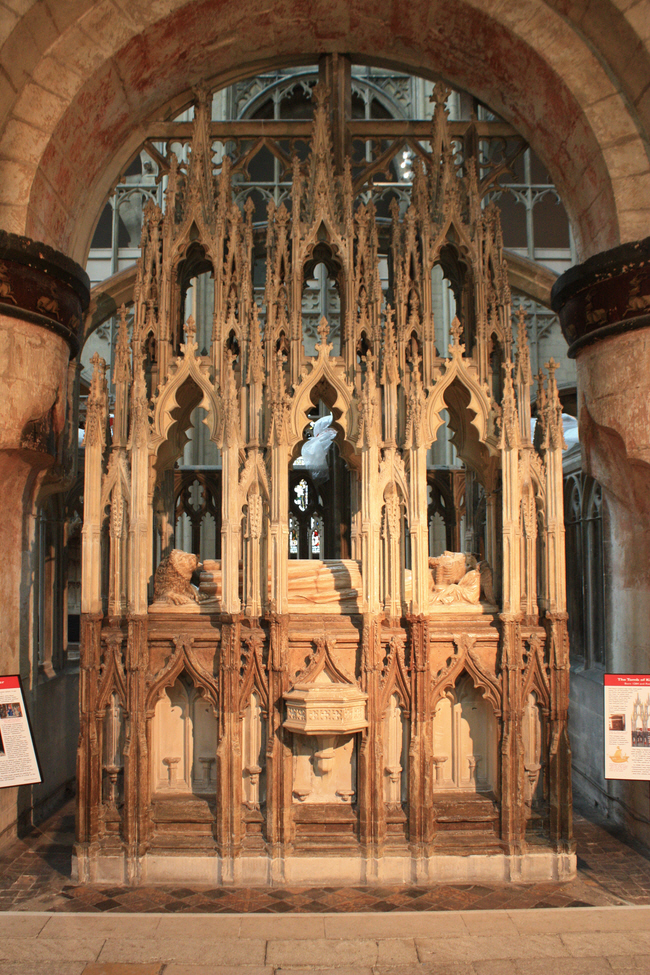 The tomb of King Edward II - born 1284 and reigned 1307 to 1327.
---

Osric, Prince of Mercia who founded the first monastic house on this site in 678.
---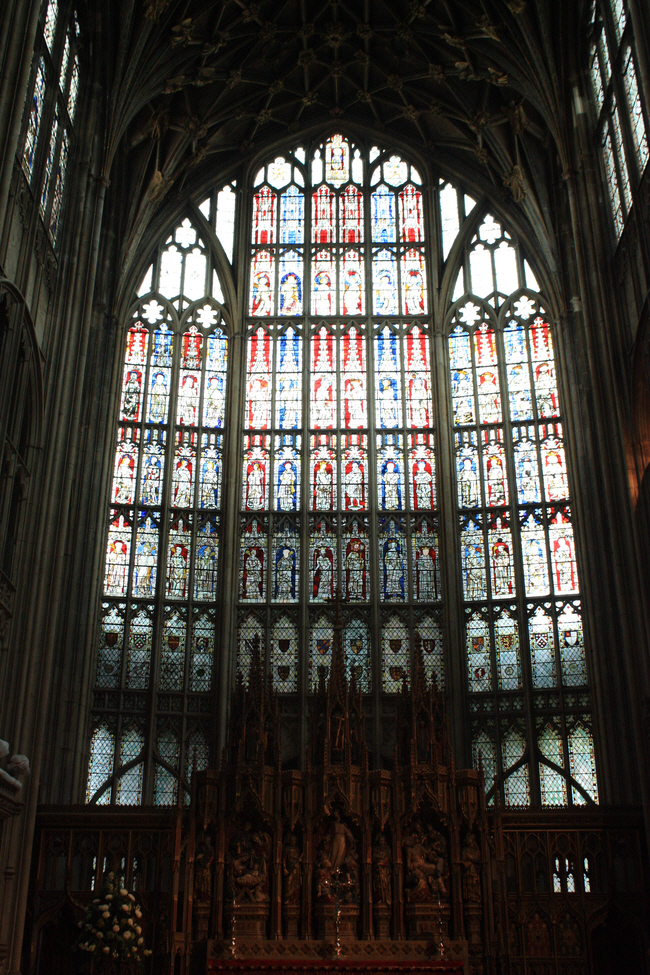 When the east window was installed in about 1350 it was the largest window in Europe. The arms of noble families are at the bottom; above them are abbotts, bishops, saints and martyrs.
---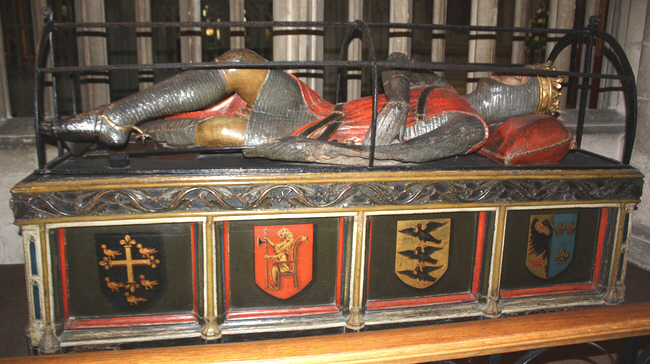 Robert, Duke of Normandy who died in 1134 as a prisoner of his youngest brother in Cardiff Castle.
---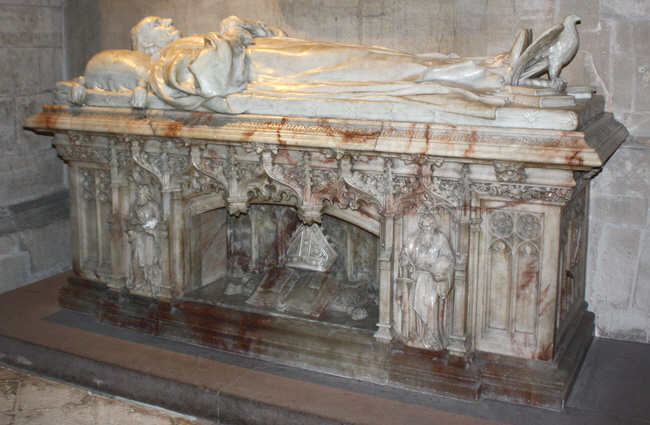 Charles John Ellicott (1819–1905) was a distinguished English Christian theologian, academic and churchman. He briefly served as Dean of Exeter, then Bishop of the united see of Gloucester and Bristol.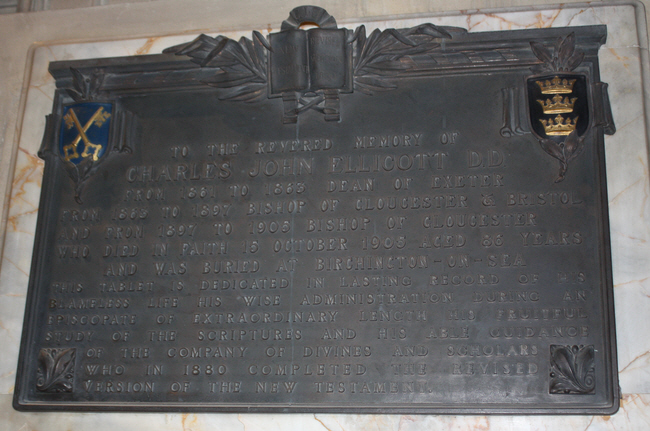 ---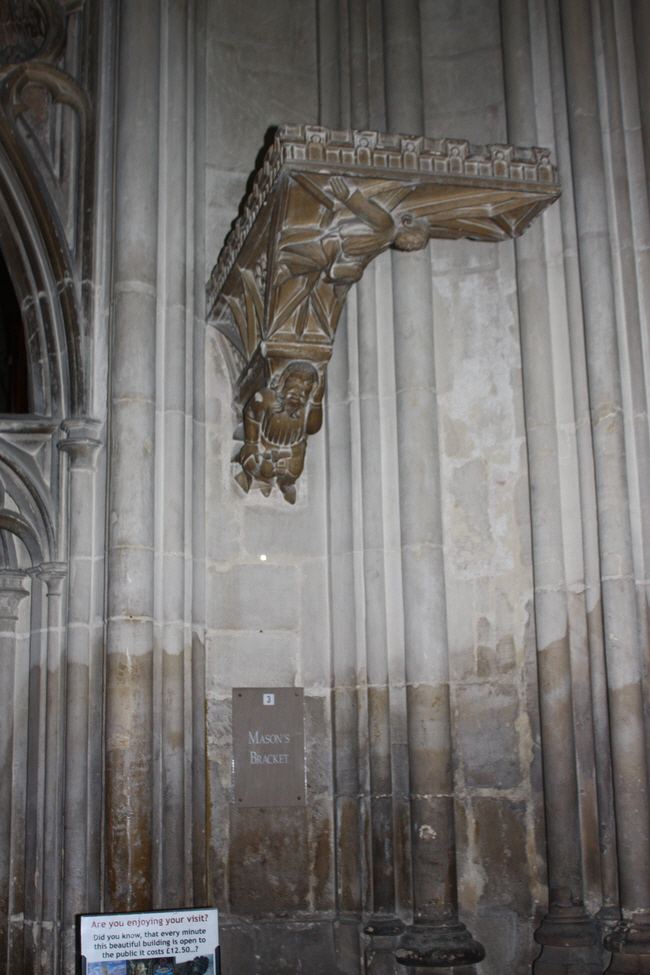 The Mason's Bracket is thought to be a memorial to an anonymous apprentice mason who fell from the vault above. The Master Mason looks up in horror as the apprentice falls!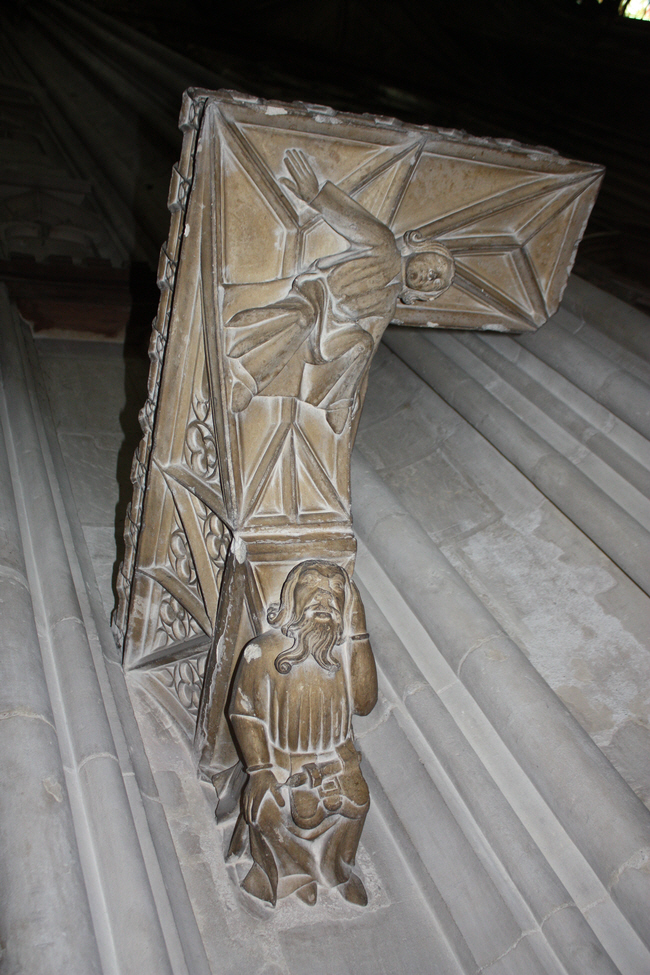 ---
The black marble memorial to Alderman Abraham Blackleech (died 1639) and his wife Gertrude.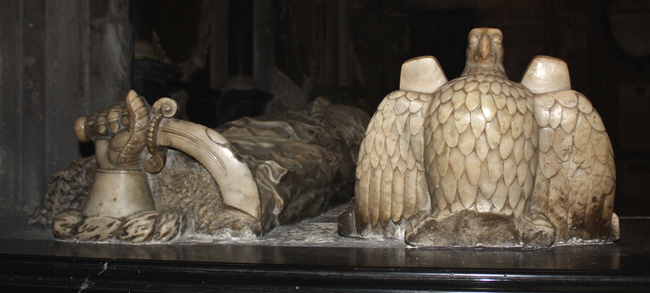 ---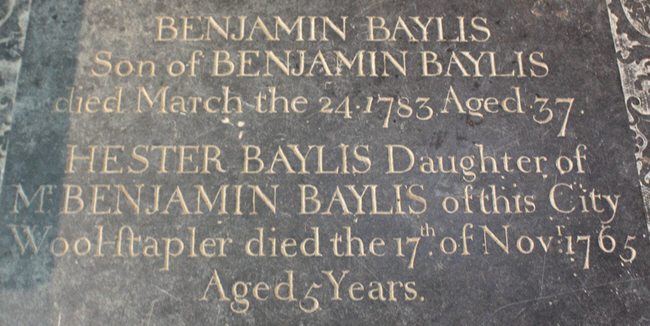 Benjamin Baylis was a Woolstapler.
---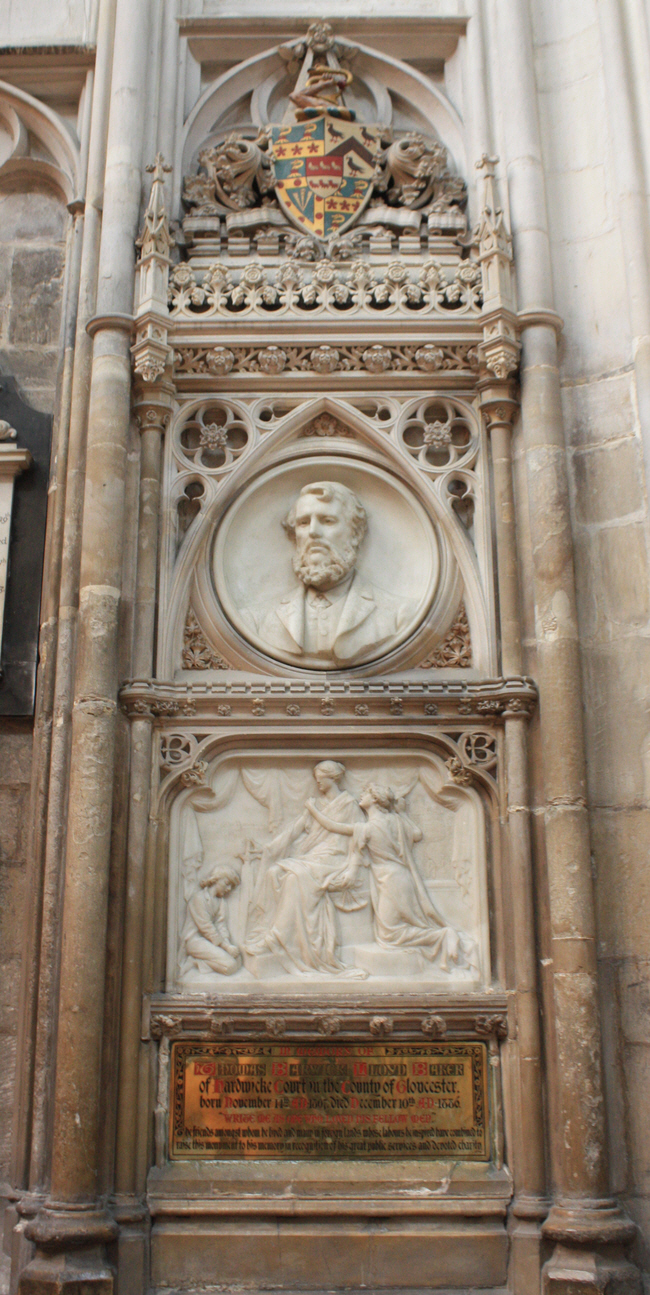 The superb and ornate memorial to Thomas Baker who died in 1886.

---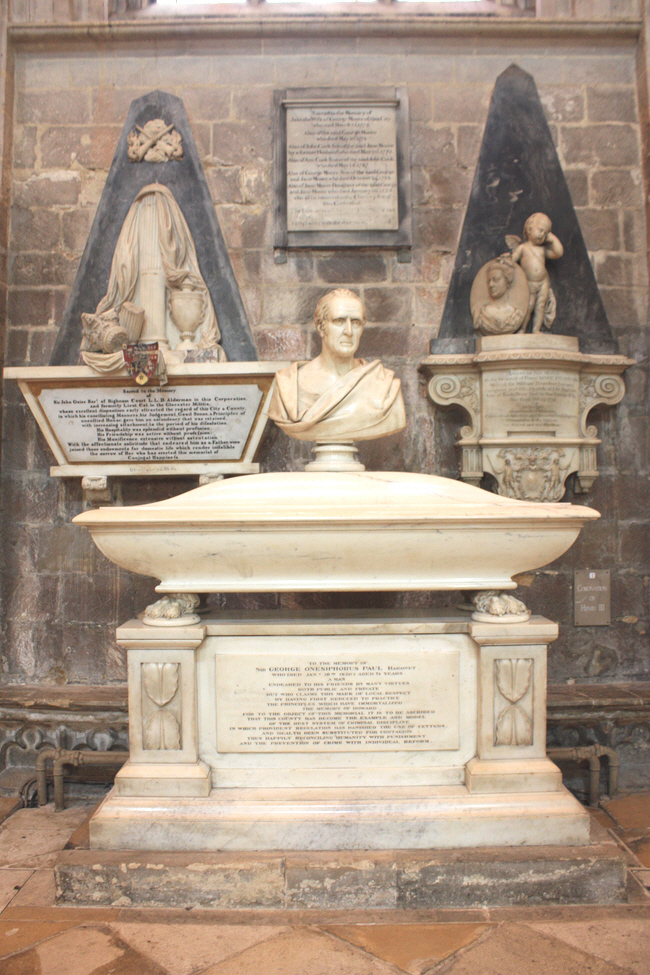 Sir George Onesiphorus Paul was born at Woodchester, Gloucestershire. He was the son of Sir Onesiphorus Paul, textile manufacturer, by his first wife, Jane. He is best known for designing the county gaol at Gloucester. The building was opened in 1791. It had a chapel, a dispensary, two infirmaries, and a foul-ward (for venereal disease) in the upper storey; workrooms were provided for debtors, and those who were unable to obtain work from outside were given it on application to a manufacturer, and were allowed to retain two-thirds of what they earned.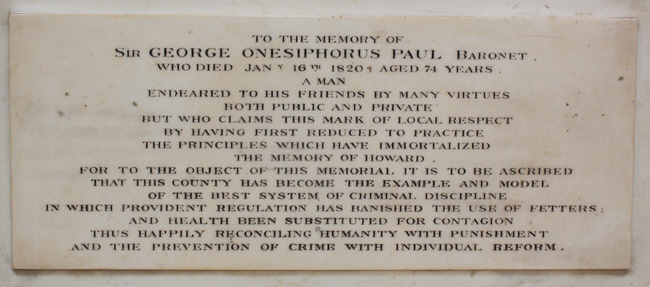 ---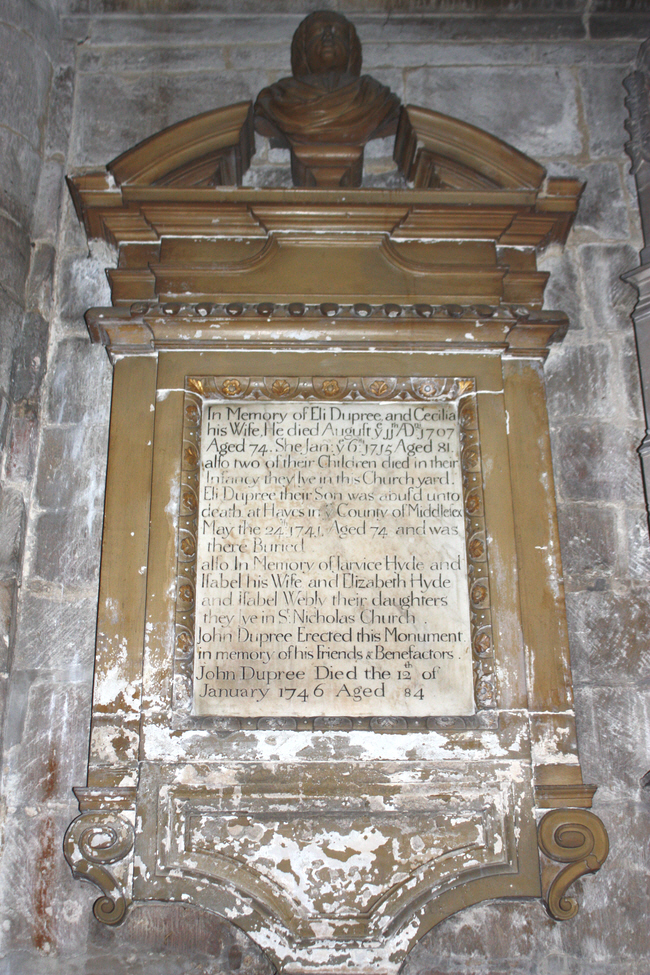 Eli Dupree was "abused unto death" at Hayes, Middlesex.
---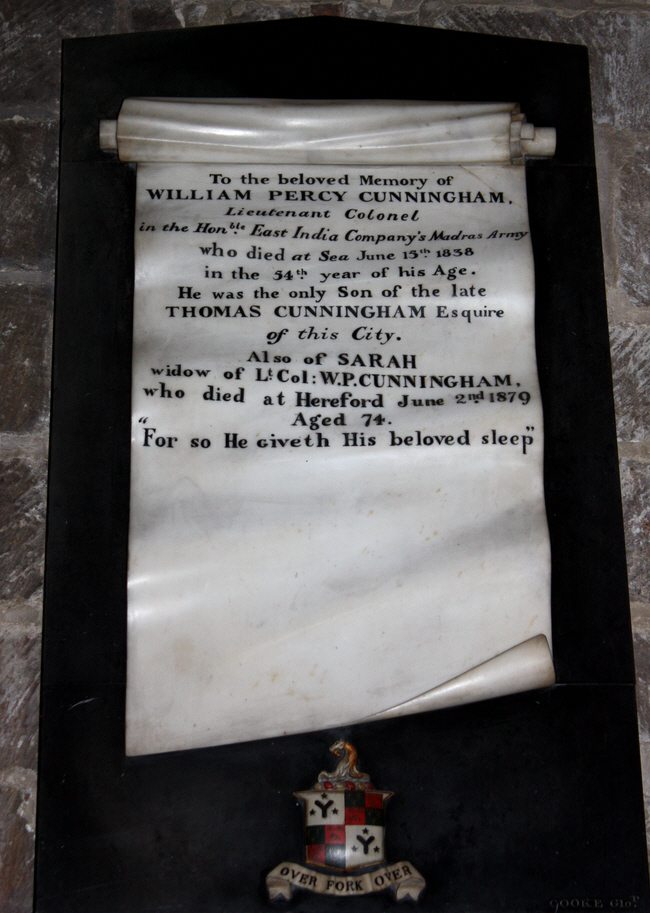 The fake scroll is a rarely used technique for a memorial.
---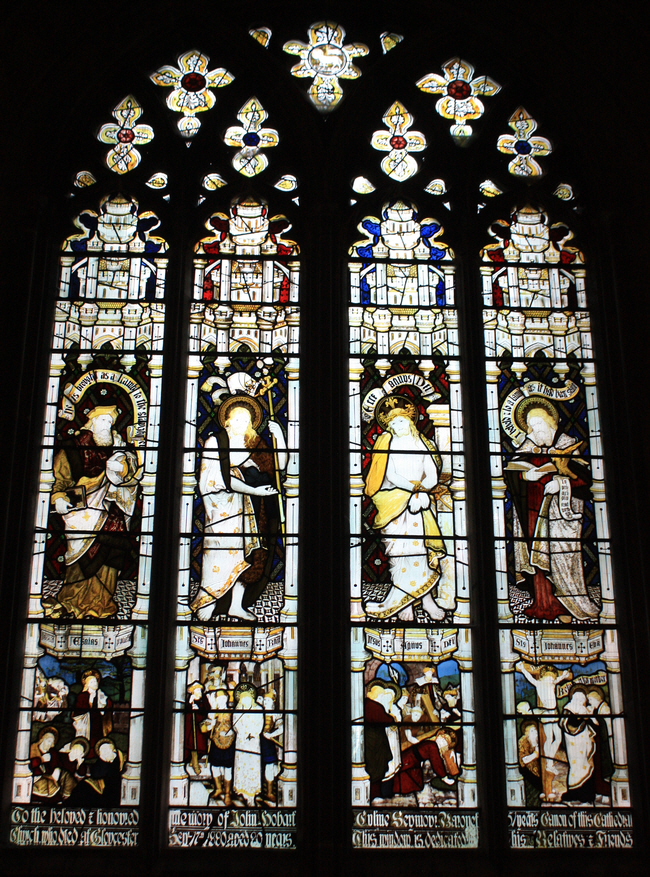 Isaiah, St John the Baptist, Our Lord and St John the Evangelist.
---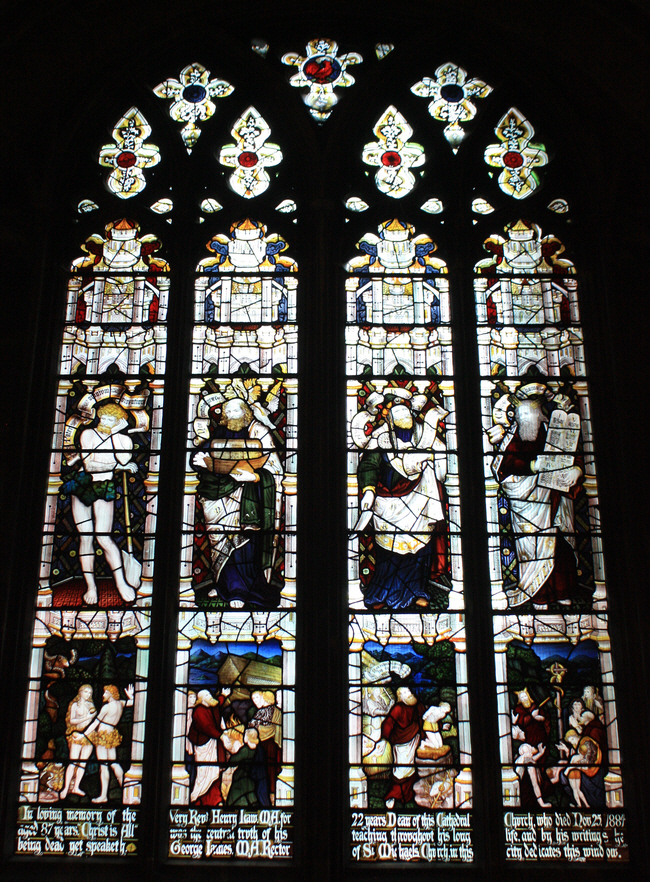 Adam, Noah, Abraham and Moses.
---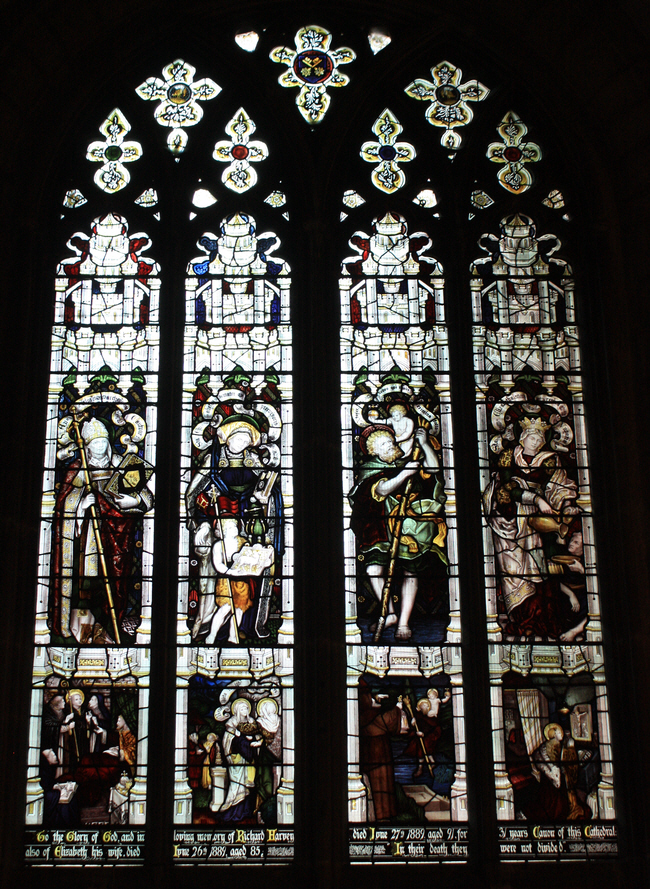 SS Anselm, Elizabeth, Christopher and Elizabeth of Hungary.
---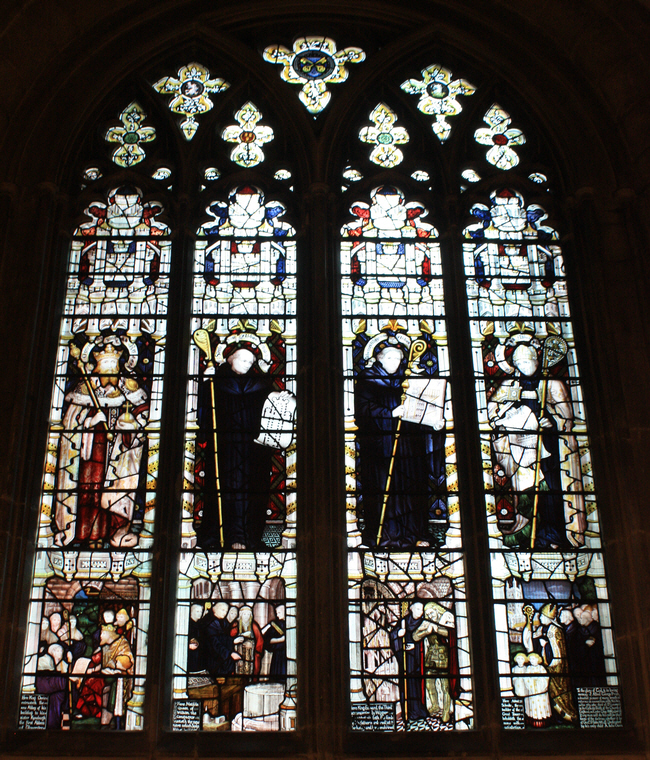 Abbots Osric, Cerlo, Wygmore and Seabroke - builders of St Peter's Abbey.
---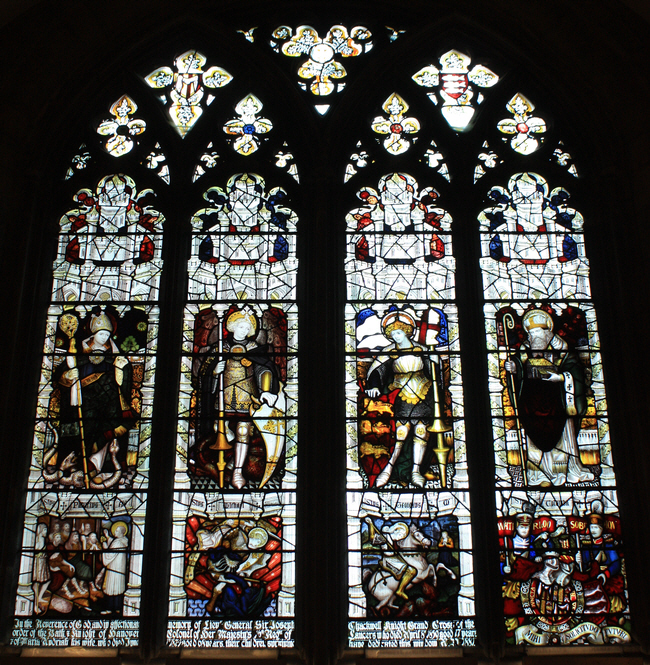 SS Patrick, Michael, George and Columba.
---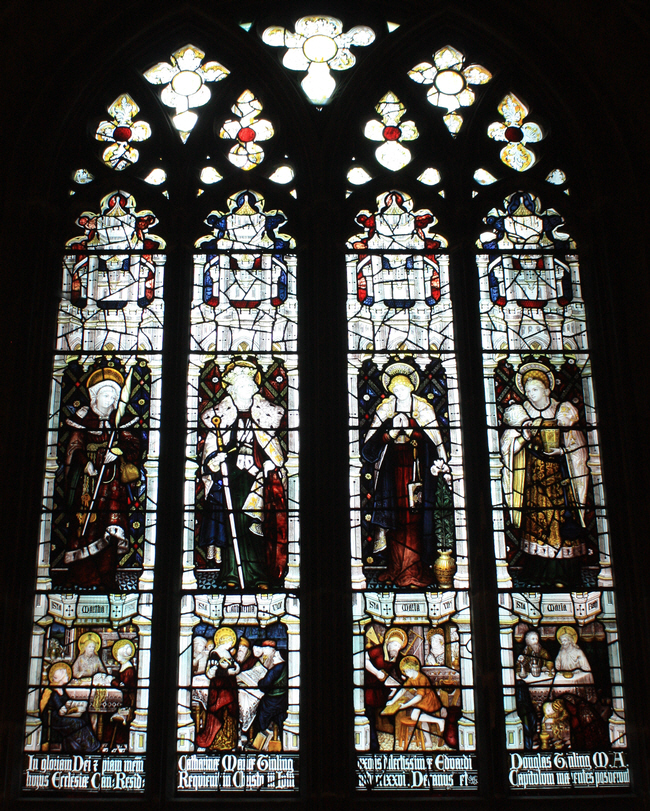 SS Martha, Catherine of Alexandria, BVM and Mary of Bethany.
---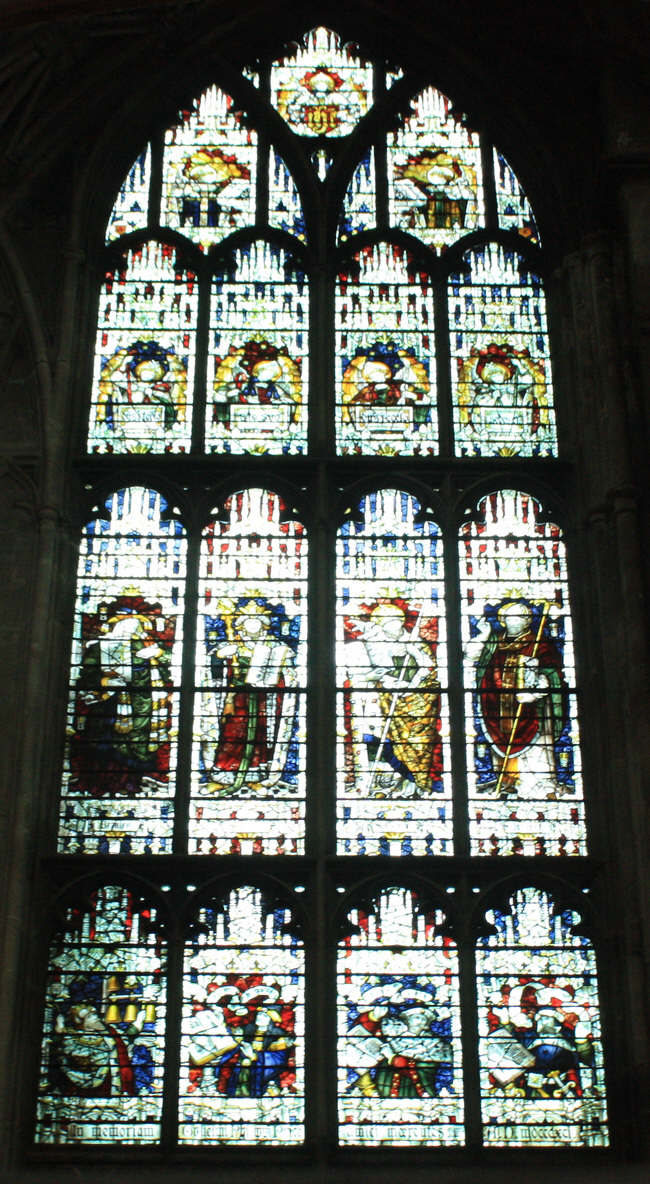 Bazaleel, Solomon, St Gregory and St John Chrysostum..
---
Henry Hugh Arthur FitzRoy Somerset, 10th Duke of Beaufort KG, GCVO, PC (4 April 1900 – 5 February 1984), styled Marquess of Worcester until 1924, was an English peer. He founded the Badminton Horse Trials and was called "The greatest fox-hunter of the twentieth century".
---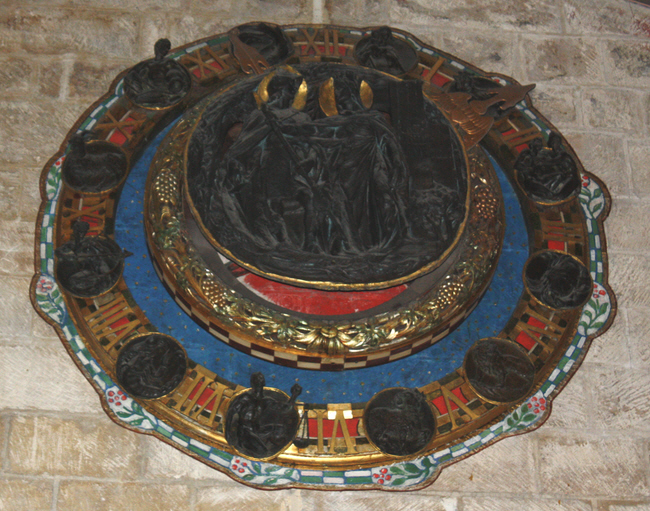 The famous astronomical clock.
---
Claire Christine Nicholson and Martin Piers Nicholson - Ticklerton (Shropshire) and Daventry (Northhamptonshire), United Kingdom.
This page was last updated on June 12th 2017.