Martin Nicholson's Cemetery Project
St Mary, Ingestre, Staffordshire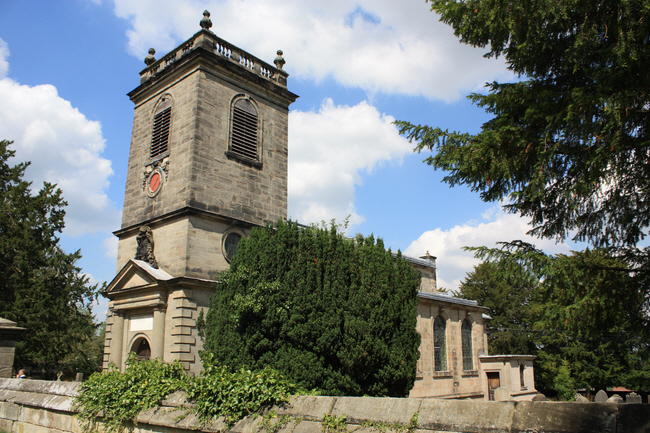 Ingestre parish church of St Mary the Virgin was built in the Grecian style in 1676 by Walter Chetwynd, Esq, at a short distance from the old one, which was taken down after the bones and memorials of the dead had been removed from it to the new edifice.
---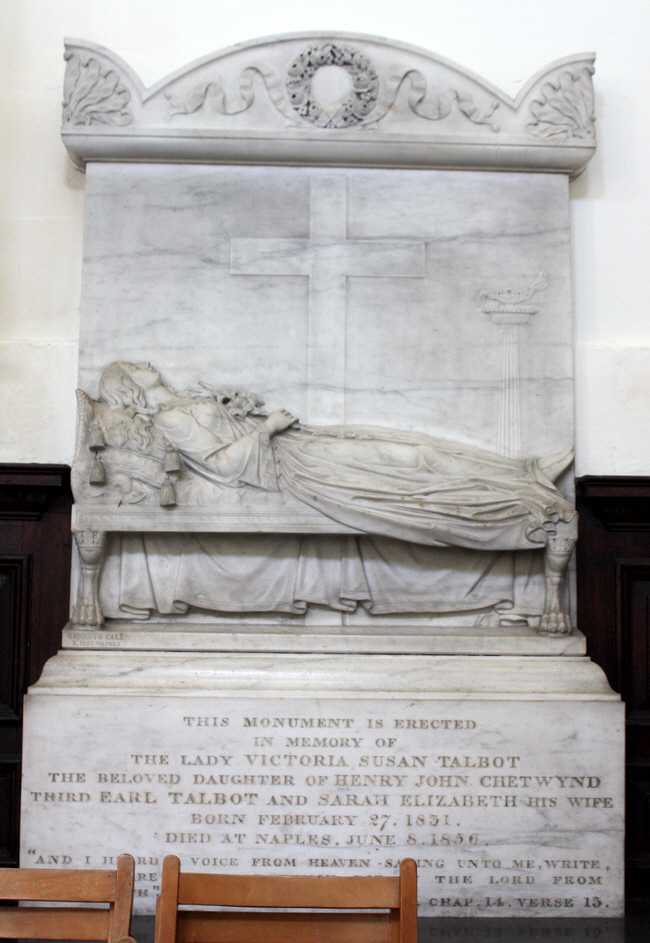 The memorial to Lady Victoria Susan Talbot (1831-1856) by Ernesto Cali of Naples.
---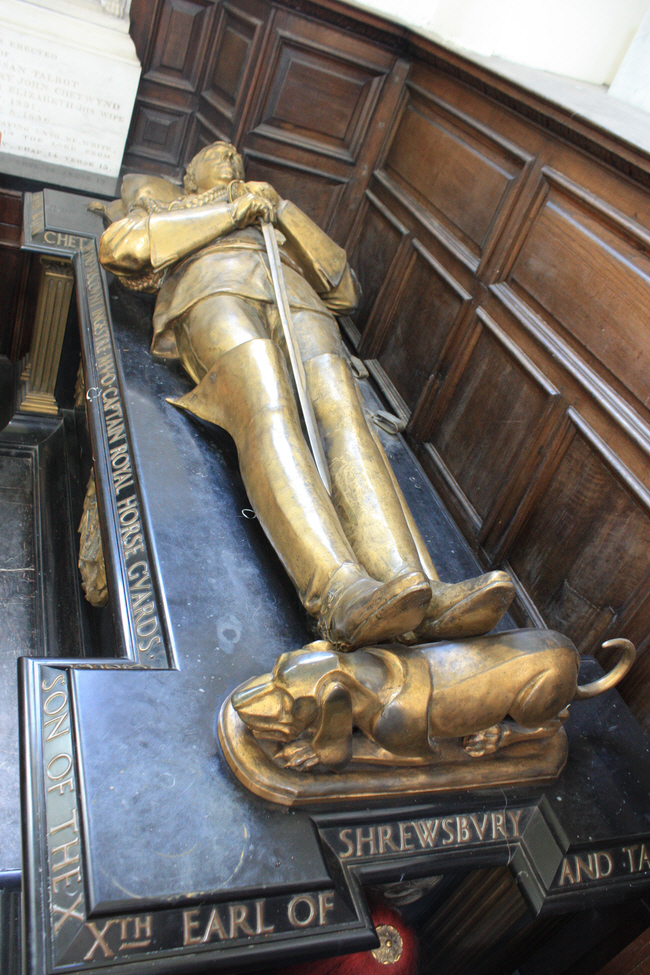 The remarkable bronze and black marble monument to Charles Chetwynd, Viscount Ingestre (1882 -1915). Viscount Chetwynd died at his London home of pneumonia after a bout of influenza. He is shown wearing the uniform of his regiment the Royal Horse Guards.
---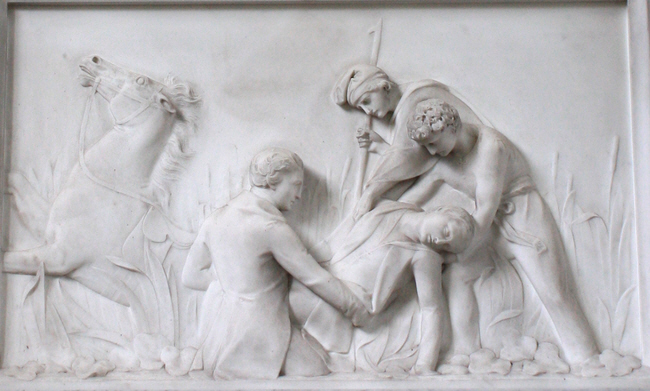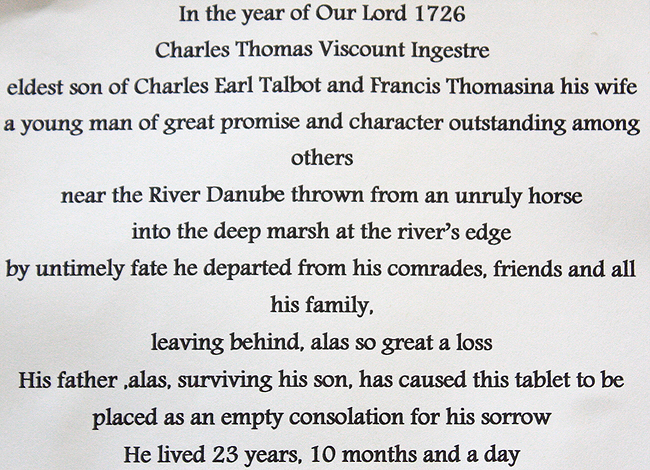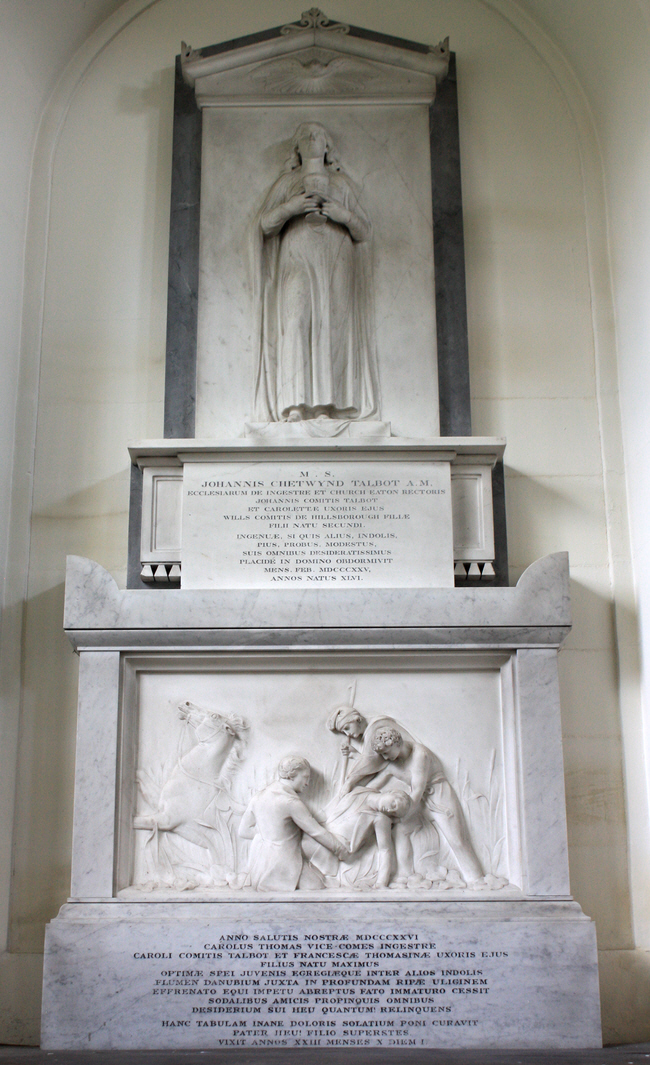 ---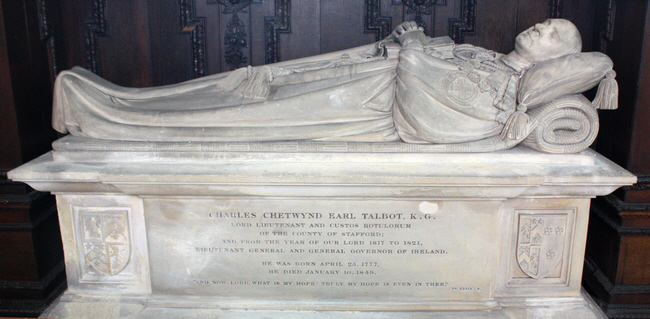 Charles Chetwynd Chetwynd-Talbot, 2nd Earl Talbot KG, PC, FRS (25 April 1777 – 10 January 1849), styled Viscount Ingestre between 1784 and 1793, was a British politician. He served as Lord Lieutenant of Ireland between 1817 and 1821.
---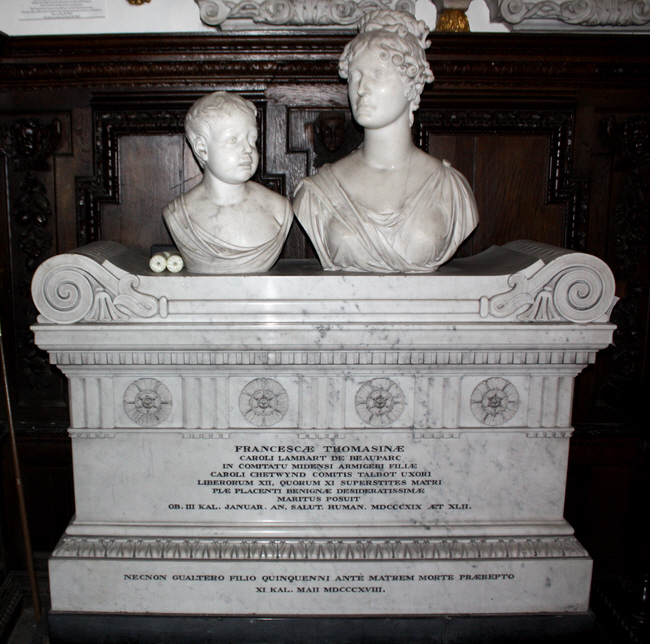 The memorial to Frances Thomasina Lambart (died 1819), daughter of Charles Lambart of Beauparc, Co. Meath, Ireland, and the wife of Charles, Earl Chetwynd. Also to their son Walter (died 1818) aged five.
---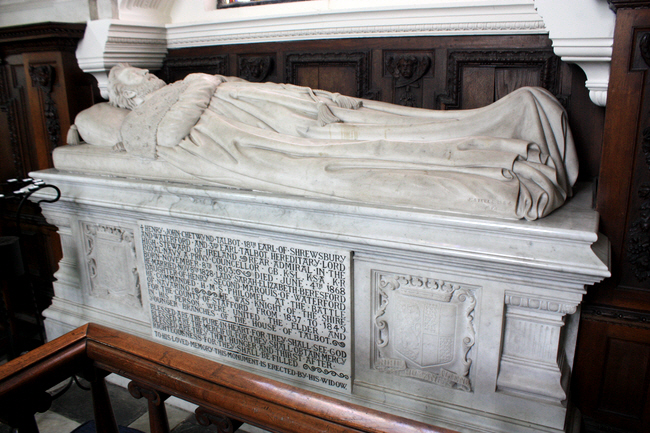 Admiral Henry John Chetwynd-Talbot, 18th Earl of Shrewsbury, 3rd Earl Talbot, 18th Earl of Waterford, CB, PC (8 November 1803 – 4 June 1868), styled Viscount Ingestre between 1826 and 1849 and known as The Earl Talbot between 1849 and 1858, was a British naval commander and Conservative politician.
---

Mary Beech served for 37 years as Nurse to the family of the Earl of Shrewsbury.
---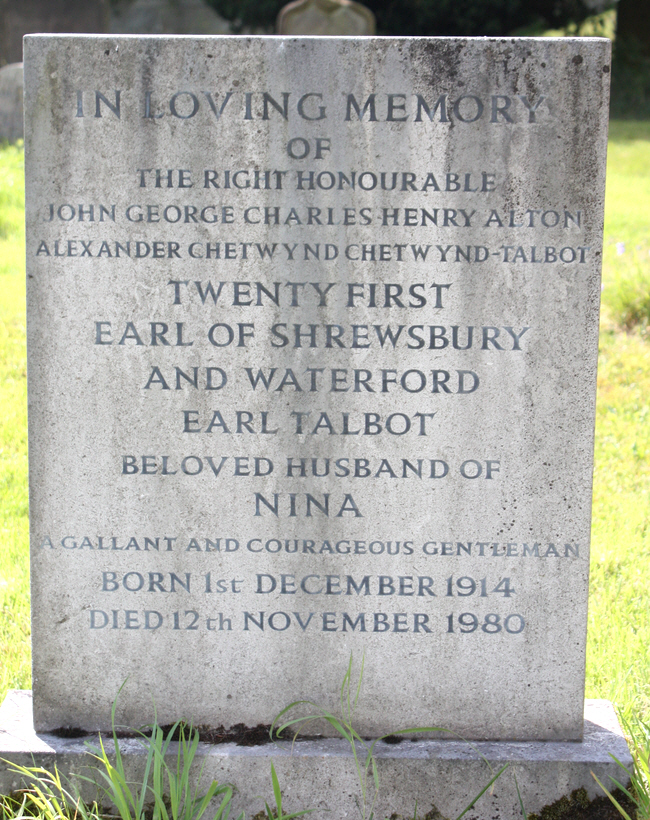 John George Chetwynd-Talbot, 21st Earl of Shrewsbury (21 January 1914 – 12 November 1980), styled Viscount Ingestre from 1915 to 1921, was a British peer. He was the son of Charles John Alton Chetwynd-Talbot, Viscount Ingestre (1882–1915) and Lady Winifred Constance Hester Paget, sister of the Marquess of Anglesey. He inherited the title Earl of Shrewsbury when his grandfather Charles Chetwynd-Talbot, 20th Earl of Shrewsbury died in 1921.
---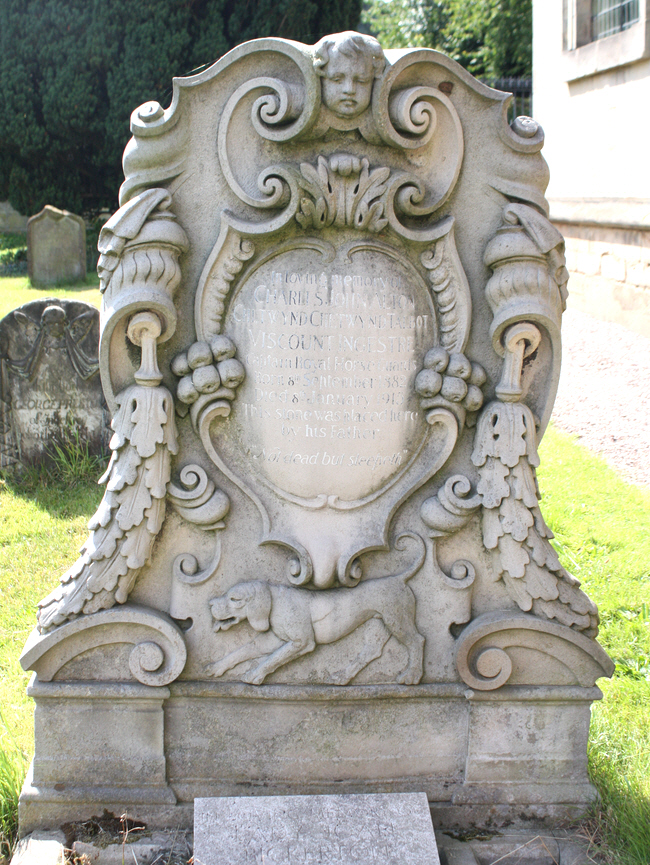 The elaborate memorial to Charles John Talbot, Viscount Ingestre, killed 1915.
---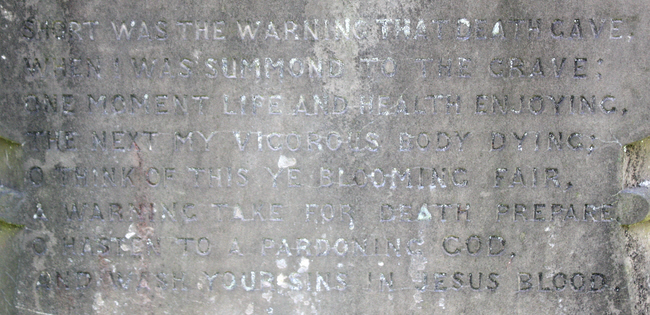 Short was the warning that death gave,
When I was summond to the grave;
One moment life and health enjoying,
The next my vigorous body dying;
O Think of this ye blooming fair,
A warning take for death prepare,
O Hasten to a pardoning god,
And wash your sins in Jesus blood.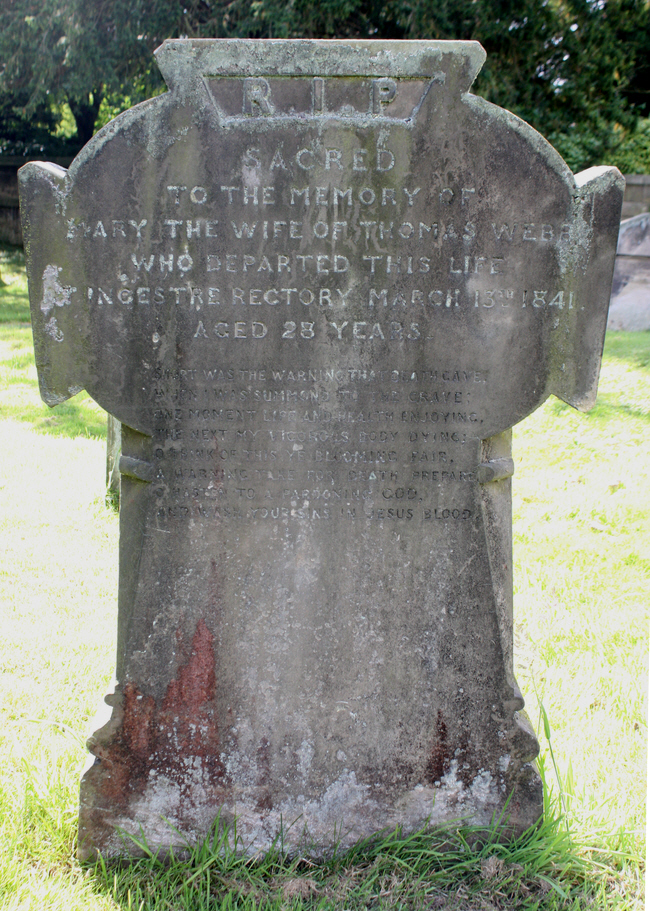 ---
Claire Christine Nicholson and Martin Piers Nicholson - Ticklerton (Shropshire) and Daventry (Northhamptonshire), United Kingdom.
This page was last updated on August 8th 2015.