Martin Nicholson's Cemetery Project
St Michael and All Angels, Ledbury, Herefordshire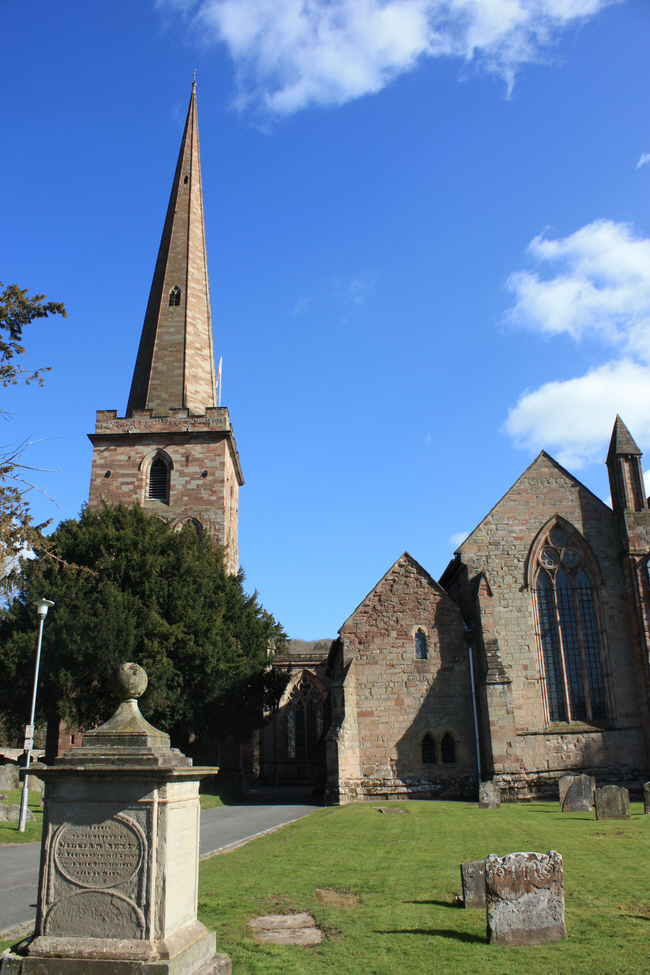 St Michael and All Angels Church in Ledbury is reckoned to be the finest non-monastic church in Herefordshire. It is one of the seven churches in Herefordshire to have a separate bell tower. This beautiful vast church is mostly 13th and 14th century with Anglo-Saxon origins.
---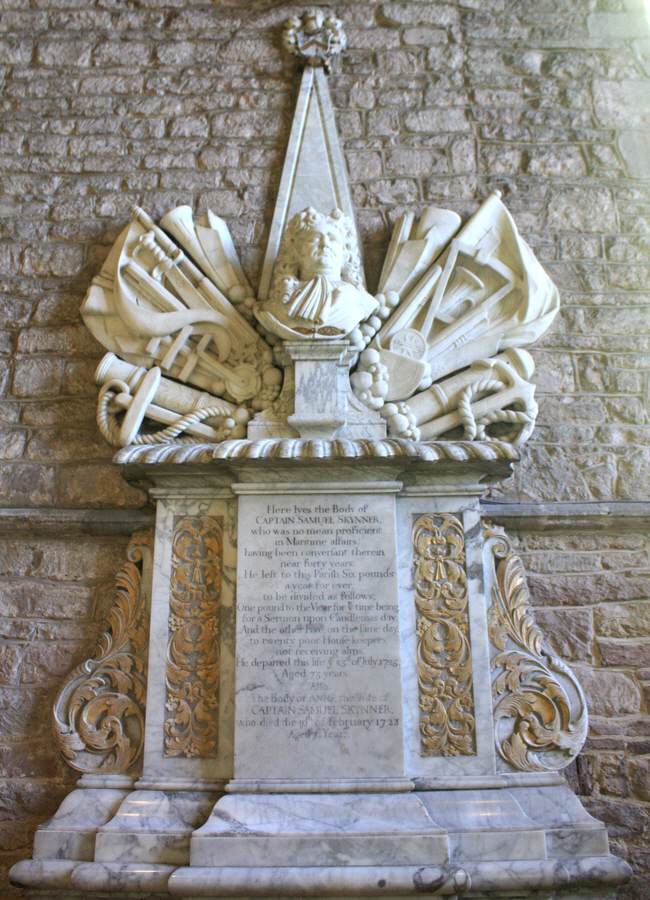 The monument to Captain Samuel Skynner, by Thomas White of Worcester, is dated 1725.
---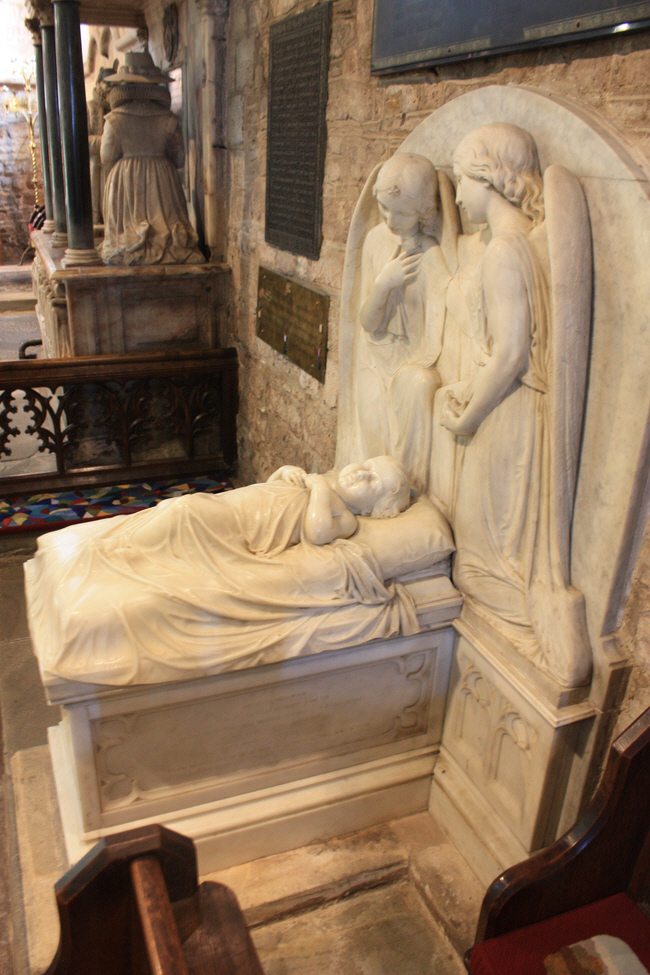 The memorial to baby John Hamilton who died in 1851 is quite charming.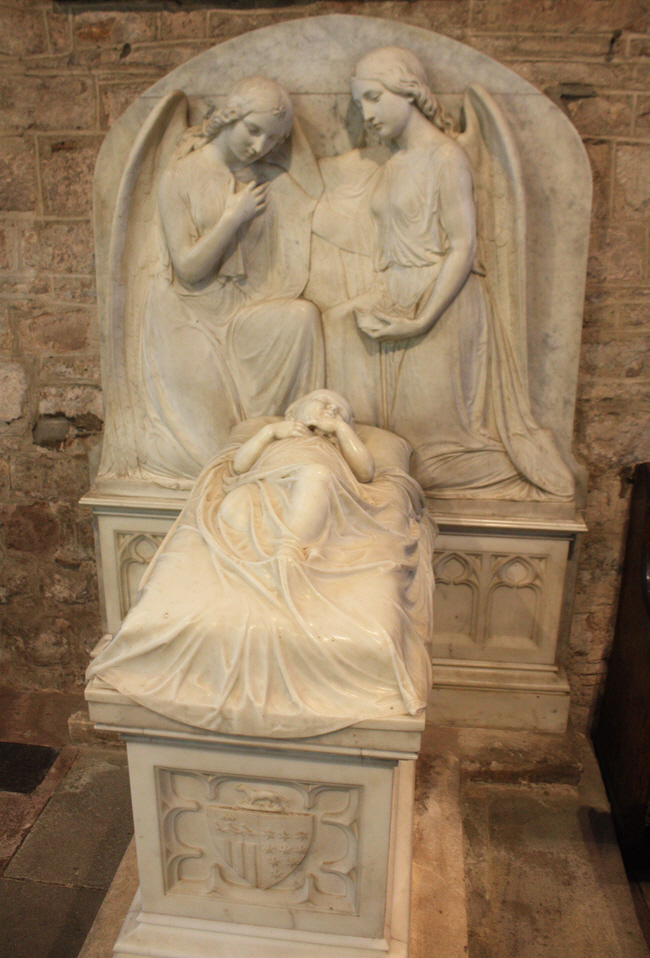 ---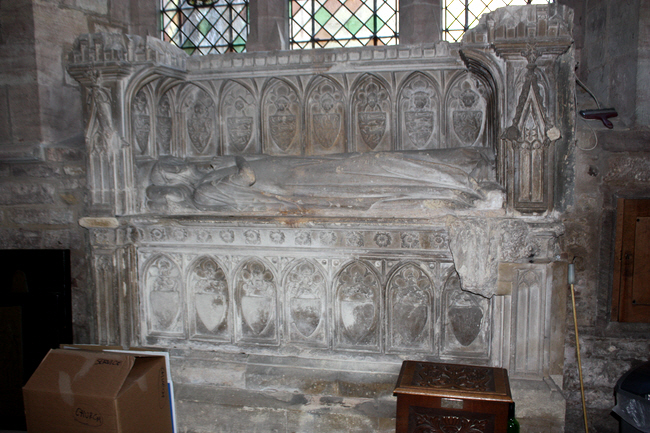 This fourteenth century altar tomb contains the effigy of a lady. The shields above indicate that she was probably a sister of Grymbald Pauncefot who married a Carew, both well known local families.
---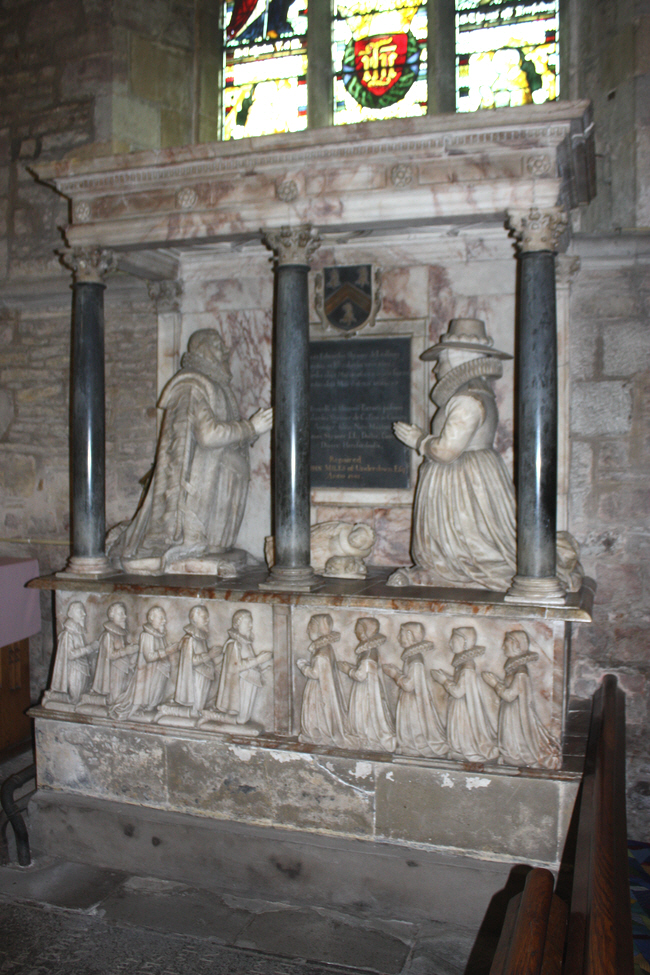 On the right hand wall of the sanctuary, this 17th century monument records the lives of Edward and Elizabeth Skynner, who both lived into their 80s. Elizabeth is wearing a hat that would not disgrace someone attending a wedding today! Their baby, who died young, is shown between their kneeling figures, and their five sons and five daughters who survived to adulthood are shown below. One daughter is holding a skull as a sign that she died before her parents.
---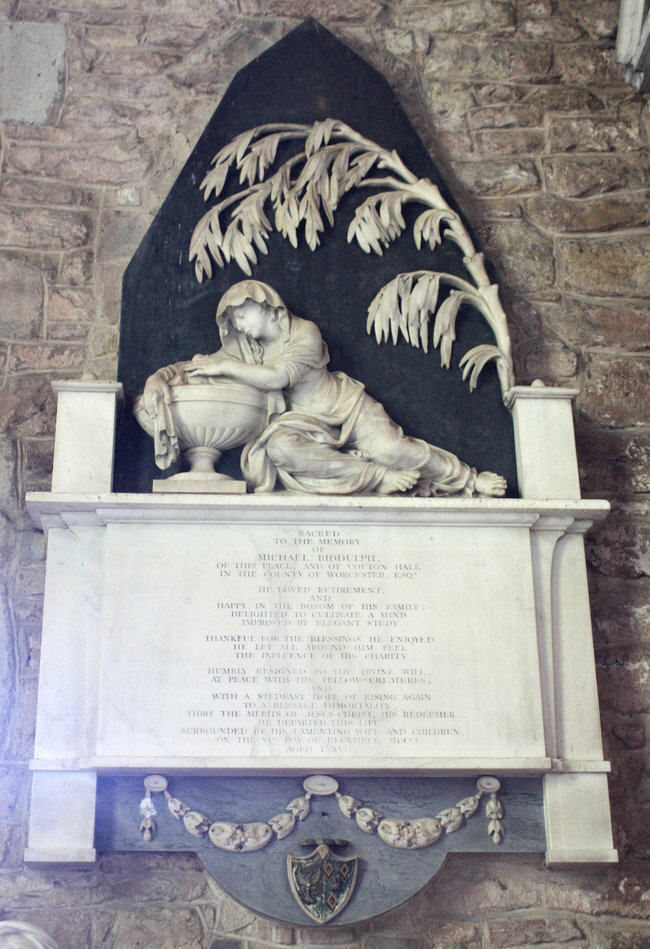 The memorial to Michael Biddulph (died 1800) by Charles Regnart.
---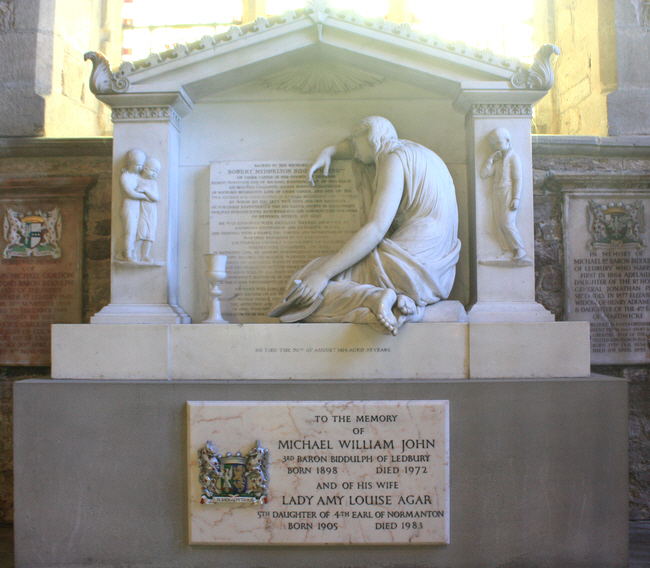 The memorial to the 3rd Baron Biddulph of Ledbury and his wife.
---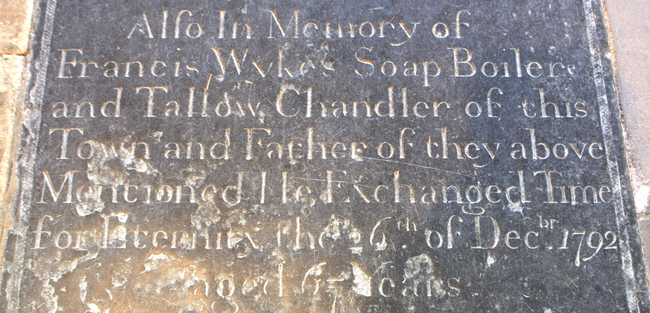 Francis Wykes was a Soap Boiler and Tallow Chandler.
---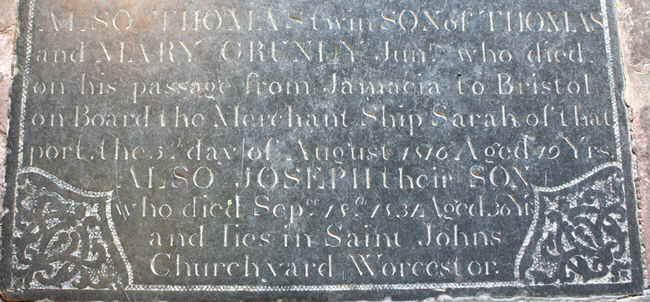 Thomas Grundy died on a passage from Jamaica to Bristol in 1816.
---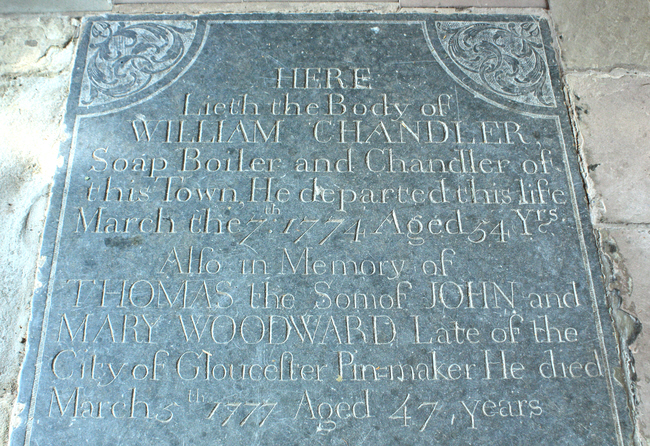 William Chandler was a Soap Boiler and Chandler. Thomas Woodward was a Pin Maker.
---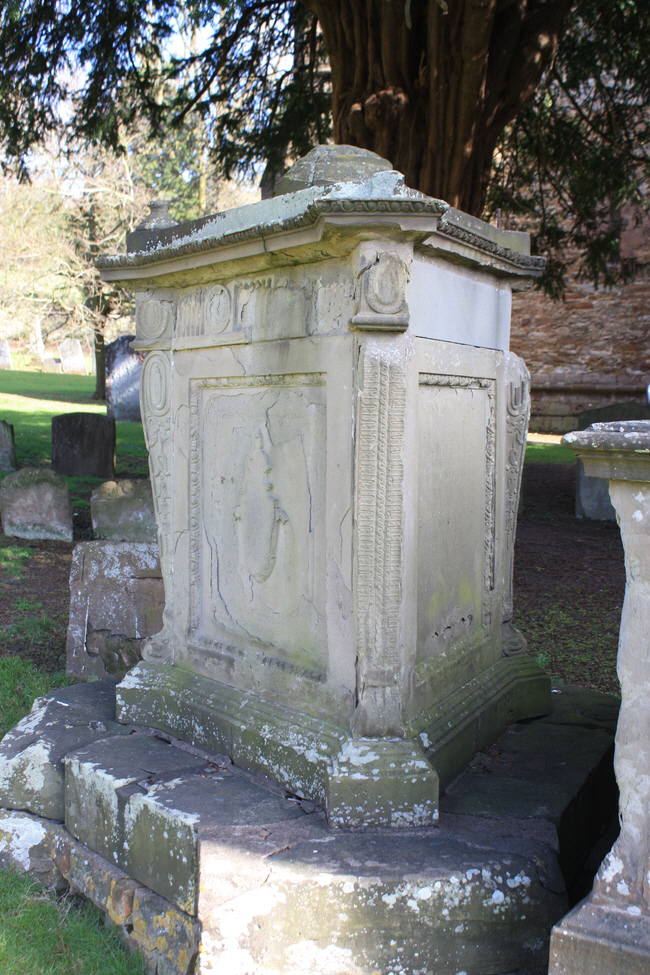 This is only the second triangular tomb we have seen.
---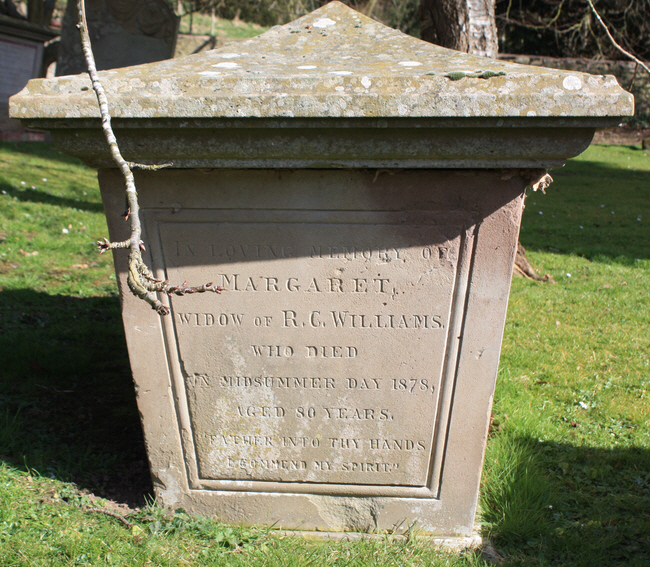 Margaret Williams died on Midsummer Day.
---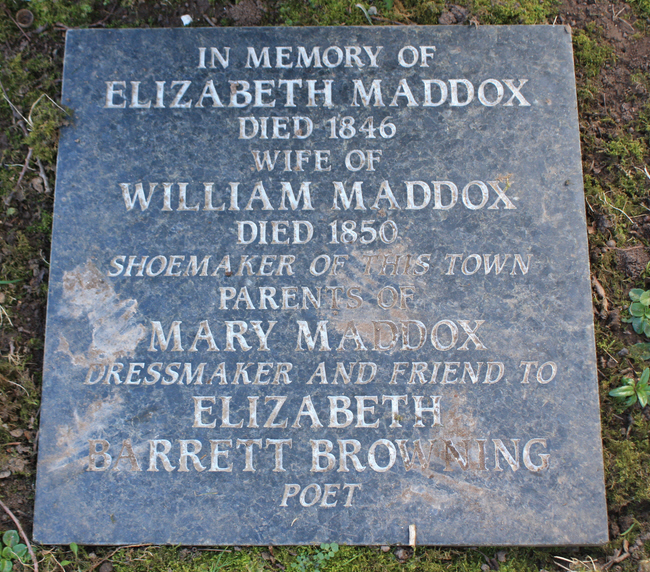 William Maddox was a Shoemaker. His daughter Mary was a Dressmaker and friend to Elizabeth Barrett Browning, the poet.
---
STAINED GLASS BY KEMPE

Calvary, Descent into Hades, Isaiah and Solomon
---
SS John, Peter and Andrew - The road to Emmaus.
---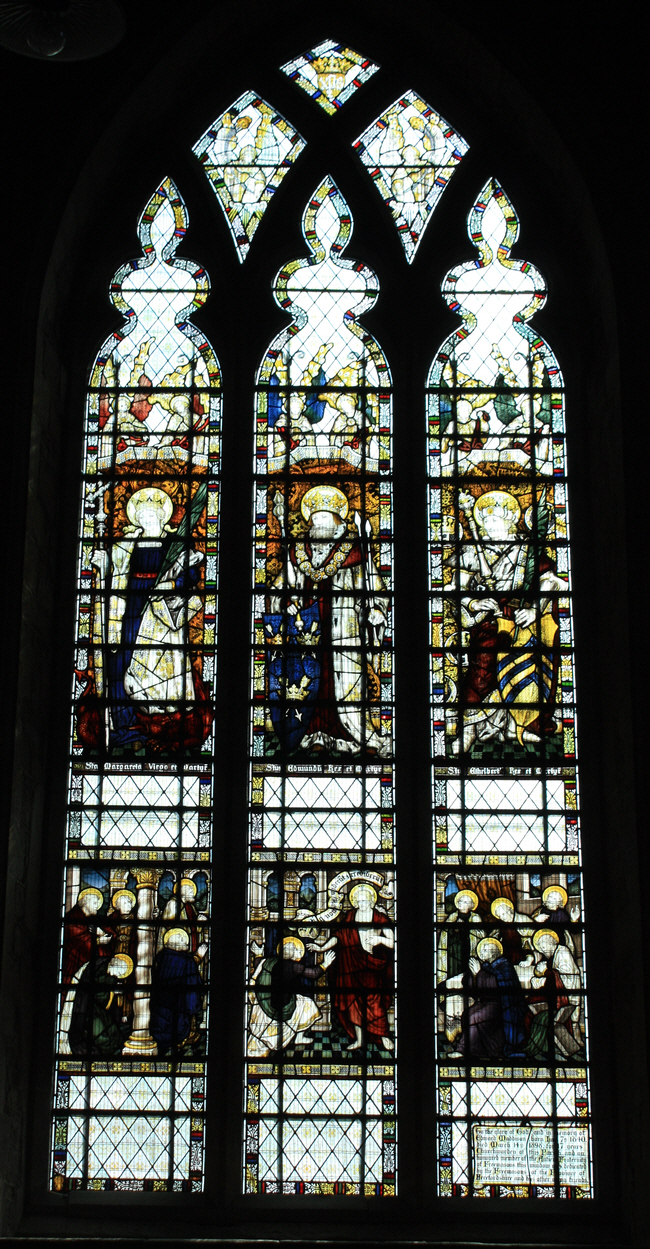 SS Margaret of Antioch, Edmund and Ethelbert - Incredulity of St Thomas in base.
---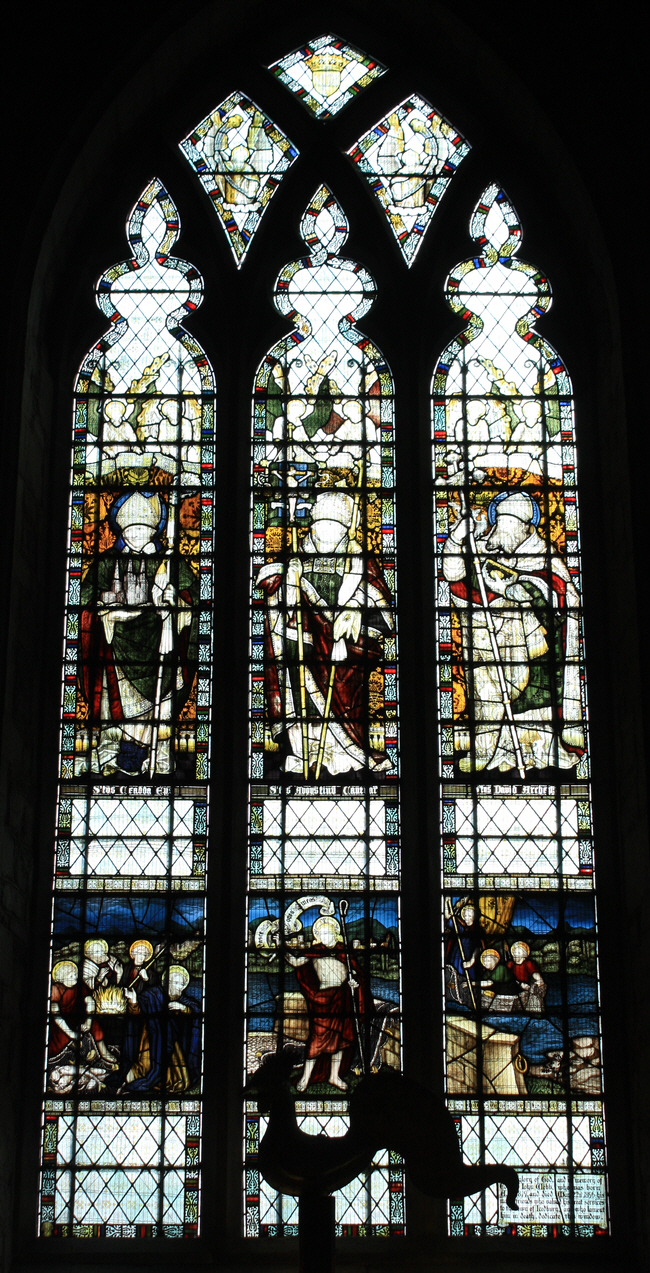 SS Chad, Augustine and David - Charge to St Peter in base.
---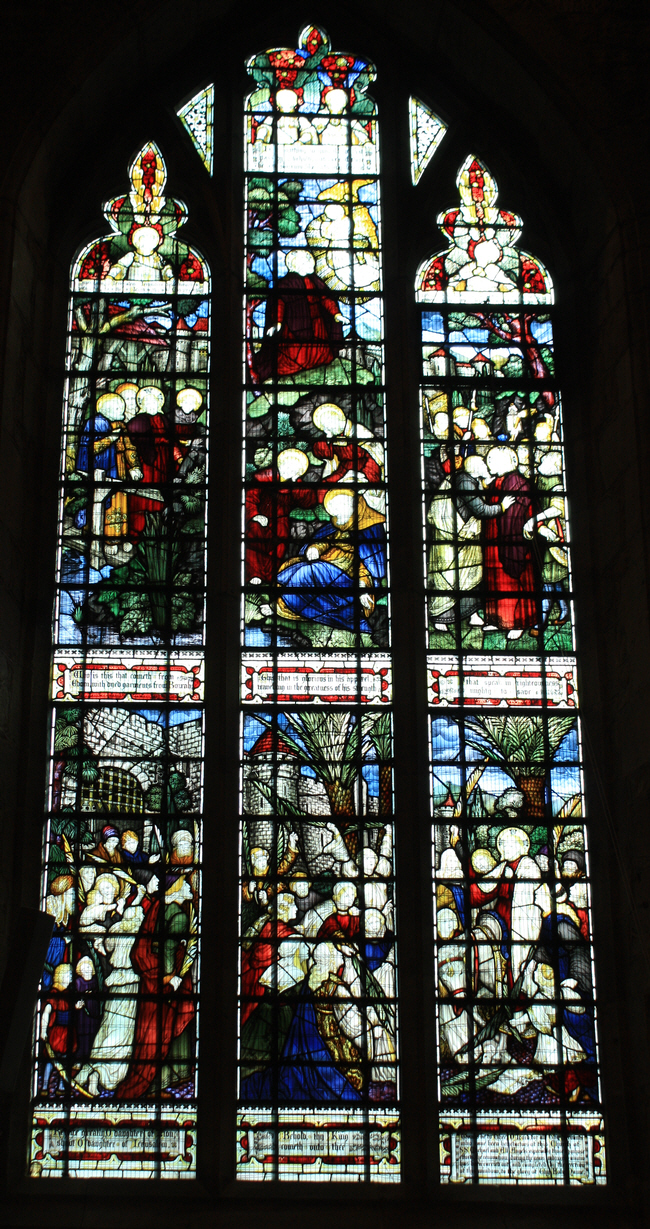 Crossing the Kedron Brook - Gethsemane - Betrayal. Entry into Jerusalem in base.
---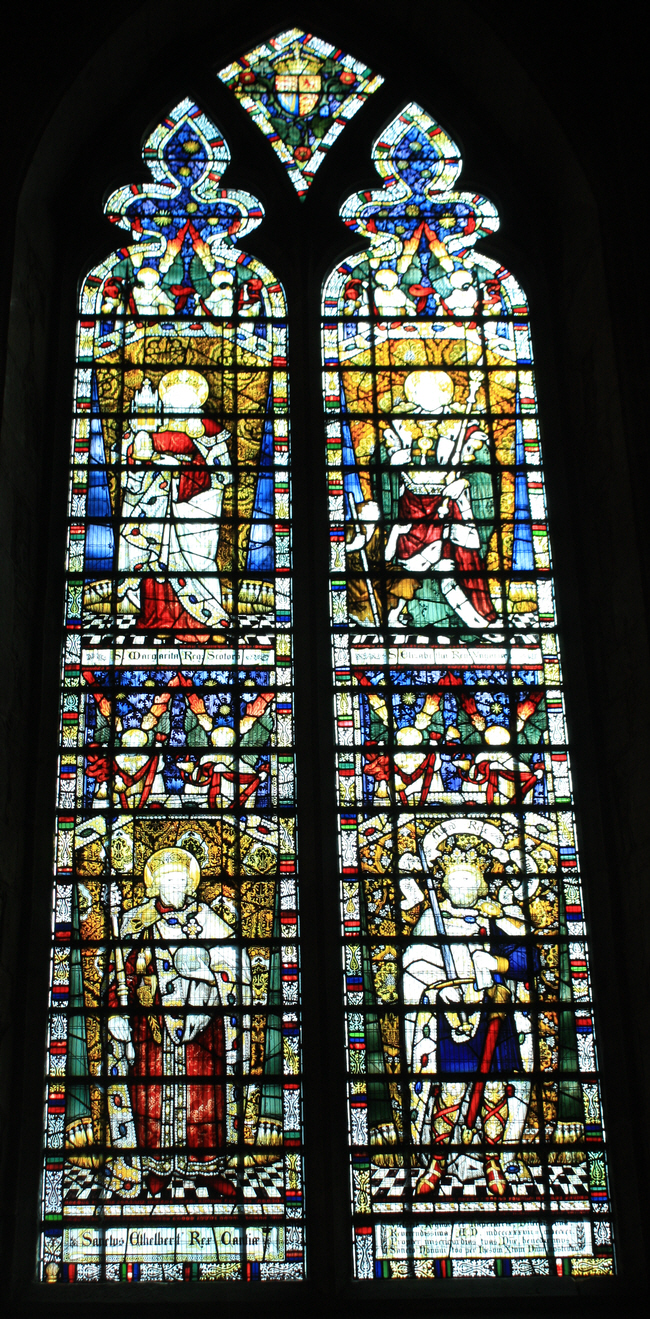 SS Margaret of Scotland, Ethelbert, Elizabeth of Hungary and King Alfred.
---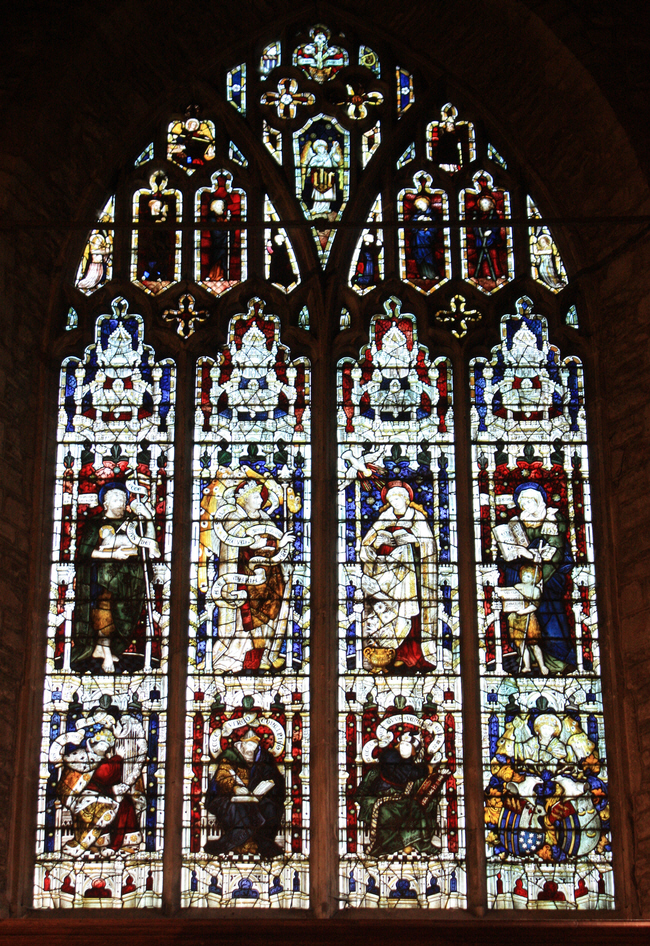 Annunciation, SS Elizabeth, John the Baptist and 15 Saints and Prophets.
---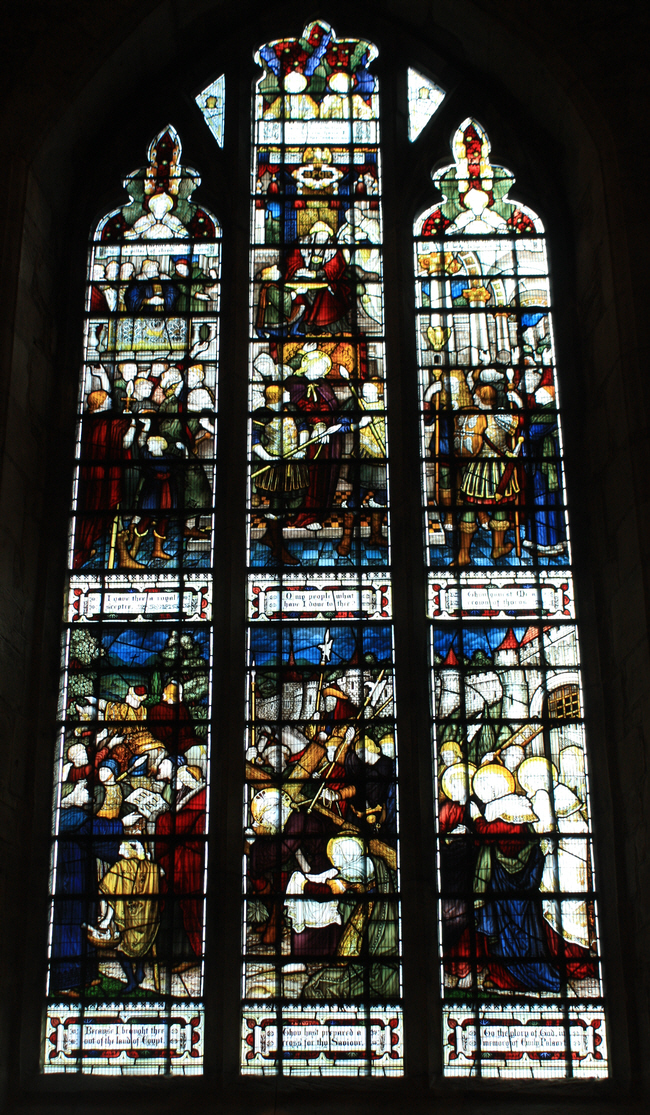 Our Lord before Pilate and Via Dolorossa.
---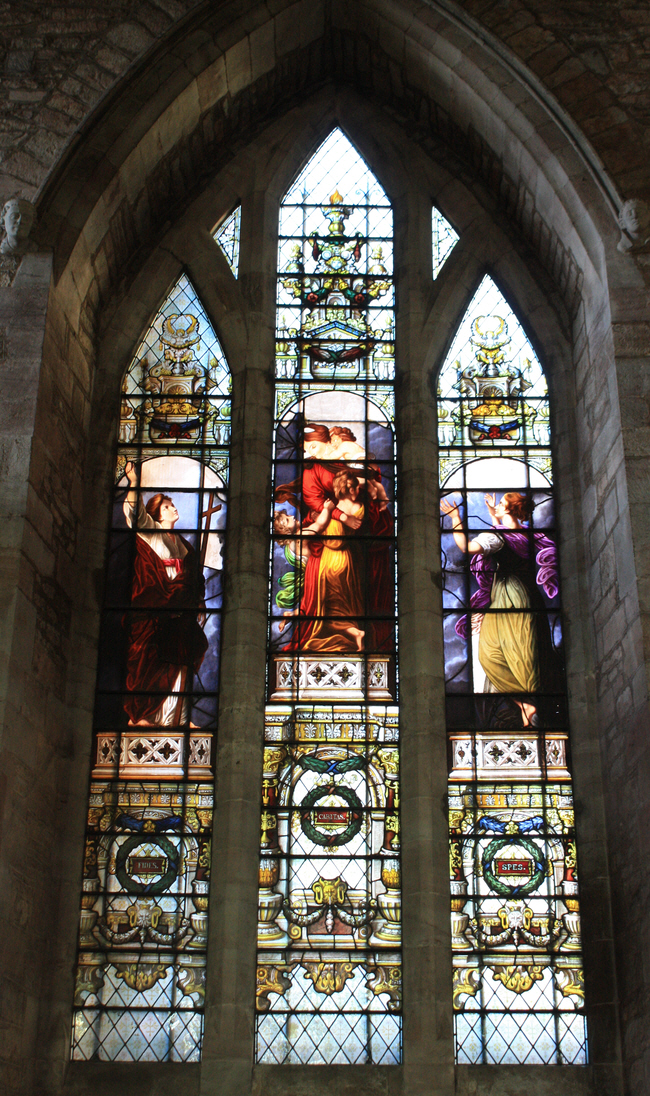 Faith, Hope and Charity of 1830 after Sir Joshua Reynolds set in with surroundings and borders by Kempe.
---
Claire Christine Nicholson and Martin Piers Nicholson - Ticklerton (Shropshire) and Daventry (Northamptonshire), United Kingdom.
This page was last updated on February 17th 2015.