Martin Nicholson's Cemetery Project
St Andrew, Wimpole, Cambridgeshire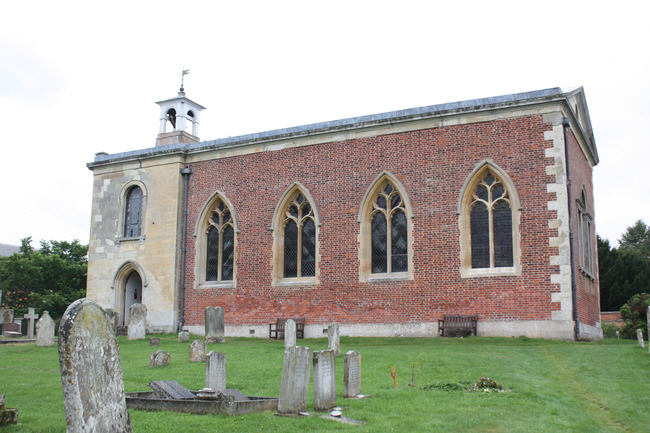 St Andrew is a dramatic example of what happens when a noble family entirely dominates a village. There was a medieval church here, surrounded by a little medieval village, but little of it now exists: Only a small side chapel remains,and even that has been restored almost out of all recognition. The rest of the church is a rebuilding of 1749.
---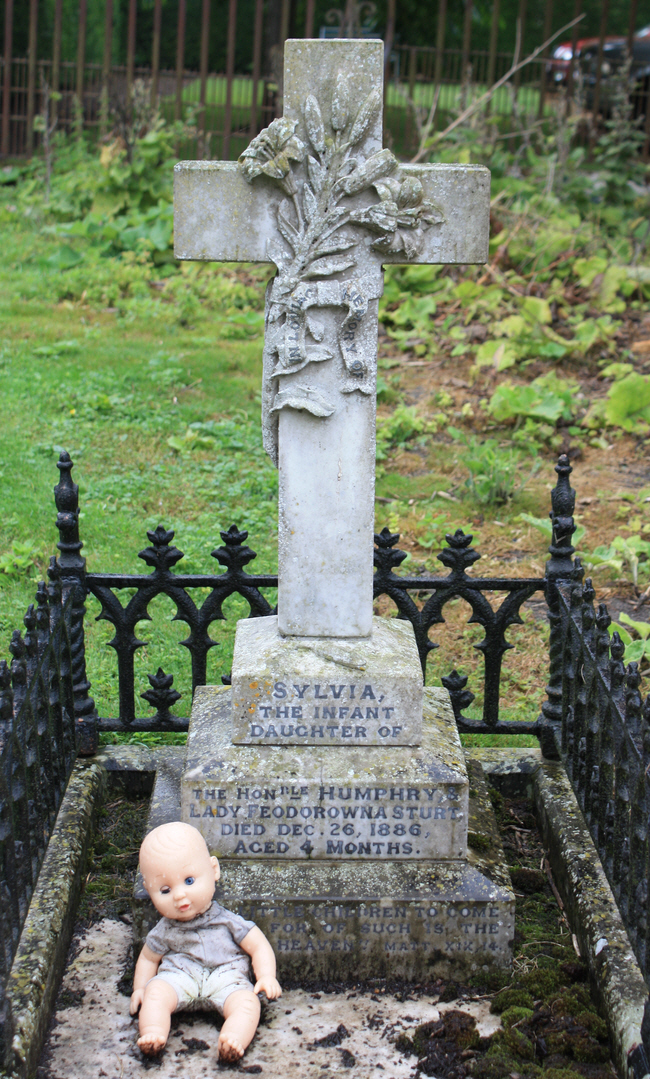 Although Sylvia died aged 4 months in 1886 it seems that somebody still mourns her passing.
---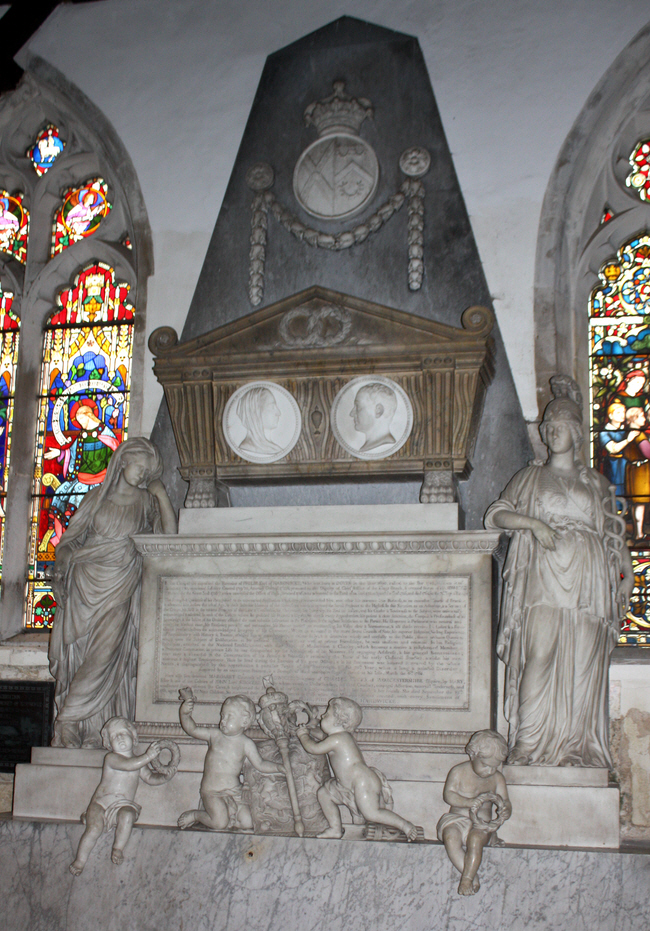 The imposing neo-classical sarcophagus between the windows is the monument for Philip Yorke, 1st Earl of Hardwicke (1690-1764) and of his wife Margaret Yorke (née Cocks) who died in 1761. The monument in white marble was designed by James 'Athenian' Stuart and sculpted by Peter Scheemakers. On one side is Minerva and on the other is Pudicitia, the matronal virtue. One of the two middle-most children collects the Mace and Purse of the Lord Chancellor's office and the other crowns it with a garland.
---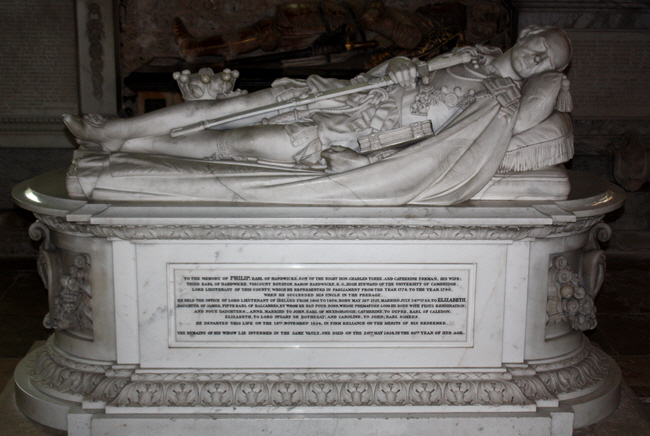 The white marble effigy of the 3rd Earl of Hardwicke (1757-1834) which was carved by Richard Westmacott junior and completed 10 years after the Earl's death.
---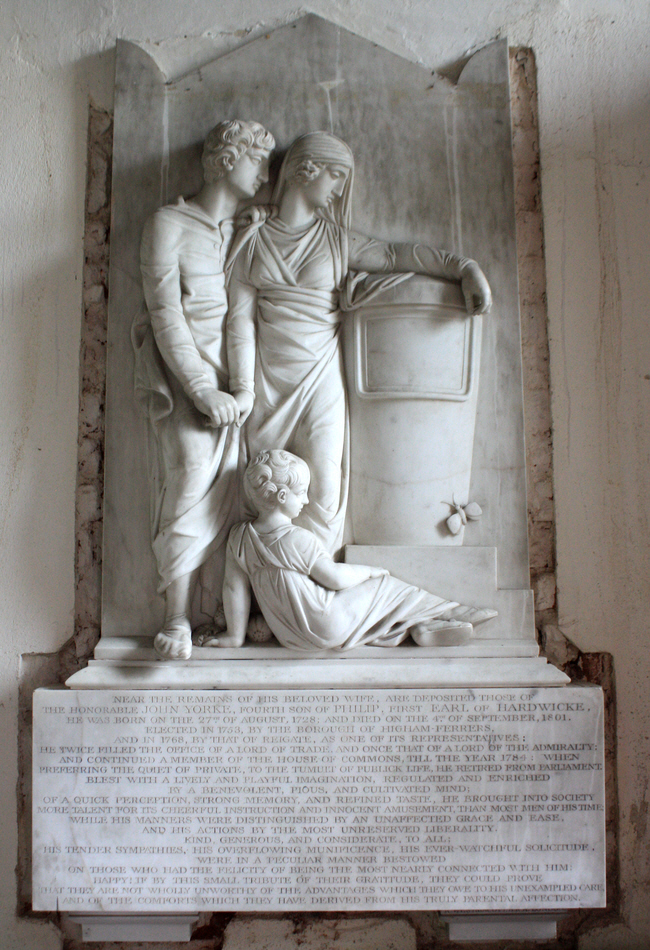 A white marble memorial by Westmacott the elder in Greek style, with two parents in attitudes of grief with reclining child at their feet, commemorating the Hon John Yorke MP the youngest son of the1st Earl of Hardwicke, who died in 1801.
---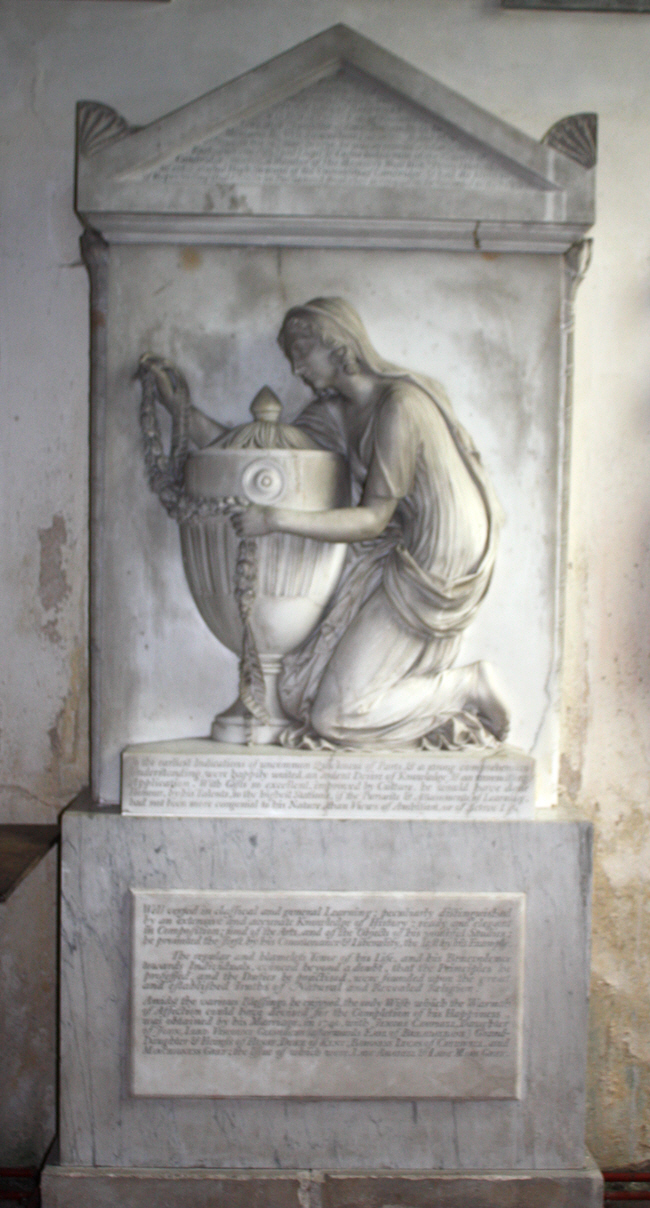 A white marble stele with a kneeling female mourner sculpted by Thomas Banks, commemorating Philip Yorke, 2nd Earl of Hardwicke (1720-1790).
---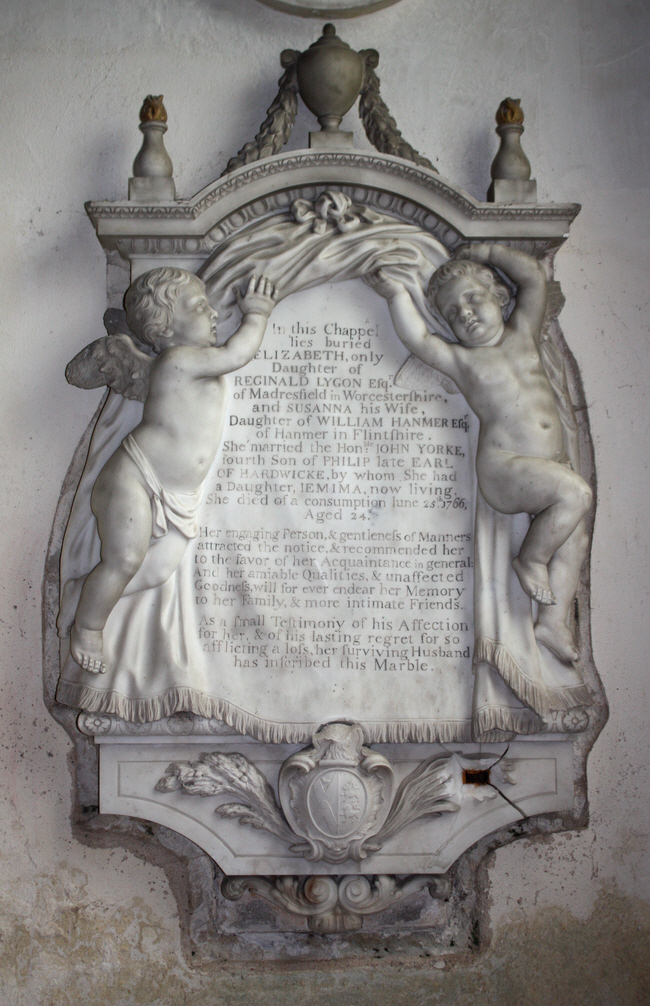 A white marble scroll with embellishments, commemorating Elizabeth Yorke (née Lygon) who died in 1766 of Consumption. She was the wife of the Hon. John Yorke MP.
---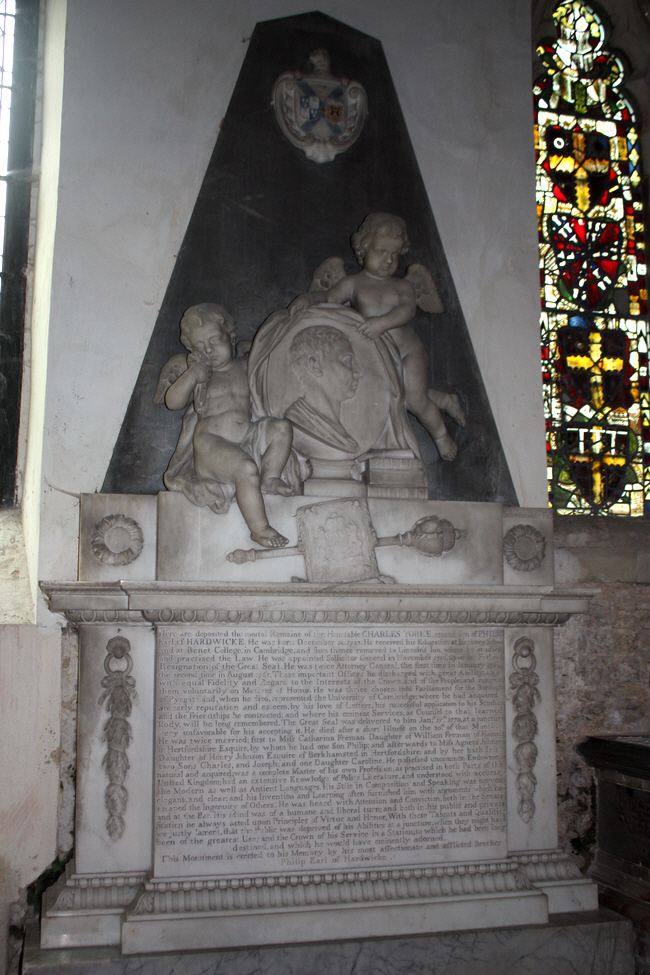 The monument designed and executed by Peter Scheemakers to commemorate the Hon Charles Yorke (1722-1770), his first wife Catherine Yorke (née Freeman) (died 1759) and his second wife Agneta Yorke (née Johnston) (died 1820). The Lord Chancellor's purse is shown below his portrait medallion, a sad reminder that he held the Great Seal for only a day before his tragic death in 1770.
---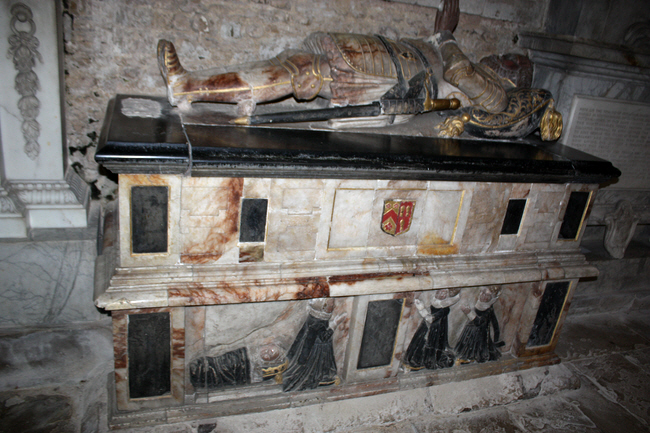 This splendid alabaster and marble tomb belongs to Sir Thomas Chicheley (1578-1616) he was the father of the extravagant Sir Thomas who had to sell the estate and so was not buried in this chapel. The Sir Thomas represented here was a Member of Parliament for Huntingdon (1601) and Cambridgeshire (1614).
---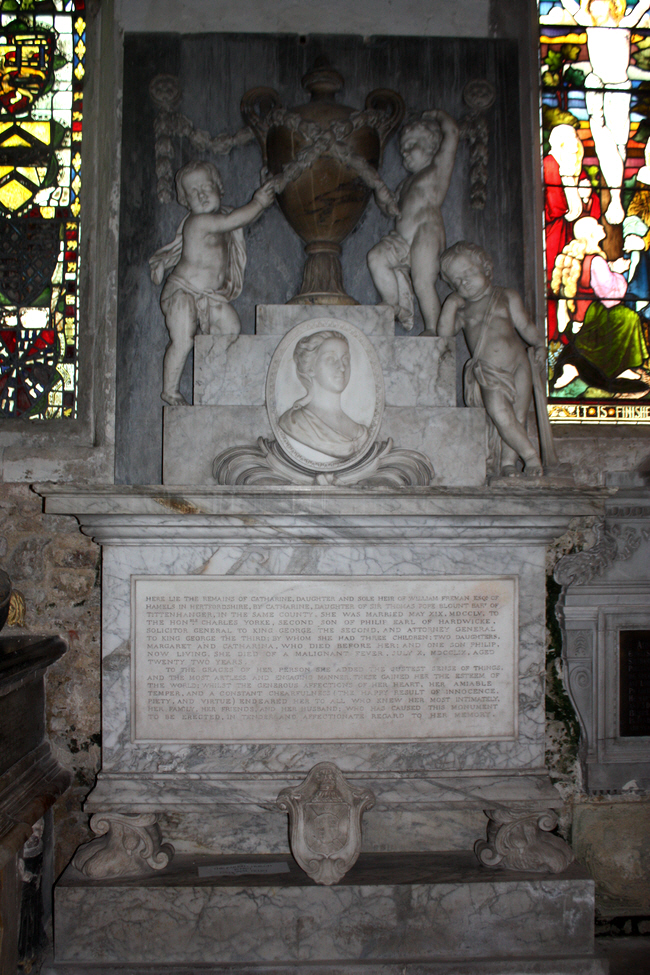 The memorial to Catherine Yorke (née Freman) the first wife of the Hon Charles Yorke was designed by James 'Athenian' Stuart and sculpted by Peter Scheemakers. Catherine died of a "malignant fever" in 1759 aged 22.
---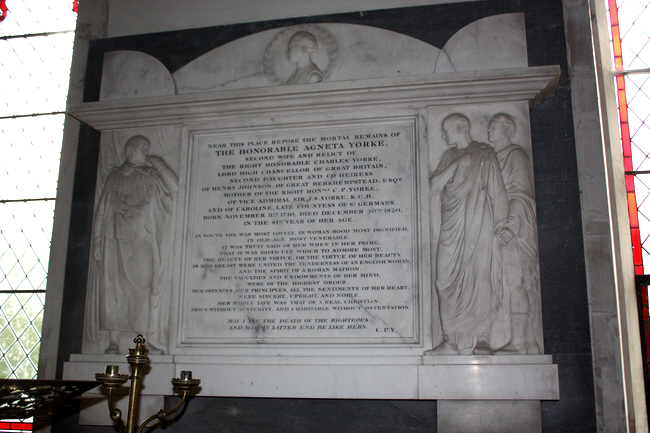 The memorial to the Honourable Agneta Yorke who died in 1820. She was the second wife of Charles Yorke - the Lord High Chancellor.
---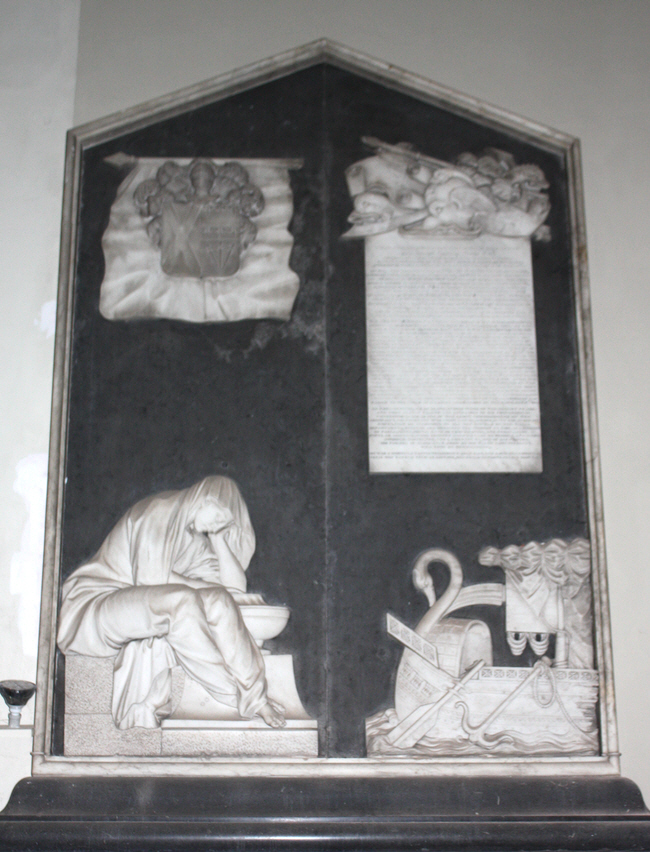 On the north wall of the Chancel is a monument to Admiral Sir Joseph Sydney Yorke KCB (1768-1831) and his two wives Elizabeth Weake Rattray (1773-1812) and Urania Anne Paulett with descriptive tablet, naval trophies and emblems,and a female mourner in white.
---

Philip Yorke, Viscount Royston (7 May 1784 – 7 April 1808), was a British traveller and politician. He was returned to parliament for Reigate in 1806, a seat he held until April 1808, when he was lost in a storm off Memel in a ship called the Agatha of Lübeck.
---
Claire Christine Nicholson and Martin Piers Nicholson - Ticklerton (Shropshire) and Daventry (Northhamptonshire), United Kingdom.
This page was last updated on August 18th 2015.